Zucchini Cake with Cream Cheese Frosting is a real treat. This easy to make, lightly spiced cake is super moist and flavorful thanks to a whole bunch of shredded zucchini. Luscious Cream Cheese Frosting provides just the right touch of decadence.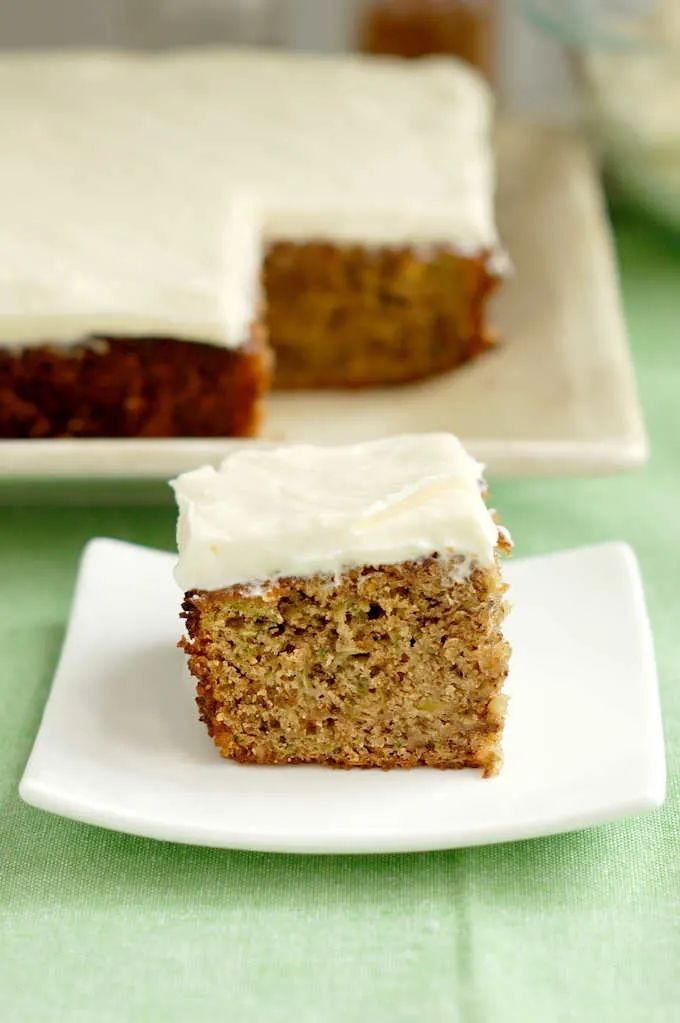 If you're reading this perhaps you've got a bunch of zucchini to use up. After checking out this recipe don't forget to look at my recipes for Whole Wheat Zucchini Bread, Chocolate Orange Zucchini Bread and Lemon Zucchini Bread.
I've also got recipes for Zucchini Yeast Bread recipe, not to mention recipes for Zucchini Biscuits, Zucchini Muffins, Zucchini Galette and Zucchini Pie.
Well, variety is the spice of life. So this time, instead of a quick bread I've created a full-on sweet and rich cake, frosting and all. There may be zucchini in this recipe, but it is unmistakably dessert.
This simple cake comes together very quickly and easily. For an even simpler cake you can serve the cake plain without the cream cheese frosting.
Or, you can also gussy up the recipe by turning it into a layer cake. Directions for making a layered Zucchini cake are at the end of the post.
How to make the best Zucchini Cake Ever!
Blot the shredded zucchini with paper towels to wick away some of the moisture. This allows us to add more zucchini to the cake.
Add brown sugar for extra flavor and moisture.
Zucchini itself is fairly bland. Add warm spices to the batter for a flavorful cake that pairs perfectly with the rich frosting.
The walnuts are optional, but finely ground nuts do add wonderful texture and flavor to the cake.
Use oil for a cake that stays soft even when it's chilled.
Add Cream Cheese Frosting because….Cream Cheese Frosting!
Scroll through the step by step process photos to see how to make amazingly moist Zucchini Cake with Cream Cheese Frosting: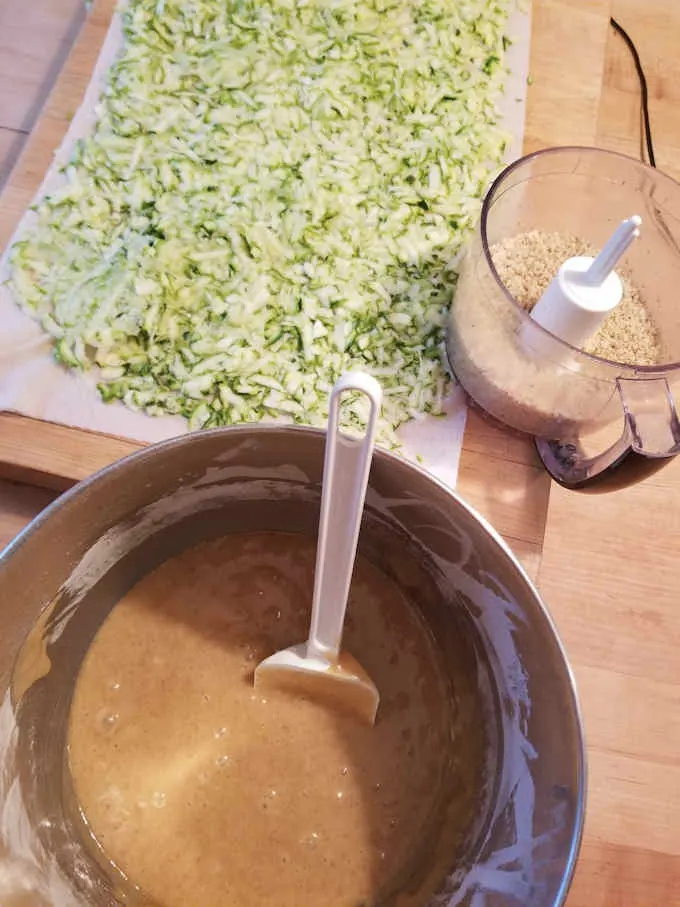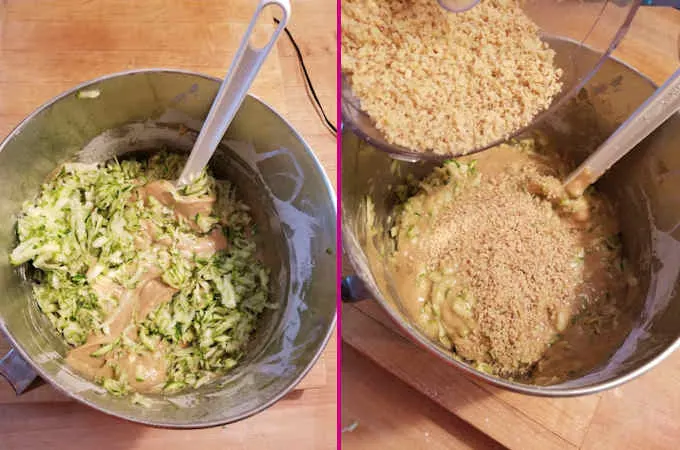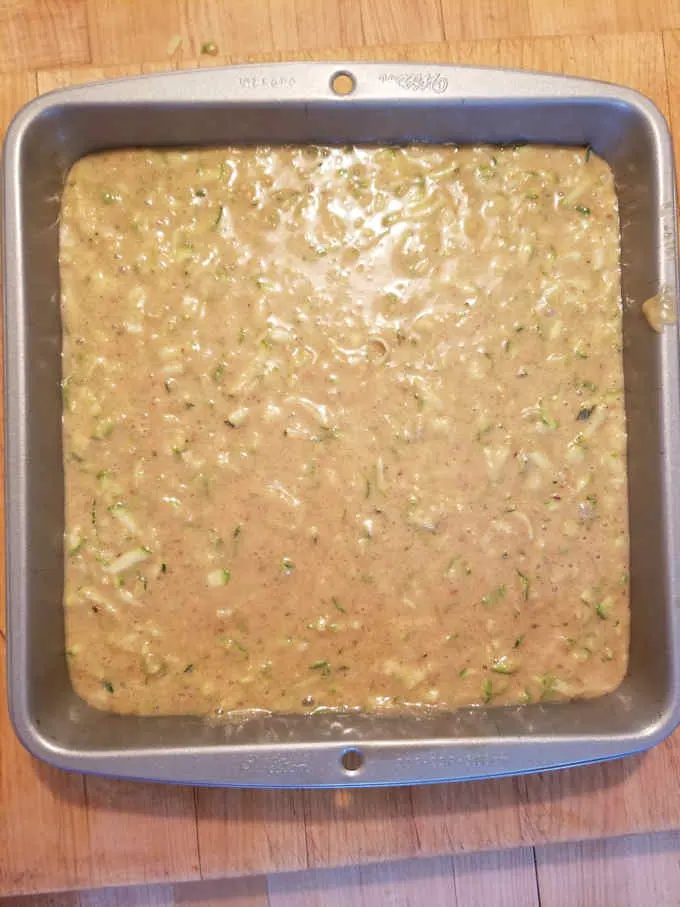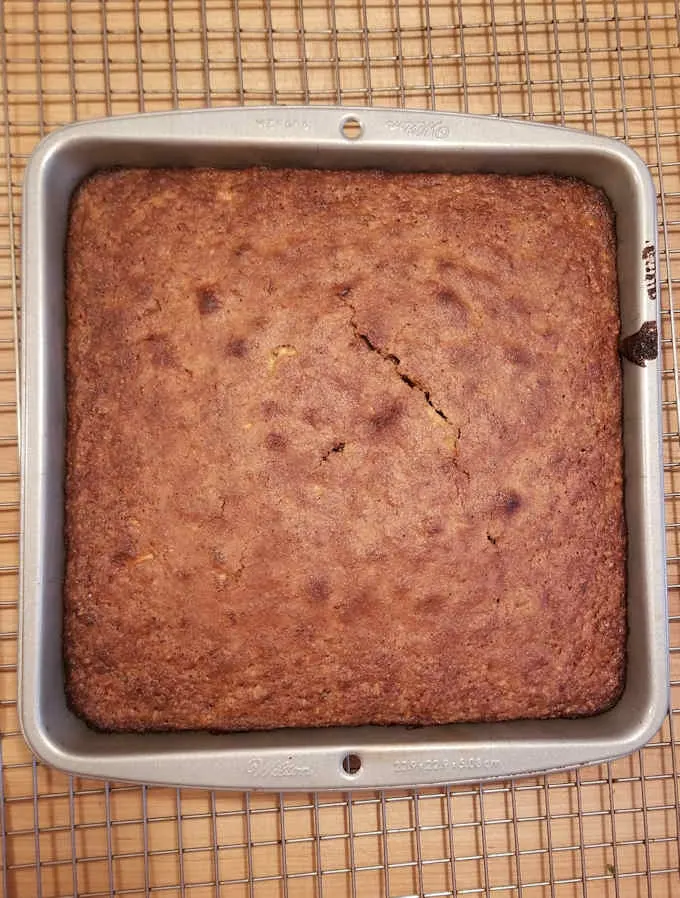 How to store and serve Zucchini Cake with Cream Cheese Frosting:
The un-iced cake can be stored at room temperature for up to 2 days before frosting.
Because the cream cheese frosting is perishable, the cake should be stored in the refrigerator once it is iced.
Remove the cake from the refrigerator 1 hour before serving. Flavors are muted in a cold cake so it's best served closer to room temperature.
To work ahead, bake and freeze the cake until the day you're ready to serve. Make the frosting and ice the cake just before serving.
The Cream Cheese Frosting is easiest to work with when it's freshly made.
To save leftovers – wrap each piece of cake in plastic wrap and freeze individually. Take a piece out and bring it back to room temperature before enjoying.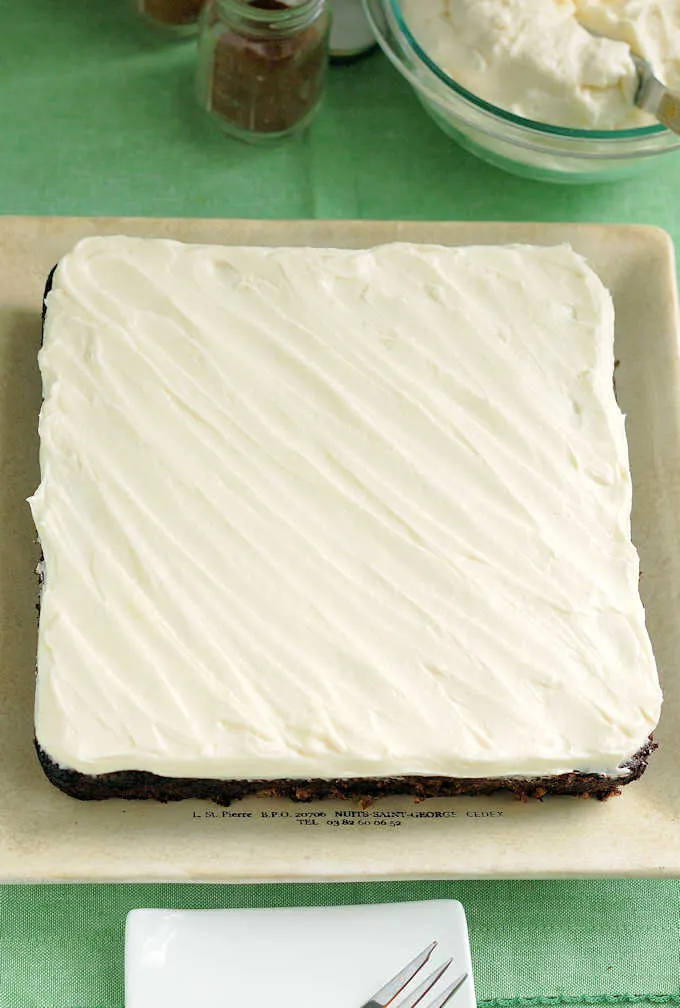 How to make Zucchini Cake with Cream Cheese frosting as a layer cake:
Bake the recipe in two 8″ round cake pans instead of one 9″ square pan.
Make a full batch of Cream Cheese Frosting (instead of a 1/2 batch as called for in the recipe).
Fill and ice the cake with the cream cheese frosting.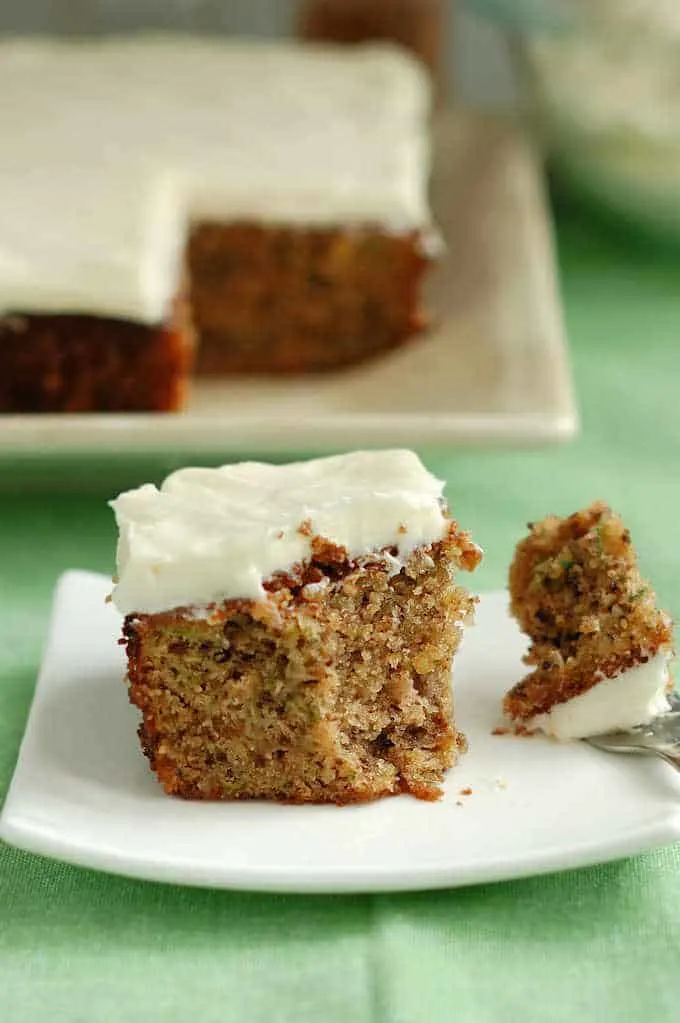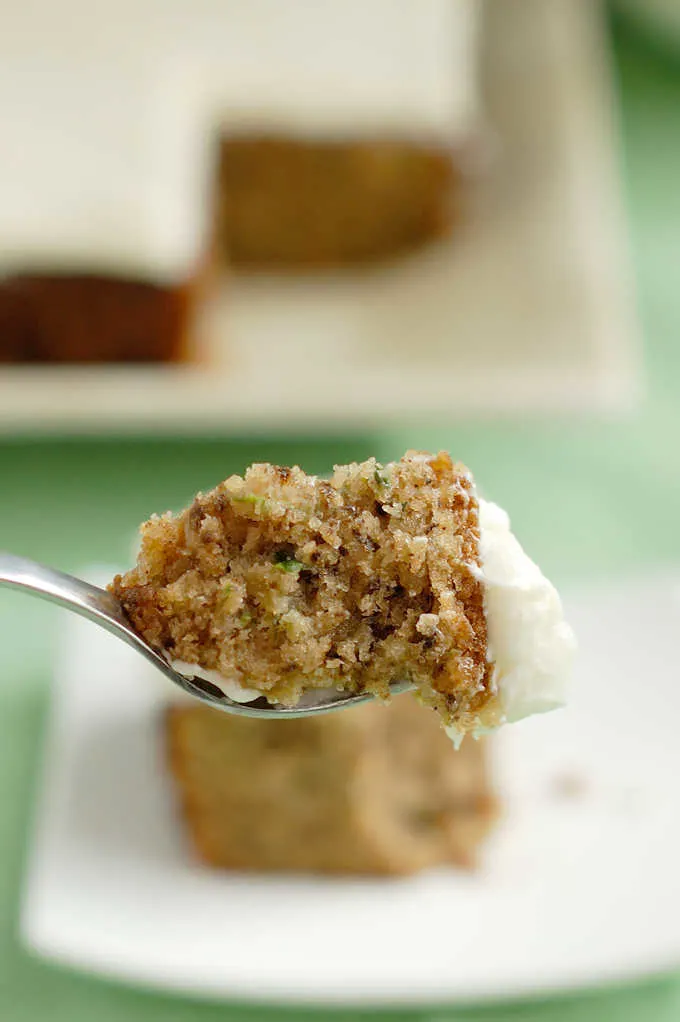 If you love this recipe as much as I do, I'd really appreciate a 5-star review.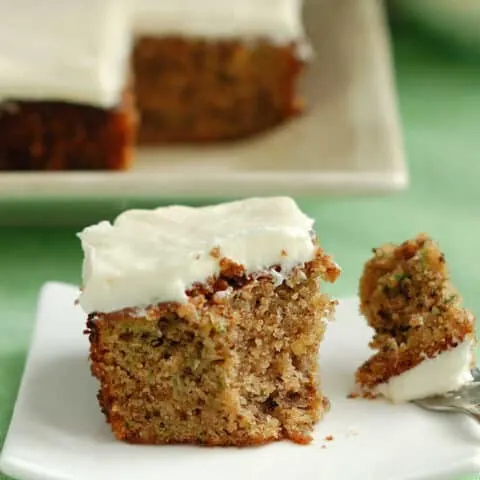 Zucchini Cake
Total Time:
1 hour
5 minutes
Zucchini Cake with Cream Cheese Frosting is a real treat. The lightly spiced cake is made super moist and flavorful thanks to a whole bunch of shredded zucchini. Luscious Cream Cheese Frosting is the perfect finish for this easy to make cake.
Ingredients
1 pound (454g) zucchini (about 2-3 medium)
1 1/2 cups (7.5 oz, 210g) all purpose flour
1/2 teaspoon baking soda
1 1/2 teaspoons baking powder
1 1/2 teaspoons cinnamon
1 1/2 teaspoons ginger
1/2 teaspoon nutmeg
1/2 teaspoon salt
3/4 cup (5 1/2 oz, 165ml) vegetable oil
3/4 cup (6 oz, 168g) granulated sugar
3/4 cup (6 oz, 168g) brown sugar
3 large eggs
1 teaspoon vanilla extract
1/2 teaspoon lemon extract
1 cup (4 oz, 112 g) walnuts (optional) ground to small pieces
Instructions
Preheat the oven to 350°F. Line a 9" square cake pan with parchment paper, or butter and flour the pan.
Use the large holes of a box grater or the large grating disc of a food processor to shred the zucchini. Spread the zucchini in an even layer on a paper towel and cover with another paper towel. Press to absorb the liquid. Let the zucchini sit while you mix the batter.
Sift together the flour, baking powder, baking soda, spices and salt. Set aside.
Mix the oil, granulated sugar and brown sugar until it resembles applesauce. Add the eggs, vanilla and lemon extract. Mix until the batter is smooth and emulsified.
Add the dry ingredients in three batches, scraping the bowl in between. Fold in the zucchini and the optional walnuts. Mix until completely combined.
Spread the batter into the pan. Bake until the cake springs back when lightly pressed or a toothpick inserted in the center comes out clean, about 45 minutes.
Cool the cake in the pan for 10 minutes, then turn it out onto a rack to cool completely.
Ice the cooled cake with the cream cheese frosting.
Notes
This recipe can be doubled and baked in a 9"x13" cake pan. Use a full batch of cream cheese frosting to ice the cake.
Recommended Products
As an Amazon Associate and member of other affiliate programs, I earn from qualifying purchases.