Whole Wheat Zucchini Bread? With so many zucchini bread recipes out there I debated if I needed to send yet another out into the world. But it is such an easy and tasty way to use zucchini and, as my daughter reminded me, everyone can use a good basic recipe that is well-tested and reliable.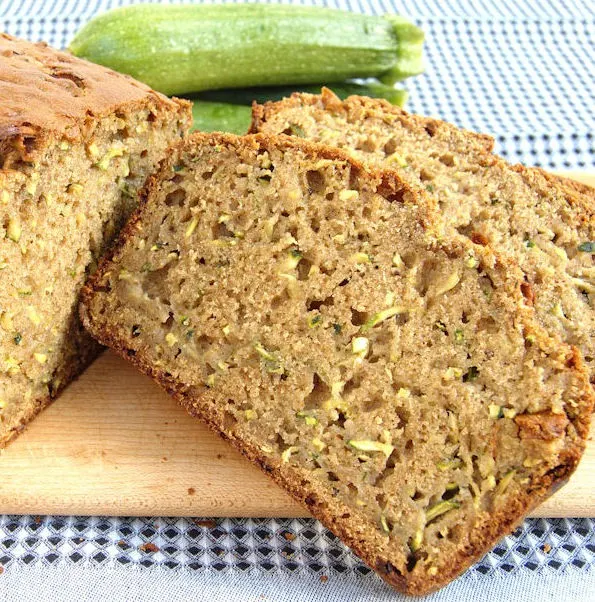 The goal was a zucchini bread that is more like a quick bread and less like a cake. I wanted it to be hearty and not super sweet.
First and foremost, this recipe is not shy with the zucchini. There's a full pound of zucchini in one loaf. I cut the zucchini on a mandoline to get substantial shreds of the vegetable. If you don't have a mandoline use the large holes of a box grater or the large grating disc of a food processor. If you shred it too fine it will break down and disappear into the bread. For some recipes that might be what you want, but for this loaf I wanted the bits of zucchini to be visible in the final product.
Once again, as in my zucchini biscuit recipe, I drained the shredded zucchini on paper towels to take out some excess moisture.
Instead of just white flour, the recipe calls for 1/2 whole wheat flour and 1/2 white flour. The white flour gives the bread enough structure so that it's not too dense or gummy and the whole wheat flour brings a nice rustic flavor and texture to the loaf.  There's just enough sugar and a touch of honey for a sweet note. But this loaf is definitely less like dessert and more like a breakfast bread. I think it's hearty enough to be eaten along side a salad for lunch.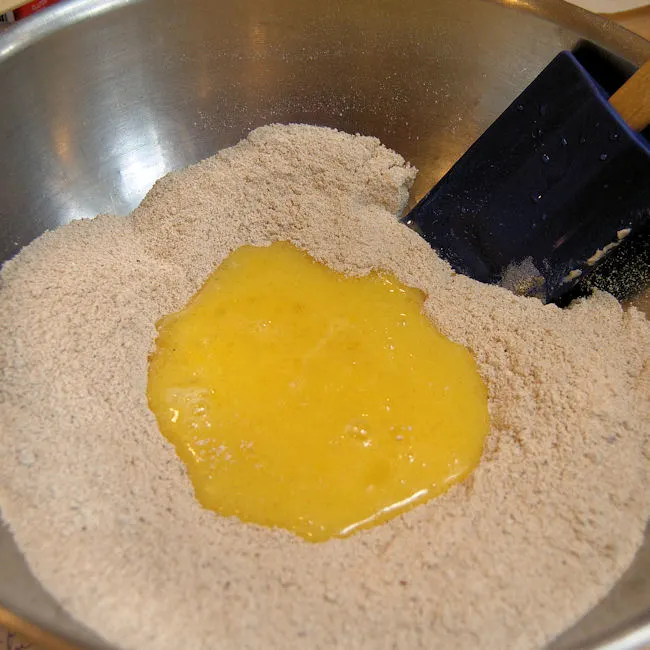 So there's my addition to the multitude of zucchini bread recipes in the world. I'm happy with the result because this loaf really showcases the vegetable.
I got another 2 pounds of zucchini in my farm share today. So I guess can always use another zucchini recipe. Hopefully you can too.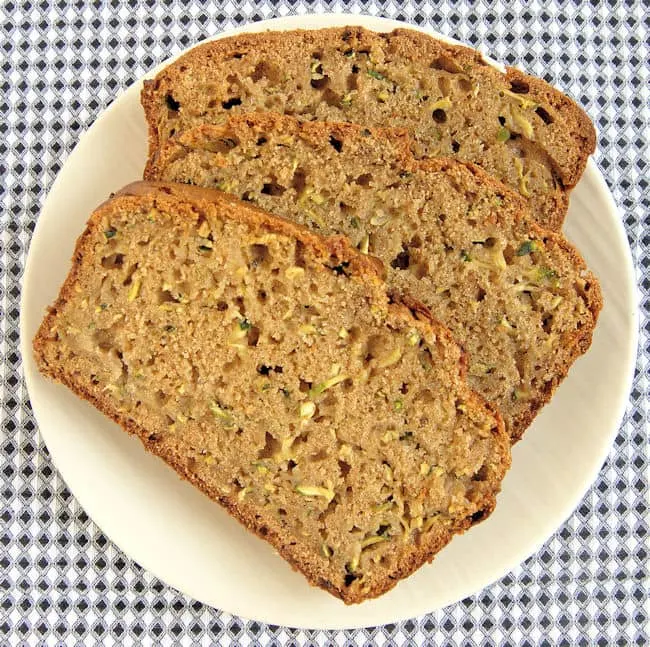 Zucchini Whole Wheat Loaf
Yield: 10-12 slices

Prep Time: 30 minutes

Cook Time: 55 minutes

Total Time: 1 hour 25 minutes

A less sweet zucchini bread made with whole wheat. Perfect for breakfast for with a salad.
Ingredients
4 cups (1 #, 454g) shredded zucchini
3/4 cup (6 oz, 170g)light brown sugar
2 tablespoons honey
1/2 cup (4 oz, 118 ml) vegetable oil
2 large eggs
3/4 cup (3oz, 80 g) all-purpose flour
3/4 cup (3oz, 80 g) whole wheat flour
2 teaspoons cinnamon
1/2 teaspoon ginger
1/4 teaspoon nutmeg
1/2 teaspoon salt
3/4 teaspoon baking powder
1/4 teaspoon baking soda
Instructions
Preheat the oven to 325°F convection or 350°F conventional
Butter and flour a 9"x5" loaf pan
Prep the zucchini
Spread the shredded zucchini in an even layer on a paper towel
Cover with another paper towel and press to absorb the liquid
Let the zucchini set while you mix the batter
Mix the batter
Combine the flours, spices, salt, baking powder and baking soda in a mixing bowl
Whisk to combine
Add the brown sugar to the dry mixture and toss to incorporate
In another bowl, combine the oil and eggs and honey
Add the wet ingredients to the dry ingredients all at once and stir just until combined
The mix will seem dry, almost like a cookie dough, that's ok
Add the zucchini and fold just until combined
The dough will loosen up from the water in the zucchini and will look more like a muffin batter
Pour the batter into the prepared loaf pan
Bake until a toothpick comes out with just a few moist crumbs, about 45-55 minutes
Cool in the pan for 20 minutes and then turn out onto a cooling rack to cool completely