What's that? You've got too much zucchini? (You know you always do in the summer.) How about making Zucchini & Ricotta Pie – it's a great way to use a whole bunch of the prolific veggie.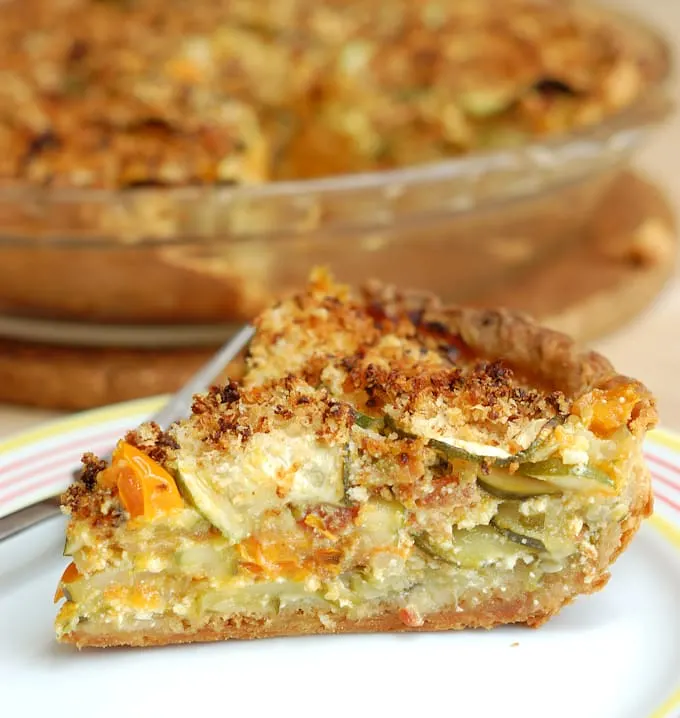 My Heirloom Tomato Pie is one of our favorite summer recipes. I was thinking about new ways to use zucchini and I thought I'd try making a similar pie using zucchini in place of tomatoes.
Most "zucchini pie" recipes that you find are really a sort of quiche or frittata.
Remember, that zucchini is actually a fruit. So let's treat it like a fruit and bake it into a true-blue zucchini pie.
Tips for making (and adapting) Zucchini & Ricotta Pie:
Slice the zucchini very thin. This make layering the slices into the pie easier.
Make sure to salt and blot the zucchini to take out extra moisture.
You can swap out any of the added ingredients, but do use some flavorful add-ins since zucchini on it's own is fairly bland.
You can use goat cheese instead of ricotta cheese.
You can use speck or pancetta instead of bacon.
For a vegetarian pie, leave out the meat altogether.
I made a quick tomato sauce for the pie, but you can use canned tomatoes or chunks of heirloom tomatoes.
Bake the pie until the juice are bubbling in the middle. You can lift up a piece of zucchini in the center to check.
Cool the pie for at least an hour to allow the juices to reabsorb. If you cut it when it's too hot the slices will fall apart.
Click through the step by step photos to see how to make Zucchini & Riccotta Pie: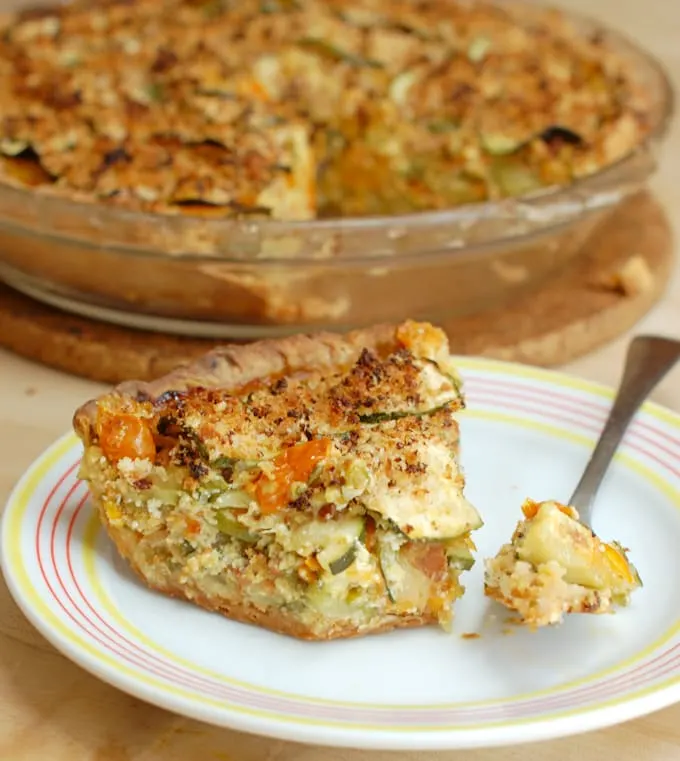 Zucchini Galette in a Whole Wheat Crust is another way to use lots of zucchini for a light and healthy summer meal. It's quicker and easier than pie.
Of course this pie is wonderful made with classic Flaky Pie Dough, but it's also really great with Cornmeal Pie Dough, Whole Wheat Pie Dough or Rye Pie Dough.
If you love this recipe as much as I do, I'd really appreciate a 5-star review.
You might also like: