Bursts of sweet cherry tomato with fragrant rosemary on a light and chewy crust – Cherry Tomato Focaccia with Rosemary & Parmesan is a great snack, or have it for lunch, or serve it with salad for a light dinner.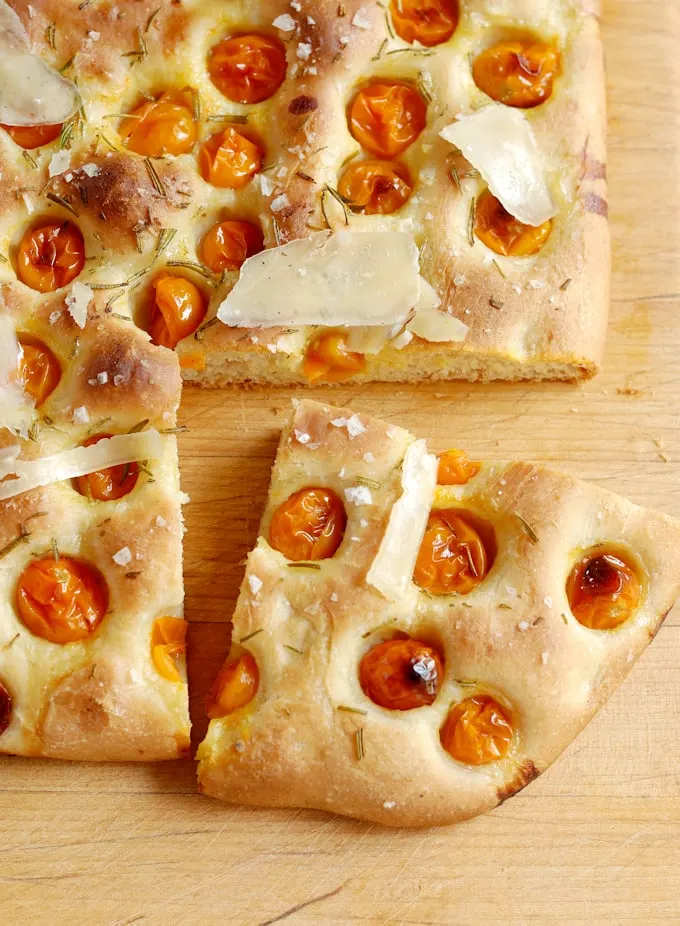 I love focaccia. But what's not to love? Light and chewy crust judiciously topped with just a few tomatoes and herbs makes the perfect snack or lunch. The key to a good focaccia is, of course, a light and chewy crust. But it's also important to control the urge to add more and more toppings. It's not a pizza after all.
To achieve a light and chewy crust you've got to make a fairly wet dough and knead it for 20 minutes or so to develop the gluten. You can see from the photo below how wet and stretchy the dough is. Compared to my pizza dough recipe, this focaccia dough has more water and I also added just a little whole wheat flour for flavor.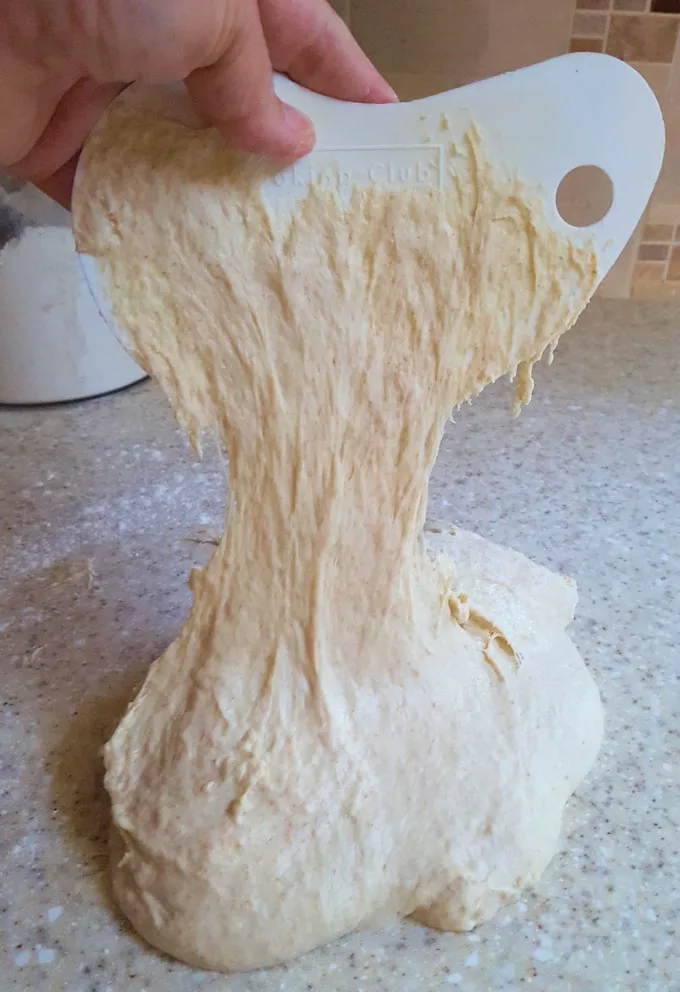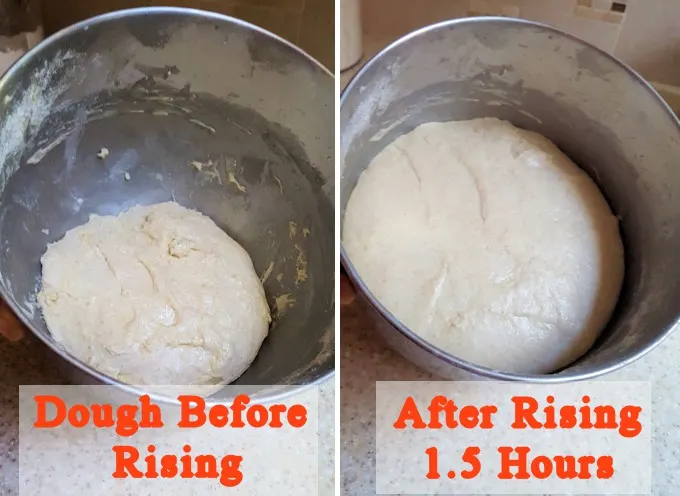 We get lots of "Sungold" cherry tomatoes in our farm share. Sungolds are unbelievably sweet and juicy and taste so good in this Cherry Tomato Focaccia. Of course you can use any good cherry or grape tomato that's available to you. Rosemary is traditional on a focaccia and it tastes great with tomatoes. I like the crunch of flaky sea salt as a finishing touch. I added a few Parmesan shards after baking because, well, because a little Parmesan is almost always a good thing.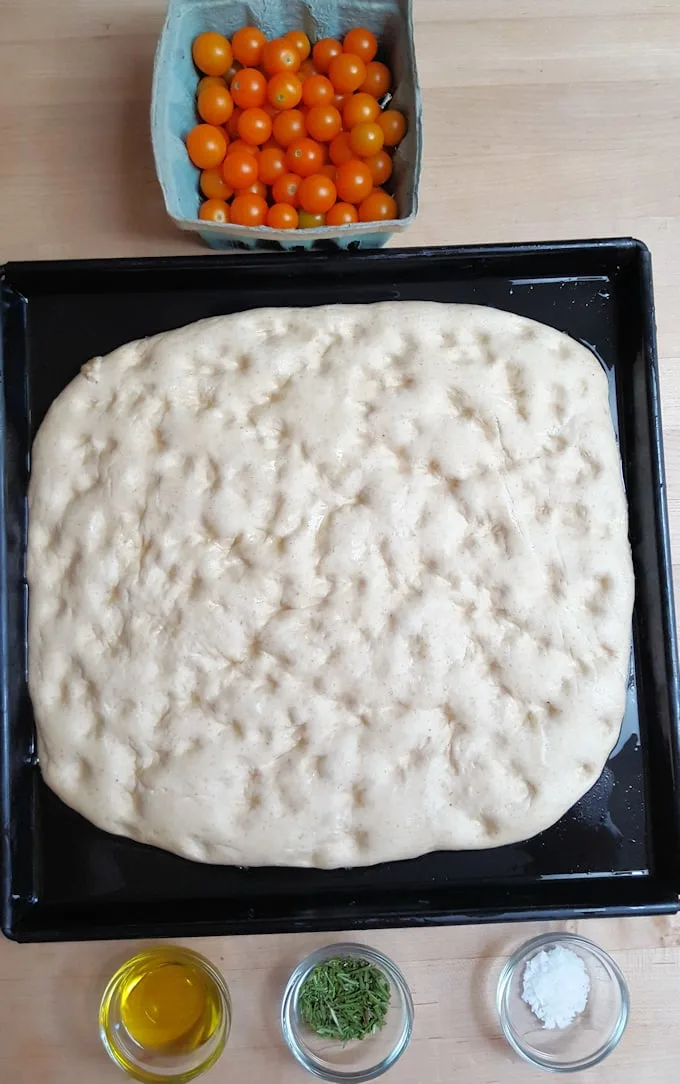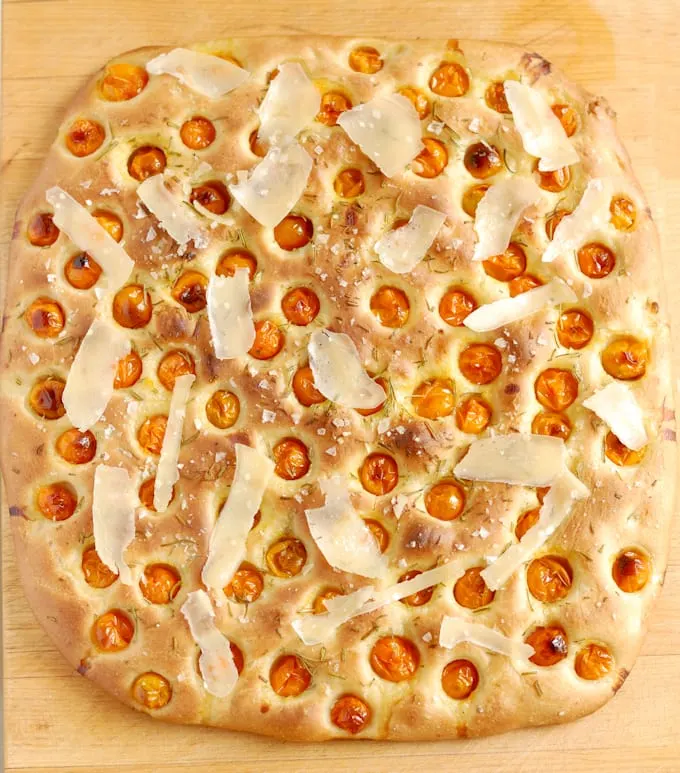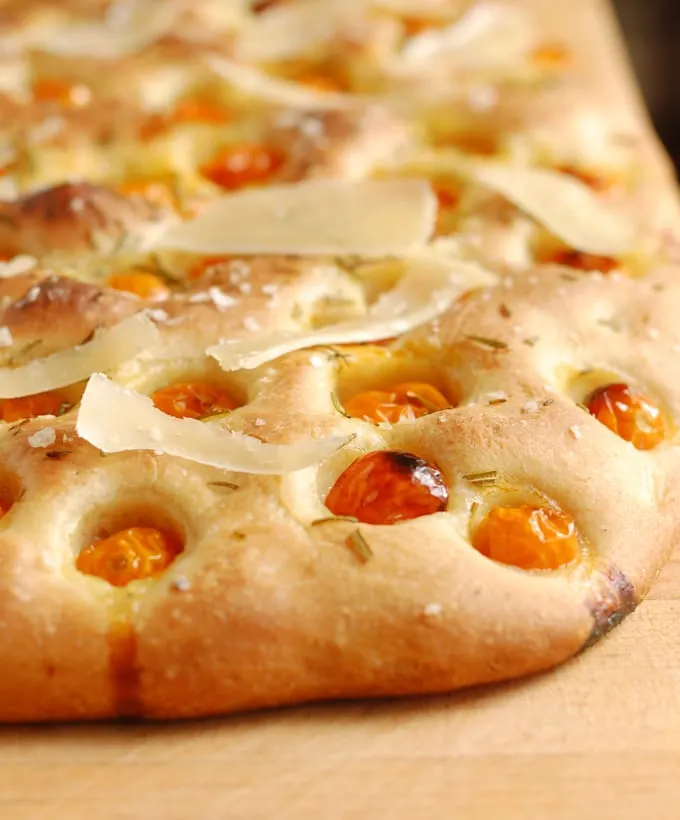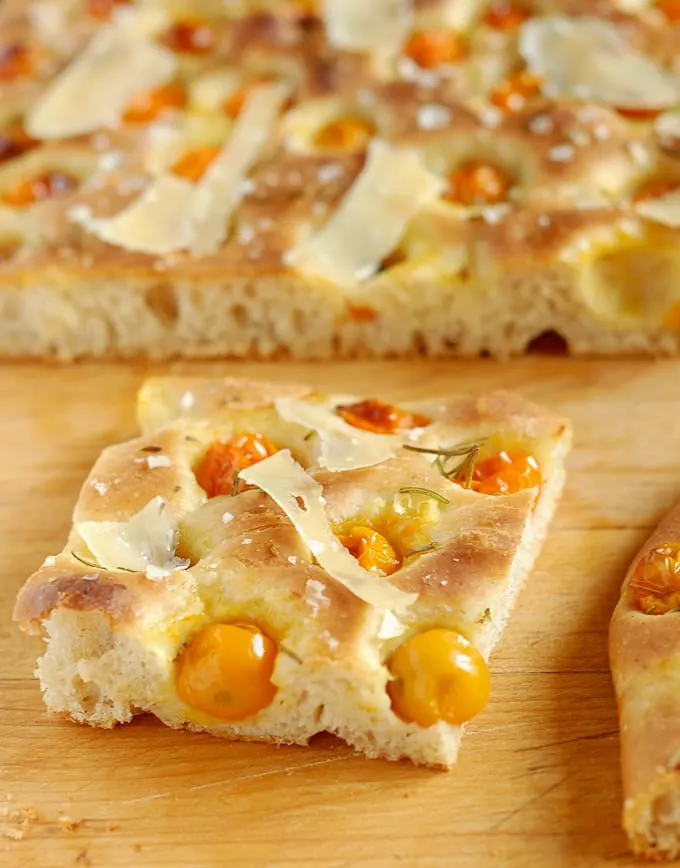 Cherry Tomato Focaccia with Rosemary & Parmesan
Total Time:
3 hours
20 minutes
Light and crusty focaccia with juicy cherry tomatoes, rosemary, sea salt & parmesan.
Ingredients
Focaccia Dough
1 3/4 cups (14 oz, ,400 ml) warm water
1 teaspoon dry yeast (not rapid rise)
4 cups (17 oz, 480g) All purpose flour
1/4 cup (1 oz, 28g) Whole Wheat Flour
1/4 cup olive oil
1 1/2 teaspoons table salt
Toppings
2 tablespoons olive oil
2 pints cherry tomatoes
1 scant tablespoon roughly chopped fresh rosemary (from about 1 large or 2 small sprigs)
1 teaspoon flaky sea salt
Parmesan cheese
Instructions
Combine the yeast with the water, add 2 cups of the all purpose flour and mix to combine
Cover the bowl with plastic wrap and rest the batter for 20 minutes
Add the whole wheat flour, oil and salt.
Switch to the dough hook and add the remaining all purpose flour
Knead on medium low speed for 20 minutes (speed 2 on my stand mixer)
The dough will be quite sticky but should also be very stretchy
Scrape the dough into a lightly oiled bowl, turning once to coat the dough
Cover and set aside in a warm place to double in volume, about 1 1/2 - 2 hours.
Lightly oil a 1/2 sheet pan with olive oil
Carefully place the risen dough onto the oiled pan and flip it over to coat the dough with a film of oil
Use your fingers to spread the dough to about a 1/2" thick square or rectangle
Allow the dough to rise for about 1 hour until a finger poked in the dough leaves a dimple.
Use your fingers to dimple the top of the dough all over
Press the cherry tomatoes into the dough, spacing them evenly over the focaccia.
Brush with 2 tablespoons olive oil, sprinkle with sea salt and rosemary
Bake at 375°F convection or 400°F regular for about 20 minutes until puffed and golden brown
Transfer the focaccia to a cutting board, brush with remaining olive oil
Use a vegetable peeler to create shards of Parmesan over the top of the warm focaccia.