Heirloom Tomato Pie is one of my favorite ways to use luscious summer tomatoes. Layers of vine ripened tomatoes with fresh herbs and goat cheese. Summer dinner perfection!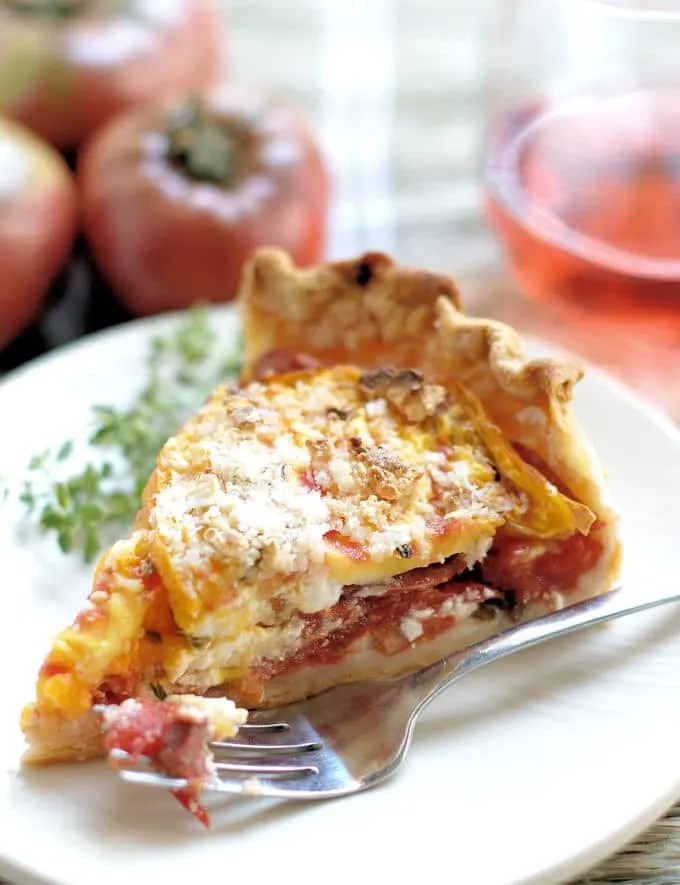 This pie is usually the first dish I make when the summer tomatoes start rolling in. It's my husband's favorite, it's fairly light and is just as good, if not better, for breakfast or lunch the next day.
In our area "tomato pie" usually refers to a thick bread-y crust baked with tomato sauce on top, basically a cheese-less pizza. But in our house a tomato pie is a fruit pie like any other other, except it's savory.
How to make a great Heirloom Tomato Pie:
This dish is really more of a concept than an actual recipe. The essential ingredients are a blind-baked pie crust and tomatoes. All the other ingredients are optional, well except maybe the salt, because tomatoes love salt.
I usually layer chunks of soft goat cheese in this pie because I think the flavors really work. But hey, use whatever cheese you've got on hand or is your favorite.
Summer herbs are a natural with these flavors. I particularly like lemon thyme with tomatoes, but fresh basil, parsley or oregano are also great choices.
Once you've got the pie dough rolled and blind-baked the pie comes together super fast.
It's pretty fail proof as long as you make sure to bake it until all the juices are bubbling, not just around the edges (check under one of the slices in the middle).
You have to wait a good 45 minutes to an hour after it comes out of the oven before you cut it. The juices need to reabsorb into the pie for the slices to hold their shape.
Luckily, this pie is perfect to make ahead since it tastes great slightly warm, room temperature or even chilled.
Of course this pie is wonderful made with classic Flaky Pie Dough, but it's also really great with Cornmeal Pie Dough, Whole Wheat Pie Dough or Rye Pie Dough.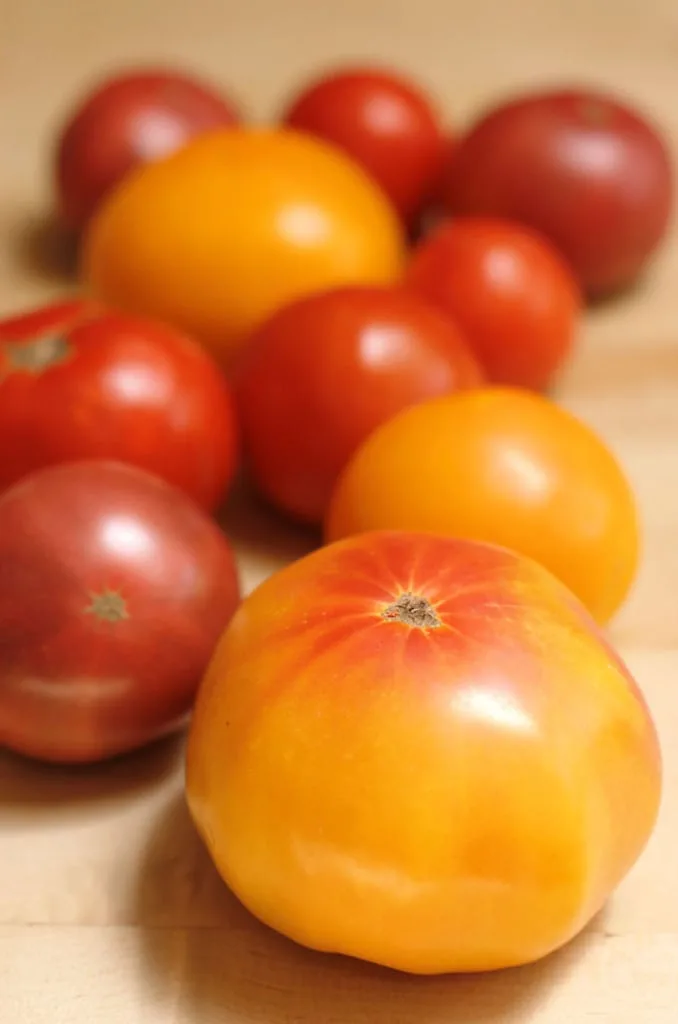 Scroll through the process photos to see how to make Heirloom Tomato Pie: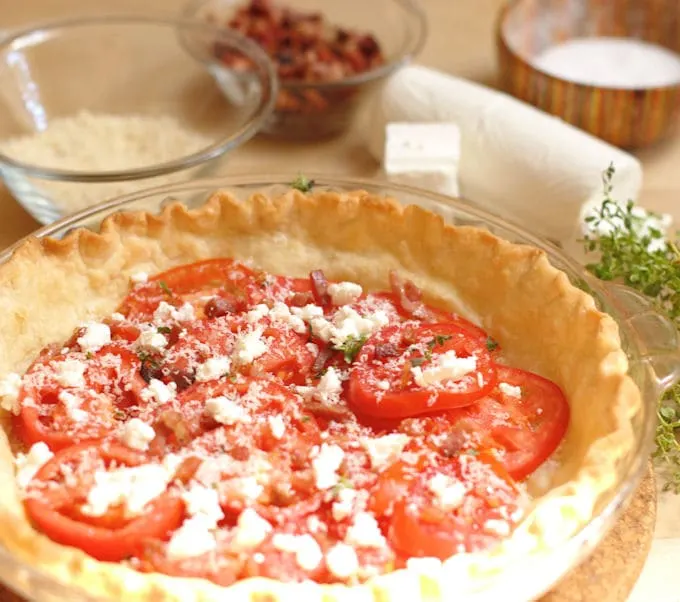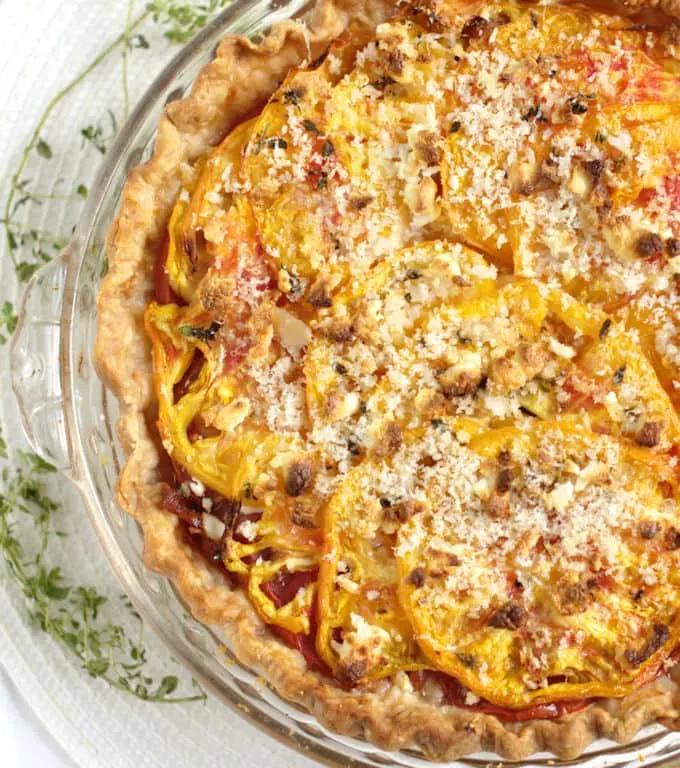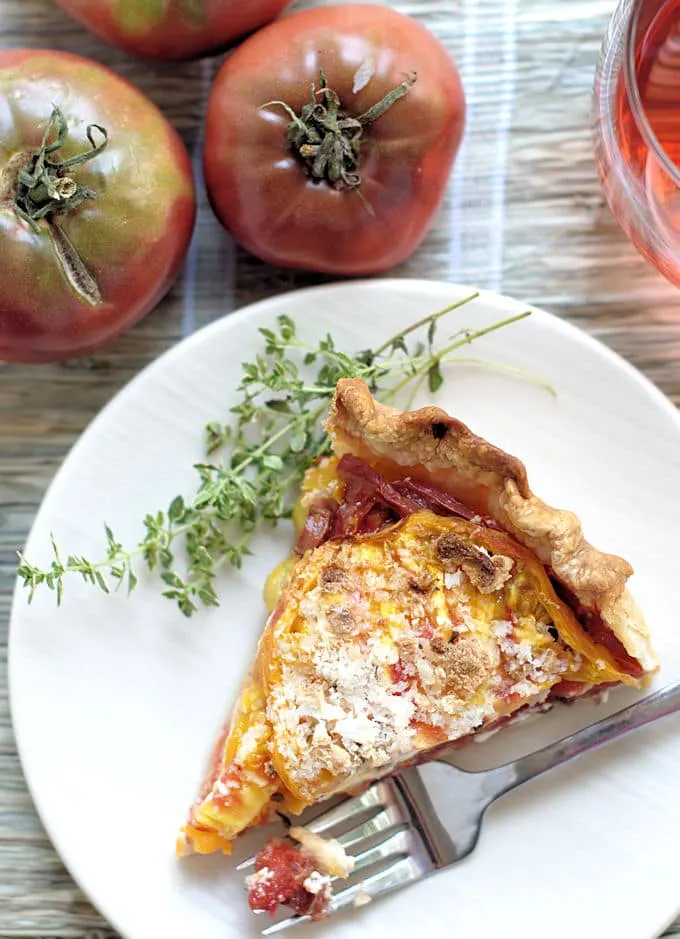 This is summer on a plate! Pour me a glass of cold rosé wine to go with it and I'm a happy camper.
If you love this recipe as much as I do, I'd really appreciate a 5-star review.