Sour Cherry Crumb Pie is a crazy-delicious, seasonal treat. Did you know that cherries and almonds are natural flavor partners? Chunky brown sugar-almond topping and tangy cherries are a match made in heaven.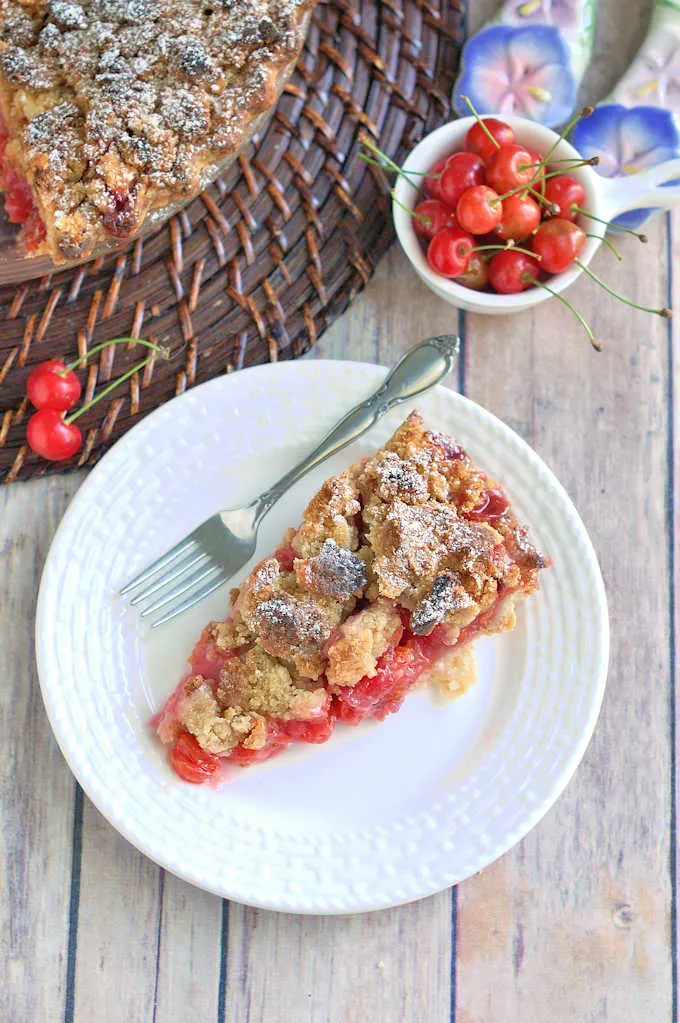 If you have access to fresh sour cherries, drop everything and make this pie! If you don't have access to fresh cherries, go ahead and use frozen or jarred cherries.
I may have mentioned 1 or 1010223039 times that I have a sour cherry tree in my back yard. I swear I planted that tree specifically so I could make sour cherry pie. I love cherry pie that much.
Beyond the classic Sour Cherry Lattice Pie, I've also created recipes for Sour Cherry Almond Hand Pies, Sour Cherry Cobbler, Rustic Sour Cherry Cake and Sour Cherry Preserves and New York Cheesecake with, you guessed it, Sour Cherry Topping.
Since I got a windfall of cherries this year, I was eager to make a new sour cherry pie recipe to share with you. So, here ya go…
Scroll through the step-by-step photos to see how to make a Sour Cherry Crumb Pie: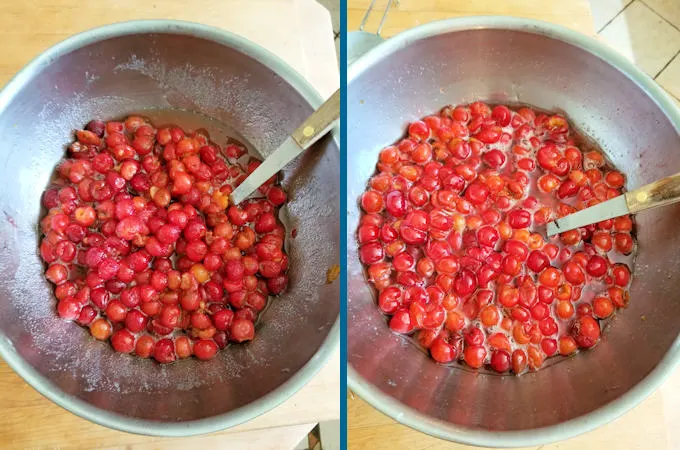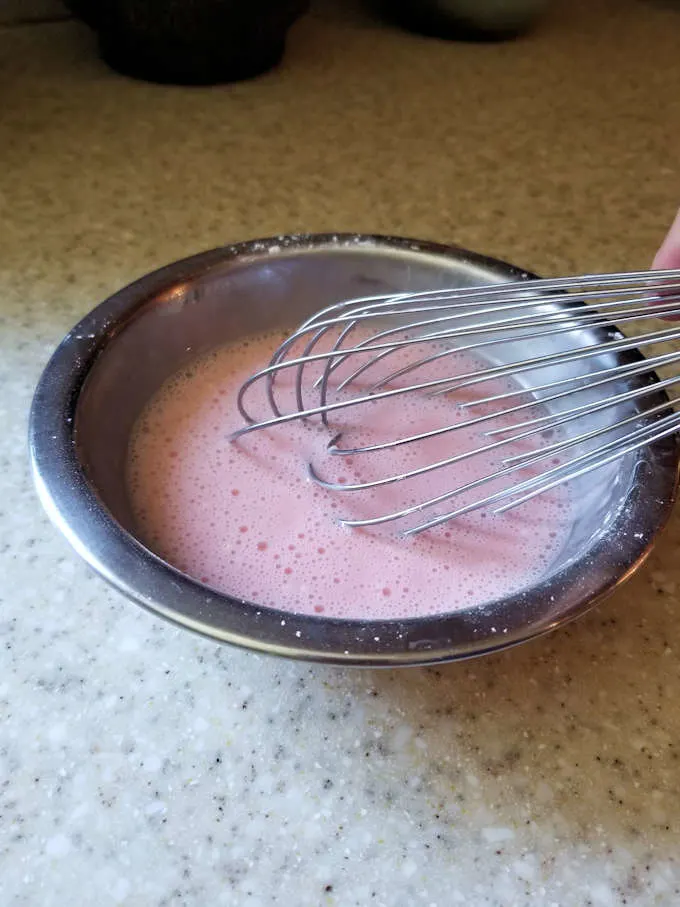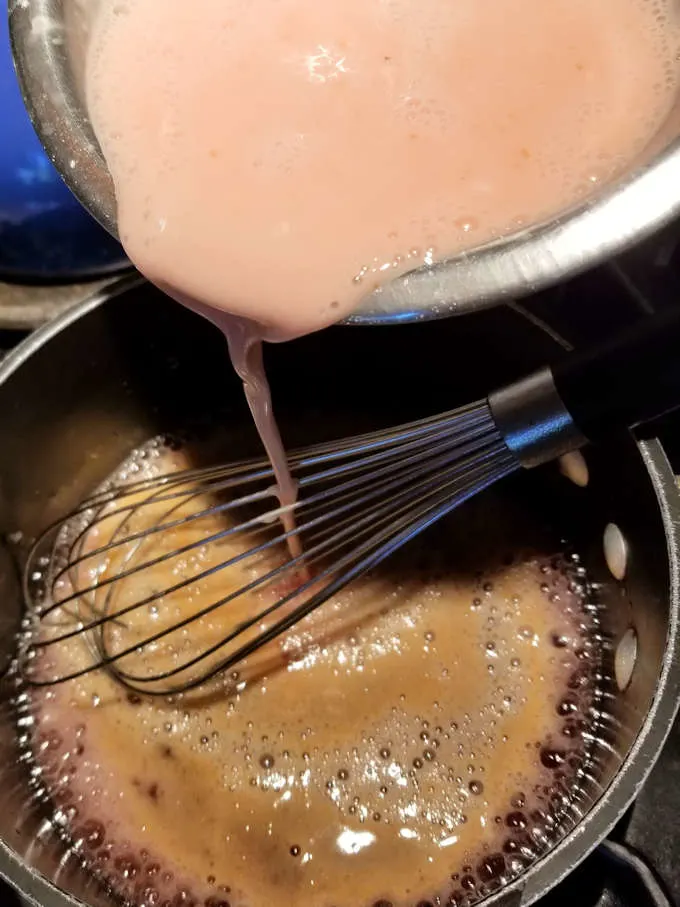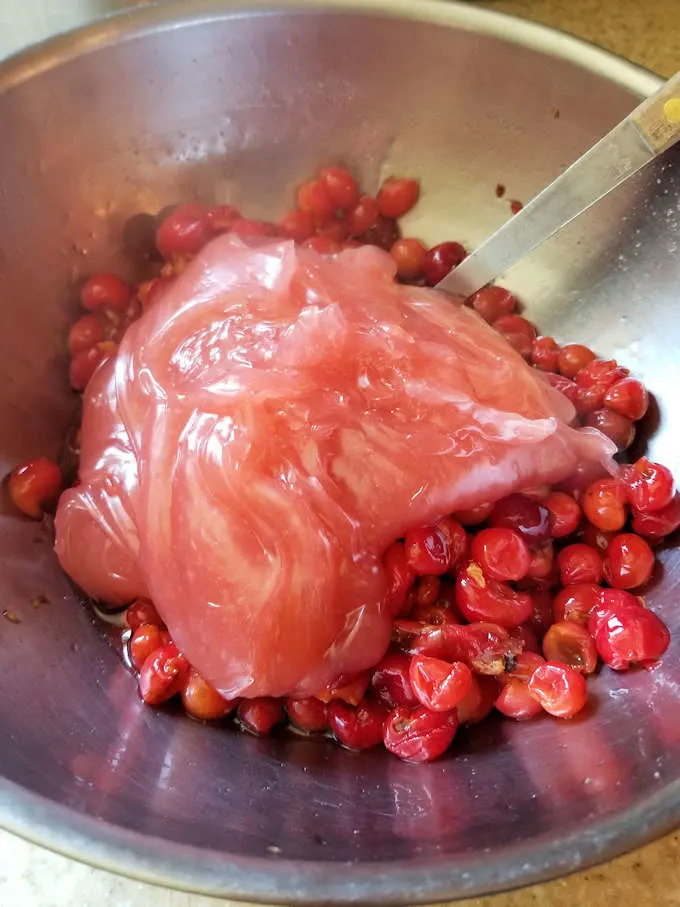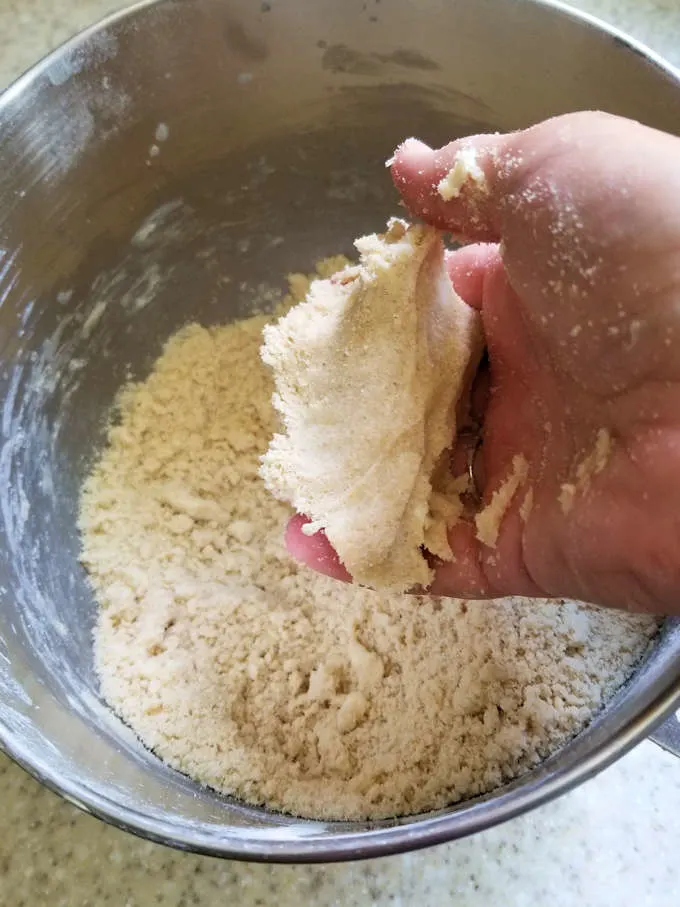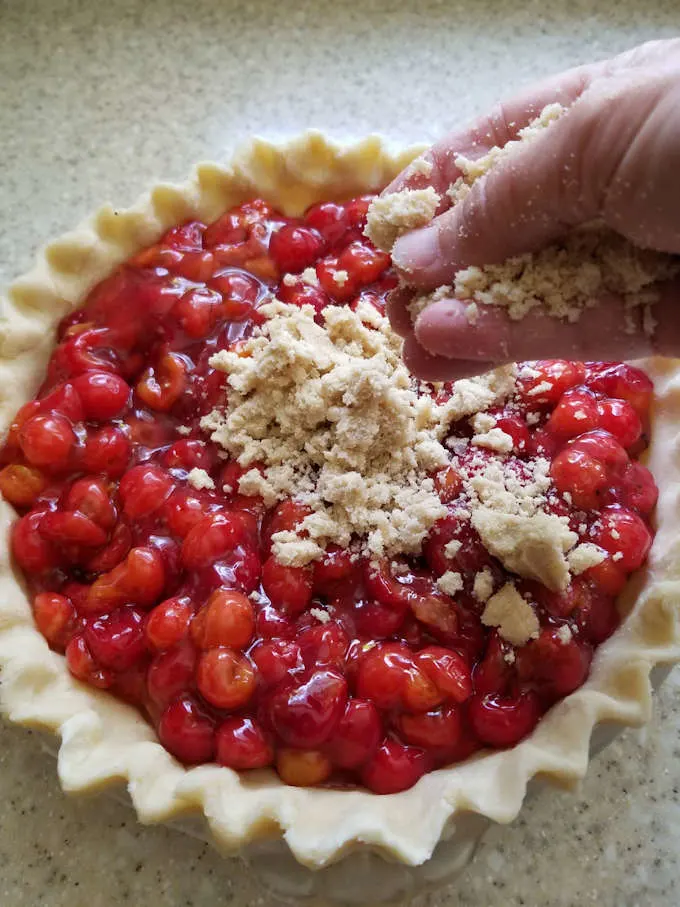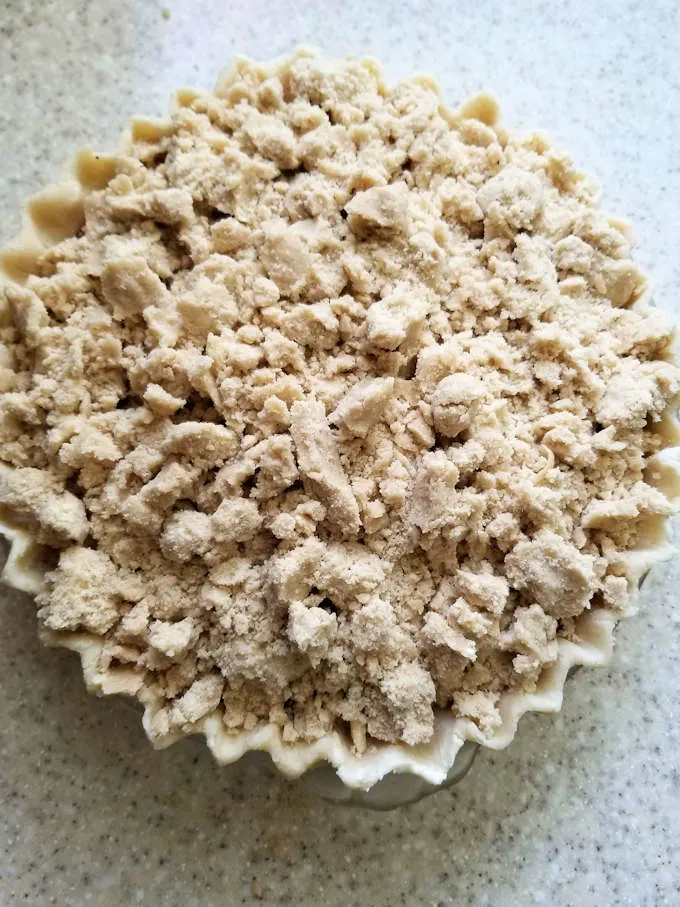 Tips for making a perfect Sour Cherry Crumb Pie:
You must use sour cherries, not sweet cherries. They're not the same.
Frozen or jarred sour cherries are the best substitute for fresh cherries.
Macerate the cherries and then precook the juice with the starch before the pie goes into the oven. Because the juice is already thickened by the starch, your pie filling won't be runny. Visit the Peach Crumb Pie post to learn about the science behind macerating the fruit.
Even though you only need one crust, make a full recipe of Perfect Pie Dough and freeze the other half to use another day.
This recipe makes a generous layer of crumb topping. You can make half or 3/4 of the topping if you prefer a thinner layer of crumbs.
Place a sheet of aluminum foil under the pie to catch any juice that boils over.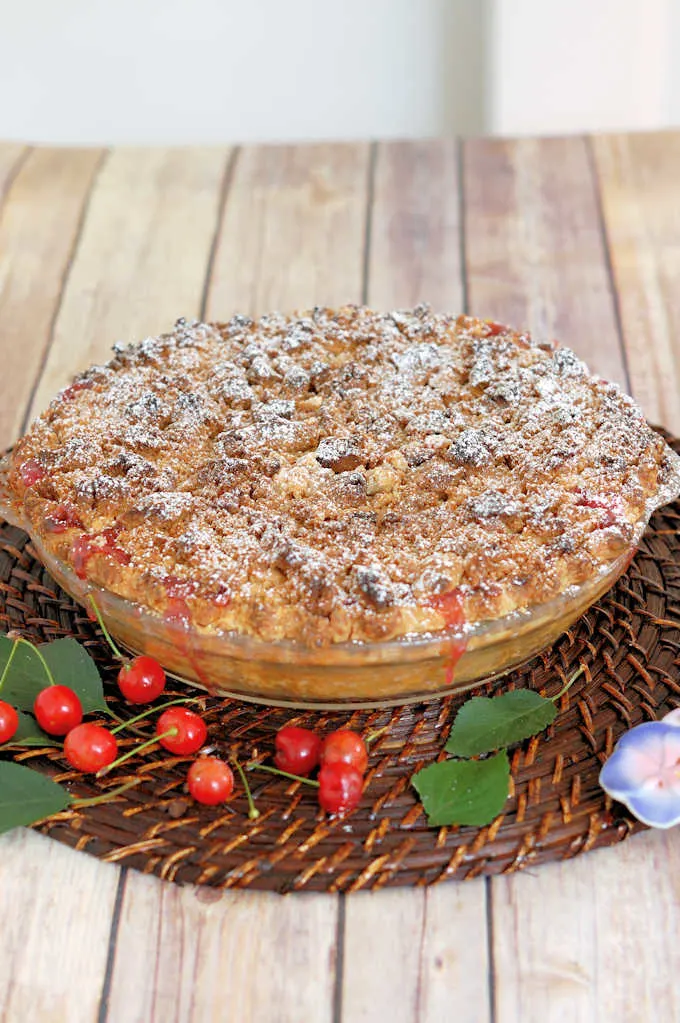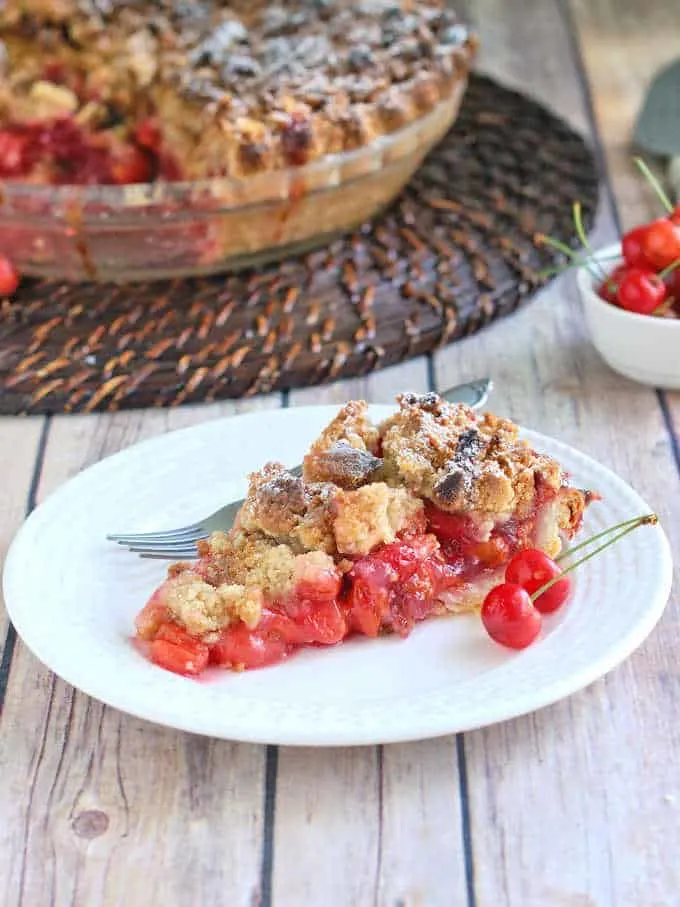 If you love this recipe as much as I do, please consider leaving a 5-star review.
You might also like: