Sour Cherry Pie just might be the greatest of all fruit pies! I love the sweet/tart filling in contrast to the flaky pastry. It's summer dessert perfection.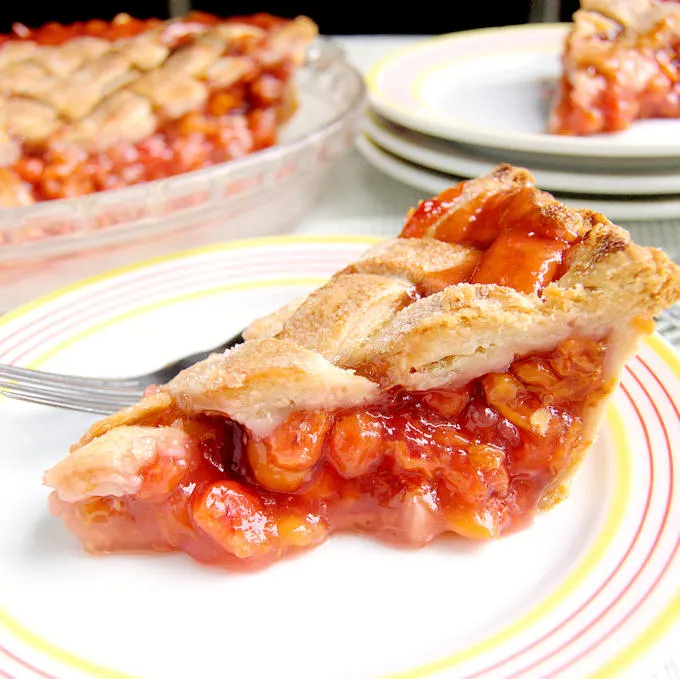 I love all pies, especially fruit pies. (I know, I know, you're probably thinking, "shut up already about pie".) I waited more than 10 years for this pie. Seriously, I planted my sour cherry tree over a decade ago with visions of making cherry pies for my kids.
Sadly, now that the tree has finally given me a bumper crop of cherries, neither of my kids are living home.
I guess our plans don't always work out exactly as we had in mind, but I'm still thrilled with my sour cherries and thoroughly enjoyed a couple of slices of pie myself.
I keep the ingredients for the cherry pie filling simple because I don't think the fruit needs any embellishment. No need to add add lemon juice or zest as I do for many fruit desserts because the cherries are plenty tart naturally. Some recipes add almond extract to cherry pie filling, but there is a natural hint of almond flavor in the cherry so I don't think it's needed.
If you don't have access to fresh cherries you can look for frozen, canned or jarred cherries in a well stocked grocery store and, of course, you can even buy them on-line.
Click through the step-by-step photos to see how to make fresh sour cherry pie filling:
For this pie I made a traditional lattice crust. It looks so pretty even when the juices overflow a bit. If you've never made a lattice crust it's really very easy.
Watch this video to sew how to make a lattice pie crust: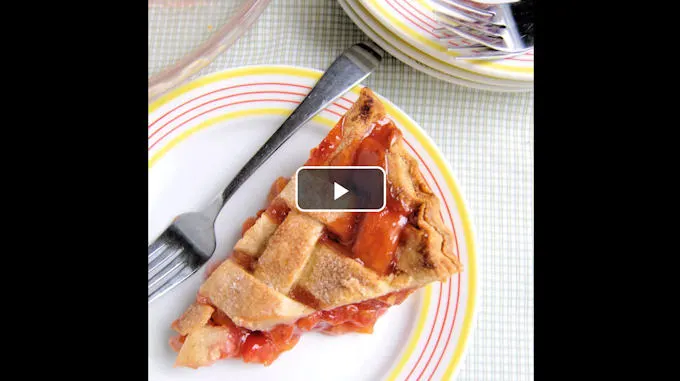 A little egg wash and a generous sprinkling of sugar on the top crust is all you need to finish your beautiful creation. This is the quintessential July 4th dessert. Enjoy!!
Is anyone else as pie-obsessed and I am? Tell me about your favorites, especially for summer.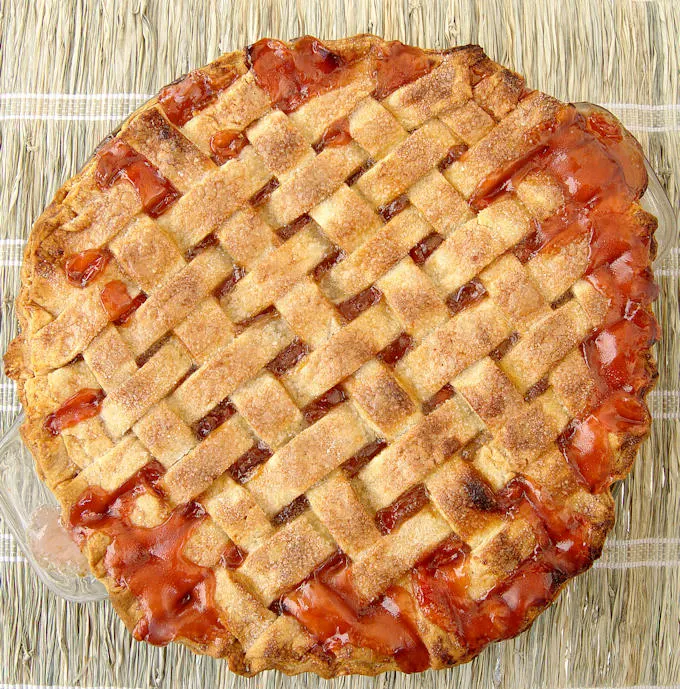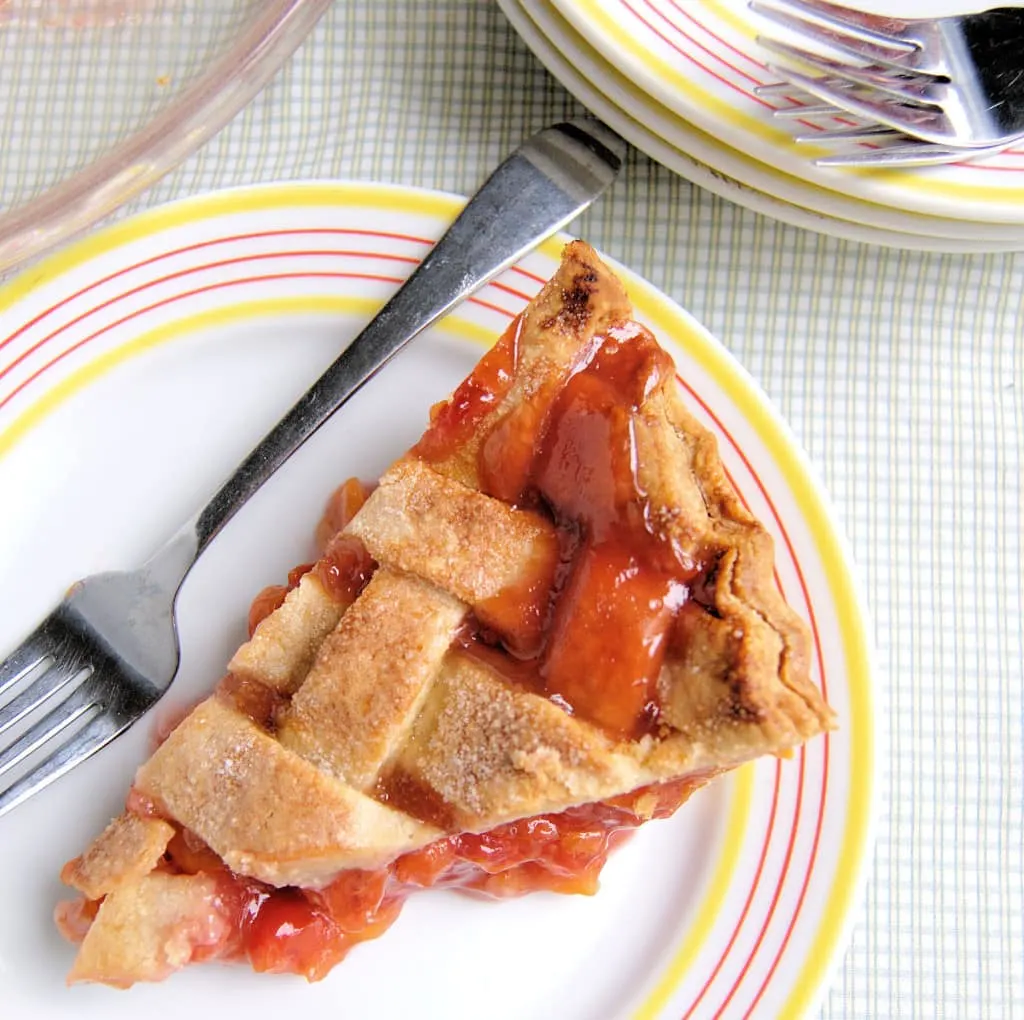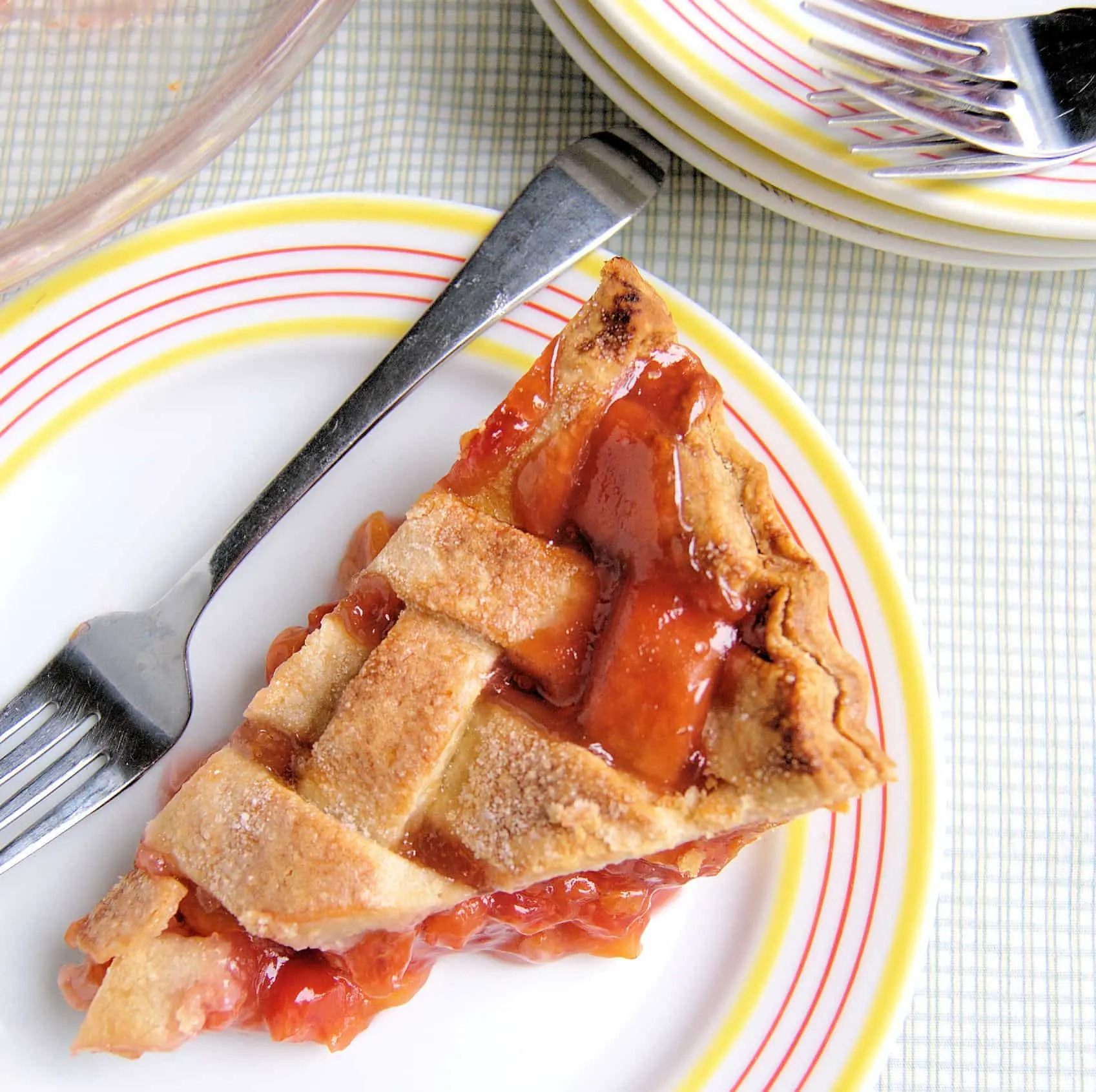 If you love this recipe as much as I do, please consider leaving a 5-star review.
Sour Cherry Pie
Total Time:
1 hour
45 minutes
The quintessential summer pie! Sour cherry with a lattice top crust.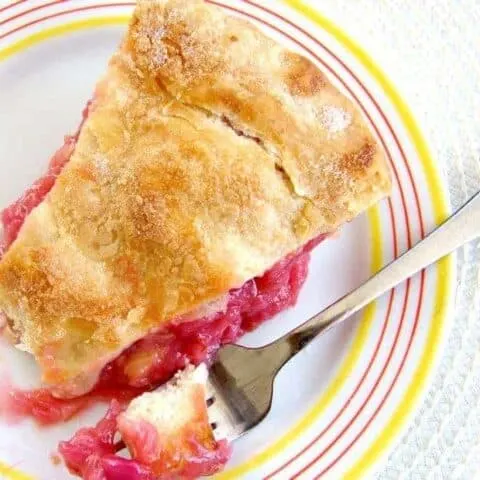 Perfect Pie Crust
Total Time:
2 hours
10 minutes
A Perfect Pie Crust is a thing of beauty. Because there are so few ingredients in a basic pie dough, how you mix those ingredients is crucial to achieve just the right texture. Add the fats in two stages to get a tender and flaky pie crust.
Ingredients
2 cups (10 oz, 285g) all purpose flour (see note)
2/3 cup (3.5 oz, 100g) cake flour
1 teaspoon salt
1 tablespoon granulated sugar
1/2 cup (4 oz, 115g) leaf lard (or vegetable shortening), cold
1/2 cup (4 oz, 115g) butter, very cold and sliced into 1/4" thin slices
1/2 cup (4 oz, 118 ml) ice cold water
Instructions
Combine the all purpose and cake flour with the salt and sugar. Whisk together to mix the ingredients evenly.
Using your fingers, cut the lard or shortening into the flour mixture until it resembles coarse corn meal. Using your fingers, toss the butter into the flour mixture. Allow the slices of butter to break up into slightly smaller pieces into the flour. Work quickly so the butter doesn't get warm. Don't break the butter down completely. There should be some large flakes remaining.
Pour the water onto the flour all at once and toss to combine. Gently press the dough just until it comes together. It will look a little dry in spots. The water will redistribute in the dough as it rests.
Wrap the dough and refrigerate for at least 2-3 hours before using.
Notes
This recipe uses a mixture of all purpose and cake flour to mimic pastry flour. All purpose flour will give the dough enough structure so it can hold the flaky texture and a small proportion of cake flour will help keep it tender. If you have pastry flour you can use that in place of the flour mixture.
Recommended Products
As an Amazon Associate and member of other affiliate programs, I earn from qualifying purchases.
You might also like: