Sour Cherry Pie just might be the greatest of all fruit pies!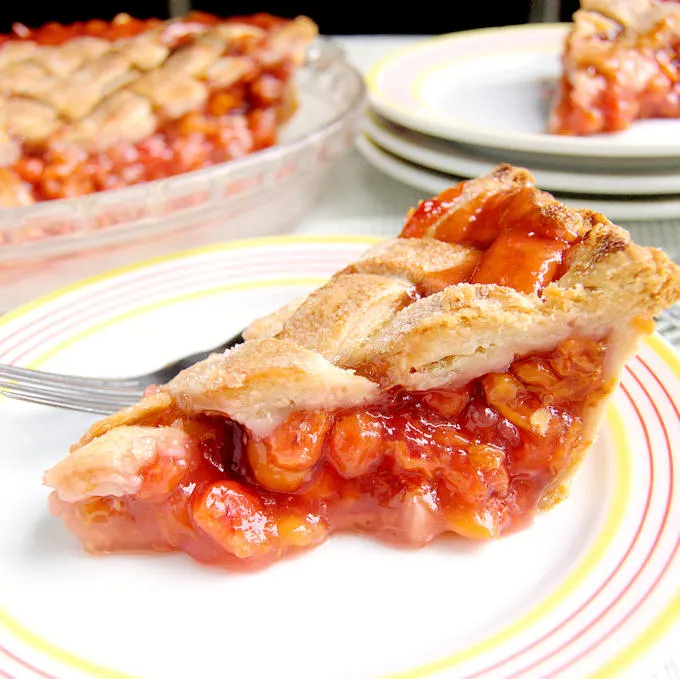 I love all pies, especially fruit pies. (I know, I know, you're probably thinking, "shut up already about pie".) I waited more than 10 years for this pie. Seriously, I planted my sour cherry tree over a decade ago with visions of making cherry pies for my kids.
Sadly, now that the tree has finally given me a bumper crop of cherries, neither of my kids are living home full time. We're visiting our son soon and I'll  bring frozen pie dough and frozen cherries so he can make a pie for himself. I saved some more cherries in the freezer so I can bake a cherry pie when our daughter comes home for Christmas.
I guess our plans don't always work out exactly as we had in mind, but I'm still thrilled with my sour cherries and thoroughly enjoyed a couple of slices of pie myself.
I keep the ingredients for the cherry pie filling simple because I don't think the fruit needs any embellishment. No need to add add lemon juice or zest as I do for many fruit desserts because the cherries are plenty tart naturally. Some recipes add almond extract to cherry pie filling, but there is a natural hint of almond flavor in the cherry so I don't think it's needed.
I used fresh cherries (have I told you about my cherry tree??). If you don't have access to fresh cherries you can look for frozen, canned or jarred cherries in a well stocked grocery store and, of course, you can even buy them on-line.
For this pie I made a traditional lattice crust. It looks so pretty even when the juices overflow a bit.
If you've never made a lattice crust it's really very easy.
Watch this video to sew how to make a lattice pie crust: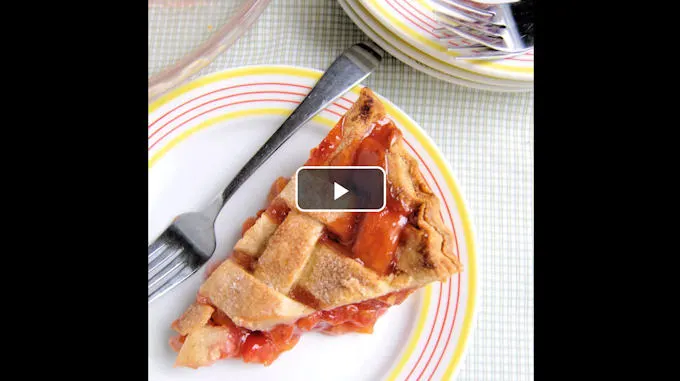 A little egg wash and a generous sprinkling of sugar on the top crust is all you need to finish your beautiful creation. This is the quintessential July 4th dessert. Enjoy!!
Is anyone else as pie-obsessed and I am? Tell me about your favorites, especially for summer.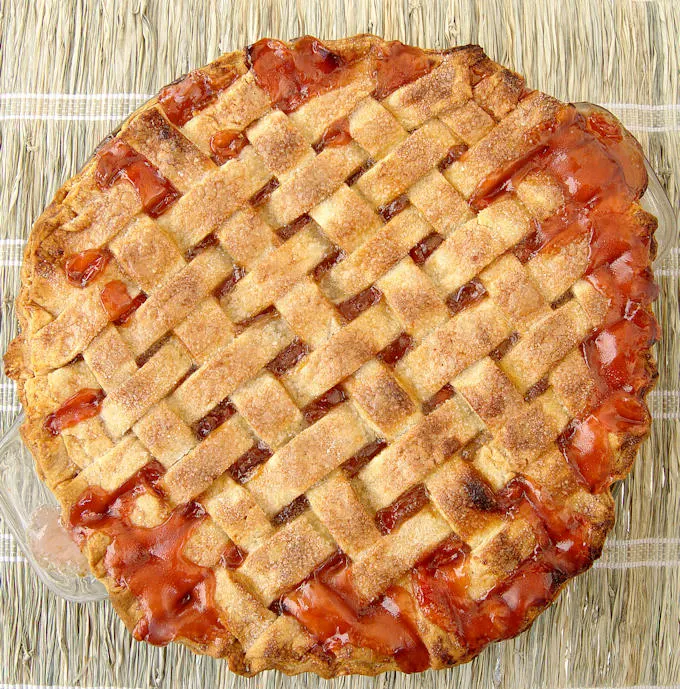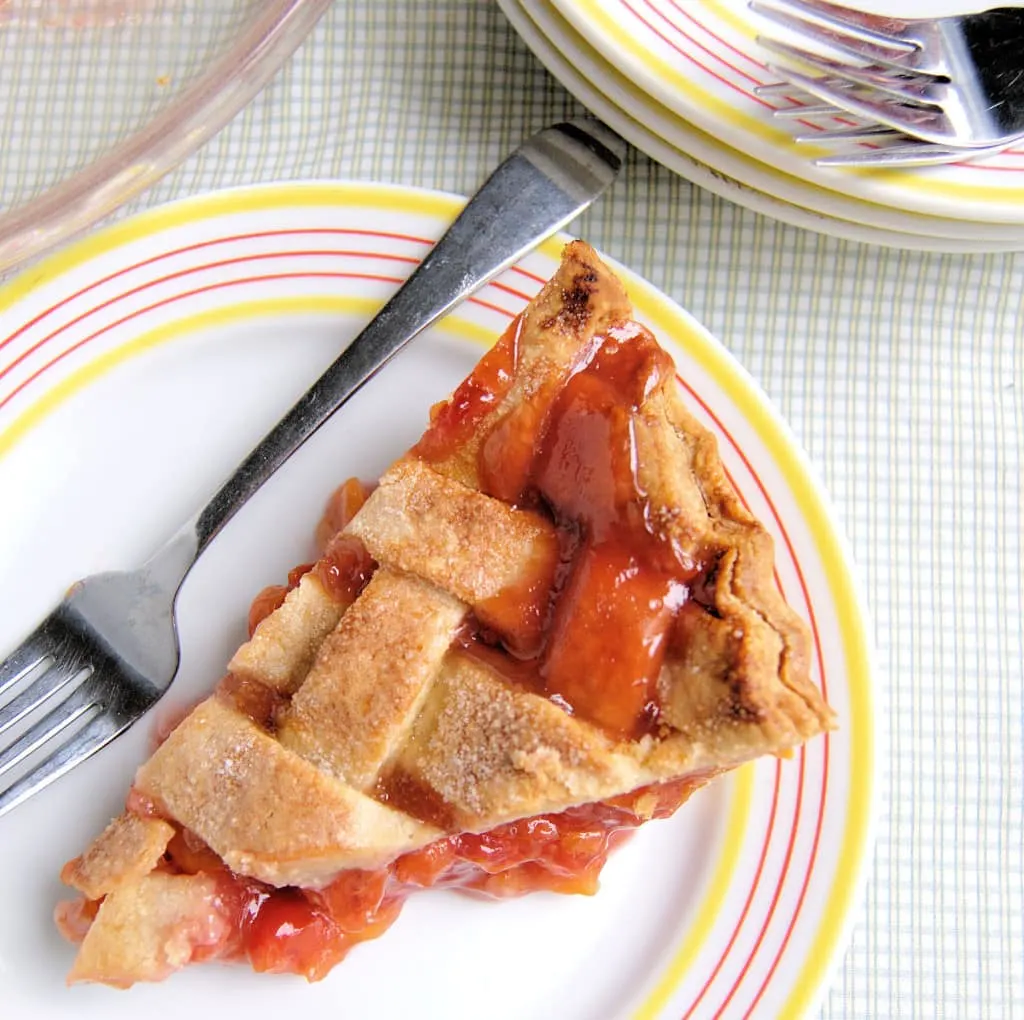 Eileen Gray
Yields 8 servings
Sour Cherry Pie
The quintessential summer pie! Sour cherry with a lattice top crust.
45 minPrep Time
1 hrCook Time
1 hr, 45 Total Time
Ingredients
1 Recipe Perfect Pie Crust divided into 2 equal pieces
3# pitted sour cherries and their juice (save the pits for Cherry Pit Ice Cream )
2 cups granulated sugar
5 tablespoons corn starch
pinch of salt
1 egg whisked with 1 tablespoon of water for an egg wash
Instructions
For the Crust:

Roll one 1/2 the pie dough to line a deep dish pie pan. Sprinkle the dough in the pan with a little flour.
Roll the other 1/2 of the dough, fold the dough in 1/2, sprinkle and fold in 1/2 again
Place the folded dough into the pie pan
Wrap the pie pan in plastic wrap and place in the refrigerator while the filling is prepared

For the Filling:

Toss the pitted cherries with 1 cup of the sugar and allow to macerate for 30 minutes
After 30 minutes drain the cherries, reserving the juice.
Remove 1/2 cup of the juice and combine with the corn starch. Stir until smooth
Place the remaining juice into a small saucepan and bring to a full boil over medium high heat
Add the remaining 1 cup of sugar to the boiling juice. Bring it back to a boil
Reduce the heat to medium low
Whisk the cornstarch mixture into the boiling juice in a steady stream
Cook the mixture, stirring constantly, until it returns to a boil and thickens
Remove the thickened juice from the heat and immediately pour over the pitted cherries
Toss to combine
Pour the cherries into the prepared pie crust
Brush the edge of the dough with egg wash
Preheat the oven to 350°f convection or 375°f conventional.
Brush the lattice top with egg wash and sprinkle generously with granulated sugar
Place the pie on a sheet pan to catch any overflowing juices
Bake on the bottom rack of the oven for about 1 hour until the juices are thickly bubbling
7.6.4
47
https://www.baking-sense.com/2015/06/30/sour-cherry-pie-with-a-lattice-crust/
You might also like:
Reader Interactions