These Sour Cherry Hand Pies are made with flaky cream cheese dough, almond frangipane filling and a dollop of sour cherry preserves. Make your own preserves or use store bought pie filling.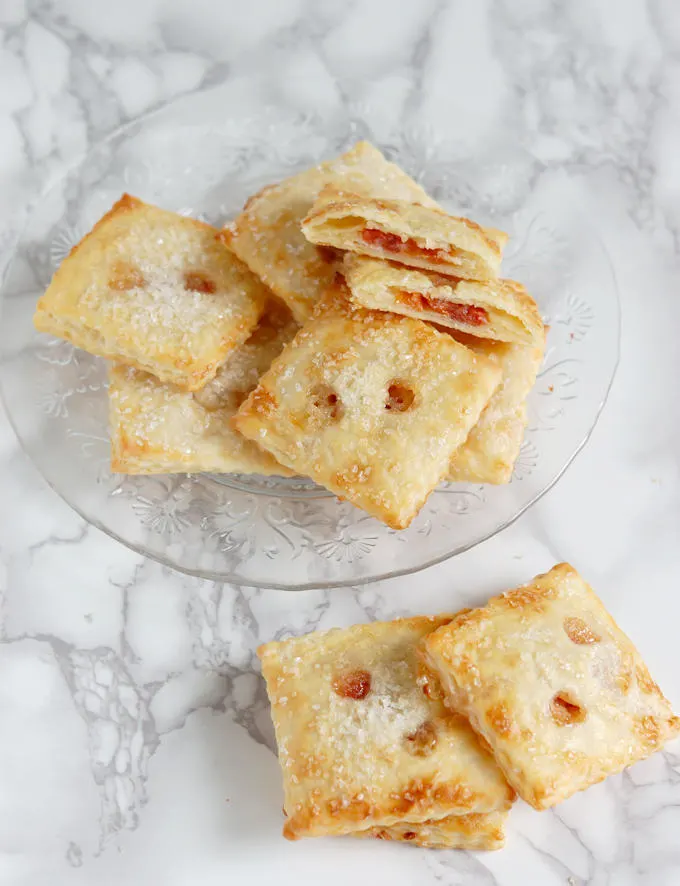 This recipe combines three of my favorite things; pie crust, sour cherries and almond frangipane!
The kernal at the center of a cherry pit has a natural bitter almond flavor. Because of this, cherries and almonds have a built-in flavor affinity. The two flavors work perfectly together every time. If you love marzipan (I do, I do) then this treat should be right up your alley.
Tips for making Sour Cherry Almond Hand Pies:
If you want to work ahead you can make the frangipane several days in advance and store it in the fridge. You can even freeze it for a couple of weeks if you really want to get a jump on the recipe.
The cream cheese dough can be made ahead and refrigerated for a couple of days, or frozen for a couple of weeks.
I used my homemade Sour Cherry Preserves in the filling. You can use homemade or store bought preserves, or even cherry pie filling.
Once the pies are assembled they should get a 15 minute rest in the freezer to help the dough keep it's shape during baking and to minimize filling leakage. You can see from the photo what a difference a few minutes in the freezer makes.
You could leave the assembled pies in the freezer for a couple of hours or even overnight. No need to defrost them since they're small. Pop them into the oven straight from the freezer.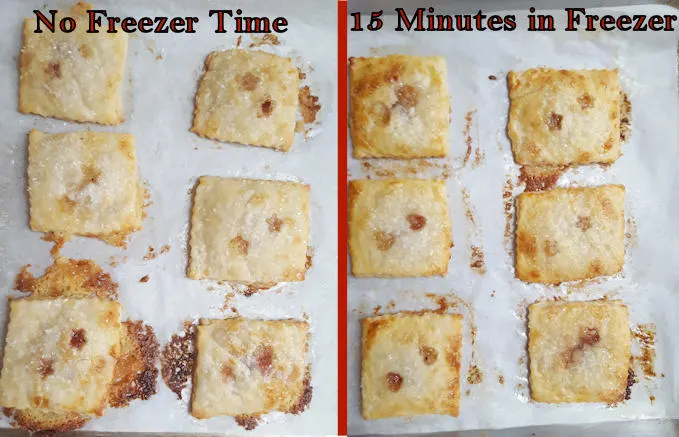 Scroll through the the step-by-step photos to see how to make Sour Cherry Hand Pies: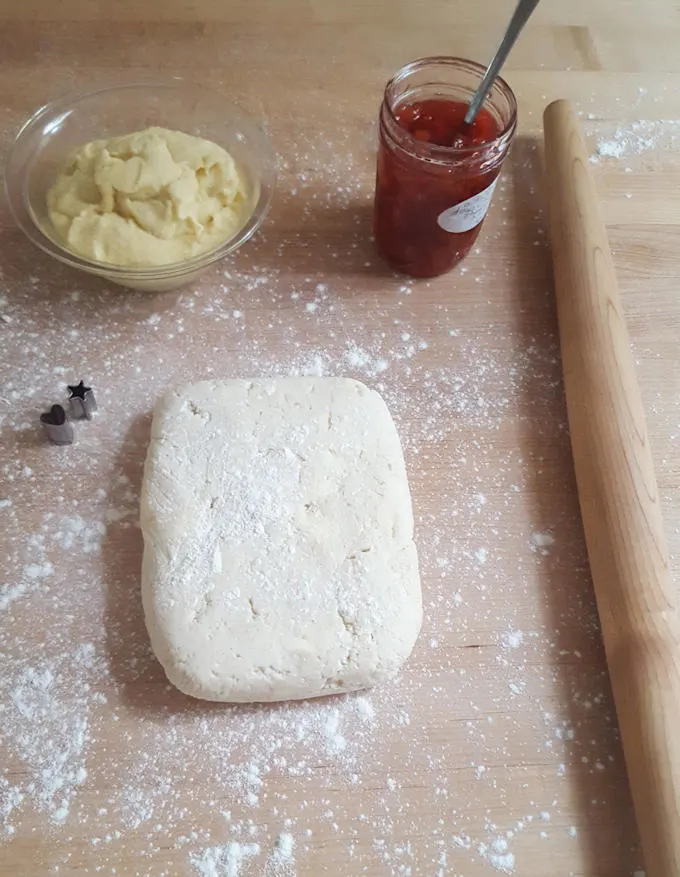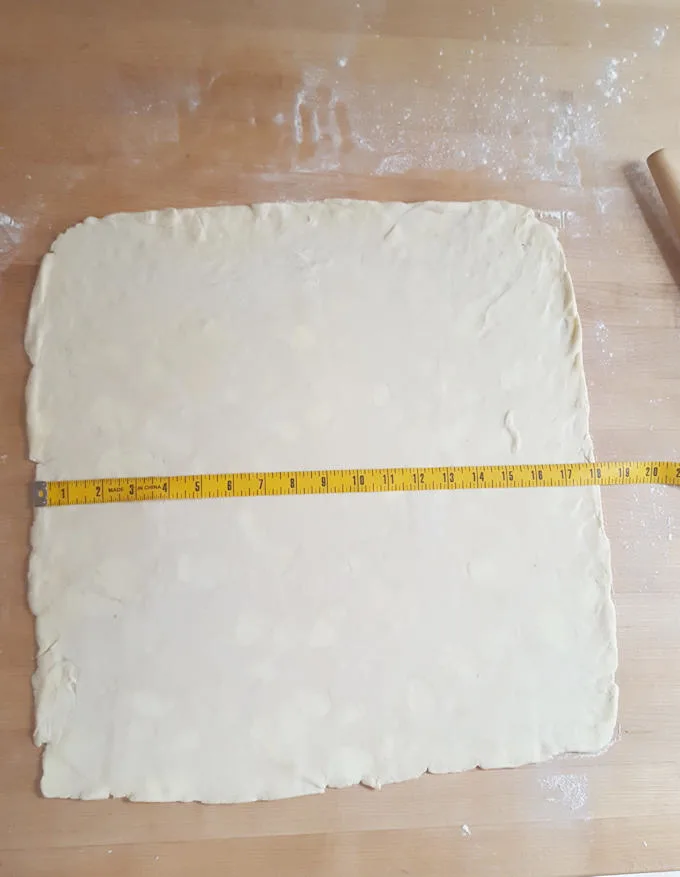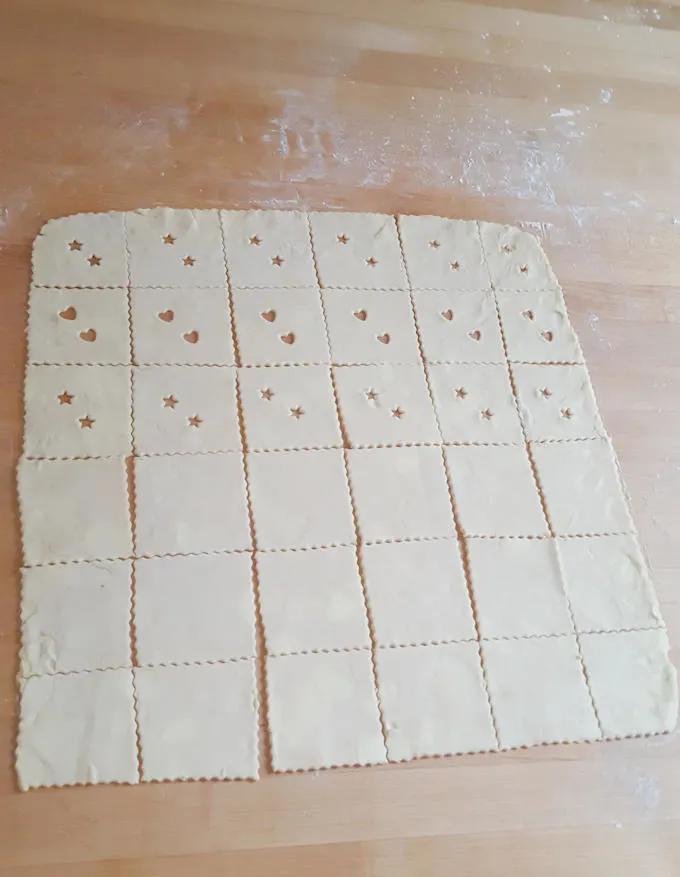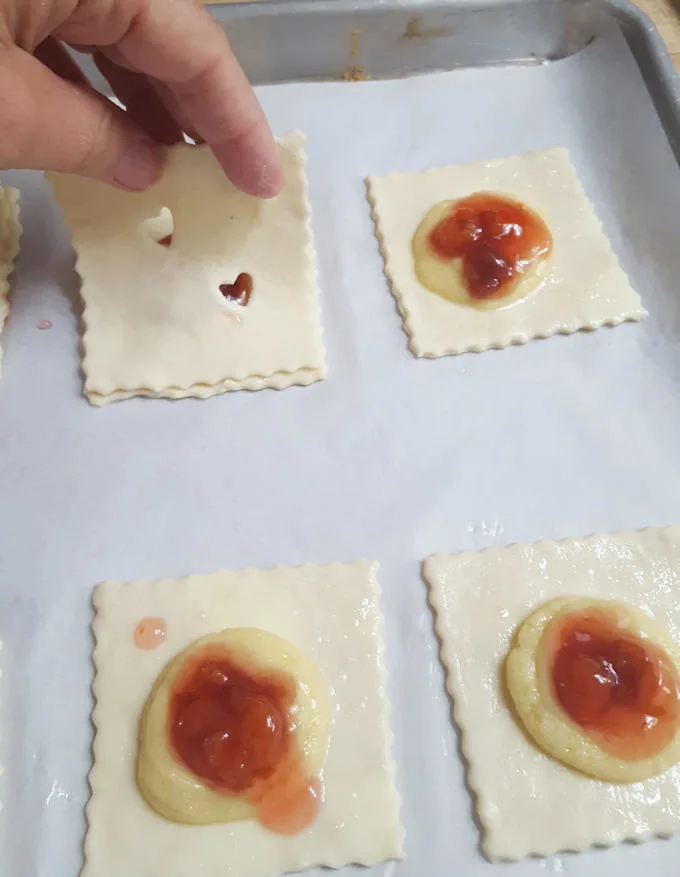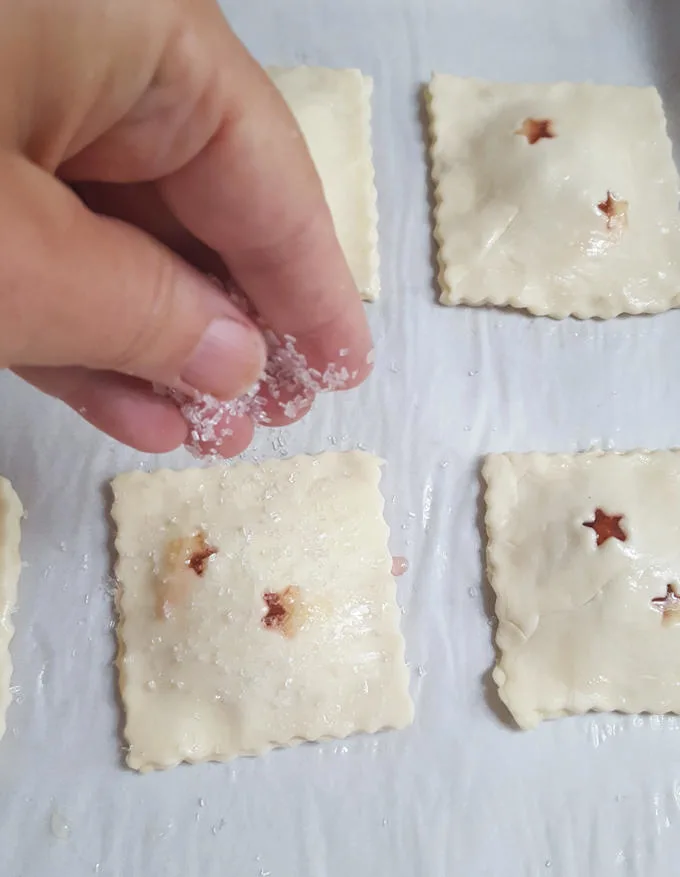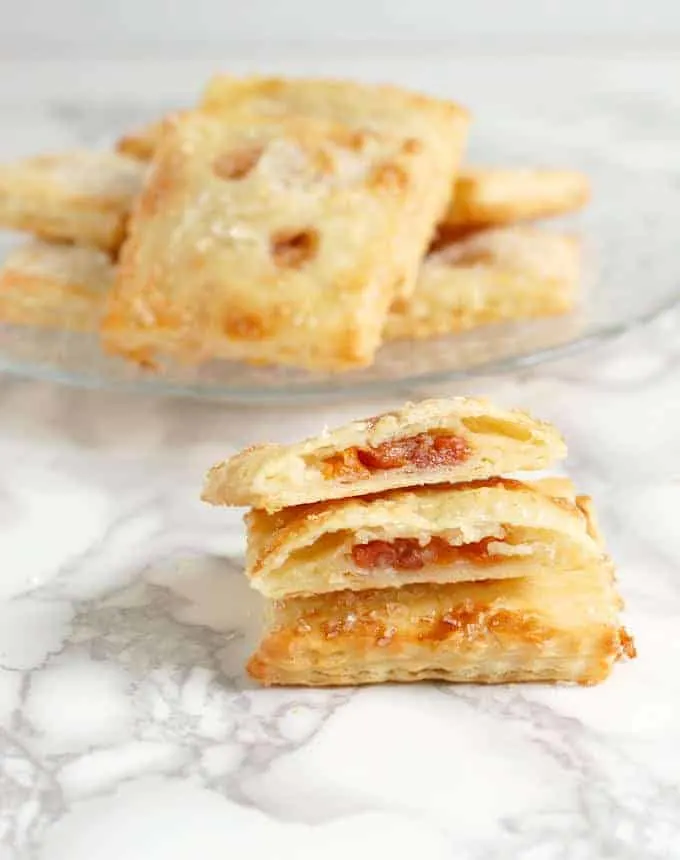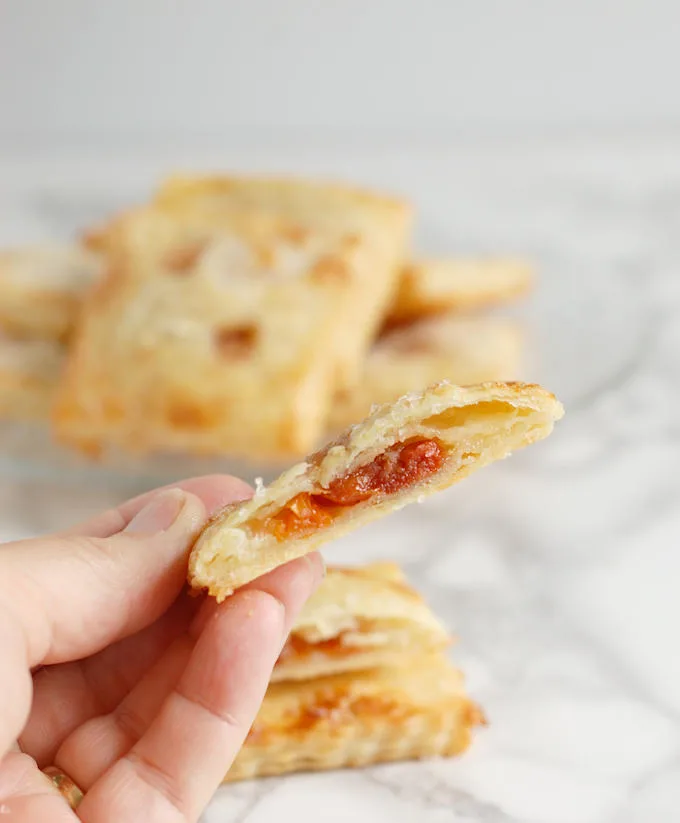 The pies are best eaten the day they're baked, but will keep a couple of days at room temperature.
If you love this recipe as much as I do, please consider leaving a 5-star review.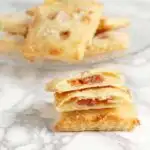 Print Recipe
Sour Cherry Hand Pies with Almond Frangipane
Cherry Almond Hand Pies are made with flaky cream cheese dough, almond frangipane filling and a dollop of sour cherry preserves. Make you own preserves or use store bought pie filling.
Instructions
Frangipane Filling
Cream the granulated sugar and butter together until light and fluffy. Add the egg and mix to combine. Add the almond flour, extracts and rum. Transfer to a small bowl and cover. Refrigerate while you prepare the tart shells.

4 oz granulated sugar,

2 oz unsalted butter,

1 large egg,

3 oz almond flour,

1/2 tsp almond extract,

1/2 tsp vanilla extract,

1/2 tablespoons dark rum
Assembly
Preheat the oven to 350°F. Line two half sheet pans with parchment paper or a silicone baking mat.

Roll the dough to an 18" x 18" square, use a bench scraper or ruler to keep the edges square as you roll.

1 recipe cream cheese dough

Mark off 3" increments in both directions. Use a sharp knife or pizza cutter to cut the dough into 36 squares. Use a small cutter or fork to make steam vents in half the squares.

Place the other 18 squares onto the sheet pans. Brush the squares on the pan with egg wash, making sure to go all the way to the edges. Pipe or scoop about 1.5 teaspoons of frangipane batter onto each square. Put about a teaspoon of cherry preserves onto the frangipane. Place a top square onto each of the pies.

1 egg,

Sour Cherry Preserves

Gently pinch together the edges of each pie, making sure they are well sealed. Place the sheet pans into the freezer for 15 minutes to rest and chill the dough (see note). Brush each pie with egg wash and sprinkle with crystal sugar. Bake until puffed and golden brown, about 15 minutes.
As an Amazon Associate and member of other affiliate programs, I earn from qualifying purchases.
Notes
You can use store-bought cherry pie filling or cherry preserves.
Nutrition
Serving:
1
pie
|
Calories:
125
kcal
|
Carbohydrates:
12
g
|
Protein:
2
g
|
Fat:
8
g
|
Saturated Fat:
3
g
|
Polyunsaturated Fat:
0.5
g
|
Monounsaturated Fat:
2
g
|
Trans Fat:
0.1
g
|
Cholesterol:
25
mg
|
Sodium:
46
mg
|
Potassium:
17
mg
|
Fiber:
1
g
|
Sugar:
7
g
|
Vitamin A:
105
IU
|
Calcium:
15
mg
|
Iron:
1
mg