Sour Cherry Cobbler in a cast iron skillet is an easy going recipe. Juicy sour cherries are baked under a topping of cream biscuits with a hint of almond. It's the perfect dessert for casual summer dining.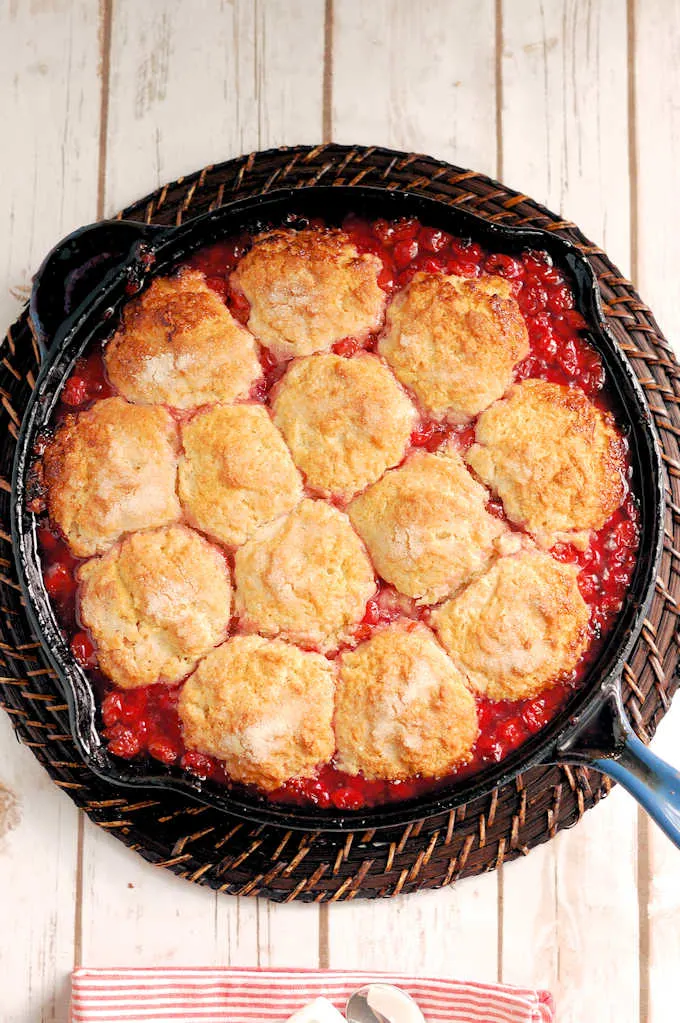 Because I got a bumper crop of sour cherries this year I've baked sour cherries into Lattice Top Sour Cherry Pie, Sour Cherry Crumb Pie , Sour Cherry Hand Pies, Sour Cherry Strudel, and Sour Cherry Cake.
I've frozen quarts and quarts of the little red gems, which will eventually be made into Sour Cherry Preserves. Those preserves will find their way onto a New York Cheesecake, for sure.
But, in the spirit of there's no such thing as too much of a good thing, here's another sour cherry recipe!
I love a great fruit cobbler almost as much as I love a great fruit pie, and this is a great fruit cobbler.
This recipe makes a big cobbler than can feed about 12 people. For a smaller group you can halve the recipe and bake it in an 8″ skillet.
Tips for making the best Sour Cherry Cobbler:
If you don't have access to fresh sour cherries you can make this cobbler using frozen or jarred sour cherries.
Start with 4 pounds (2 quarts) of fresh cherries. Once they're pitted you'll have about 3 1/2 pounds. Use 3 1/2 pounds of frozen or jarred cherries since they're already pitted.
I love to bake and serve this cobbler in a cast iron skillet. If you don't have a large skillet you can use a 13″x9″ baking pan.
Since cast iron is slow it heat up I suggest you preheat the skillet in the oven. This will help cut down the baking time. If you use a 13″x9″ pan you don't need to preheat the pan.
Macerating the cherries with the sugar will draw out the juices and the cherries will also take in some of the sugar. Macerating prevents the fruit from breaking down as the cobbler bakes so you'll have distinct whole cherries in your cobbler rather than a mushy filling.
The filling for this cobbler is looser than a pie filling. I like the cherries really juicy and the biscuits will absorb some of the juice as the cobbler bakes. If you prefer a thicker filling you can add an additional tablespoon of corn starch.
I like to sprinkle the biscuits with a little sugar before baking. This not only adds a little extra sweetness, but also give the biscuits a crunchy topping.
Because I use a lot of cherries in the filling, the juice will likely boil over a bit while the cobbler bakes. To make cleanup easier, place a sheet of aluminum foil on the shelf beneath the pan to catch the juices.
Scroll through the step by step photos to see how to make Sour Cherry Cobbler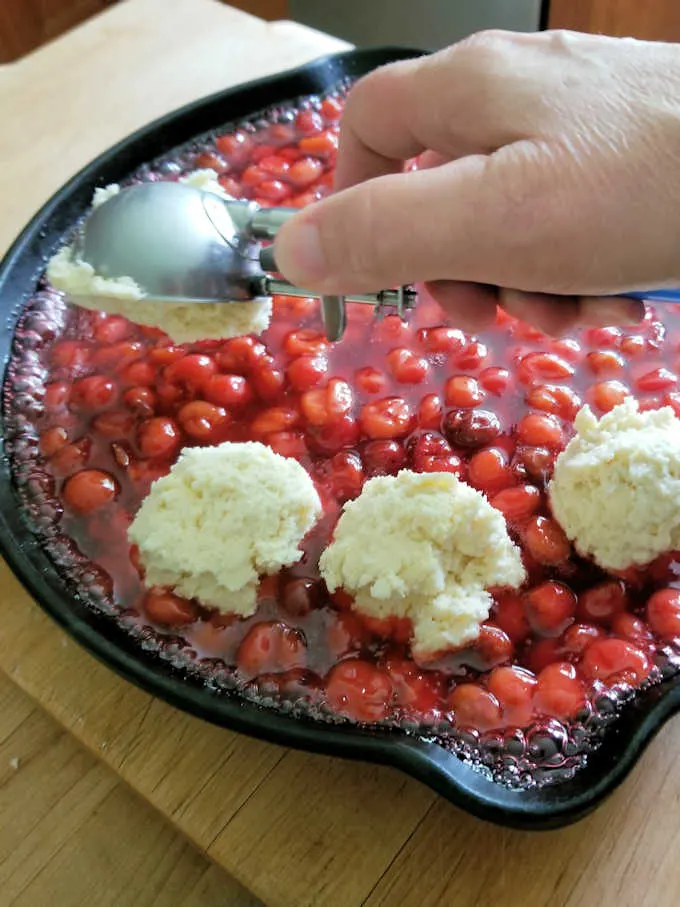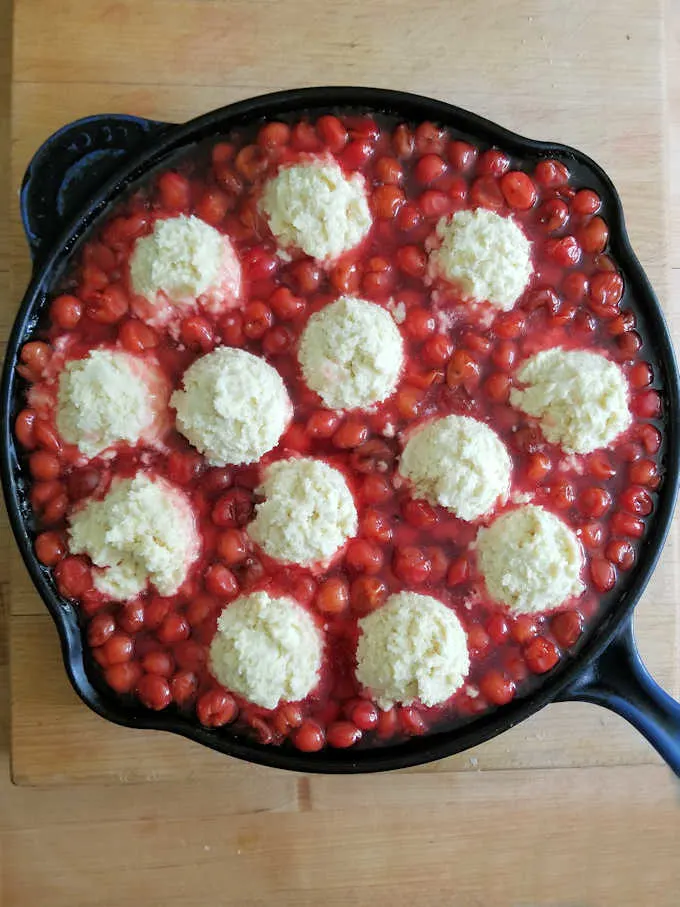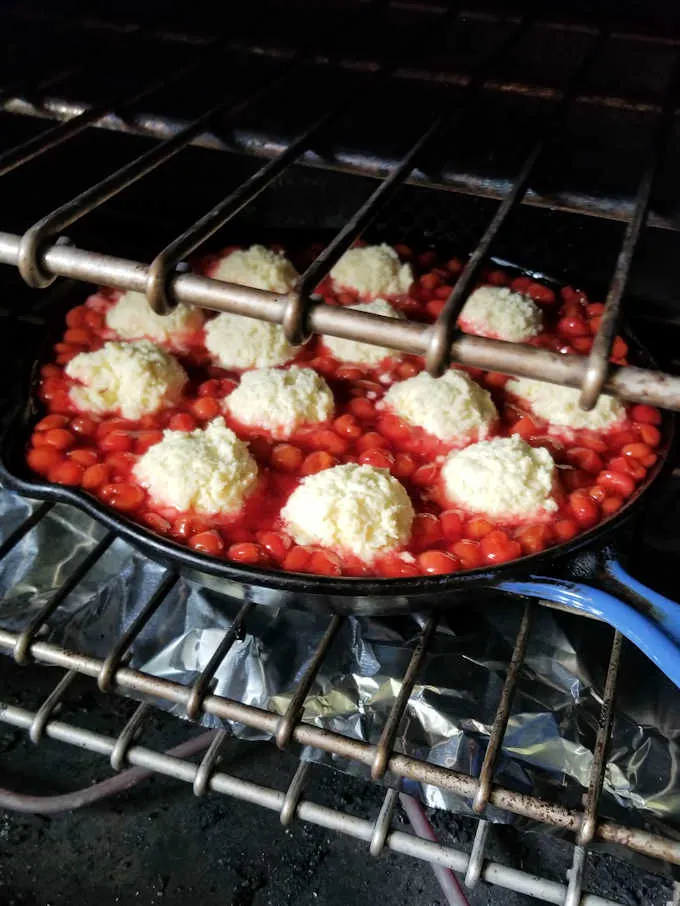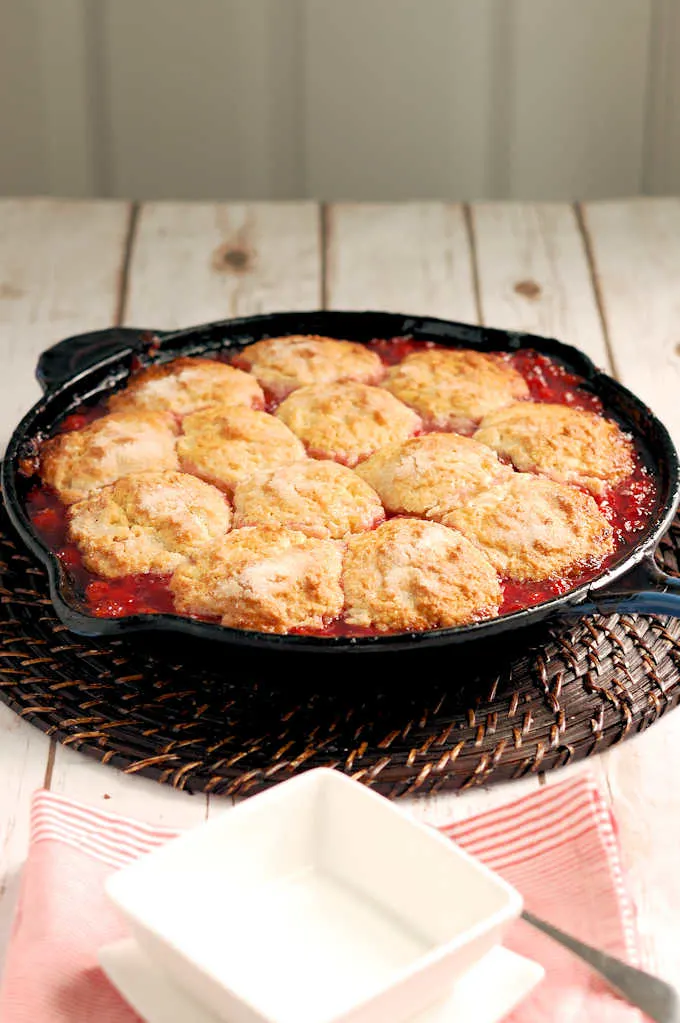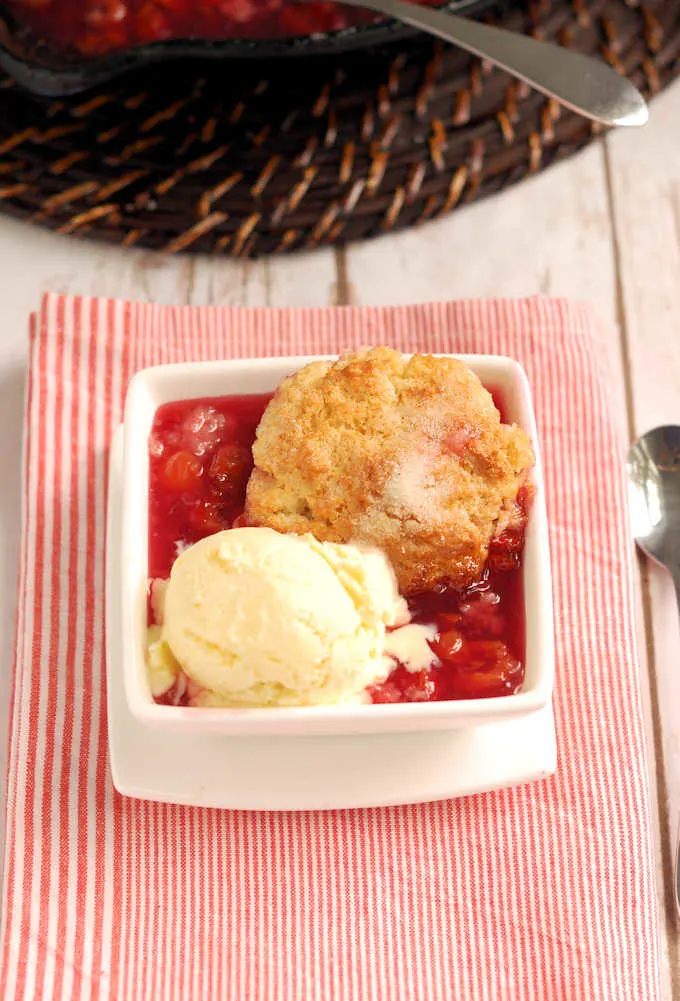 And, yes, this delicious cobbler is only better with a scoop of Vanilla Ice Cream! But you already knew that, didn't you….
Got peaches? Try this perfect Peach Cobbler recipe.
If you love this recipe as much as I do, I'd really appreciate a 5-star review.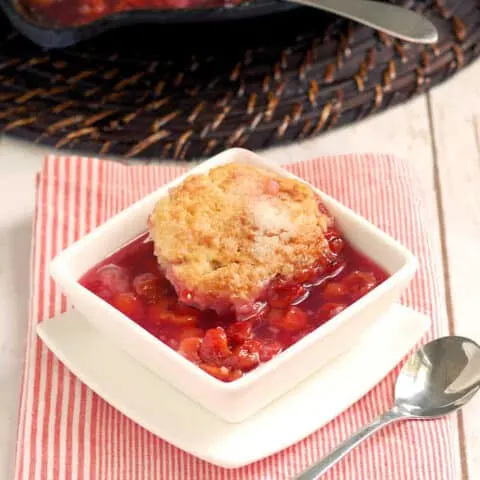 Sour Cherry Cobbler
Macerating Time:
30 minutes
Total Time:
1 hour
30 minutes
Fresh sour cherries baked under a cream biscuit topping with a hint of almond. Sour Cherry Cobbler baked in a cast iron skillet couldn't be easier to make. It's the perfect dessert for casual summer dining.
Ingredients
2 quarts (4 lbs, 1.8 kg) fresh sour cherries, pitted (about 3 pounds pitted frozen or jarred cherries), save the juice
2 cups (16 oz, 448g) granulated sugar
1/4 cup (1.5 oz, 42g) corn starch
1/4 teaspoon table salt
Topping
1 cup (5 oz, 140g) all-purpose flour
3/4 cup (3.5 oz, 195g) cake flour
1/2 teaspoon table salt
2 teaspoons baking powder
1/4 cup (2 oz, 56g) granulated sugar
1 stick unsalted butter (4 oz, 112g), cold, cut into 1/4" slices
1 large egg
1/2 teaspoon almond extract
1 cup (8 oz, 240 ml) heavy cream
Instructions
Toss the pitted cherries with the sugar and allow to macerate for 30 minutes. After 30 minutes drain the cherries, reserving the juice. Transfer the cherries to a large bowl and set aside.
Preheat the oven to 375°F. Place a 12" cast iron skillet into the oven to preheat (if using a 13"x9" baking pan you don't need to preheat the pan).
Whisk a 1/2 cup of the cherry juice with the corn starch until smooth.
Place the remaining juice and the salt in a saucepan over high heat. Bring the juice to a boil. Reduce the heat to medium low. Whisk the cornstarch mixture into the boiling juice in a steady stream. Cook the mixture, stirring constantly, until it returns to a boil and thickens.
Remove the thickened juice from the heat and immediately pour it over the pitted cherries. Toss to combine. Set the bowl aside while you make the topping.
Whisk together the all purpose flour, cake flour, salt, baking powder and sugar. Toss the butter slices into the flour. Use your fingers to work the butter into the flour until the pieces are no larger than a pea.
Whisk the egg and almond extract into the cream. Pour the cream into flour mixture. Toss the mixture with a spoon or spatula until it begins for form a wet dough.
Pour the cherries into the preheated 12" cast iron skillet or a 9"x13" baking pan.
Use an ice cream scoop or large spoon to drop dollops of batter over the cherries. Generously sprinkle the top of the biscuits with granulated sugar.
Slide the pan into the oven. Place a sheet of foil on the shelf beneath the cobbler in the oven to catch any cherry juice boil over.
Bake until the topping is golden brown and baked in the middle and the juices are bubbling, about 35-40 minutes.
Serve warm or room temperature.
Notes
For a smaller group, the recipe can be halved and baked in an 8" skillet.
Recommended Products
As an Amazon Associate and member of other affiliate programs, I earn from qualifying purchases.