Have you ever baked with sunflower flour? Me neither until I created Sunflower Crumb Muffins. I use ground sunflower seeds as a flour in the batter and whole sunflower seeds for a crunchy crumb topping.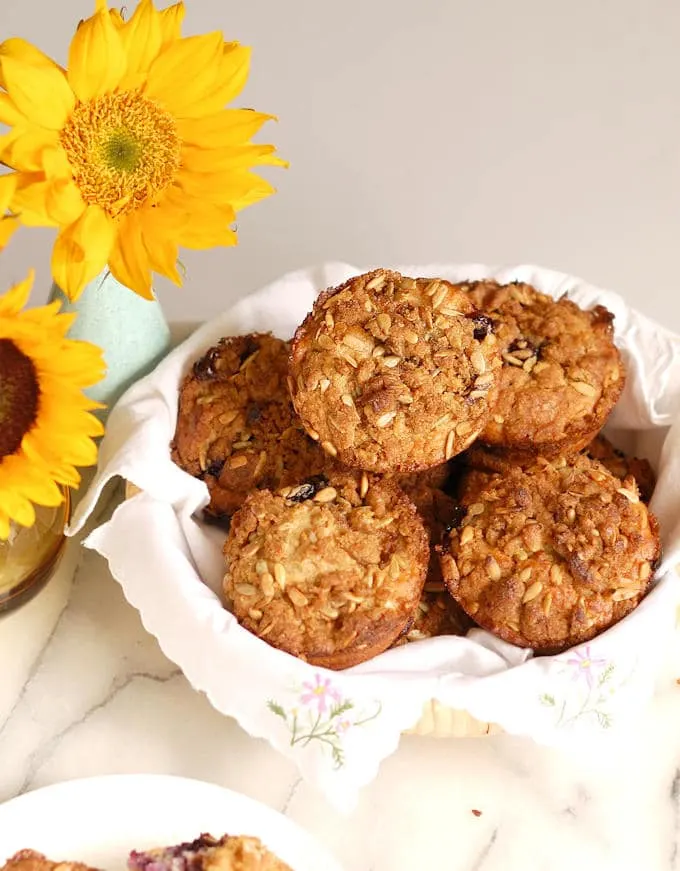 I personally don't like muffins that are too cake-like. Since I generally think of muffins as breakfast food, I like them to be a little heartier and healthier.
Of course blueberries are super healthy and super delicious in muffins, so adding them was a no-brainer.
For this recipe, I've included sunflower seeds two different ways. Sunflower seeds are great source of protein, fiber, B vitamins, vitamin E and minerals. The seeds are high in fat content, but the healthy type of fat. The high protein and fat in the ground seeds make them perfect for baking muffins. The sunflower flour adds a nice nutty flavor and great texture to the muffins.
Scroll through the process photos to see how to make Sunflower Crumb Muffins: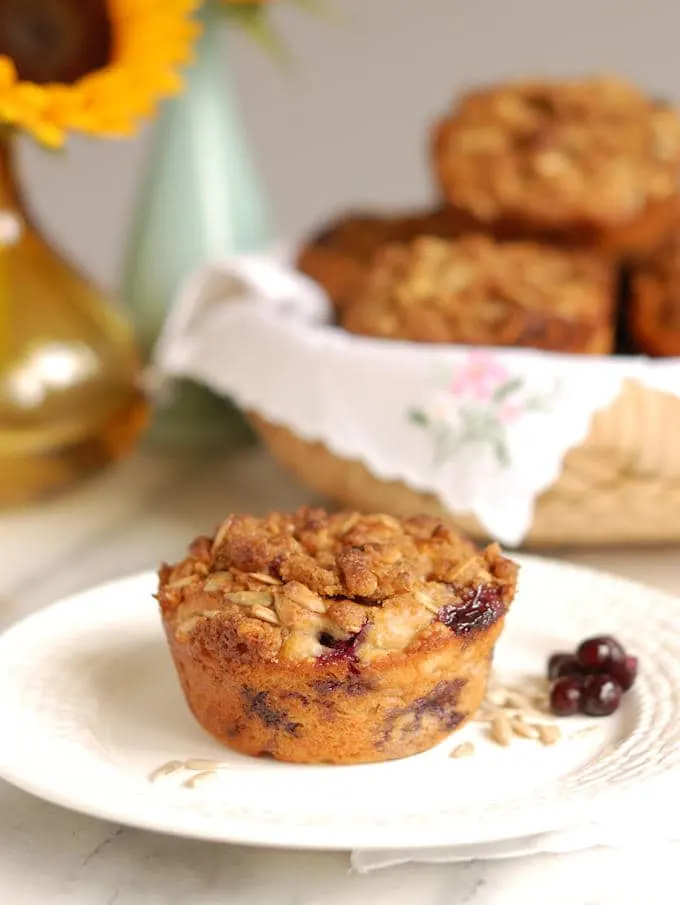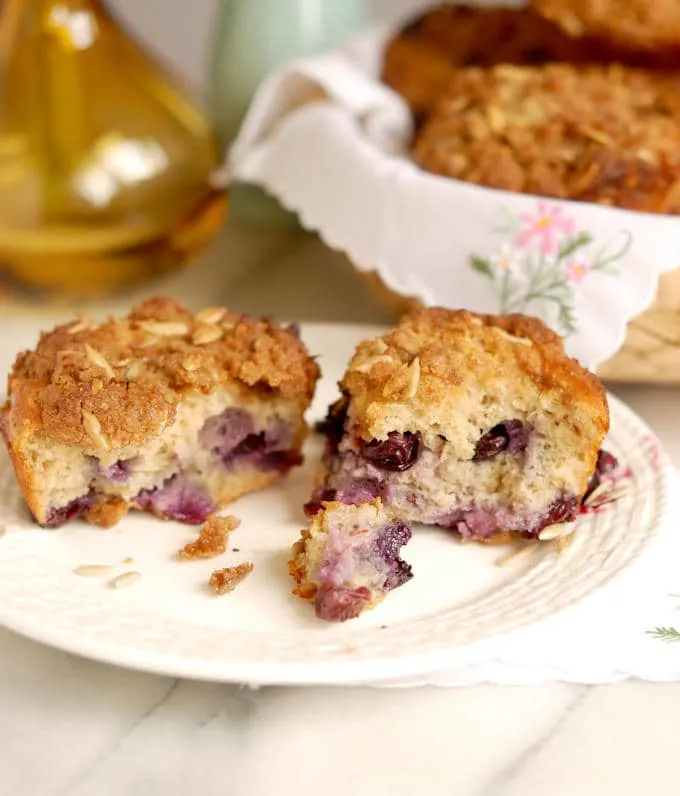 Want more muffin recipes? Bacon & Egg Muffins, Blueberry Cornbread Muffins, Sourdough Blueberry Muffins, Bran Muffins, Zucchini Muffins, Squash & Poppyseed Muffins, Cranberry Orange Muffins, Lemon Blueberry Muffins.
If you love this recipe as much as I do, I'd really appreciate a 5-star review.
Sunflower Crumb Muffins
Sunflower Crumb Muffins. Ground sunflower seeds used as a flour in the batter and whole sunflower seeds for a crunchy crumb topping.
Ingredients
Sunflower Crumble
1/2 cup packed (4oz, 115g) brown sugar
1/4 cup (1.2 oz, 35g) all-purpose flour
1 teaspoon cinnamon
1/4 teaspoon cardamom
3 tablespoons (1.5oz, 42g) unsalted butter, chopped into small cubes
1/2 cup (2.5 oz, 70g) whole sunflower seeds
Muffin Batter
1 1/2 cups (8.5 oz, 240g) all purpose flour
1/2 cup sunflower seed flour (2.5 oz, 70g) (ground sunflower seeds)
1/4 cup brown sugar(2 oz, 60g)
1/2 teaspoon baking soda
2 teaspoons baking powder
1/2 teaspoon table salt
1 teaspoon cinnamon
1/4 teaspoon cardamom
1 egg
1 1/2 cups (350 ml) buttermilk
1/4 cup (50 ml) vegetable oil
2 pints fresh or 2 cups frozen Blueberries
Instructions
Preheat the oven to 375°F convection or 400°F regular. Brush 9 jumbo muffin cups or 18 regular size muffin cups with melted butter.
Make the Sunflower Seed Crumble
Combine the brown sugar, flour and spices in a small bowl. Whisk the dry ingredients together. Toss the butter cubes with the dry ingredients then use your fingers to work the butter until the bits are smaller than a pea. Toss in the seeds. Use your hands to squeeze the crumble into large hunks. Set aside the crumble while making the batter.
Muffin Batter
Whisk together the dry ingredients in a mixing bowl. Whisk together the egg, buttermilk and oil. Pour the wet ingredients into the dry and stir just until combined. Fold in the blueberries.
Portion the batter between the muffin cups.The cups should be about 1/2 full.
To sprinkle the crumble, grab large chunks and breaks them into smaller chunks on top of the muffins. Divide the crumb topping evenly among the muffins.
Bake until the top of a muffin springs back when pressed, about 20 minutes. Let the muffins cool in the pan at least 10 minutes before turning out. (See note)
Notes
Because there are a lot of blueberries in these muffins they are very soft when they come out of the oven. If you turn them out of the pans when they're still very warm they may collapse a bit. That's ok. They still taste great.