Butterscotch Pudding is pure comfort food. Add a hint of bourbon for a grown-up version of this childhood classic, or keep it alcohol-free for a kid-friendly dessert. Either way, it's a delicious finale for your family dinner.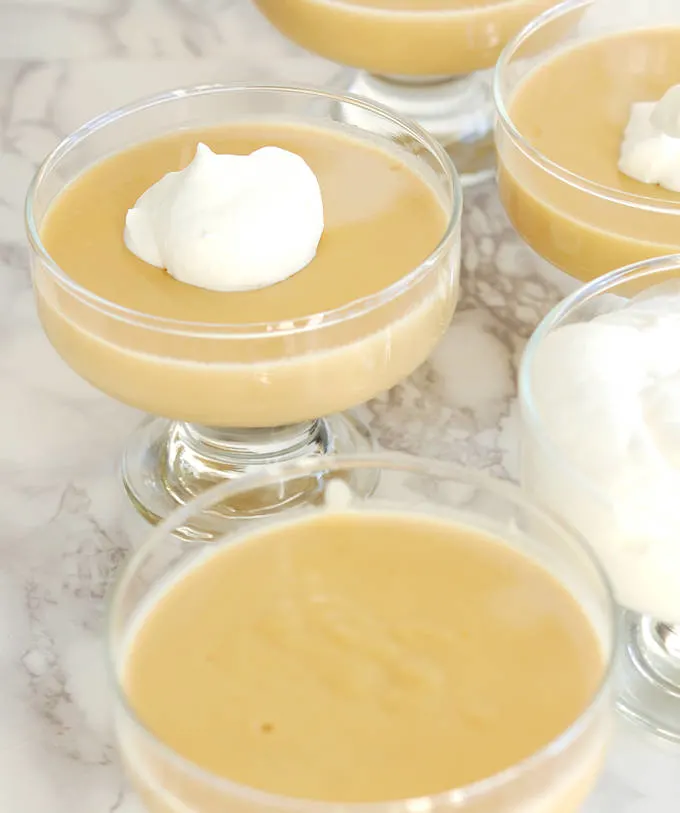 If there is a more cozy dessert on the planet than pudding, I can't say what it is. This old-fashioned butterscotch pudding recipe will satisfy kids of all ages.
I added a hint of bourbon because it's so tasty in the pudding. But if you want to make one batch to be shared by adults and kids, here's how to do it.
Make the butterscotch pudding recipe without the bourbon. Once the pudding is cooked, dish up as many as you need without the bourbon. Once you've got the kids' desserts portioned, stir a shot of bourbon into the remaining pudding.
I would suggest using a different decoration or different bowls so everyone knows which have the bourbon and which don't.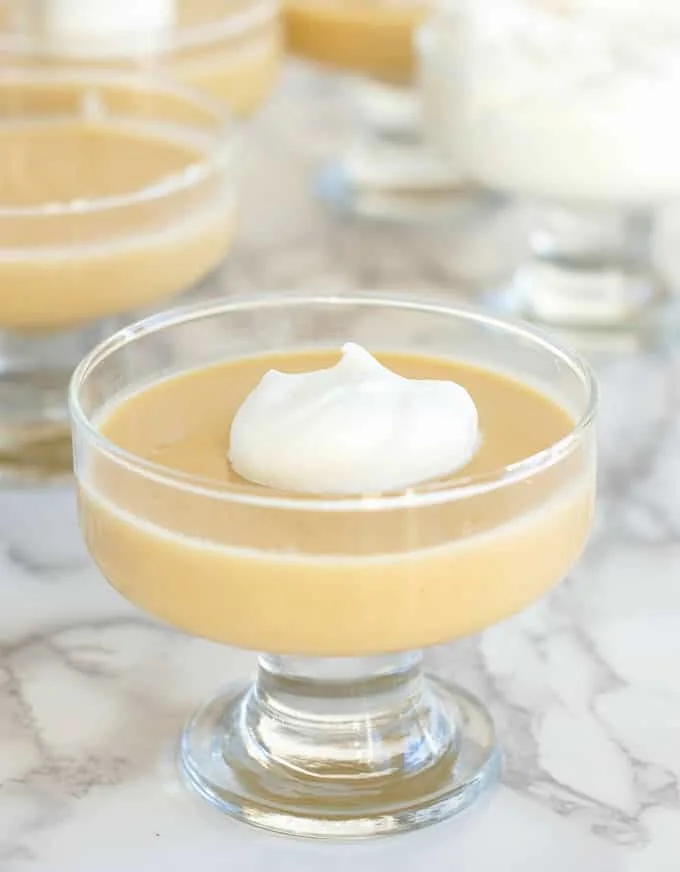 How to make the best Butterscotch Pudding:
First of all, start with real butterscotch flavors. Butterscotch has notes of butter, molasses, vanilla and salt so all those ingredients should be in a good Butterscotch Pudding Recipe.
To see exactly how the butterscotch should look visit my Butterscotch Sauce post. You'll see step by step photos for making butterscotch.
"Liason" the egg yolk mixture into the hot butterscotch. This will prevent the yolks from curdling.
For a perfectly smooth texture, strain the pudding to get rid of any bits of egg or cornstarch.
After adding the yolk/cornstarch mix make sure you bring the pudding back to a boil to activate the starch's thickening power.
I offer you my recipe for homemade Butterscotch Pudding, hoping it will help you create precious memories with your family. Enjoy!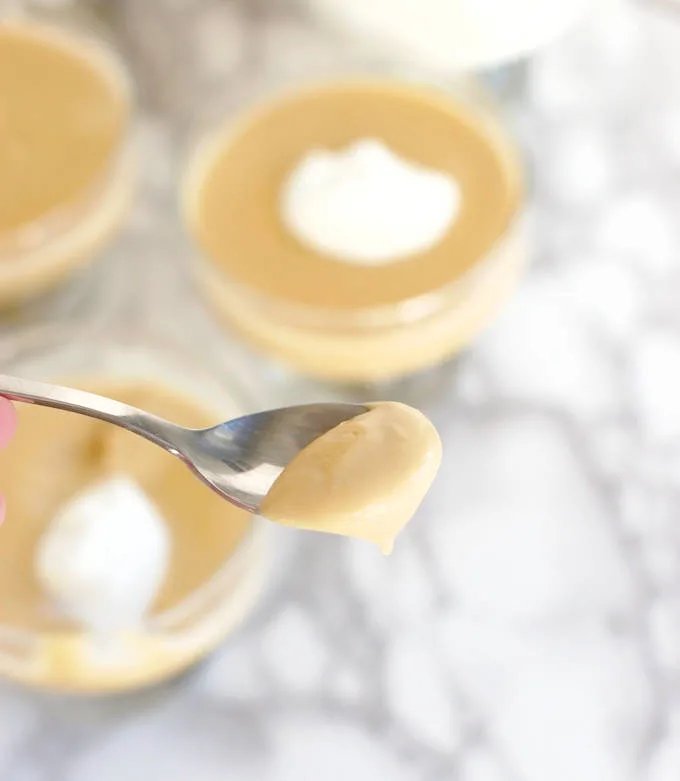 Now that you've made this recipe what should you do with all the extra egg whites? Check out this collection of recipes that use extra whites for some great ideas.
Here are some more delicious butterscotch recipes: Butterscotch Ice Cream, Butterscotch Blondies and Butterscotch Cheesecake.
If you love this recipe as much as I do, please consider leaving a 5-star review.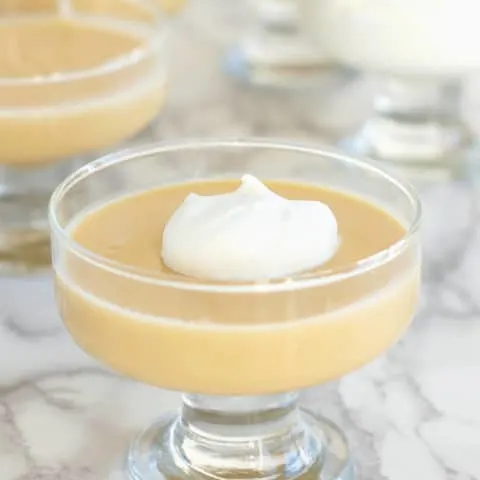 Bourbon Butterscotch Pudding
Total Time:
2 hours
40 minutes
Old fashioned butterscotch pudding made with real butterscotch flavors and a hint of (optional) bourbon.
Ingredients
1/4 cup (2 oz, 56 g) unsalted butter
1 cup (7 oz, 196 g) dark brown sugar
2 cup (16 oz, 480 ml) heavy cream, divided in half
1 cup (8 oz, 240 ml) whole milk
2 Tbsp bourbon, optional (use an additional 2 Tbsp of milk for alcohol-free version)
6 large egg yolks
1/4 cup (1 oz, 28 g) corn starch
1/2 tsp kosher salt (if you use table salt use 1/4 teaspoon)
2 tsp real vanilla extract
Instructions
Melt the butter over medium low heat. Add the brown sugar and stir until the sugar looks like wet sand.
Cook on medium low, stirring occasionally, for about 5 minutes. The mixture will begin to liquify.
Slowly whisk in 1 cup of the cream. BE CAREFUL, the mixture will bubble up and steam when the liquids are added. Keep your face away from the pot.
Cook over low heat for about 10 minutes, whisking occasionally until the butterscotch becomes more viscous, very smooth and silky. Whisk in the remaining cream, 3/4 cup of the milk and optional bourbon. Reduce the heat to low.
In a large bowl, whisk together the reserved 1/4 cup of milk and corn starch, add the yolks and salt.
Increase the heat under the butterscotch to medium high and bring it to a full boil. Whisk the butterscotch into the yolk mixture. Return the mixture to the pan.
Stirring constantly, cook over low heat until the pudding begins to thicken and just begins to simmer.
Immediately remove from the heat and pour the pudding through a sieve back into the mixing bowl. Whisk in the vanilla.
Divide the pudding among 6 serving dishes.
Chill until set.
Recommended Products
As an Amazon Associate and member of other affiliate programs, I earn from qualifying purchases.
You might also like: