San Sebastian Cheesecake is a unique confection that truly is super-easy to make. It is stunning to see with it's mahogany brown top and oozy, custardy center. This Basque Burnt Cheesecake is unlike any you've ever tasted.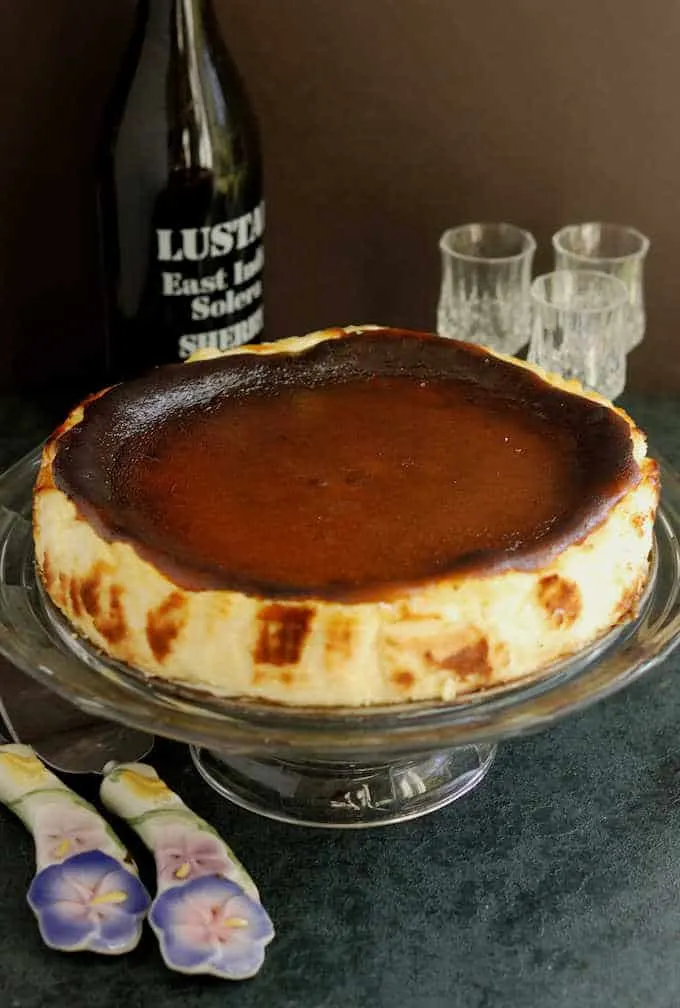 San Sebastian is known as the best place to eat in Europe. After a recent family trip to that lovely city on the Bay of Biscay, I wouldn't argue with that statement. San Sebastian is famous for Pinxtos (Basque for tapas) and this unique cheesecake.
Don't worry. This isn't going to be one of those long posts waxing nostalgic about our trip to San Sebastian and how it changed my life. I know folks just want to "get to the recipe".
To start, forget every "rule" you know for making a great cheesecake. Now you're ready to make this Basque specialty.
What is a San Sebastian Cheesecake?
San Sebastian Cheesecake is also called Basque Burnt Cheesecake.
This cheesecake is different from American cheesecake in pretty much every way you can think of. The recipe starts with 2# of cream cheese, as many cheesecakes do, but from there it gets really weird.
This recipe has more eggs than a typical cheesecake recipe.
There are no flavorings like vanilla or lemon and there's a little more salt than usual.
The batter is not made with a mixer (it can be though), but is made in a food processor. You simply chuck in all the ingredients into the processor and give it a whirl. Couldn't be easier to mix this batter
There is no crust on the cheesecake.
The batter is baked in a parchment lined spring form pan.
The cake is not baked in a water bath.
The weirdest part of this recipe, the cake is put into a screaming-hot oven and bakes in just 25 minutes.
What's the result? Well, instead of a cheesecake that is pale yellow and creamy from the edges to the center, the cake is dark brown on top, set around the edges, and super-custardy in the middle.
The taste is eggy and creamy and the browned top adds a slight bitter edge.
This recipe is adapted from the original Basque Burnt Cheesecake recipe:
I've seen a bunch of recipes on the interwebs that call themselves San Sebastian Cheesecake or Basque Cheesecake but most of them didn't look quite right to me.
Some of the recipes added flour and buttered the pan instead of lining it with parchment. Those cakes were pretty and sliced into a perfect standing wedge. But that's not what we ate in San Sebastian.
The original cake we enjoyed at the famous La Vina Pinxo Bar was oozy, custardy and tasted like eggs. It's nothing like an American cheesecake, which is why it was so fun to taste.
This recipe was adapted from one I found on line which is reportedly the La Vina original. Apparently the chef puts it out there to share with the world. How generous is that!
How to make San Sebastian Cheesecake: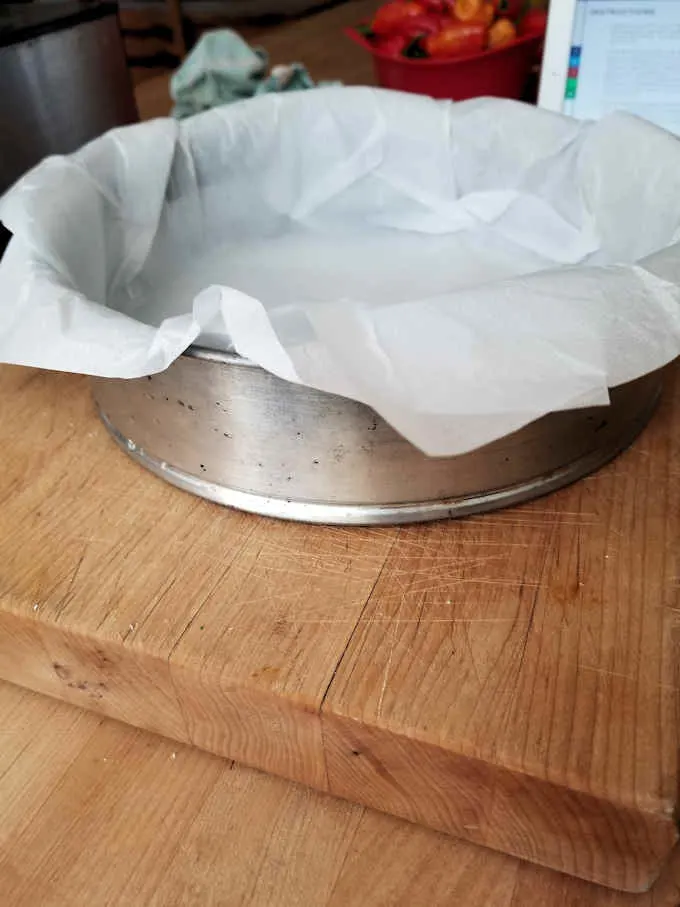 Line a springform pan with parchment paper. Leave at least a 2″ overhang. It's ok that the paper doesn't lie flat.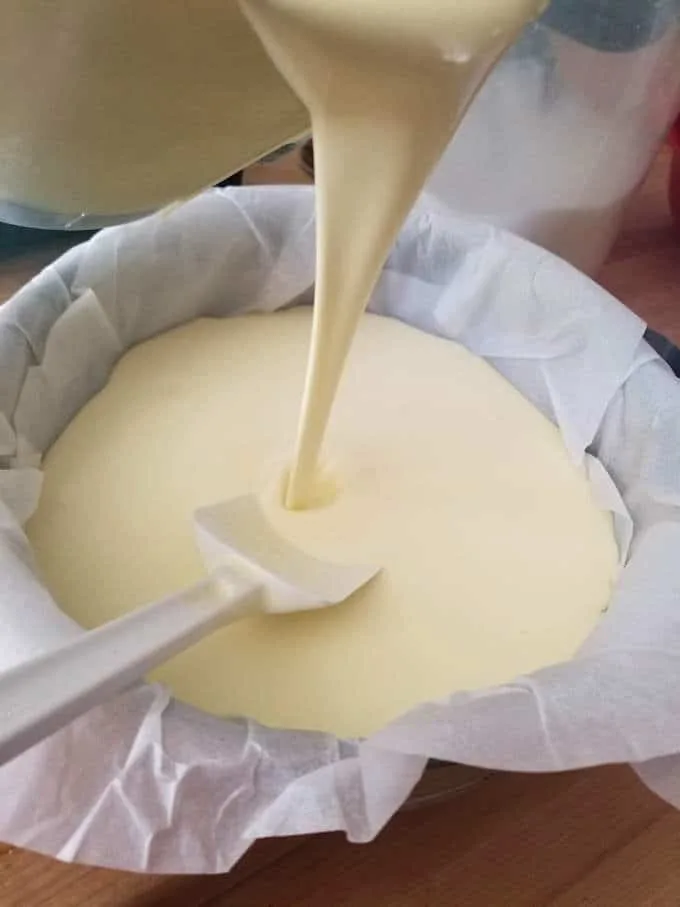 As you pour the batter into the pan the parchment lining will settle.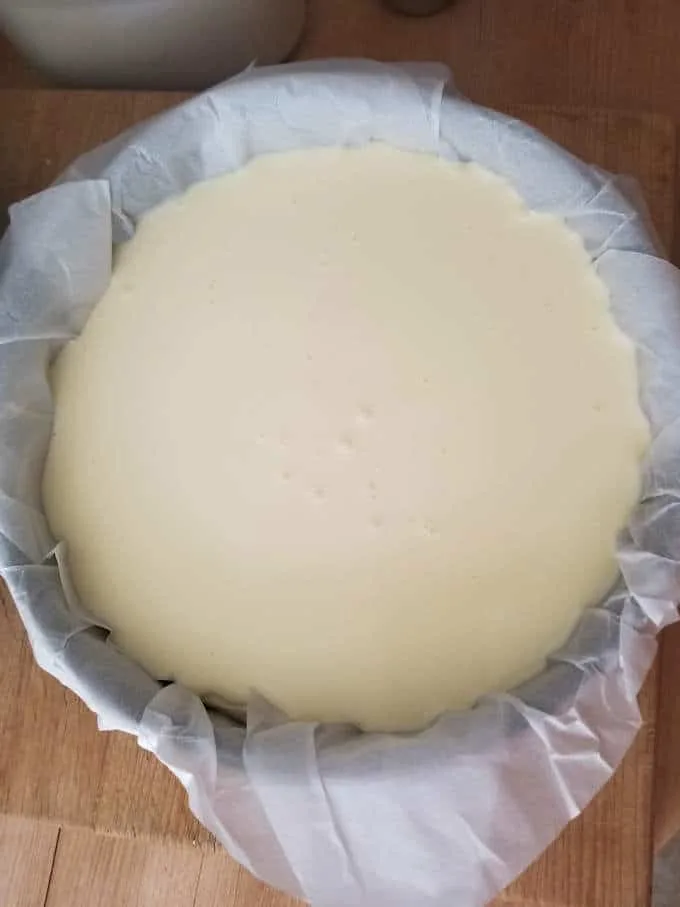 Tap the pan to release any bubbles. Unlike American cheesecake, San Sebastian cheesecake is not baked in a water bath. It goes into a very hot oven to get the dark brown top.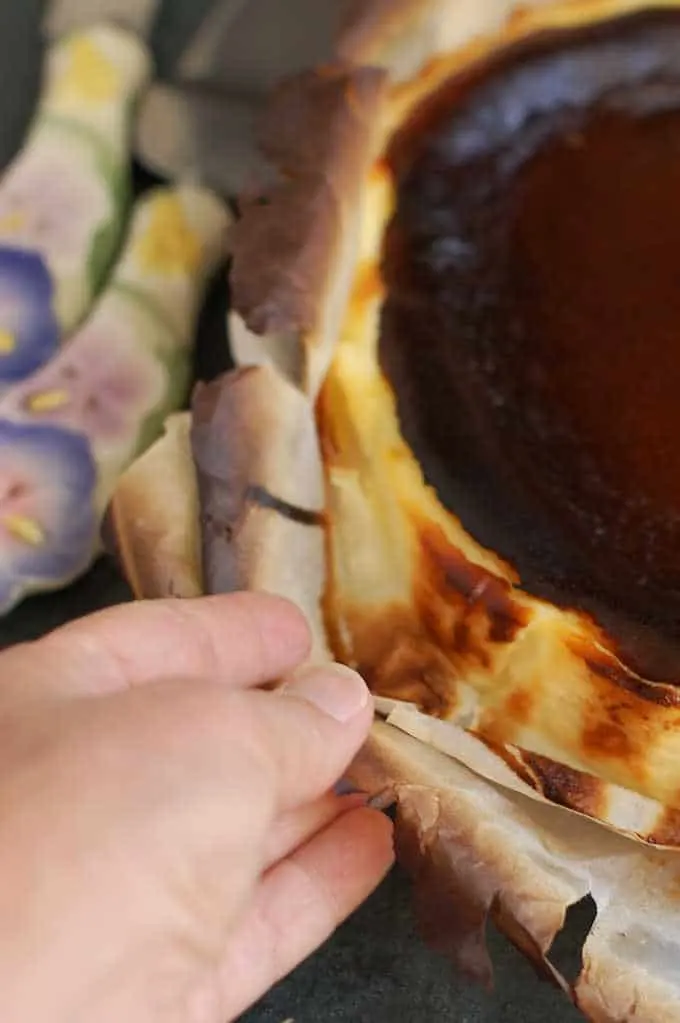 To serve the cake, peel back the parchment before cutting slices from the chilled cake.
Tips for making & serving authentic San Sebastian Cheesecake:
If you have a large food processor use it to make the batter. If you don't have a food processor you can make the batter using a mixer. Just be sure to mix the batter long enough that is it smooth and glossy.
You can't make this recipe without a spring form pan. Regular cheesecake gets firm enough when chilled to flip out of a regular cake pan. But this cake is so soft, even when chilled, the spring form is required.
Line the spring form pan with two sheets of parchment to completely enclose the batter.
Chill the cake before serving so the edges and bottom are firm enough to form slices.
Don't try to remove the parchment and pan bottom before serving. The browned parchment looks dramatic so leave it in place until cutting the cake. Just peel back the sides, cut and lift the slice off the paper underneath.
Serve Basque Cheesecake with good sherry for a real treat!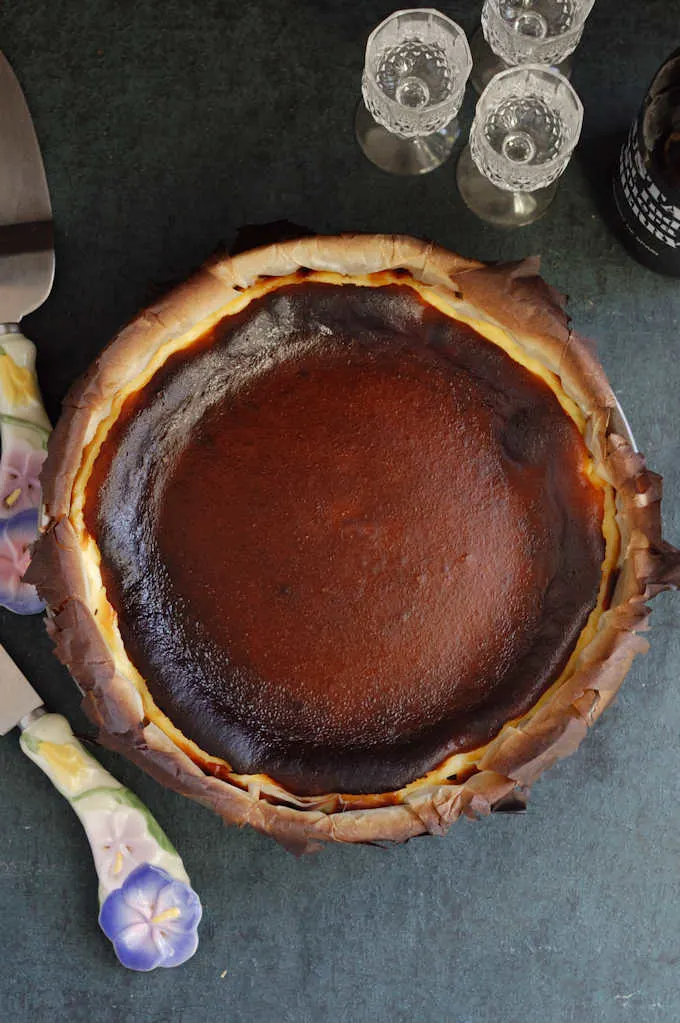 It's not burnt. San Sebastian cheesecake has a dark brown top and custardy center.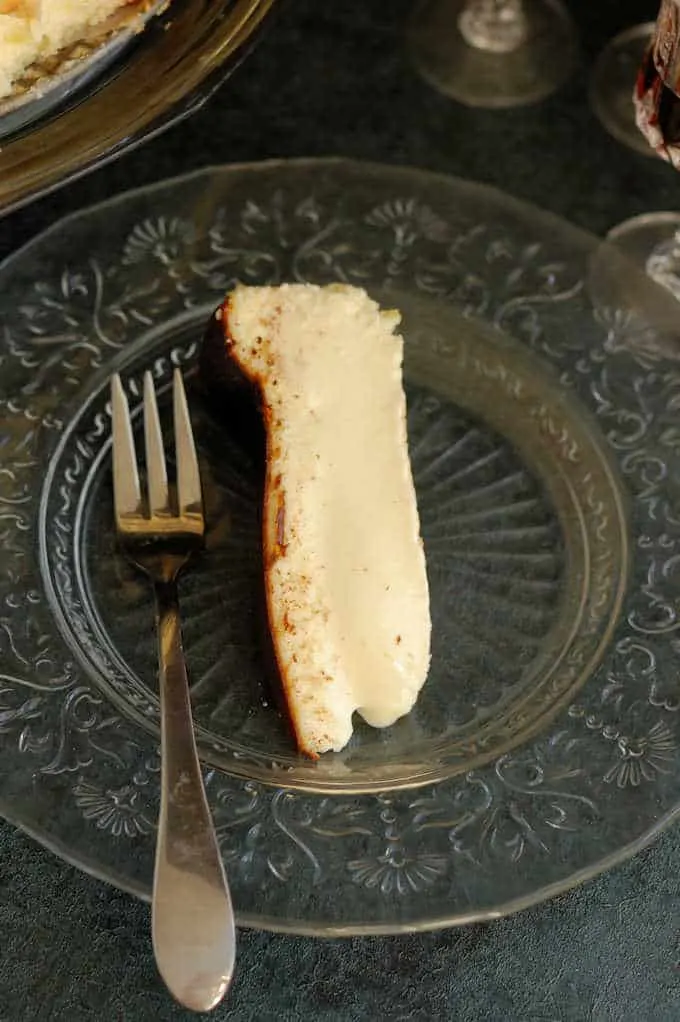 Can't get enough cheesecake? Try one of these other fabulous cheesecake recipes – New York Cheesecake, Banana Cheesecake, Chocolate Orange Cheesecake, Bourbon Butterscotch Cheesecake, Lime Layered Cheesecake, White Chocolate Cranberry Cheesecake.
If you love this recipe as much as I do, I'd really appreciate a 5-star review.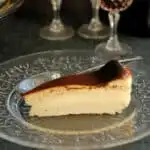 Print Recipe
San Sebastian Cheesecake Recipe
San Sebastian Cheesecake is a unique cheesecake that is super-easy to make. It is stunning to see with it's mahogany brown on top and oozy, custardy center.
Ingredients
32

oz

cream cheese

14

oz

granulated sugar

(1 ¾ cups)

7

eggs

1

teaspoon

table salt

8

oz

heavy cream

(1 cup)
Instructions
Preheat the oven to

500

°F

. Line a 10" spring form pan with 2 sheets of parchment paper, leaving a 2" border of paper extending from the top of the pan. The paper will not lie flat against the pan, this is ok.

Place the cheese and sugar in the bowl of a food processor. Pulse a few times to combine the ingredients. Add the eggs, salt and cream. Process the batter for 3 minutes to completely emulsify the batter. If you don't have a food processor the batter can be mixed in a stand or hand mixer. Just be sure to mix the batter until very smooth and glossy.

32 oz cream cheese,

14 oz granulated sugar,

7 eggs,

1 teaspoon table salt,

8 oz heavy cream

Pour the batter into the prepared pan and immediately place it in the oven. Bake until the top of cheesecake is very dark brown and the sides of the cake are risen-up and set, about 25 minutes. The center of the cake will still be quite soft and will jiggle like a liquid if you shake the pan.

Remove the cake from the oven and cool to room temperature on a cooling rack. Refrigerate the cake until completely chilled, at least 4 hours. The cake will be soft and fluffy around the edges and custardy in the center. The center will be set just enough to slice.
As an Amazon Associate and member of other affiliate programs, I earn from qualifying purchases.
Nutrition
Calories:
370
kcal
|
Carbohydrates:
28
g
|
Protein:
6
g
|
Fat:
27
g
|
Saturated Fat:
15
g
|
Polyunsaturated Fat:
1
g
|
Monounsaturated Fat:
7
g
|
Trans Fat:
0.01
g
|
Cholesterol:
145
mg
|
Sodium:
355
mg
|
Potassium:
115
mg
|
Sugar:
27
g
|
Vitamin A:
1074
IU
|
Vitamin C:
0.1
mg
|
Calcium:
75
mg
|
Iron:
0.4
mg