After months of research and testing I created Pound Cake Perfection. This is the ultimate old-fashioned, buttery pound cake that melts-in-your mouth. I think this will become your go-to recipe.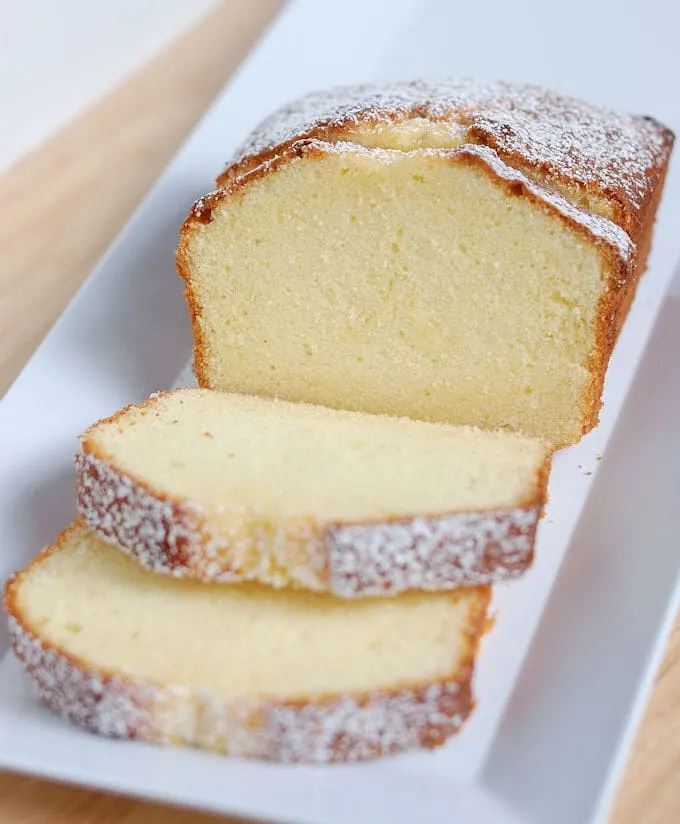 How to achieve Pound Cake Perfection
A really great pound cake should have an even crumb with a melt-in-your-mouth texture and buttery, vanilla flavor. It's beautiful in it's simplicity.
While I'm not opposed to a little glaze or powdered sugar on a pound cake, I think pound cake is meant to be eaten without any frosting. You want all the richness in the cake itself. If you've got a really great cake recipe, there's no reason to hide it under a pile of sweet frosting.
So why is it called "pound cake" anyway?
Pound cake got it's name based on the original formula of 1 pound each of butter, sugar, eggs and flour. It's called "quatre-quarts" (four-fourths) by the French.
Let's make a Better Pound Cake Recipe
There are about a bajillion pound cake recipes out there on the interwebs and, frankly, I'm shocked at how many of them still use the original 1:1:1:1 formula.
Personally, I find that recipe is less than ideal. It's fairly dense, a little chewy and has a slightly flat taste.
I decided to tweak the original quatre quarts recipe to make it better. If you're a baking geek like me, you can read all about how I adjusted the percentages in this comprehensive post about creating a great cake recipe.
If you still haven't slaked your thirst for all the knowledge about cake batter, go ahead and read through my 7-part Cake Batter Series.
To develop my Cake Batter Series of posts I baked over 100 pound cakes over several months of research and testing. I tested each ingredient and how it works in the cake. I also tested various mixing methods, ingredient temperatures and alternative ingredients.
Through all this testing and tweaking I learned exactly what I needed to do to create my ideal pound cake.
Here are the changes I made to the original recipe:
To lighten the cake I added a little baking powder to the recipe. A pinch of salt and a teaspoon of real vanilla extract were added to enhance the flavor.
I upped the sugar just a bit for some added sweetness and tenderness, extra egg yolks for richness and a little milk for moisture.
Pound Cake Perfection, Achieved:
My Pound Cake is the perfect melt-in-your-mouth buttery cake that I was looking for.
I also created variations using sour cream and honey. I love all three cakes for different reasons. The sour cream variation has an extra moist and tender crumb and the honey variation has a lovely tawny color and slight caramel flavor. If you love chocolate try Chocolate Pound Cake or Marple Pound Cake.
I baked all the cakes in a 9"x5" loaf pan, but they also bake up beautifully in a Bundt pan. A friend even baked the batter as cupcakes with great success.
---
If you love classic recipes like this you'll love my new book: Easy Baking From Scratch: Quick Tutorials, Time-Saving Tips, Extraordinary Sweet and Savory Classics. The book contains over 100 recipes that have been well-tested and are presented in simple, clear language. It's available now on Amazon.
Now that you've made this recipe what should you do with all the extra egg whites? Check out this collection of recipes that use extra whites for some great ideas.
If you love this recipe as much as I do, please consider leaving a 5-star review.
You Might Also Like: