After months of research and testing I created Pound Cake Perfection. This is the ultimate old-fashioned, buttery pound cake that melts-in-your mouth. I think this will become your go-to recipe.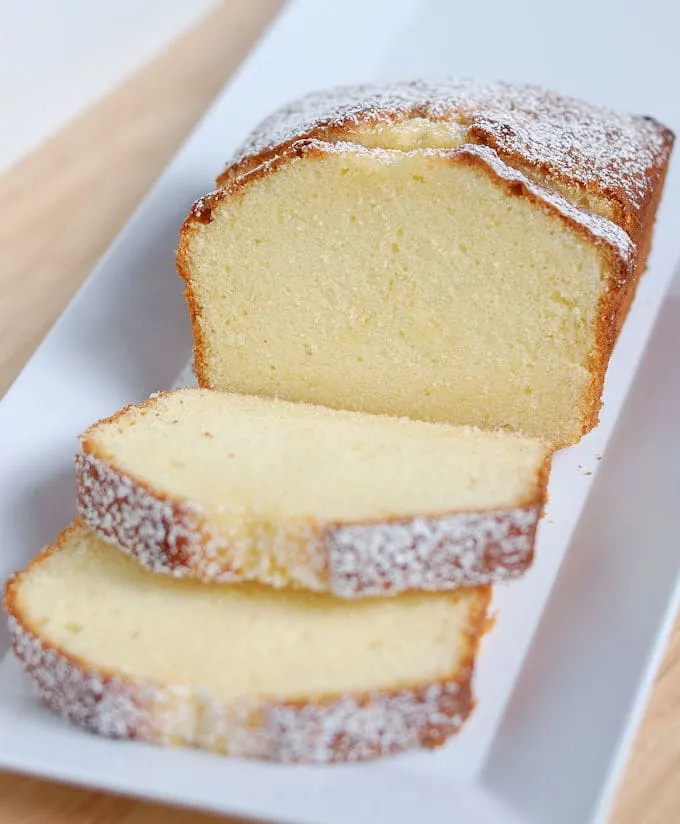 How to achieve Pound Cake Perfection
A really great pound cake should have an even crumb with a melt-in-your-mouth texture and buttery, vanilla flavor. It's beautiful in it's simplicity.
While I'm not opposed to a little glaze or powdered sugar on a pound cake, I think pound cake is meant to be eaten without any frosting. You want all the richness in the cake itself. If you've got a really great cake recipe, there's no reason to hide it under a pile of sweet frosting.
So why is it called "pound cake" anyway?
Pound cake got it's name based on the original formula of 1 pound each of butter, sugar, eggs and flour. It's called "quatre-quarts" (four-fourths) by the French.
Ingredients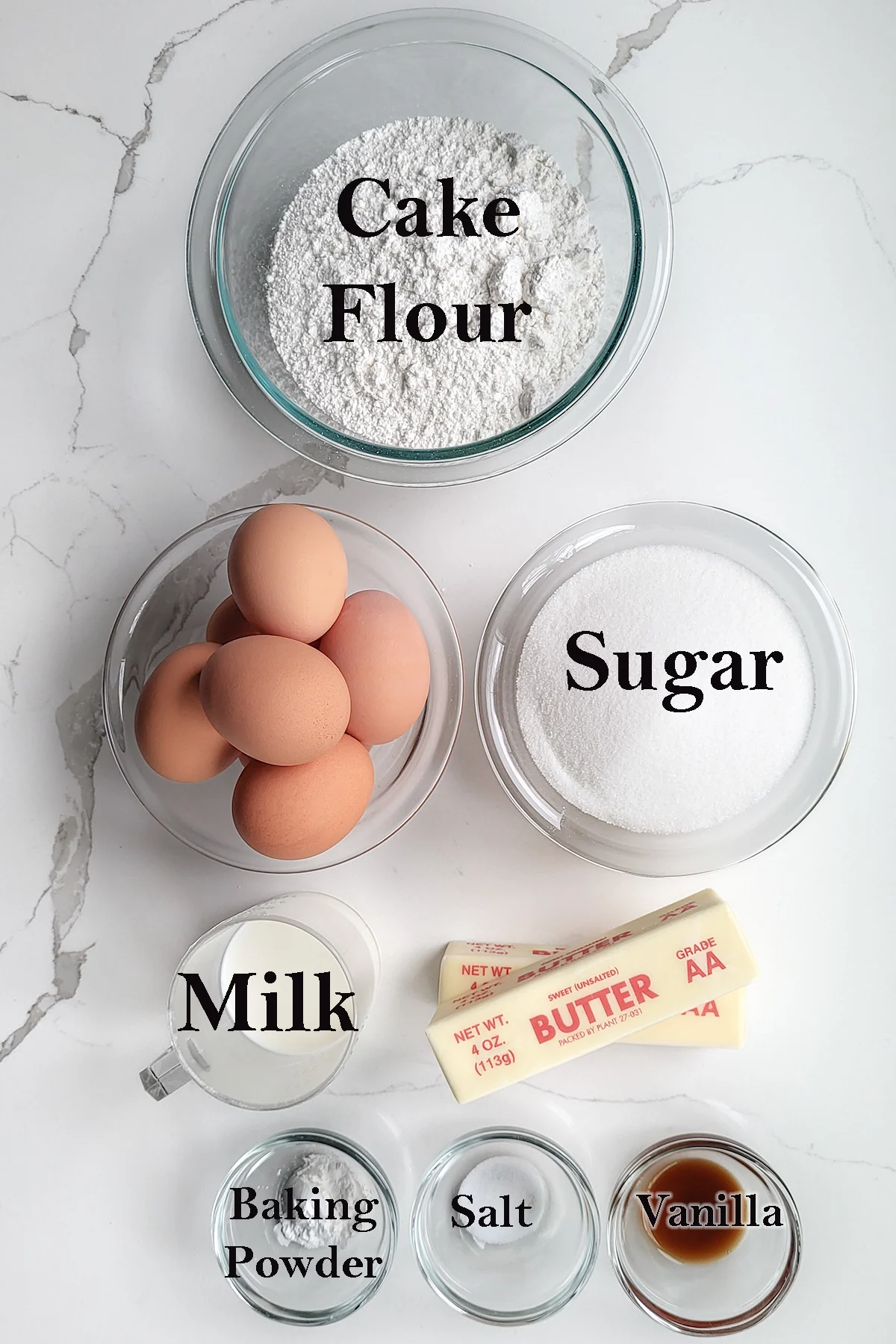 Ingredient Notes
How to make Pound Cake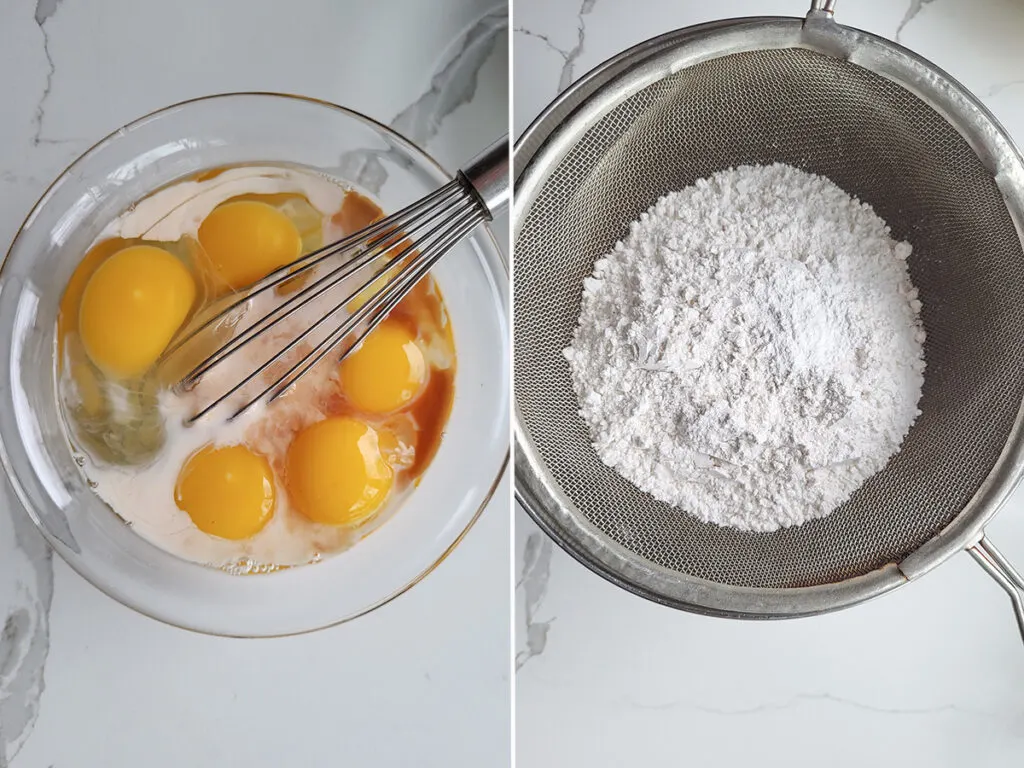 Combine the eggs, yolks, half the milk and the vanilla in a small bowl. Set it aside.
Sift the dry ingredients into a mixing bowl with the sugar.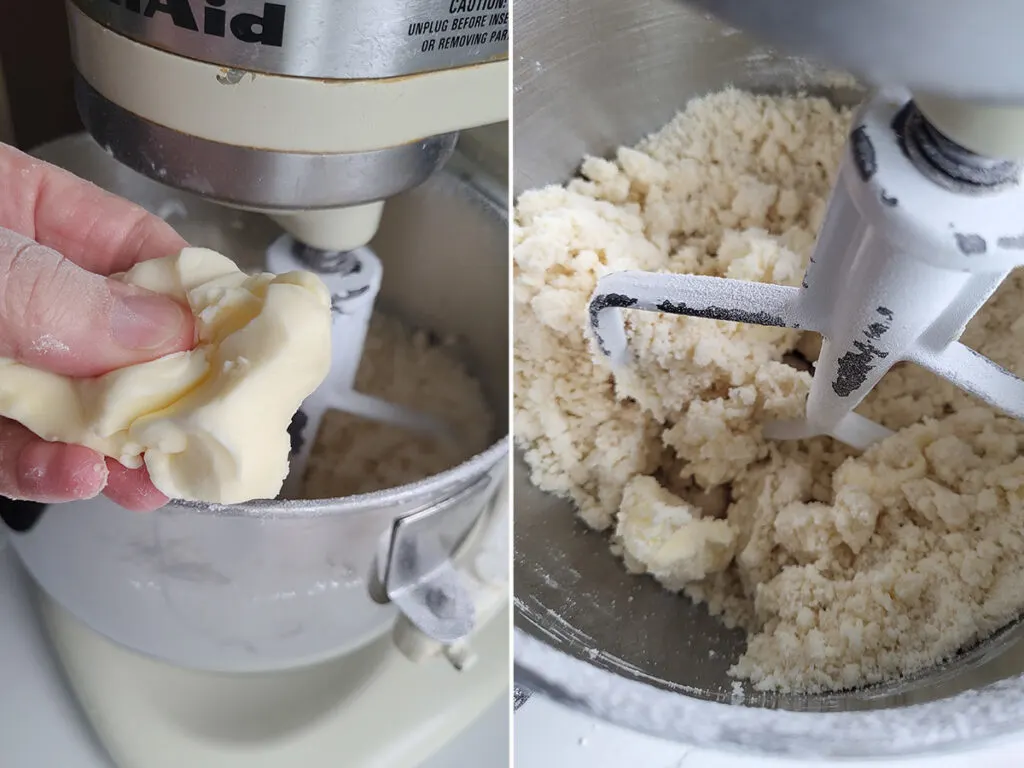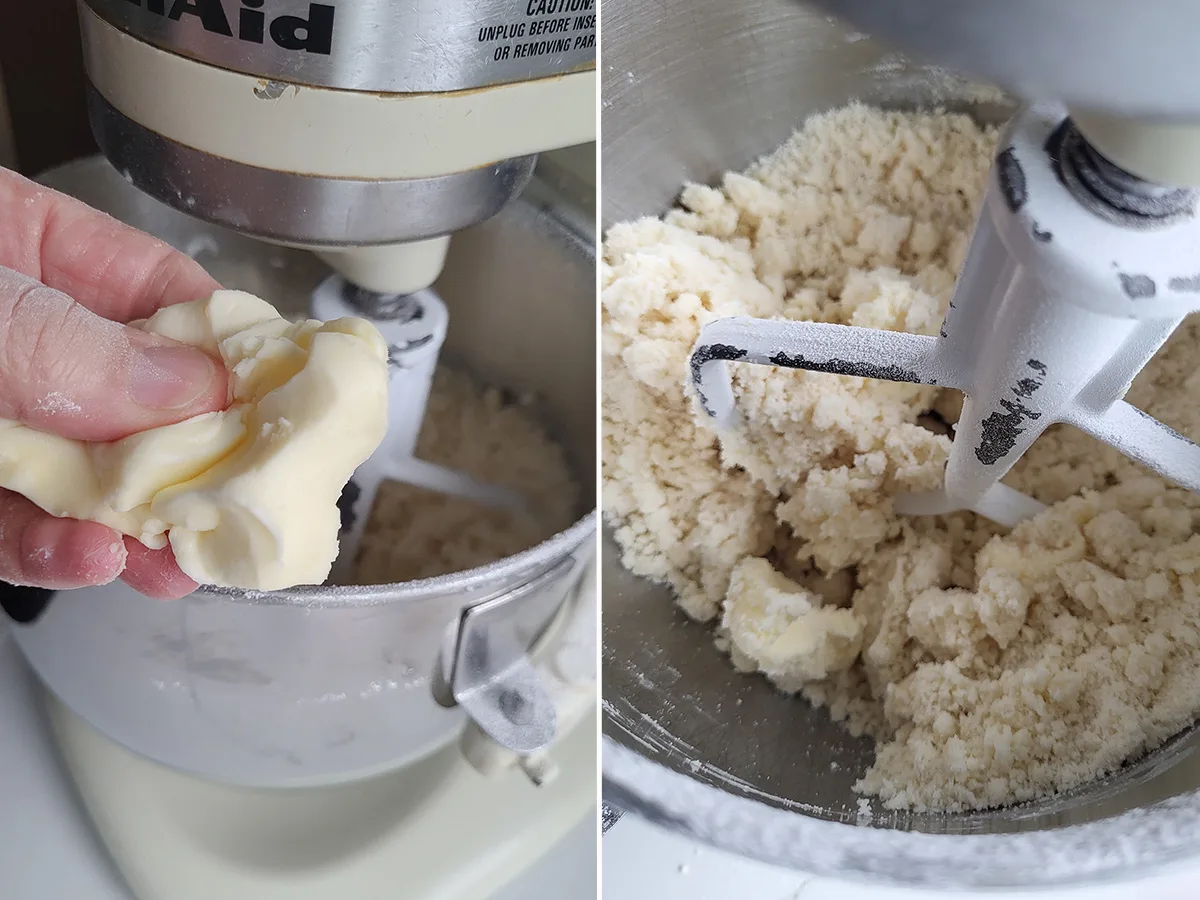 Mix the dry ingredients to combine.
With the mixer running on low, toss the softened butter into the dry ingredients.
Mix until the flour is coated with butter.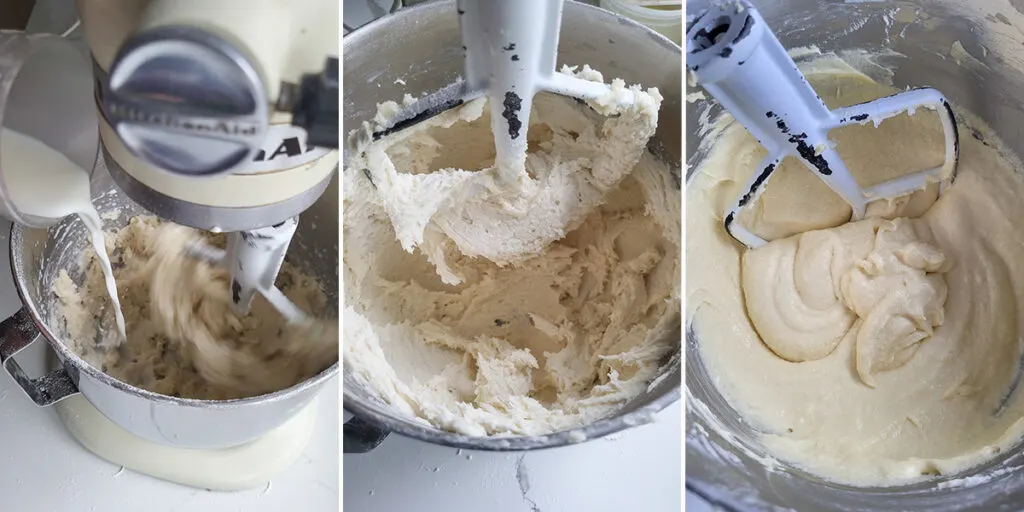 With the mixer running, add the rest of the milk.
Mix on medium high for 2-3 minutes to aerate the batter.
Add the egg mixture and mix until smooth. Scrape the bowl in between to avoid lumps of thick batter.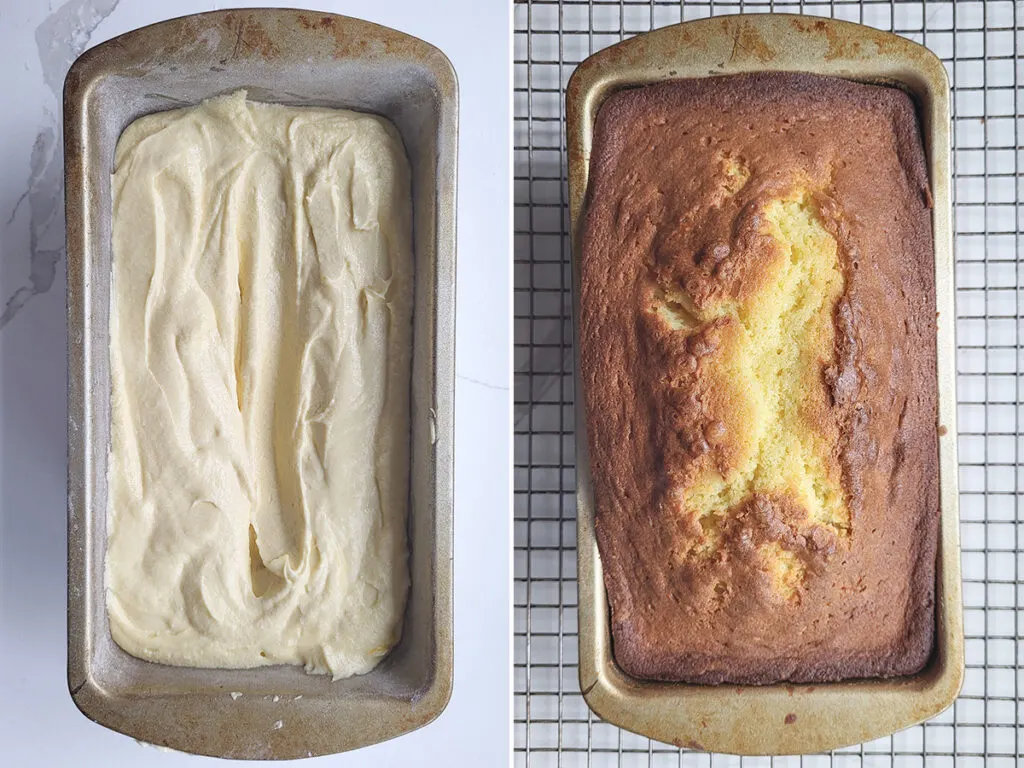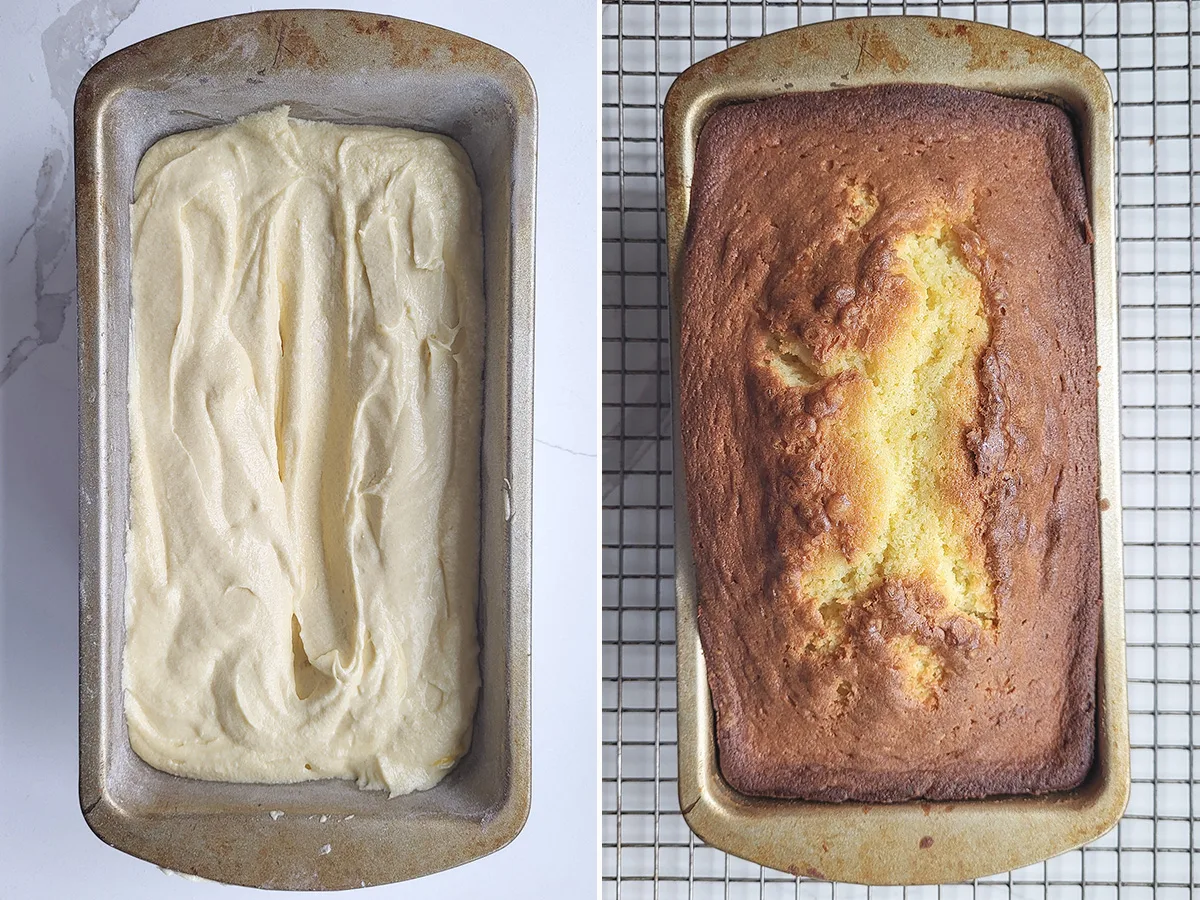 Pour the batter into a buttered and floured loaf pan, Bundt pan or angel food cake pan.
Use the tip of a small spatula to make a trench down the center of the cake.
Bake until a toothpick inserted in the center comes out clean. Cool at least 20 minutes before turning out of the pan.
Frequently Asked Questions
How is pound cake different from regular cake?
Pound cake is meant to be eaten without frosting so the cake itself needs to be very moist and rich. Pound cake has a high proportion of butter. This gives pound cake a melt-in-your-mouth texture.
How do you keep pound cake moist?
Adding a little more sugar than the traditional pound cake recipe helps keep the cake moist. Adding milk also moistens the cake.
Is cake flour or all-purpose flour better for pound cake?
Cake flour makes a softer and more tender pound cake than all purpose flour. Bleached cake flour allows the batter to hold more liquid for a moister cake and is also slightly acidic. Acidity weakens gluten and makes a softer cake crumb.
What makes pound cake so heavy?
The traditional pound cake recipe made with equal proportions of butter, sugar, flour and eggs can tend to be heavy. A little baking powder can be added to lighten the crumb.
Why this is a Better Pound Cake Recipe
There are about a bajillion pound cake recipes out there on the interwebs and, frankly, I'm shocked at how many of them still use the original 1:1:1:1 formula.
Personally, I find that recipe is less than ideal. It's fairly dense, a little chewy and has a slightly flat taste.
I decided to tweak the traditional pound cake recipe to make it better. I baked 100+ pound cakes over several months of research and testing. I tested each ingredient and how it works in the cake. I also tested various mixing methods, ingredient temperatures and alternative ingredients.
If you're a baking geek like me, you can read all about how I adjusted the percentages in this comprehensive post about creating a great cake recipe. I used the same formula to make a great Vanilla Butter Cake and White Cake recipe.
If you still haven't slaked your thirst for all the knowledge about cake batter, go ahead and read through my 7-part Cake Batter Series.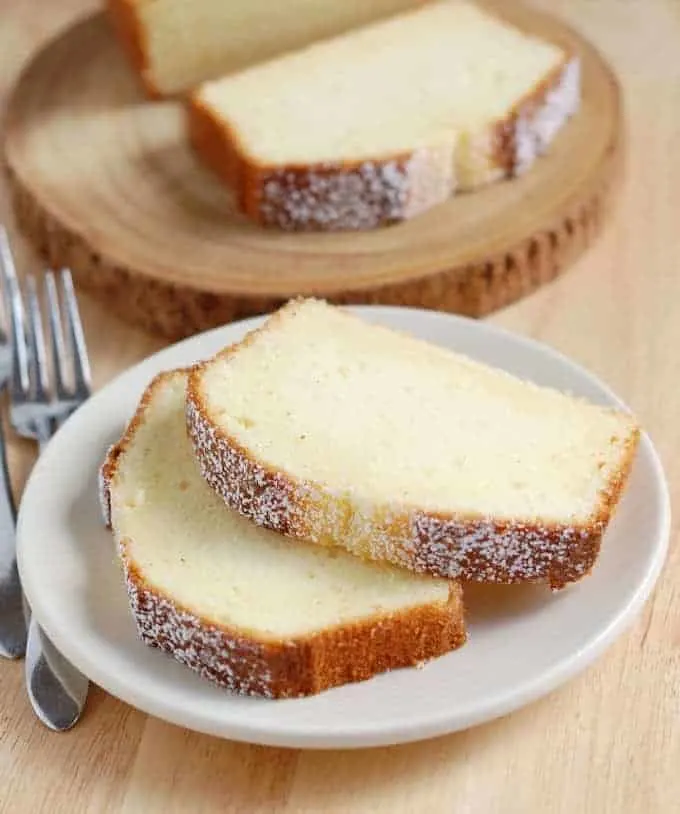 Quick tip: To make an easy petite four cut the pound cake into cubes. Line the cubes onto a clean cooling rack set over a sheet pan. Drizzle Quick Fondant Icing over the cubes and leave them until the icing sets.
Here are some other pound cake recipes for you to try:
Now that you've made this recipe what should you do with all the extra egg whites? Check out this collection of recipes that use extra whites for some great ideas.
If you love this recipe as much as I do, please consider leaving a 5-star review.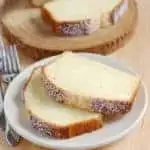 Print Recipe
Perfect Pound Cake Recipe
A really great pound cake should have an even crumb with a melt-in-your-mouth texture and buttery, vanilla flavor. This is a really great pound cake!
Ingredients
3

large eggs

(room temp)

4

egg yolks

(room temp)

1

teaspoon

vanilla extract

2

oz

whole milk

(¼ cup, divided)

8

oz

cake flour

(1 ¾ cups)

¼

teaspoon

table salt

1

teaspoon

baking powder

10

oz

granulated sugar

(1 ¼ cups)

9

oz

unsalted butter

(room temp)
Instructions
Preheat the oven to at

350

°F

. Butter and flour a 9"x5" loaf pan or Bundt pan.

Combine

3 large eggs

,

4 egg yolks

,

1 teaspoon vanilla extract

and half the milk in a small bowl, whisk to combine and set aside.

Sift together

8 oz cake flour

,

¼ teaspoon table salt

and

1 teaspoon baking powder

in a mixing bowl. Add

10 oz granulated sugar

to the flour and mix at low speed for 30 seconds. Add

9 oz unsalted butter

to the flour and mix until combined. Add the other ½ of the milk and increase the speed to medium high. Mix for a full 2-3 minutes. The batter will lighten in color and texture. If your using a hand mixer add another minute or two to the mixing time.

Scrape the bowl and paddle thoroughly. On low speed, add the egg mixture in 3 increments, scraping the bowl after each addition. Mix just until the eggs are incorporated.

Pour the batter into the prepared pan and smooth to an even layer. Bake until a toothpick inserted in the middle comes out clean (about 55-65 minutes).

Cool in the pan for 10 minutes then turn the cake out onto a cooling rack and cool to room temperature.
As an Amazon Associate and member of other affiliate programs, I earn from qualifying purchases.
Nutrition
Calories:
351
kcal
|
Carbohydrates:
38
g
|
Protein:
5
g
|
Fat:
20
g
|
Saturated Fat:
12
g
|
Polyunsaturated Fat:
1
g
|
Monounsaturated Fat:
6
g
|
Trans Fat:
1
g
|
Cholesterol:
152
mg
|
Sodium:
107
mg
|
Potassium:
54
mg
|
Fiber:
0.5
g
|
Sugar:
24
g
|
Vitamin A:
685
IU
|
Calcium:
48
mg
|
Iron:
1
mg