Buttermilk Bundt Cake with Buttermilk Glaze is a perfect snack cake. The tangy-sweet buttermilk glaze forms an ultra-thin coating over the melt-in-your-mouth cake.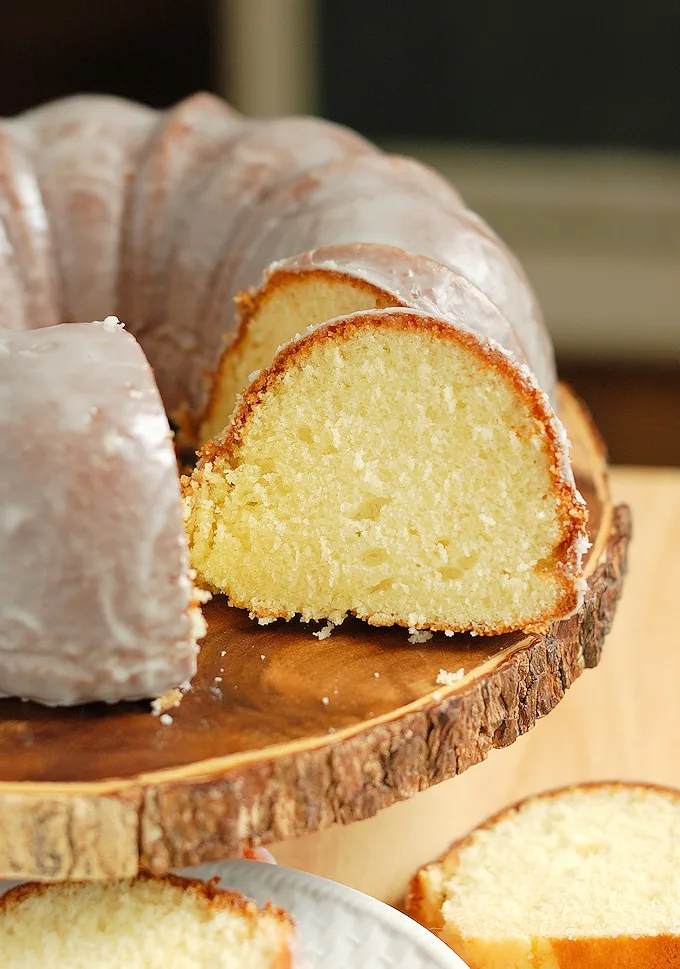 If you read my blog with any frequency, by now you know that buttermilk is one of my favorite ingredients. I use it in all sorts of recipes from mashed potatoes to scones. But I absolutely love using buttermilk in cake batter, not only for the special flavor, but mostly for the tenderizing effect that the slightly acidic ingredient has on the cake crumb. No other ingredient makes as soft and tender a cake as buttermilk does.
Buttermilk is a great all-purpose ingredient to have on-hand!
Don't be tempted to swap out yogurt or soured milk, it's really not the same. If you don't want to buy buttermilk because you don't want left overs in the fridge (seriously though, use it in mashed potatoes. It will change your life!!) the best substitute is buttermilk powder. The buttermilk powder will keep in the pantry for months and you just mix the amount needed for your recipe.
Otherwise, this is a pretty straightforward butter cake recipe. As always, I use my favorite reverse creaming method. If you're interested in learning why I use this method for mixing butter cakes rather than the traditional "cream the butter and sugar" method, check out my Cake Batter Mixing Methods post (I'm talking to you, baking science geeks!).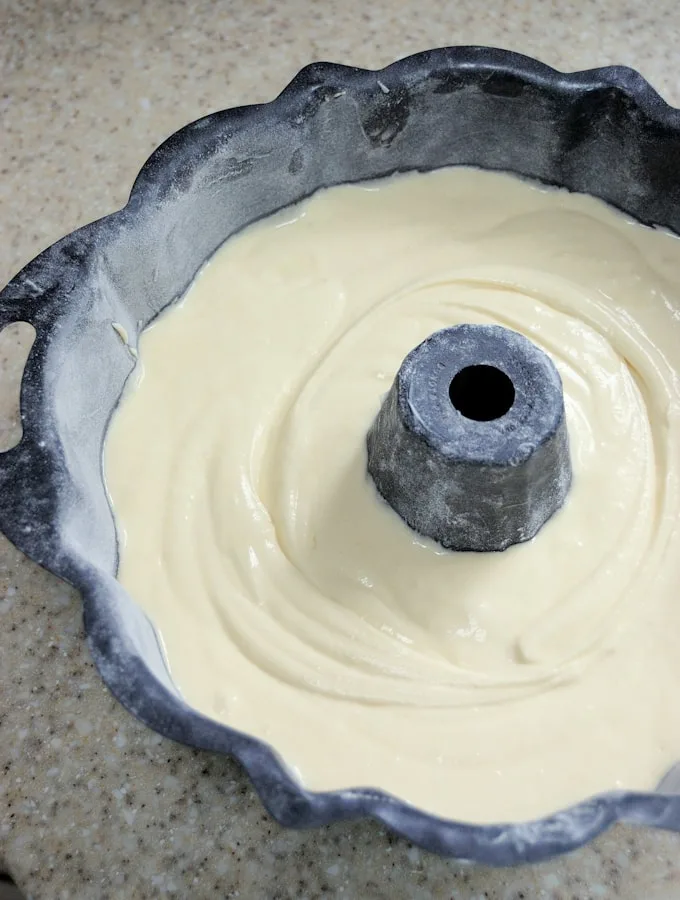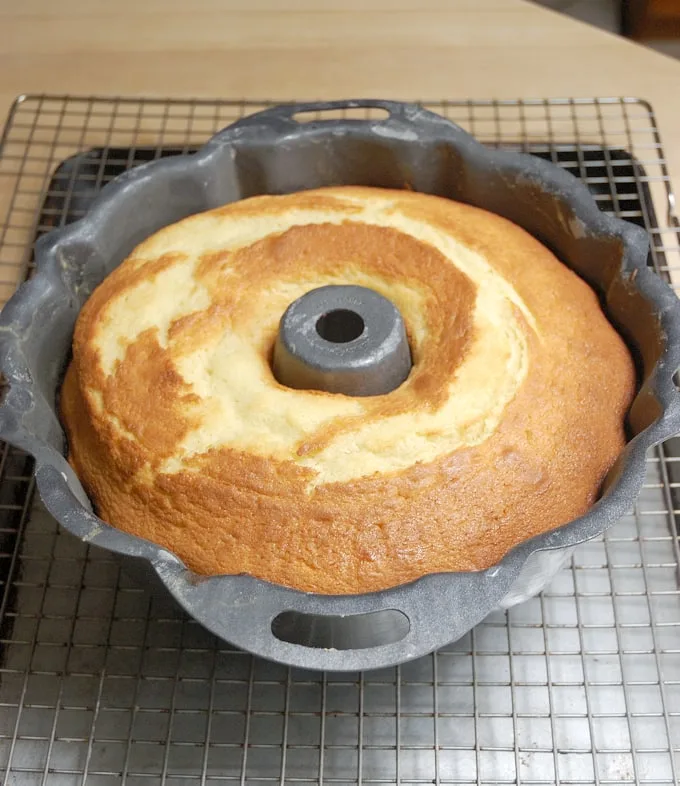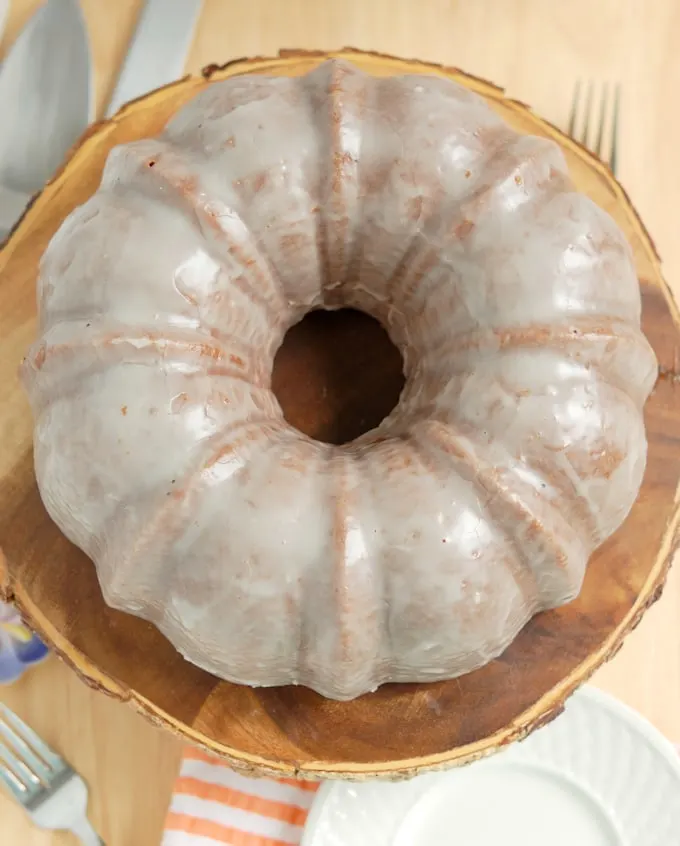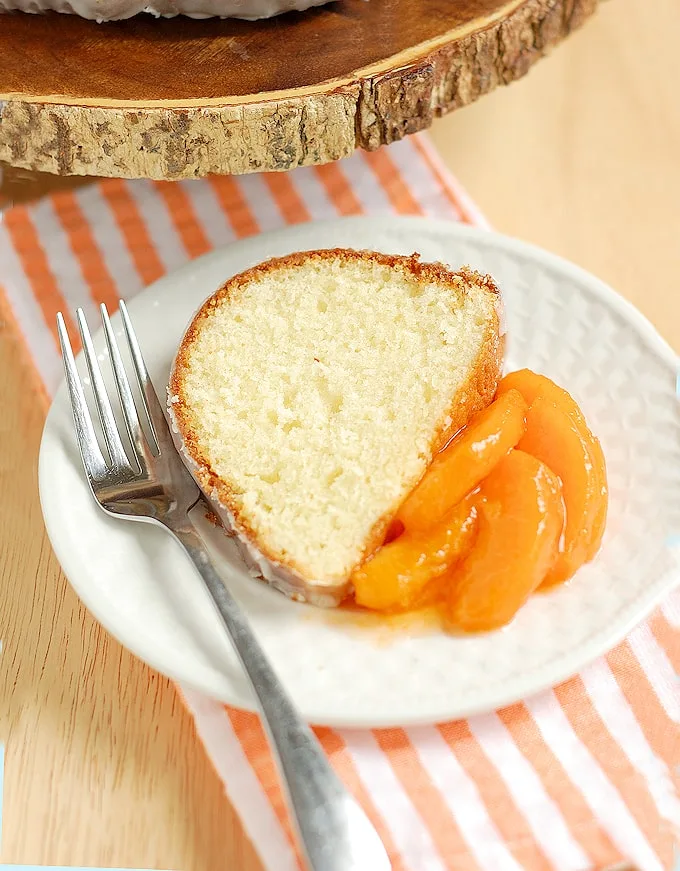 The cake is delicious all by itself, but I love to serve it with fresh berries or seasonal fruit. I find it pairs especially well with apricots or peaches.
Special Equipment Used: 12 cup Bundt pan, cooling rack, 1/2 sheet pan, Kitchen Aid 5 Quart Mixer

Buttermilk Bundt Cake with Buttermilk Glaze
Yield: 12-16

Prep Time: 20 minutes

Cook Time: 45 minutes

Total Time: 1 hour 5 minutes
Ingredients
Buttermilk Cake
2 large eggs plus 2 yolks
1 cup (8 oz, 250ml) buttermilk (see note)
2 teaspoons vanilla extract
2 1/2 cups (10.5 oz, 300g) cake flour
1 1/3 cups (10 oz, 280g) granulated sugar
1 tablespoon baking powder
1/2 teaspoon table salt
6 oz (1 1/2 sticks, 170g) unsalted butter, room temperature, cut into 1" chunks
Buttermilk Glaze
2 cups (8 oz, 230g) confectioner's sugar
1 teaspoon vanilla
1/4 cup (2 oz, 60 ml) buttermilk
Instructions
Preheat the oven to 325°F convection or 350°F regular.
Butter and flour a 12 cup Bundt pan.
Make the batter
Whisk together the eggs, yolks, vanilla and 1/2 cup of the buttermilk, set aside.
Sift the flour, sugar, baking powder and salt into a mixer bowl.
Mix on low speed to combine the dry ingredients.
Toss the chunks of butter into the flour mixture.
Add the reserved 1/2 cup of buttermilk increase the speed to medium.
Mix on medium high for 2 minutes to aerate the batter.
Scrape the bowl.
Add the eggs in 3 batches, scraping the bowl between each addition.
Pour the batter into the prepared pan.
Bake until the cake springs back when lightly pressed or a toothpick inserted into the center comes out clean, about 45 minutes.
Cool for 5 minutes in the pan.
Invert the cake onto a cooling rack set over a clean sheet pan.
Make the Glaze
Combine the sugar, vanilla and buttermilk and whisk until smooth.
Pour the glaze over the slightly warm cake (see note).
You can scoop up the glaze from the sheet pan and use it to fill in any gaps in the glaze.
Cool completely and allow the glaze to set.
Transfer to a serving plate.
Notes
I recommend using buttermilk powder as the best substitute if you don't want to buy fresh buttermilk.

Glazing the cake while it's slightly warm will allow the glaze to set to a shiny finish. If you glaze the cake while it's too warm the glaze will melt and if you glaze the completely cooled cake the glaze won't set as nicely.