This Sourdough Pumpernickel Bread recipe makes the perfect sandwich bread. It's a hearty loaf made with whole grain rye flour, whole wheat flour, bread flour and a couple of unusual ingredients.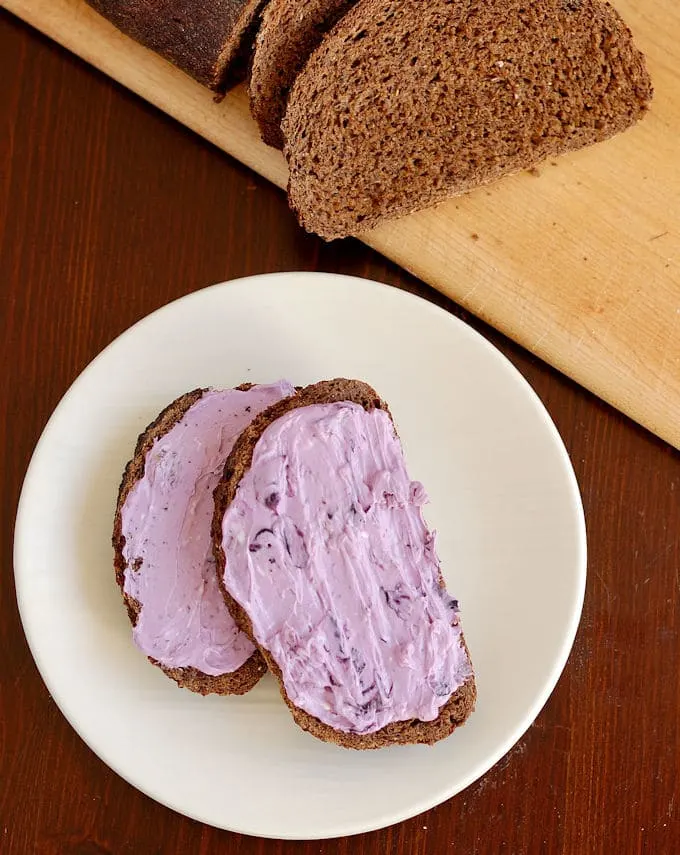 As I mentioned in my Rye Bread post, I grew up in New Jersey, just outside of New York City. Being near to New York meant having access to wonderful delis and bakeries, so it was easy to find a good deli sandwich on fresh bread.
The other day I had some dried-out slices of sourdough bread left over and rather than throw them away I was inspired to make a Sourdough Pumpernickel Bread recipe.
If you don't have one, check out my post to learn How to Make a Sourdough Starter. Then check out my system to Feed and Maintain Sourdough Starter.
What is the difference between Rye Bread and Pumpernickel Bread?
Rye Bread is made with some proportion of Rye Flour, often mixed with wheat flour for structure.
Pumpernickel bread is also made with rye flour, and it includes added ingredients to create dark brown color and complex flavor. There are different techniques and ingredients bakers can use to create the dark brown color in the bread.
In my research I found old recipes that use left over bits of bread as a basis for a new loaf of bread. Waste not, want not, right? I could see that toasted bread crumbs would add an interesting texture and deep flavor to pumpernickel bread.
I settled on a combination of coffee, barley malt syrup, cocoa and toasted bread crumbs to deepen the color of the loaf. These ingredients contribute a really interesting bitter/sweet flavor to the bread.
Sourdough pumpernickel bread recipes use anywhere from just a hint of rye flour, to all rye flour, and every combination in between.
Without gluten from wheat flour, the loaf would be too dense. There are some traditional European all-rye pumpernickel loaves that are super concentrated and very, very dense. They're interesting in and of themselves, but that's not the type of pumpernickel I was going for.
This recipe has a proportion of 1/2 rye flour, and 1/2 wheat flour. There's just enough whole wheat flour to contribute to the flavor. Bread flour makes up the balance so there's enough elasticity for a good rise on the loaf.
Ingredients
Unfed sourdough starter (100% hydration)
Water
Rye flour
Coffee
Barley malt syrup
Cocoa powder
Table salt
Bread crumbs
Whole wheat flour
Bread flour
How to make Sourdough Pumpernickel Bread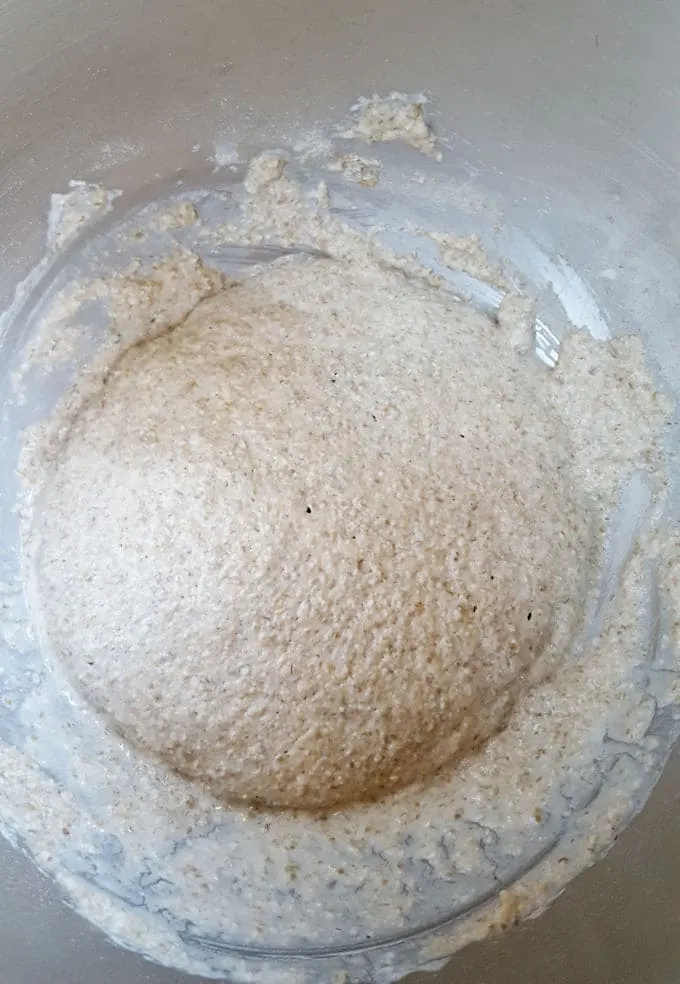 Combine unfed starter with rye flour and water. Several hours later the rye starter is active and ready to use.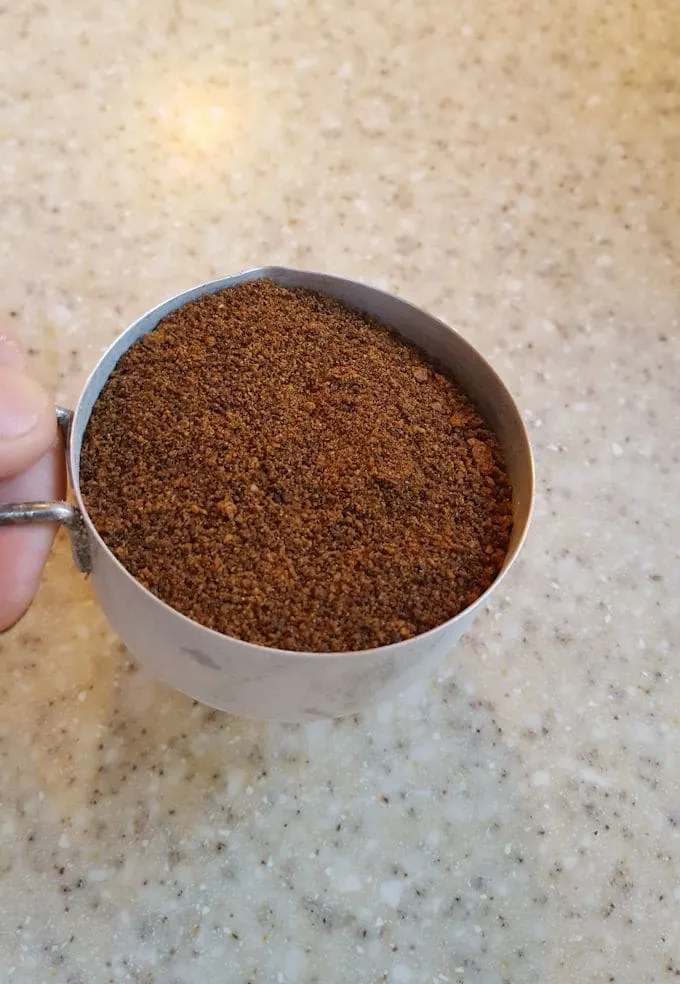 Grind the toasted bread crumbs until they resemble coffee grounds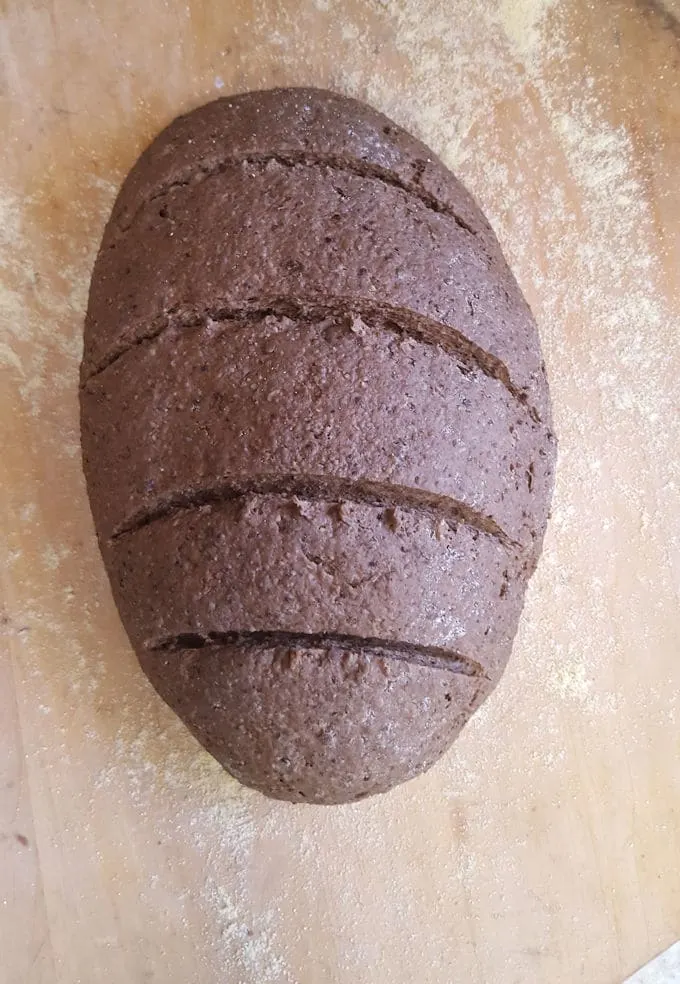 Slash the risen loaf and brush with egg white for a shiny crust. Bake until the internal temp is 200f.
Tips for making Sourdough Pumpernickel Bread:
Whenever you're working with sourdough you've got to be flexible with the timing. The fermentation and rising times can vary based on how active your starter is, the dough temperature, the room temperature, etc.
After three hours of rising and folding the dough should be resilient and airy. If after 3 hours the dough still feels very dense you can give it another hour or two rising time or you can put it in the refrigerator overnight for a long, slow rise.
After shaping the dough you can refrigerate the loaf overnight and bake in the morning. The extra-long rise in the refrigerator will give the bread and even deeper flavor.
For a flavor variation, fold in 1 tablespoon of caraway seeds just before shaping the loaf.
This dough can also be portioned and rolled into individual balls to make rolls. Cut into 8 portion for larger sandwich rolls and 12 portions for smaller rolls.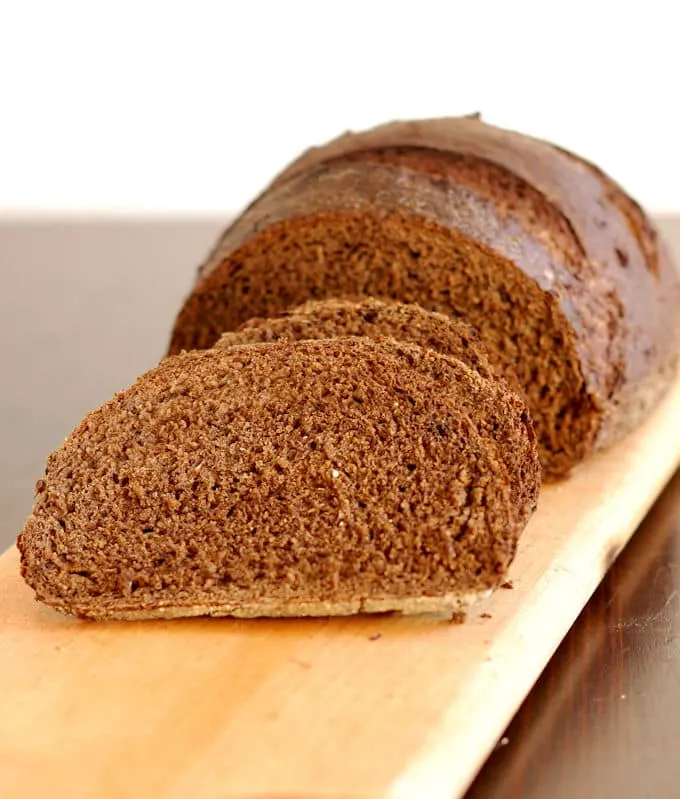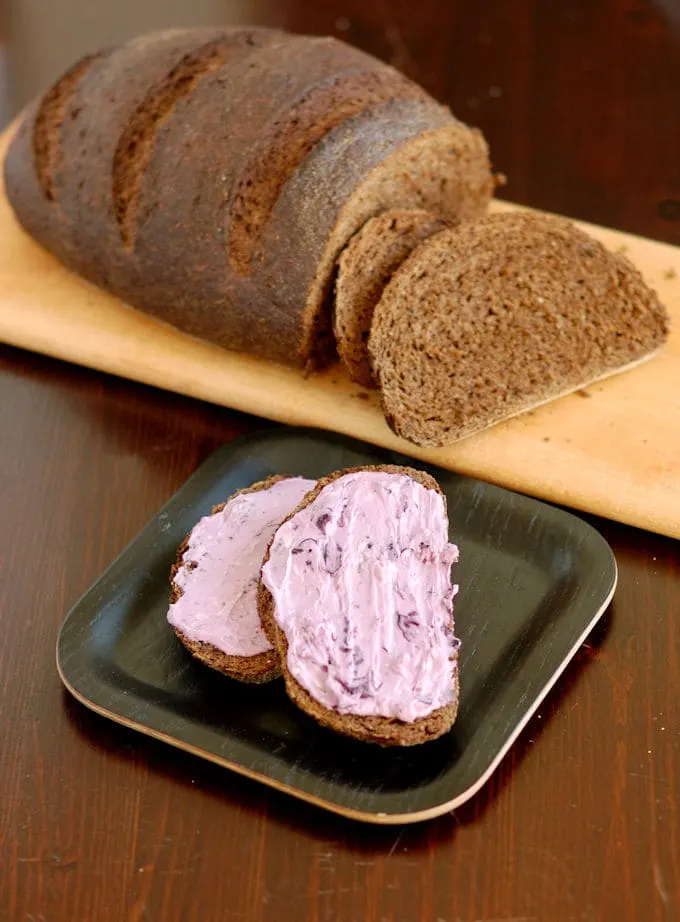 Sourdough Pumpernickel Bread is my favorite bread for making a tuna sandwich. It's also great for breakfast with blueberry cream cheese or any creamy topping. This bread makes a killer grilled-cheese sandwich.
I know you hate to throw away that sourdough discard. Check out these recipes that use sourdough discard.
If you love this recipe, please consider giving it 5 stars.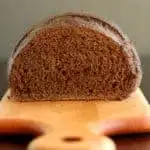 Print Recipe
Sourdough Pumpernickel Bread
A dark and flavorful pumpernickel bread made with coffee, cocoa, molasses and old bread. This is a great sandwich loaf.
Ingredients
Rye Starter
4

ounces

unfed sourdough starter

(about ½ cup (100% hydration))

2

ounces

warm water

(¼ cup)

2 ½

ounces

rye flour

(½ cup)
Dough
10

ounces

coffee

(1 ¼ cups, room temperature)

1 ½

ounces

barley malt syrup

(2 tablespoons (see note 2))

1

tablespoon

cocoa powder

1 1/2

teaspoons

table salt

5

ounces

rye flour

(1 cup)

2

ounces

toasted bread crumbs

(½ cup (see note 3))

2 ½

ounces

whole wheat flour

(½ cup)

5

ounces

bread flour

(1 cup)
Instructions
Make the Rye Starter (one day before)
Combine the sourdough starter, water and rye flour.

4 ounces unfed sourdough starter,

2 ounces warm water,

2 ½ ounces rye flour

Cover the bowl and let it ferment about 6-8 hours at room temperature (you can do this the night before and continue making the dough in the morning).
Make the Dough
In the bowl of a stand mixer with a dough hook or a large a large mixing bowl, combine the active rye starter with the coffee, barley malt syrup, cocoa, salt, rye flour, toasted bread crumbs and whole wheat flour.

10 ounces coffee,

1 ½ ounces barley malt syrup,

1 tablespoon cocoa powder,

1 1/2 teaspoons table salt,

5 ounces rye flour,

2 ounces toasted bread crumbs,

2 ½ ounces whole wheat flour

Add the bread flour. If working by hand, stir in as much of the flour as you can, then turn the dough out onto a lightly floured surface and knead in the remaining flour. Knead 5 minutes. Knead the dough into a smooth ball. The dough may still be a little soft and tacky but should form into a smooth ball.

Place the dough into an oiled bowl, turning once to coat. Cover and set at room temperature for 1 hour. After an hour, working from four corners of the dough (still in the bowl) use your hand to lift the top edge of the dough over into the middle of the dough. Repeat with the other 3 sides then flip the dough over. Cover and set at room temperature for another hour. Repeat the folding procedure 2 more times so the dough rises for a total of 3 hours. By now the dough should be lively, elastic and airy. If the dough is still sluggish give it another hour or two at room temperature. After the initial fermentation the dough can be refrigerated for up to 2 days before baking.

Turn the dough out onto a floured surface and fold each of the four sides into the middle again. Flip the dough over, shape into a ball then roll the edges to form an oval shape. Transfer the loaf to a sheet pan lined with parchment paper or onto a baking peel dusted with cornmeal. If you want to bake in a Dutch oven shape the dough in to a round (boule) and preheat the pan in the oven.

Cover the dough with plastic wrap or a damp kitchen towel and rise until almost doubled in volume (about 1 – 1 ½ hours). the rising time will vary base on how active your starter was, the room temperature, etc.

While the dough rises preheat the oven to

375

°F

. If you have a baking stone put it in the oven to preheat. When the bread is risen, use a sharp knife or blade to slash the top of the bread 4-5 times.

If using the Dutch oven to bake follow these directions: Remove the preheated pan from the oven and remove the lid. Use the parchment paper to lift the loaf into the Dutch oven. Replace the lid on the pot and slide it into the oven. Bake for 20 minutes. Remove the lid from the Dutch oven. The loaf should be well risen and pale in color. Continue baking another 20 minutes until the loaf is nicely browned and beginning to crisp. Remove the pan from the oven. Use the parchment to lift the loaf out of the pan.

If baking on a sheet pan or baking stone bake until the temperature reaches 200°F in the center of the loaf, about 35 minutes.
As an Amazon Associate and member of other affiliate programs, I earn from qualifying purchases.
Notes
You can use 1 tablespoon of molasses plus 1 tablespoon of honey in place of the barley malt syrup.
Grind old slices of rye, pumpernickel or sourdough bread to fine crumbs then toast in the oven until deeply browned, but not burnt. You can also use unflavored commercial bread crumbs.
Nutrition
Serving:
16
g
|
Calories:
122
kcal
|
Carbohydrates:
26
g
|
Protein:
4
g
|
Fat:
1
g
|
Saturated Fat:
0.1
g
|
Polyunsaturated Fat:
0.3
g
|
Monounsaturated Fat:
0.1
g
|
Sodium:
247
mg
|
Potassium:
95
mg
|
Fiber:
3
g
|
Sugar:
2
g
|
Vitamin A:
1
IU
|
Calcium:
15
mg
|
Iron:
1
mg