Sourdough Pumpernickel Bread is the perfect sandwich bread. It's a hearty loaf made with whole grain rye flour, whole wheat flour, bread flour and a couple of unusual ingredients.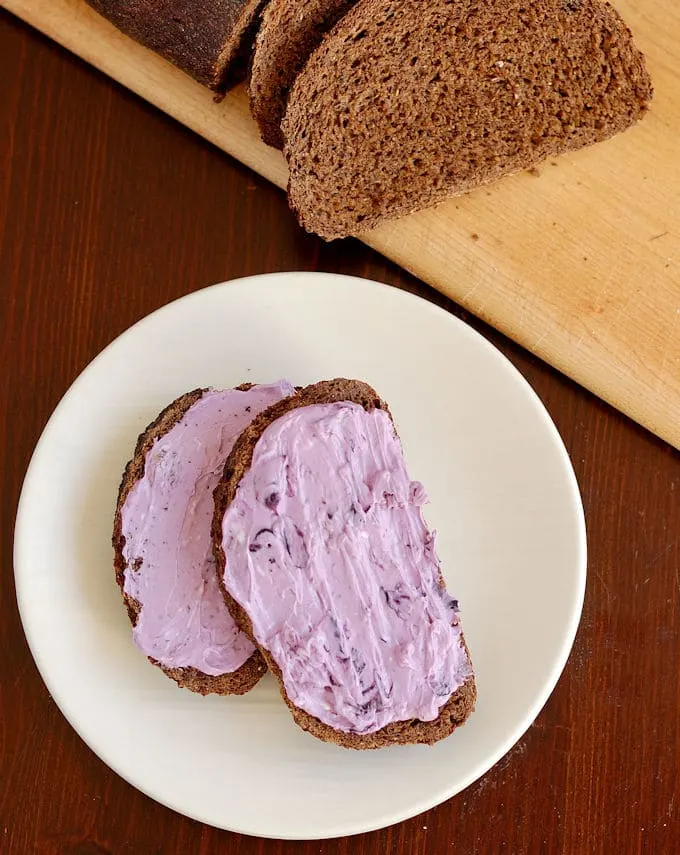 As I mentioned in my Overnight Rye Bread post, I grew up in New Jersey, just outside of New York City. Being near to New York meant having access to wonderful delis and bakeries, so it was easy to find a good deli sandwich on fresh bread. One of my favorite New York style breads has always been Sourdough Pumpernickel Bread. Without access to a great deli or bakery it's not easy to find a great pumpernickel bread. The stuff you find on the supermarket shelf usually tastes like soft rye bread with some coloring added. That's not what I was craving.
The other day I had some dried-out slices of sourdough bread left over and rather than throw them away I was inspired to make a Sourdough Pumpernickel Bread. If you peruse pumpernickel bread recipes there are many versions and many ways to get the deep dark brown color in the bread. I was intrigued by some old recipes that use left over bits of bread as a basis for a new loaf of bread. Waste not, want not, right? I could see that toasted bread crumbs would add an interesting texture and deep flavor to the bread.
Developing My Sourdough Pumpernickel Bread Recipe:
After much research into recipes by some great bread bakers, I came up with my version of Sourdough Rye Bread. Of course the recipe was going to begin with my sourdough starter because of the flavor, texture and long keeping qualities of a sourdough loaf. I settled on a combination of coffee, molasses, cocoa and toasted old-bread crumbs to deepen the color of the loaf. These ingredients contribute a really interesting bitter edge to the bread. Have I told you that I love bitter flavors? Well, I do! In my opinion bitter is an underappreciated and under utilized flavor. Anyway, back to the recipe…..
Through my research I found pumpernickel bread recipes that use anywhere from just a hint of rye flour, to all rye flour, and every combination in between. I wanted plenty of rye flavor, but needed some gluten from wheat flour. Without the gluten from wheat flour, the loaf would be too dense. There are some traditional European all-rye pumpernickel loaves that are super concentrated and very, very dense. They're interesting in and of themselves, but that's not the type of pumpernickel I was going for. I settled on a proportion of 1/2 rye flour, and the other 1/2 is a mix of whole wheat and bread flour. There's just enough whole wheat flour to contribute to the flavor. Bread flour makes up the balance so there's enough elasticity for a good rise on the loaf.
Click through the slider to see step by step photos for making Sourdough Pumpernickel Bread: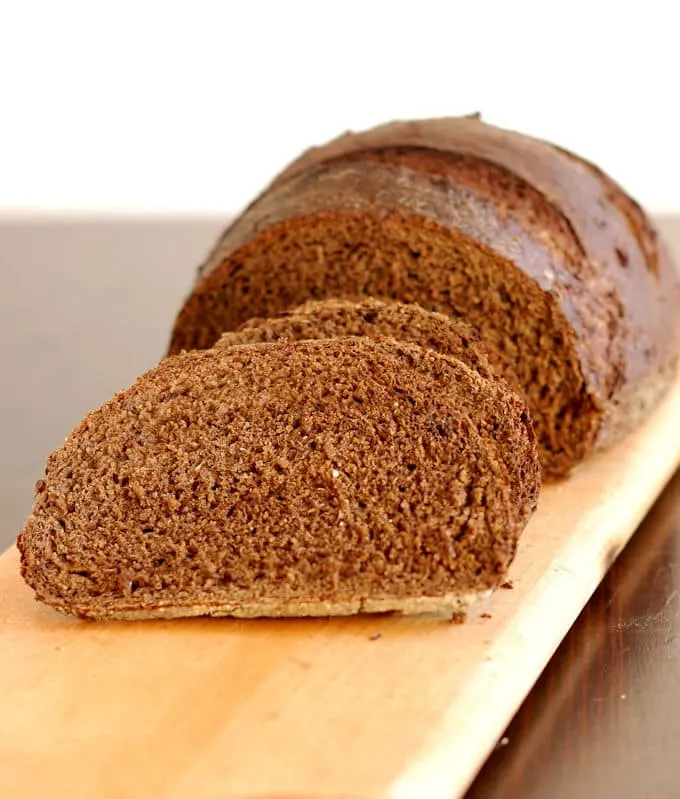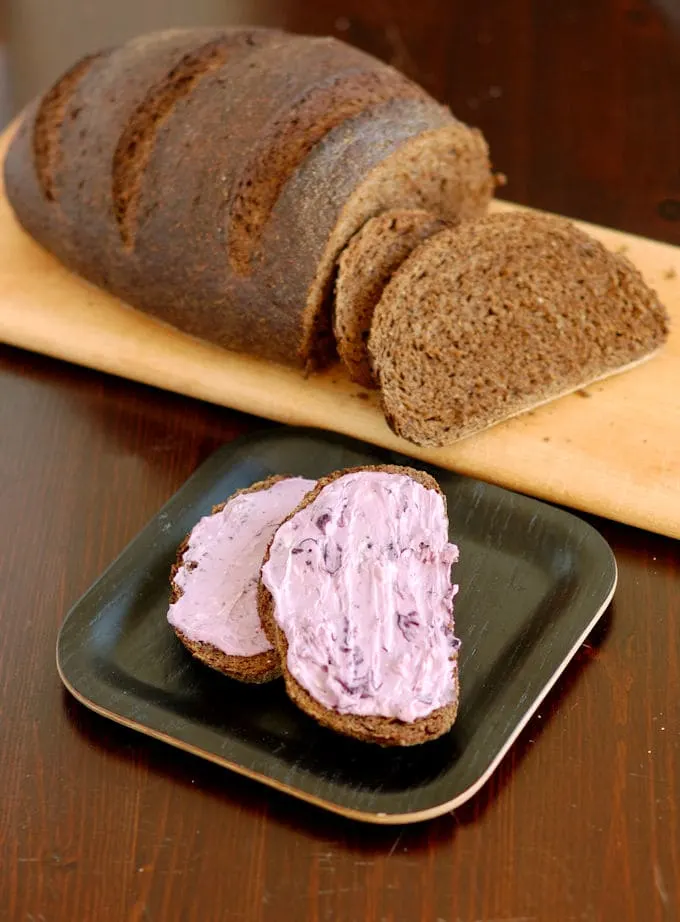 Sourdough Pumpernickel Bread is my favorite bread for making a tuna sandwich. It's also great for breakfast with blueberry cream cheese or any creamy topping. This bread makes a killer grilled-cheese sandwich.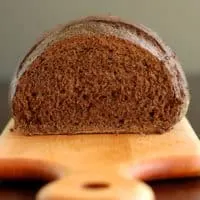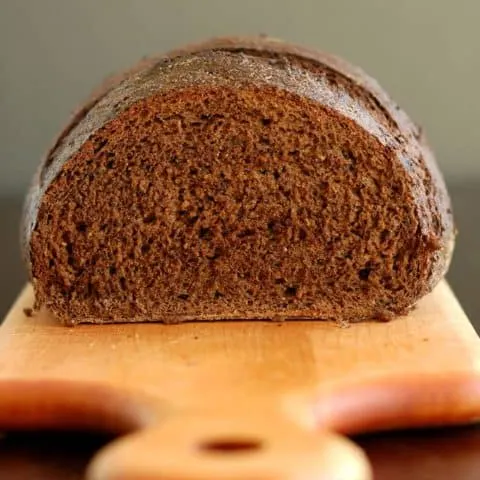 Sourdough Pumpernickel Bread
Total Time:
12 hours
35 minutes
A dark and flavorful pumpernickel bread made with coffee, cocoa, molasses and old bread. This is a great sandwich loaf.
Ingredients
Rye Starter
1/2 cup (about 4 oz, 113g) active sourdough starter (see note 1)
1/4 cup (2 oz, 60 ml) warm water
1/2 cup (2 oz, 50g) rye flour
Dough
1/2 teaspoon dry yeast (optional, if you don't use yeast your rising times will be longer)
1 1/4 cups coffee (295ml) cooled to room temperature (see note 2)
1 tablespoon molasses
1 tablespoon honey
1 tablespoon cocoa powder
1 teaspoon salt
1 cup (4 oz, 103g) rye flour
1/2 cup toasted bread crumbs from old bread (see note 3)
1/2 cup (2 oz, 50g) whole wheat flour
3/4-1 (4.25 oz, 120g) cup bread flour
Instructions
Make the Rye Starter (one day before)
Combine the sourdough starter, rye flour and warm water.
Let it ferment about 6-8 hours at room temperature (you can do this the night before and continue making the dough in the morning).
Make the Dough
Combine the active rye starter with yeast, coffee, molasses, honey, cocoa, salt, rye flour, toasted bread crumbs and whole wheat flour.
Dump the dough onto a floured surface and knead in the bread flour.
This dough is quite sticky and dense and I find it easier to finish by hand rather than with a dough hook.
Place the dough into an oiled bowl, turning once to coat.
Cover and set at room temperature for 1 hour until doubled in volume (longer if not using yeast).
Lift the top edge of the dough over into the middle of the dough. Repeat with the other 3 sides then flip the dough over.
Cover and set at room temperature for 1 hour until doubled in volume (longer if not using yeast).
Turn the dough out onto a floured surface and fold each of the four sides into the middle again. Flip the dough over, shape into a ball then roll the edges to form an oval shape.
Cover and rise until doubled in volume (about 1 - 1.5 hours).
While the dough rises preheat the oven to 350°F, preheat a baking stone in the oven if you've got one and If you'd like to create steam in the oven use a pan with heated stones.
Use a sharp knife or blade to slash the top of the bread several times.
Brush the surface of the bread with egg white and bake until the temperature reaches 190°F-200°F in the center of the loaf, or the bread sounds hollow when tapped on the bottom. About 35 minutes.
Notes
1. Make sure your starter has been fed and is active before taking a portion to make the rye starter. My starter is the consistency of pancake batter. If yours is thinner or thicker you may need to adjust the amount of water added to make the rye starter.
2. Use left over coffee or use instant coffee to make 1 cup.
3. Grind old slices of rye, pumpernickel or sourdough bread to fine crumbs then toast in the oven until deeply browned, but not burnt.