Pumpkin Spice Ale Soft Pretzels with Pumpkin Chipotle Dip! If you love Pumpkin Spice Ale you'll love this twist (sorry!) on the soft-pretzel.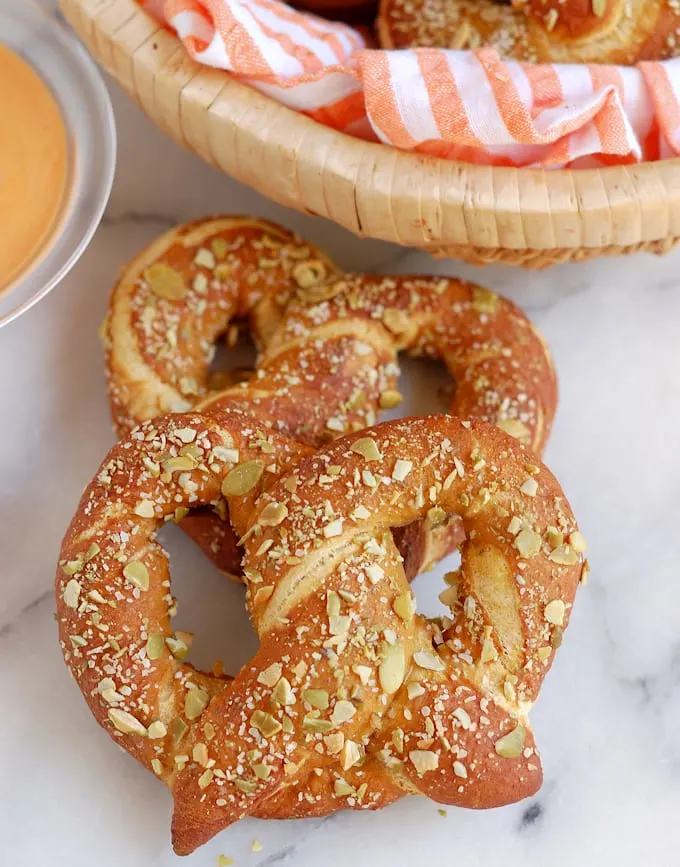 I'm not sure when exactly Pumpkin Spice Ale became such a big thing, but there's certainly no denying the popularity of pumpkin spice everything these days.
How to make Pumpkin Spice Ale Soft Pretzels:
I used a Pumpkin Spice Ale made by a local craft brewer to make savory Pumpkin Spice Ale Soft pretzels and spicy Pumpkin Chipotle dipping sauce.
Since pumpkin can go either savory or sweet, I could have gone to the sweet-side by adding more sugar, cinnamon and spice to the dough and making a sweet cream cheese dip.
But I wanted to make a snack that reflects the flavor of the Pumpkin Spice Ale, which is not sweet. In fact, Pumpkin Spice Ale, or any other beer, would be the perfect drink to go with these pretzels and spicy dip.
Pumpkin Spice Ale Soft Pretzels are a variation of my Beer Infused Bavarian Soft Pretzels.
First of all, I switched out the lager for Pumpkin Spice Ale. Then I replaced the water in the recipe with pumpkin puree. Not only does the puree give the pretzels great flavor, it also imparts a pretty, pale-orange color.
Scroll through the step by step photos to see how to make Pumpkin Spice Ale Soft Pretzels: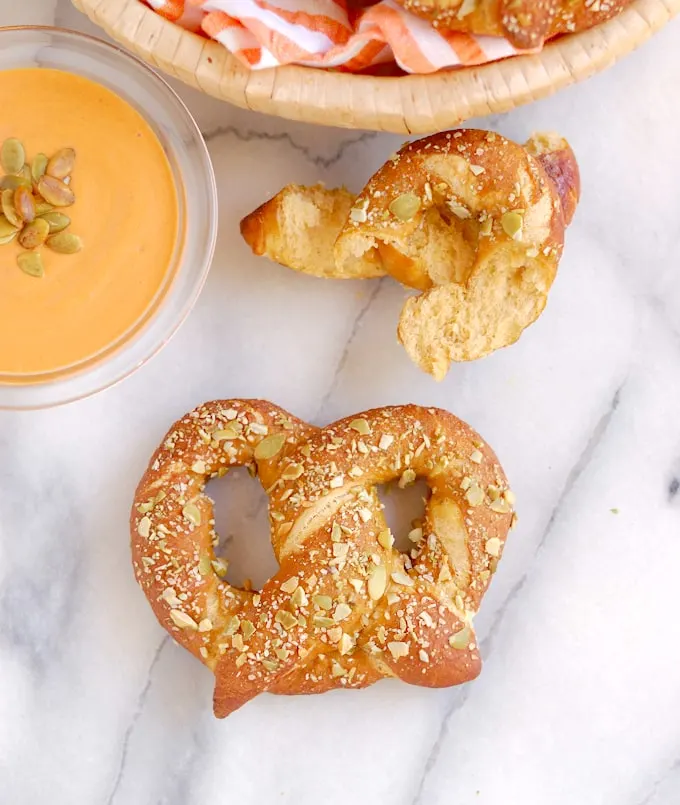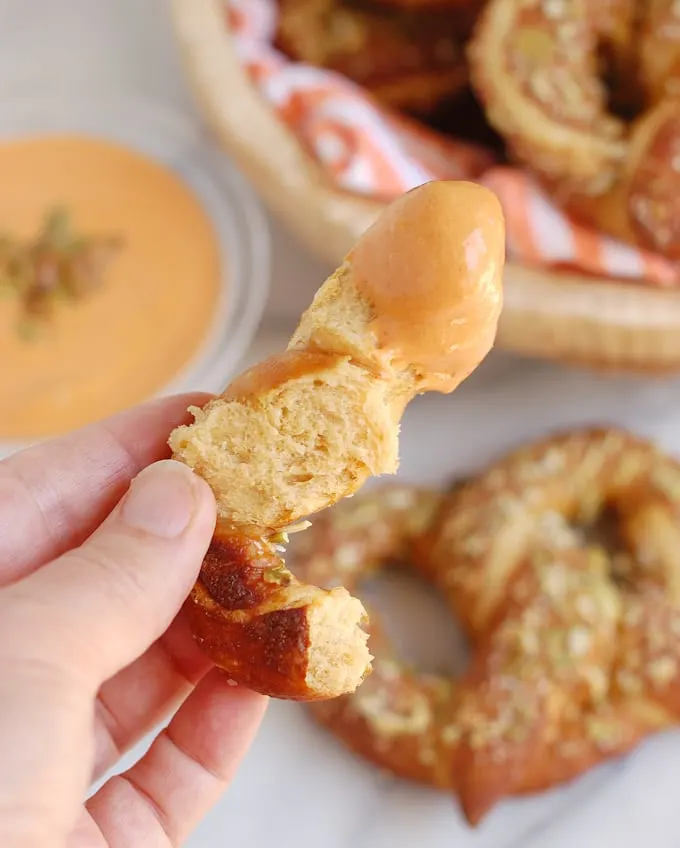 If you've got a Sourdough Starter, try these wonderful Sourdough Soft Pretzels.
You might love these other pumpkin recipes: Pumpkin Pull Apart Bread, Pumpkin Cranberry Quickbread, Pumpkin Seed Crackers, Pumpkin Mousse Pie, Pumpkin Coffee Cake, Honey Pumpkin Bread.
If you love this recipe as much as I do, I'd really appreciate a 5-star review.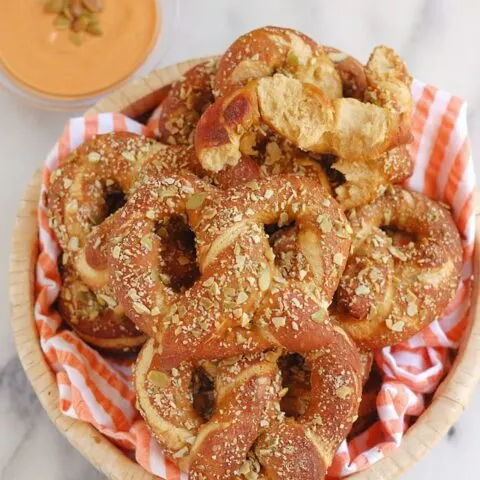 Pumpkin Spice Ale Soft Pretzles
Rising Time:
2 hours
2 seconds
Total Time:
3 hours
2 seconds
If you love Pumpkin Spice Ale you'll love this twist (sorry!) on the soft-pretzel; Pumpkin Spice Ale Soft Pretzels with Pumpkin Chipotle Dip.
Ingredients
Pretzels
1/2 cup (4 oz, 112g) canned pumpkin puree
1 1/4 cup (10 oz, 300 ml) pumpkin spice ale, room temperature
1 1/2 teaspoons table salt
1 tablespoon granulated sugar
1 packet (2 ¼ teaspoons, 7g) instant yeast
3 1/2 cups (17.5 oz, 490g) unbleached all-purpose flour
2 quarts (2 liters) water
1/3 cup (2.5 oz, 70g) baking soda (for boiling)
1 egg white, lightly whisked
Pepita seeds and kosher salt for garnish (chop the seeds if they're very large)
Pumpkin-Chipotle Dip
4 oz (1/2 cup, 112g) cream cheese, room temperature
4 oz (1/2 cup, 112g) pumpkin puree
1-2 Chipotle with Adobo (adjust number of peppers according to how hot you want the dip to be)
1/4 cup (2 oz, 60 ml) Pumpkin Spice Ale
1 teaspoon honey
pinch of salt (to taste)
Instructions
In a large mixing bowl or in the bowl of a stand mixer, Combine the pumpkin puree, ale, salt, sugar and yeast and 2 cups of the flour. With the mixer running on low mix to form a smooth batter.
If using a stand mixer, switch to the dough hook. Add the remaining flour and mix until the dough gathers on the hook and clears the sides of the bowl. If mixing by hand add the flour using a wooden spoon and/or a plastic bowl scraper. Knead the dough for 5 minutes until it is smooth and elastic. Combine the pumpkin puree, ale, salt, sugar and yeast in a mixer with the paddle attached.
Dump the dough onto a floured surface and knead to form a smooth ball.
Place the dough in an oiled bowl, turning once to coat the dough, cover with plastic wrap and set aside to double in volume, about 1 - 1 1/2 hours.
Dip
Combine all the ingredients is a blender or small food processor. Process until smooth
Finish the Pretzels
Place 2 quarts of water and baking soda in a large pot and bring it to a boil while shaping the pretzels.
Preheat the oven to 425°F regular. Line 2 baking sheets with parchment paper and coat the parchment paper with vegetable oil.
Turn the dough out onto a floured surface and divide into 12 equal pieces.
Shape each piece into a rope. Using flat hands, roll the dough back and forth moving your hands in opposite directions from the middle of the rope towards either end. If the dough gets sticky dip your hands in flour and continue. The dough should stick to the surface just a little so that the friction will allow you to pull the dough into a long rope. The longer and thinner the rope the more open the pretzel shape will be. Try to get the rope to about 20"-24"
To form a pretzel lift the dough rope on either end and allow the middle to sit on the surface, forming a "U" shape. Twist the ends of the rope together 2x and fold the twist over and rest on the center of the "U". Lift the pretzel by the two top loops and place on the oiled parchment paper.
Once the baking soda water is boiling dip the pretzels into the water for about 10 seconds per side. (I can fit about 3 at a time in my pot, don't overcrowd the pan).
Set the boiled pretzels onto a cooling rack and allow them the drain while you boil the remaining pretzels.
Transfer the pretzels to the baking sheets (lined with oiled parchment). Brush each pretzel with egg white and sprinkle with pepitas and coarse salt.
Bake until puffed and golden brown, about 15 minutes, turning the sheets halfway through baking so they brown evenly.
Enjoy them warm with dip.
Notes
You can use fresh pumpkin puree instead of canned. If the fresh puree is very moist you may need to adjust the amount of flour.
Recommended Products
As an Amazon Associate and member of other affiliate programs, I earn from qualifying purchases.