Yeasty soft pretzels get an extra boost of flavor from a cup of beer in the dough. Top these Beer Infused Bavarian Soft Pretzels with coarse salt or an "everything" seed mix. Serve with a warm Jalapeno Cheddar Dip or a squiggle of mustard. Of course they go perfectly with a cold beer.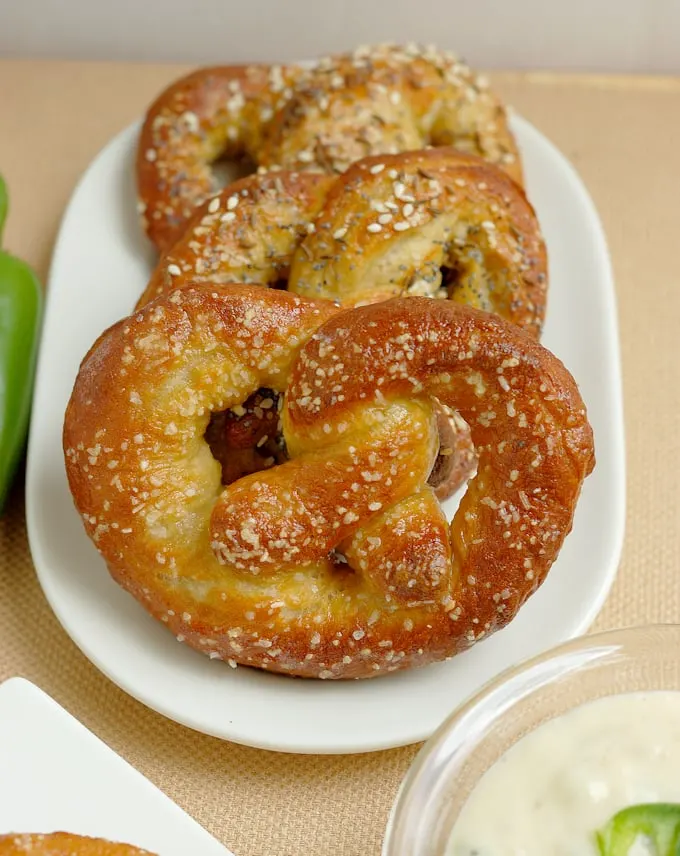 This post is by special request of my husband. We dine fairly regularly at a brew pub in the neighborhood. We keep going back not only because they have so many great craft brews on tap, but also for our favorite appetizer of warm Bavarian Pretzels with Jalapeno Cheddar Dip. During our last visit we were gobbling up the pretzels and my husband suggested I recreate the recipe for the blog. Challenge accepted!
I figured if beer is so good with a pretzel, it should also be good in a pretzel. The idea is something I've played with before. My sourdough  Bread Starter was made with the mash left over from my son's beer making, and it makes a fabulous loaf of bread.
This recipe was adapted from the many recipes I found on-line, switching out most of the water for beer. The beer gives the pretzels a really nice flavor. Don't skip boiling the pretzels in the baking-soda-water since that's what gives a pretzel the singular crust and color that makes it a pretzel rather than a roll with a funny shape.
You can see how to shape and handle the pretzels in the photos in this post. The only other word of caution is to make sure to oil the parchment paper. Normally nothing sticks to parchment – I'm not sure why, but the pretzels stuck like crazy when I baked them on un-oiled parchment.  If you have a silpat that may work, but I didn't try it so can't say for sure.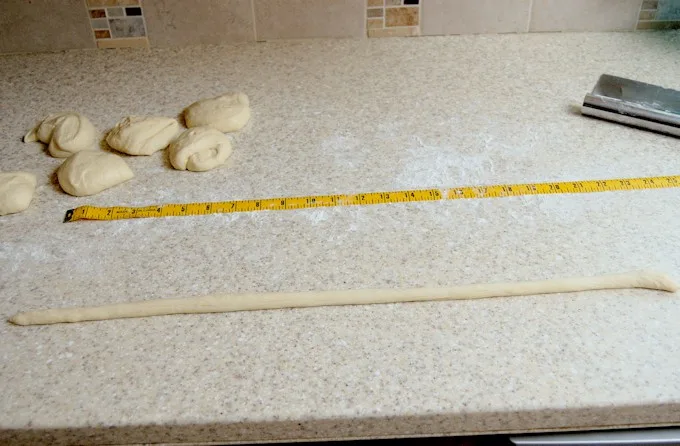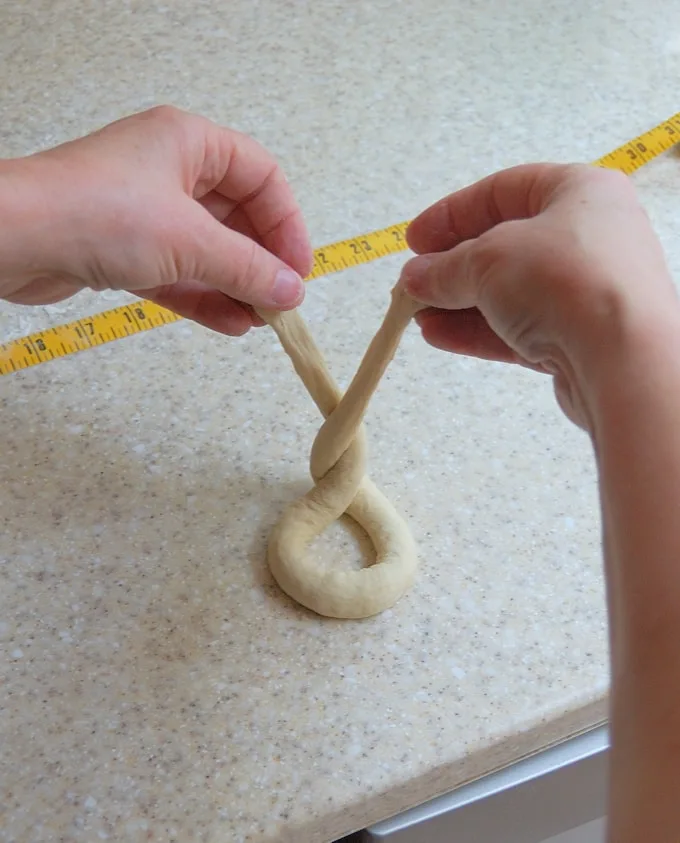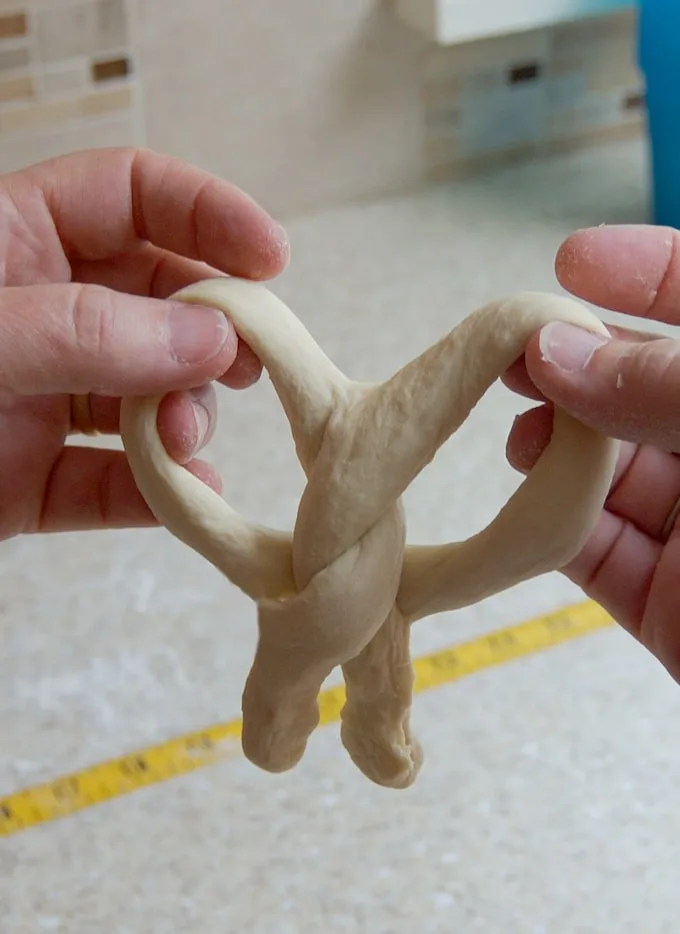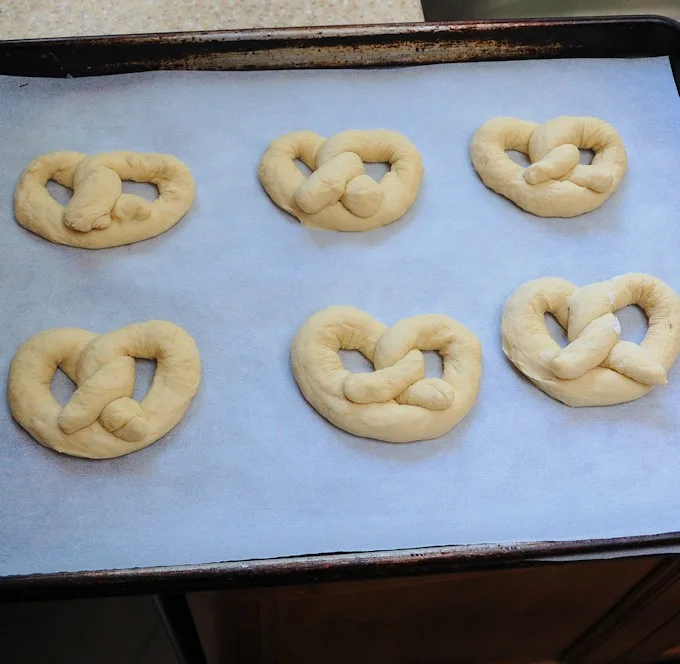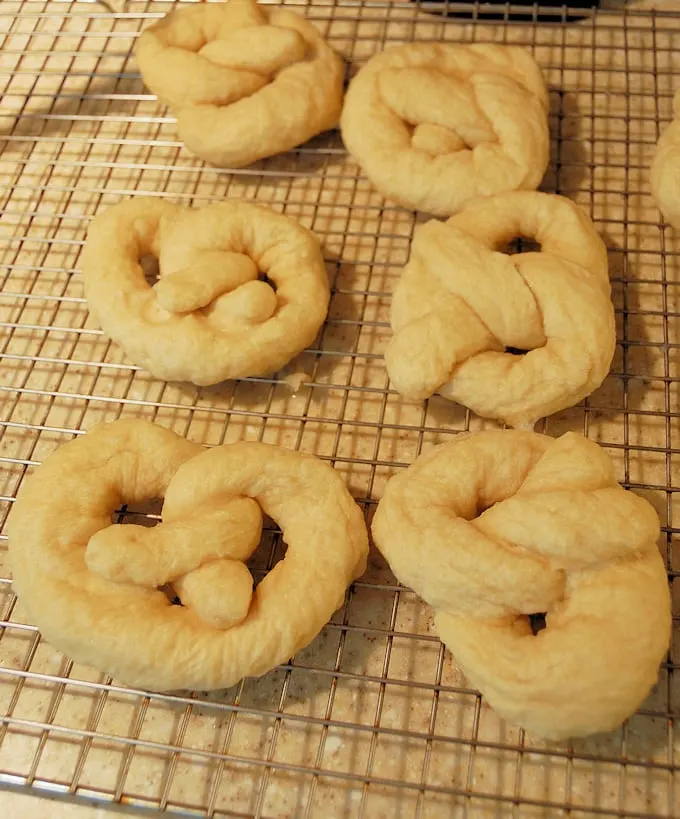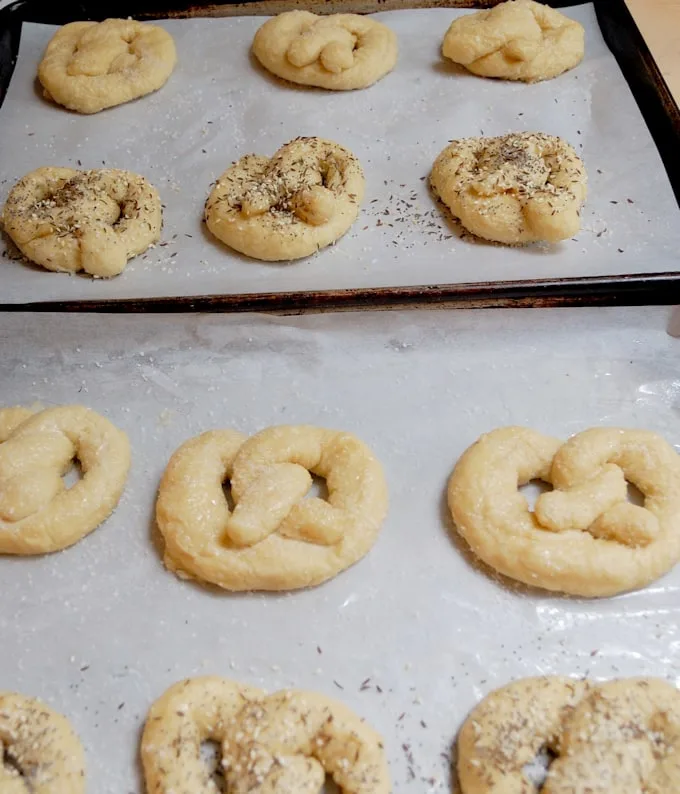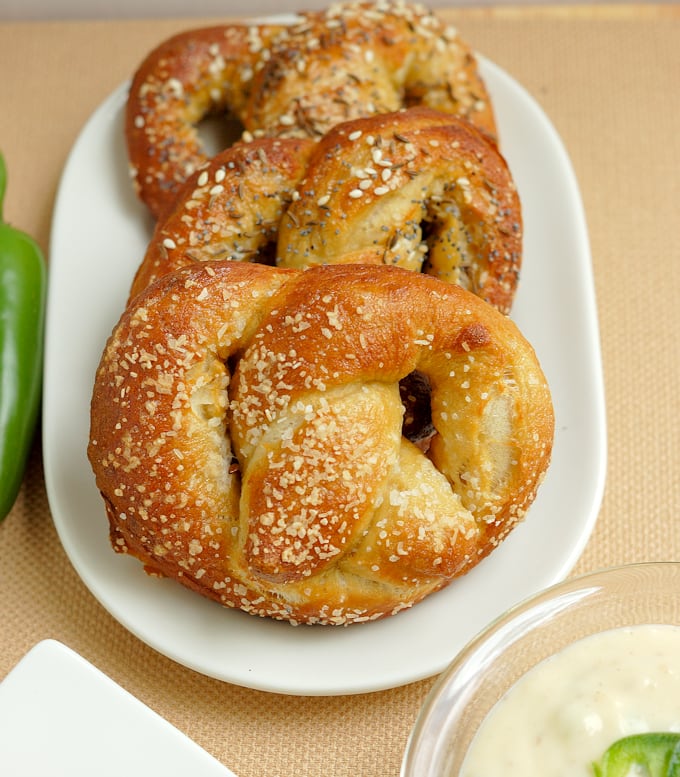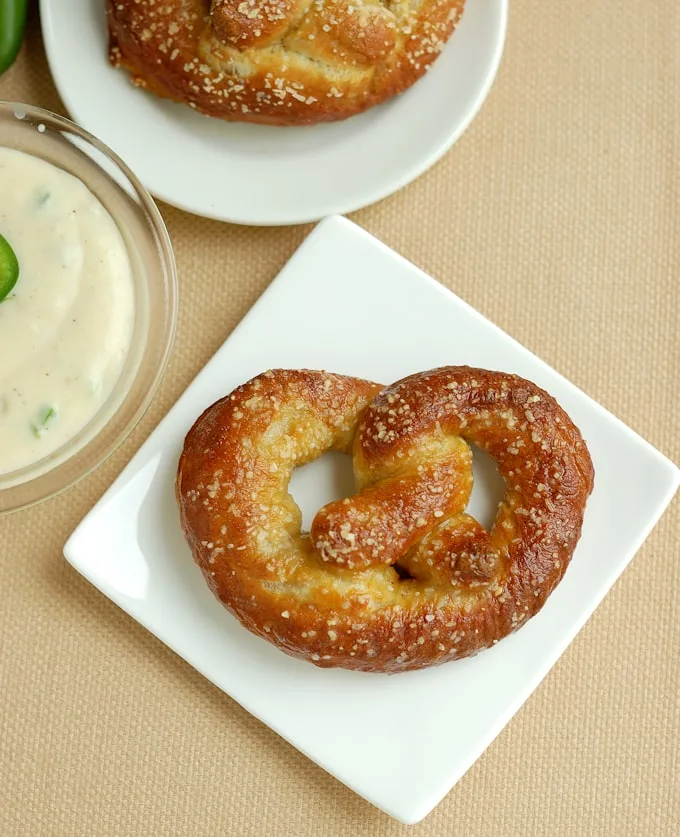 Jalapeno Cheddar Dip is the prefect partner for these pretzels. You can leave out the jalapeno if you don't want any heat. You can also serve Beer Infused Bavarian Soft Pretzels with your favorite mustard or dip. So pour yourself a cold-one and enjoy!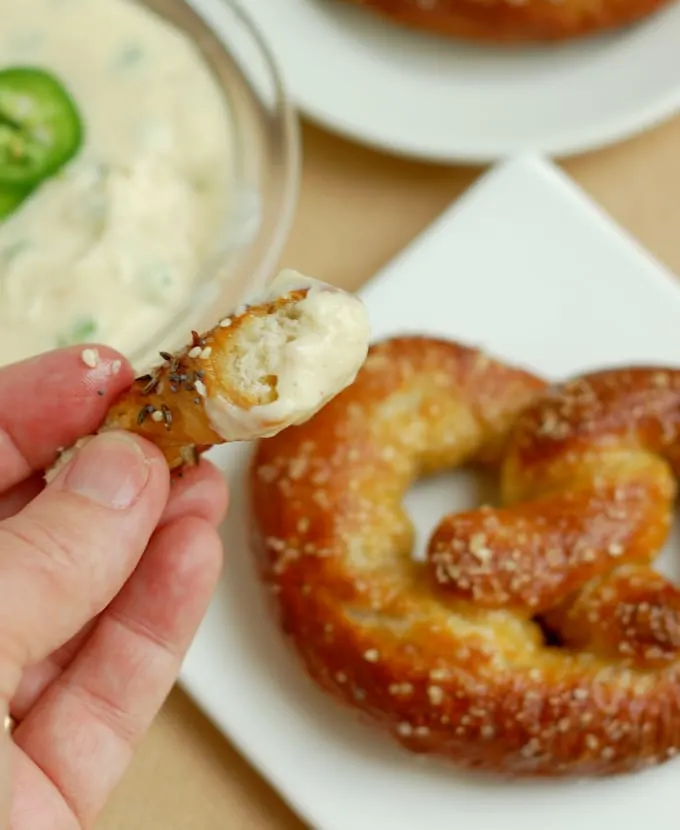 Eileen Gray
Yields 12
Beer Infused Bavarian Soft Pretzels and Jalapeno Cheddar Dip
1 hr, 30 Prep Time
15 minCook Time
1 hr, 45 Total Time
Ingredients
Pretzels

1/2 cup warm water
1 cup beer, room temperature (I used a lager)
1 1/2 teaspoons salt
1 tablespoon granulated sugar
1 tablespoon dried yeast (not rapid rise)
3 1/2 cups (13 oz, 420g) unbleached all-purpose flour
2 quarts water
2/3 cup baking soda
1 egg white, lightly whisked
salt and seeds for garnish

Jalapeno Cheddar Dip

1 tablespoon butter
1 tablespoon all purpose flour
1 cup whole milk or 1/2 and 1/2
1 teaspoon brown mustard
6 oz sharp cheddar cheese
1 fresh jalapeno, stem and seeds removed, minced
Instructions
Combine the water, beer, salt, sugar and yeast in a mixer with the paddle attached
With the mixer running on low add 2 cups of the flour and mix to form a smooth batter.
Switch to the dough hook and add the remaining flour until the dough gathers on the hook and clears the sides of the bowl.
Dump the dough onto a floured surface and knead to form a smooth ball
Place the dough in an oiled bowl, turning once to coat the dough, cover with plastic wrap and set aside to double in volume, about 1 - 1 1/2 hours.
Combine the 2 quarts of water and baking soda in a large pot.
Turn the heat on under the baking soda water and bring it to a boil while shaping the pretzels
Preheat the oven to 450°F convection or 475°F regular.
Line 2 baking sheets with parchment paper and coat the parchment paper with vegetable oil
Turn the dough out onto a floured surface and divide into 12 equal pieces
Shape each piece into a rope. Using flat hands, roll the dough back and forth moving your hands in opposite directions from the middle of the rope towards either end. If the dough gets sticky dip your hands in flour and continue. The dough should stick to the surface just a little so that the friction will allow you to pull the dough into a long rope. The longer and thinner the rope the more open the pretzel shape will be. Try to get the rope to about 20"-24"
To form a pretzel lift the dough rope on either end and allow the middle to sit on the surface, forming a "U" shape. Twist the ends of the rope together 2x and fold the twist over and rest on the center of the "U". Lift the pretzel by the two top loops and place on the oiled parchment paper.
Once the baking soda water is boiling drop the pretzels into the water for 30 seconds. (I can fit about 3 at a time in my pot, don't overcrowd the pan).
Set the boiled pretzels onto a cooling rack and allow them the drain while you boil the remaining pretzels.
Transfer the pretzels to the baking sheets (lined with oiled parchment)
Brush each pretzel with egg white and sprinkle with coarse salt, and seeds of your choice.
Bake until puffed and golden brown.
Turn the sheets halfway through baking so they brown evenly
Enjoy them warm with Jalapeno Cheddar Dip, mustard, or your favorite pretzel dip.

Jalapeno Cheddar Dip

Melt the butter in a saucepan
Add the flour and whisk until it forms a thick paste
Whisk in the mustard
Whisk in the milk, about 1/4 cup at a time until the sauce is smooth and lump free
Turn off the heat and add the cheese all at once
Stir to melt the cheese
Add the jalapeno and stir
Serve warm with warm pretzels
7.6.4
95
https://www.baking-sense.com/2016/05/17/beer-infused-bavarian-soft-pretzels/