You can save the taste of summer with home-canned Pickled Jalapeno Peppers. Do just a bit of work now and you can enjoy a little summer heat all winter long.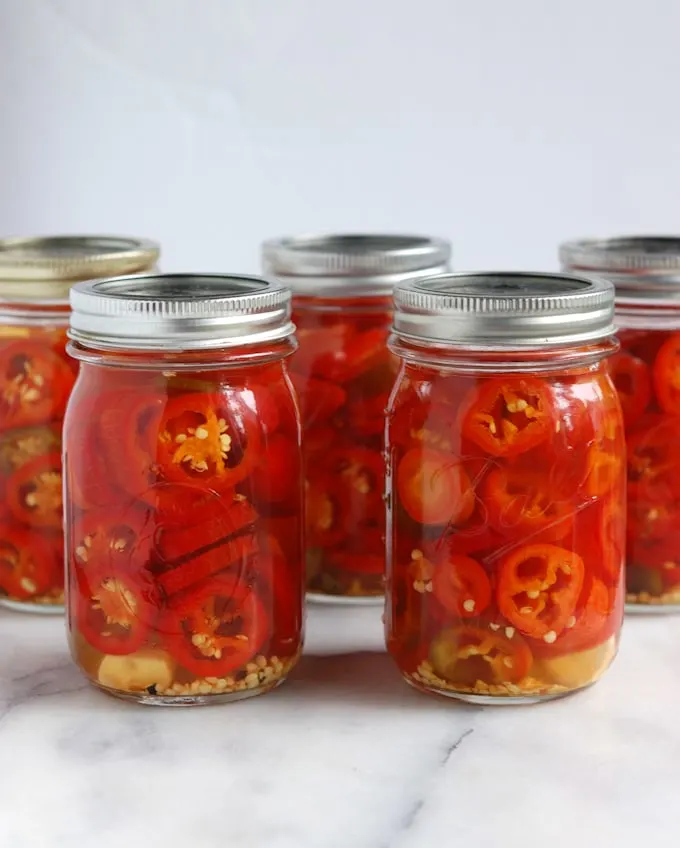 We've gotten a whole bunch of hot peppers with our farm share this summer. Much as I love a little chile heat in my food, there're only so many peppers that I can use fresh.  Since I've already got a big bag in the freezer, it's time to find another way to save the rest of the peppers. Thank goodness we can preserve summer produce to enjoy later in the year. When you've got low-acid veggies like peppers, pickling is a great and safe way to preserve the harvest.
I think home-made Pickled Jalapeno Peppers are so much better than the canned peppers from the store. I flavor my pickles with a hint of garlic, oregano and cumin for a Mexican flavor profile. You can add whichever spices you like best, or none at all. I grow oregano in my garden so I used a small sprig of the fresh herb. Fresh oregano is pretty strong so a little goes a long way. Use a pinch of dry oregano if you can't get fresh oregano.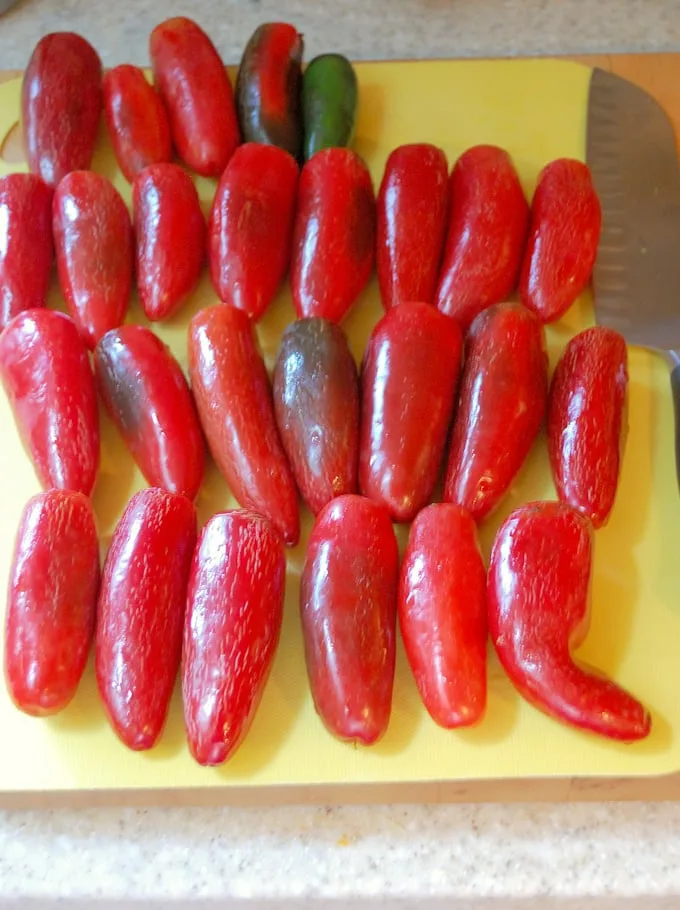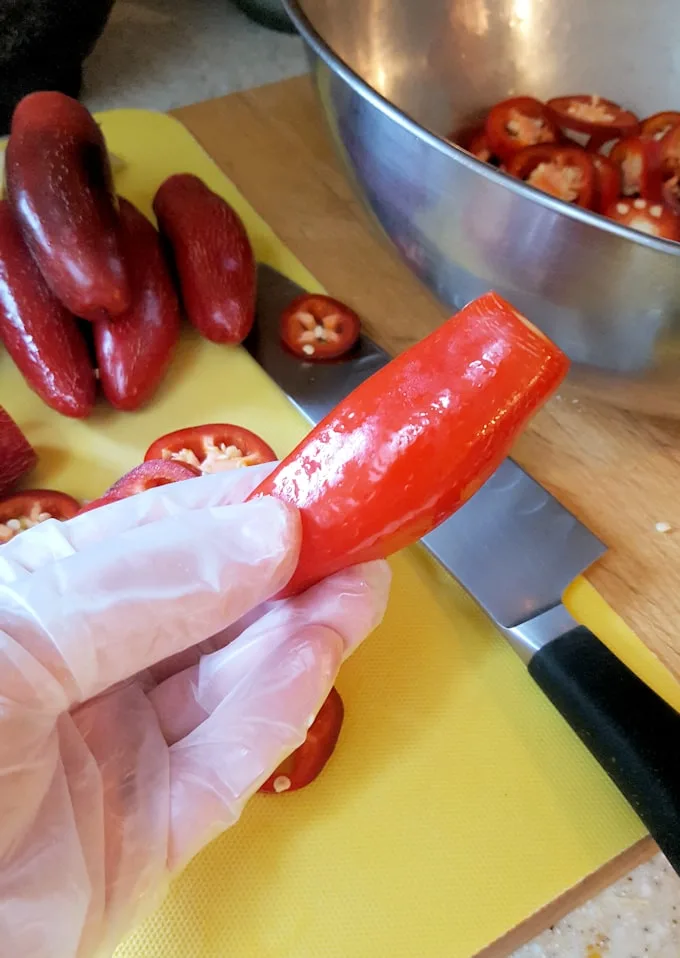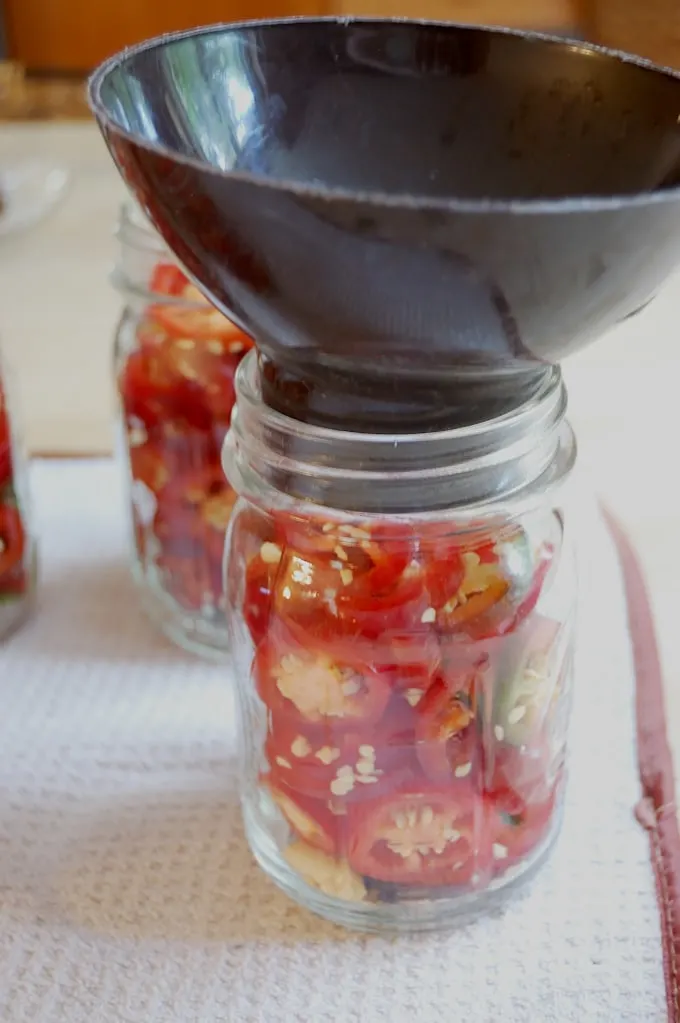 Home Canning is Easy & Economical-
If you make a small batch of pickles and end up with just a jar or two they can be refrigerated and used right away. For a larger batch, like this recipe makes, I like to process the jars in a hot water bath so the pickles are shelf stable. As long as you use proper canning jars and you process the jars in a hot water bath to make sure they're sealed, these Pickled Jalapeno Peppers will keep for a year in the pantry. I suggest you visit the Ball Canning Website to review the basics of home-canning in a hot water bath.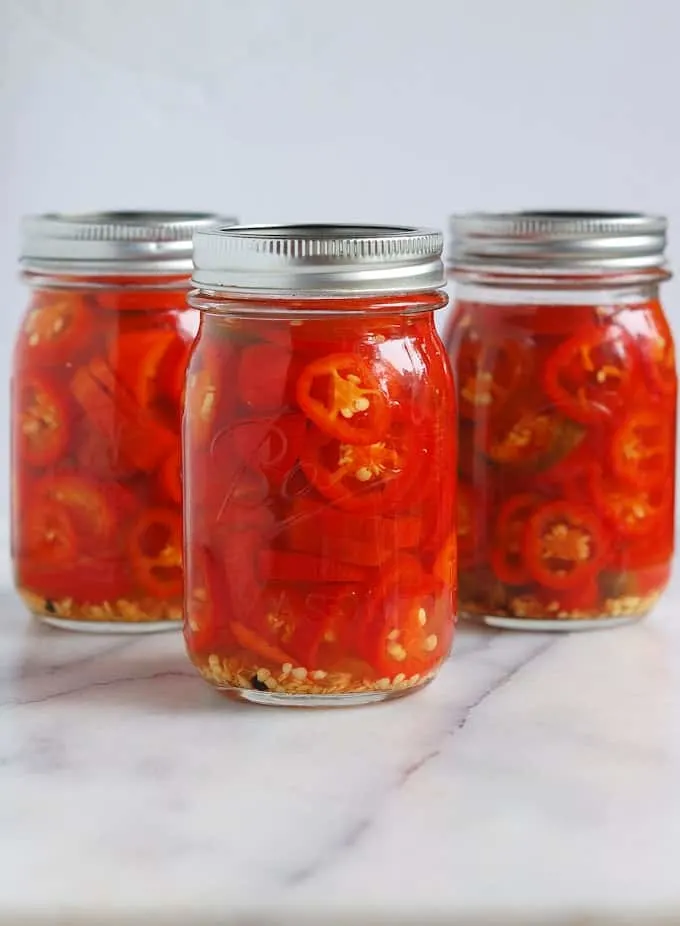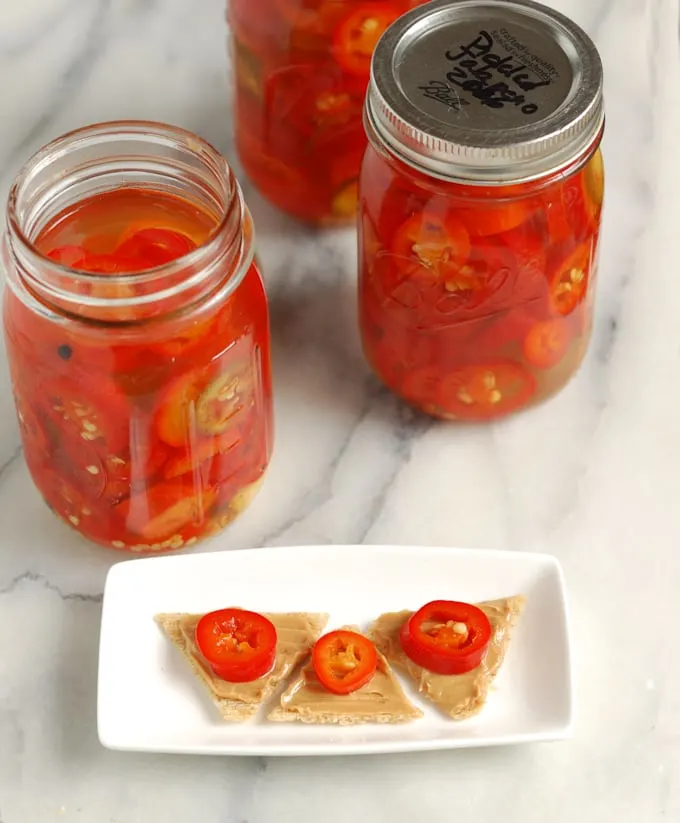 I love to add Pickled Jalapeno Peppers to tacos, nachos, chili and other Mexican and Tex Mex dishes, but they're also great on a sandwich with cheese or peanut butter. The possibilities are endless.
Special Equipment Used: Canning Jars, Canning Funnel, Jar Lifter, Water Bath Canner.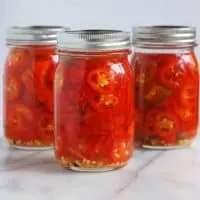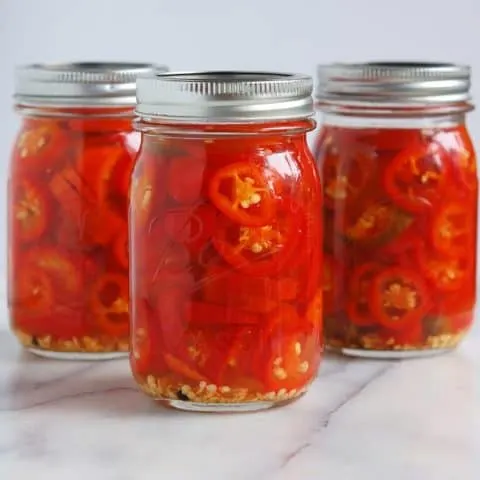 Pickled Jalapenos
Ingredients
2 pounds jalapeno peppers, stems removed
3 cups white vinegar
1 cup cider vinegar
3 cups water
2 tablespoon kosher salt
2 tablespoon sugar
6 small sprigs oregano (or use dried oregano)
6 small cloves garlic
1 1/2 teaspoons cumin seeds
Instructions
Sterilize jars by boiling 10 minutes or with the sterilize setting on your dishwasher
Place an oregano sprig (or a pinch of dried oregano), garlic clove and 1/4 teaspoon cumin seeds in each jar
Slice jalapenos and pack into jars
Combine vinegar, water, salt and sugar and bring to a boil
Pour the brine over the peppers, leaving 1/2" heads pace
Cover the jars, don't overtighten the screw top
Process for 10 minutes in a water bath
Remove the jars and place on a kitchen towel to cool.
If any lids don't seal refrigerate and eat those peppers first
Notes
For More details on home canning visits the Ball Canning website.
>div>You might also like: