Sourdough Pumpkin Quick Bread with cranberries is super moist, easy to make bread and has a wonderful flavor & texture thanks to "discard" sourdough starter. Fresh cranberries add another tangy pop of flavor.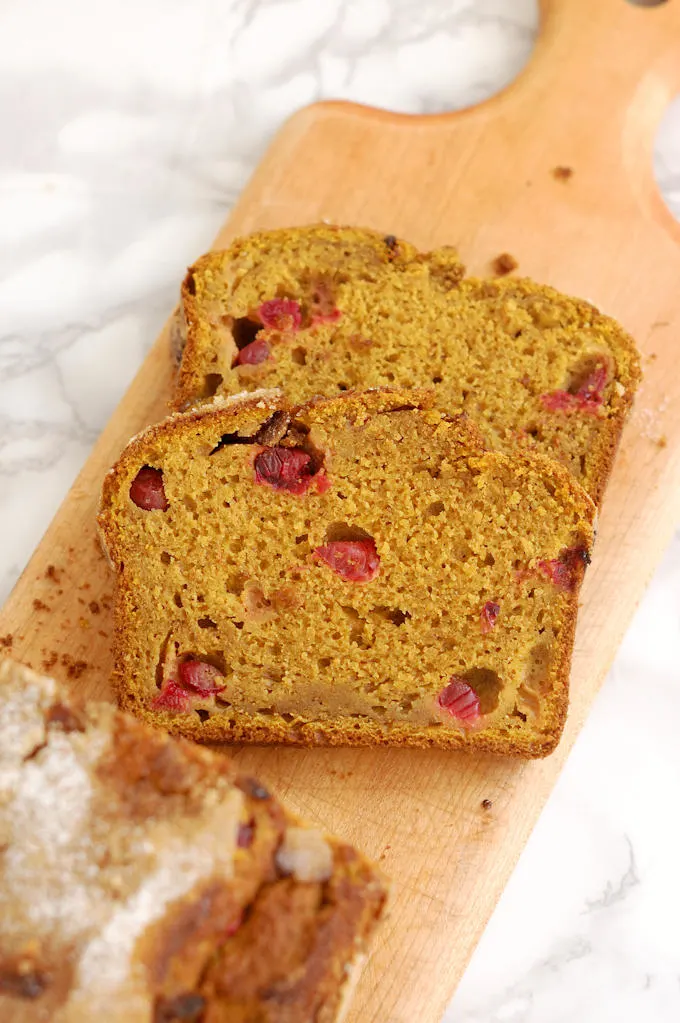 If you're a sourdough-bread baker, you know how painful it is to throw away a whole cup of hard-earned yeasty goodness every time you need to replenish your starter.
If you don't have one, check out my post to learn How to Make a Sourdough Starter. Then check out my system to Feed and Maintain Sourdough Starter.
This recipe is a great way to use that discard to add moisture, texture and flavor to Pumpkin Cranberry Quick Bread.
Oh, and in case you didn't know, a quick bread is a bread made with baking powder and/or baking soda instead of yeast. Since you don't have to wait for it to proof before baking, the recipe is, you know, quick.
In this recipe, the baking soda does the heavy lifting to raise the batter in the heat of the oven.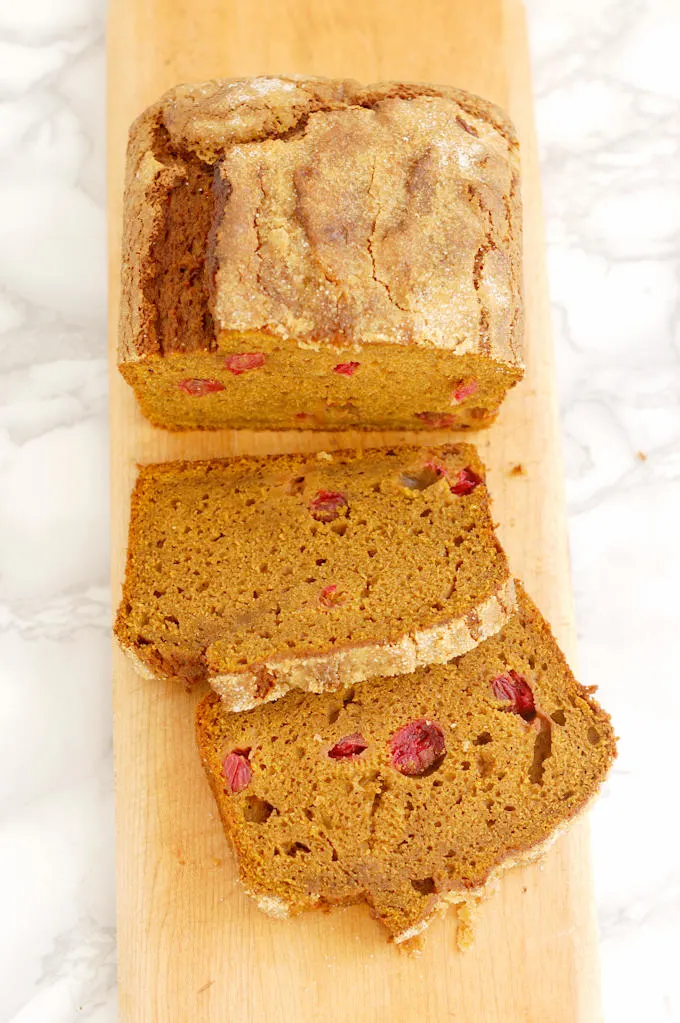 Since the yeast in the sourdough starter is not the main leavener for the bread, why is it in there?
The sourdough discard does give the bread a little extra lift in the oven and it imparts a slightly chewy texture and lovely complex flavor. The starter also keeps the bread fresh longer so you can enjoy it for the better part of a week.
You can see from the photos this bread has a rustic open crumb instead of the fine even crumb you normally see in quick bread.
I love the crackly, rugged top that forms when the bread splits as it bakes. Sprinkling the top with a little sugar accentuates those crackles on the crust.
I added the starter without increasing the amount of sugar in the batter, so this Pumpkin Quick Bread is not super sweet and would make a great breakfast bread.
Speaking of sugar, this recipe can be made one of two ways; use maple syrup for a lighter flavor that allows the pumpkin flavor to shine through or, if you love gingerbread, use molasses for a more assertive gingerbread flavor that puts the pumpkin flavor in the background. Both versions are delicious.
This recipe is great not only for using discarded sourdough starter, but also to use that bit of pumpkin puree you have left from your pumpkin pie, and that last cup of fresh cranberries you've got hanging out in the crisper drawer of your refrigerator.
In the spirit of this being a "use up the leftovers" recipe you can certainly switch out the fresh cranberries for dried cranberries or raisins and adjust the mix of spices to suit your own taste.
In fact, even if you don't have pumpkin puree, any puree of winter squash will do. Got butternut? Roast and puree it and you can make Sourdough Butternut Cranberry Quick Bread.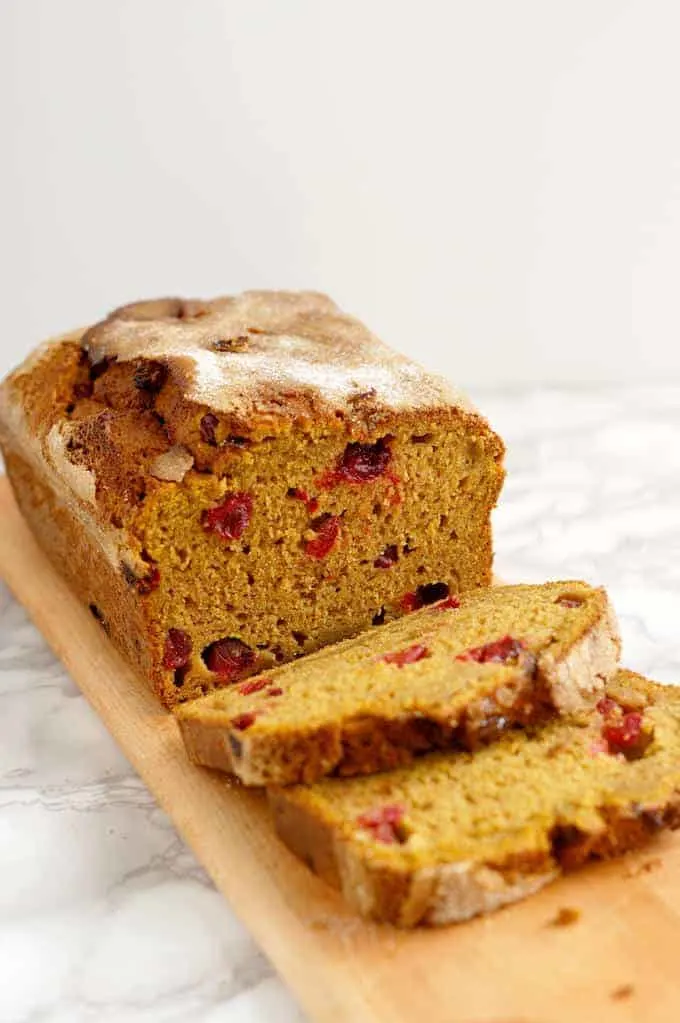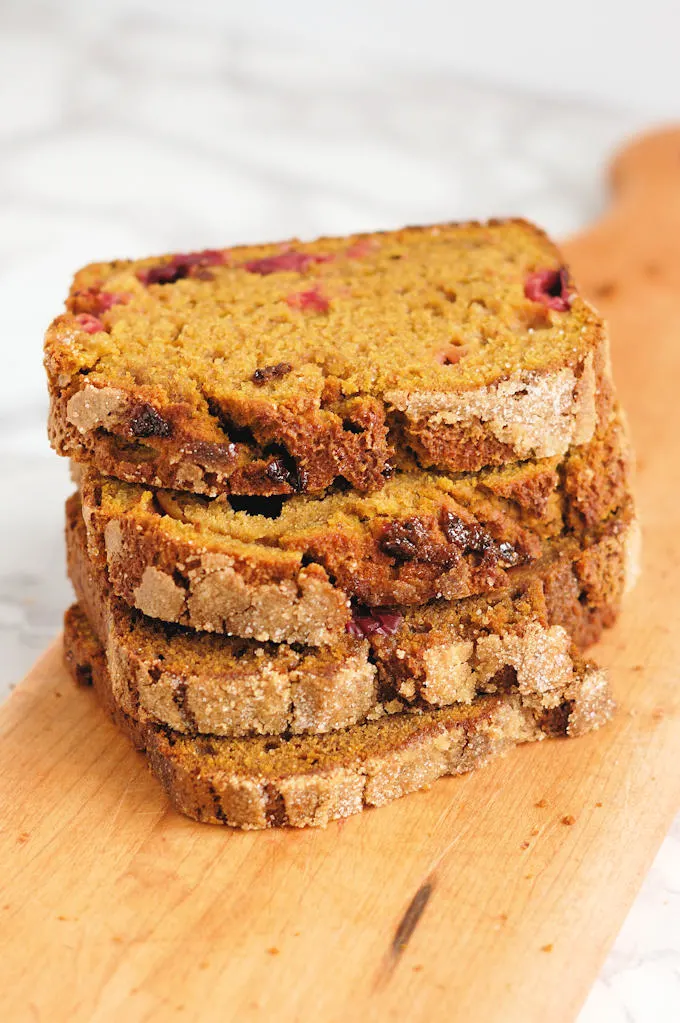 I know you hate to throw away that sourdough discard. Check out these recipes that use sourdough discard.
If you love this recipe, I'd really appreciate a 5-star review!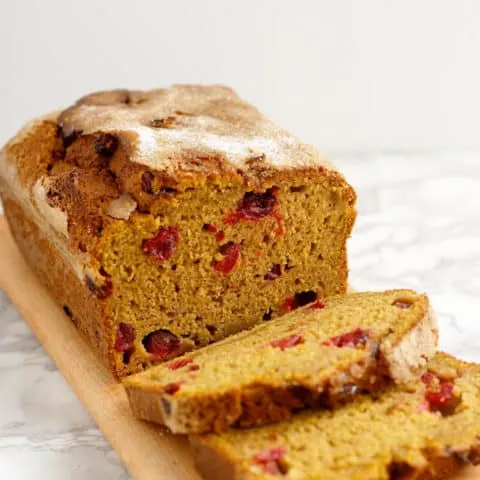 Sourdough Pumpkin Cranberry Quick Bread
Total Time:
1 hour
15 minutes
Super moist pumpkin bread has a wonderful background tang from "discard" sourdough starter. Fresh cranberries add another tangy pop to the flavor of the bread.
Ingredients
1 2/3 cups (9 oz, 255g) all purpose flour
1 teaspoons cinnamon
1/2 teaspoon ginger
1/4 teaspoon cloves
1/4 teaspoon nutmeg
3/4 teaspoon baking soda
1/4 teaspoon salt
1 cup sourdough discard (100% hydration), room temperature
3 large eggs, room temperature
2/3 cup (5 oz, 175ml) vegetable oil
2/3 cup (6 oz, 170g) granulated sugar
1/3 cup (4 oz, 112g) maple syrup OR molasses
2 teaspoons real vanilla extract
1 cup (8 oz, 224g) canned pumpkin puree (not pumpkin pie filling)
1 heaping cup (4oz, 112g) fresh cranberries
2 tablespoons granulated sugar for topping
Instructions
Preheat the oven to 350°F. Butter a 9x5 loaf pan and line the pan with parchment paper (or butter and flour the pan).
Combine the dry ingredients in a large bowl. Whisk to combine the ingredients and set aside. In a mixer bowl combine the starter, eggs, oil, sugar, maple syrup/molasses and vanilla. Mix on medium speed until the ingredients are emulsified. Add the pumpkin and mix until incorporated. Add the dry ingredients and mix just until incorporated. Fold in the cranberries.
Pour the batter into the pan. Sprinkle the 2 tablespoons of granulated sugar over the surface of the batter.
Bake until a toothpick inserted in the center comes out with a few wet crumbs but no raw dough, about 1 hour. Cool in the pan 10 minutes then turn out onto a cooling rack. Cool to room temperature before cutting.
Notes
Use only pure pumpkin, not pumpkin pie filling. I find canned pumpkin more consistent for baking. If using fresh pumpkin puree make sure it's not excessively wet.
Recommended Products
As an Amazon Associate and member of other affiliate programs, I earn from qualifying purchases.
You might also like: