Pumpkin bread doesn't have to be sweet. This Pumpkin Pull Apart Bread with Garlic & Sage is a super-savory and super-tasty treat that would be right at home on your holiday table.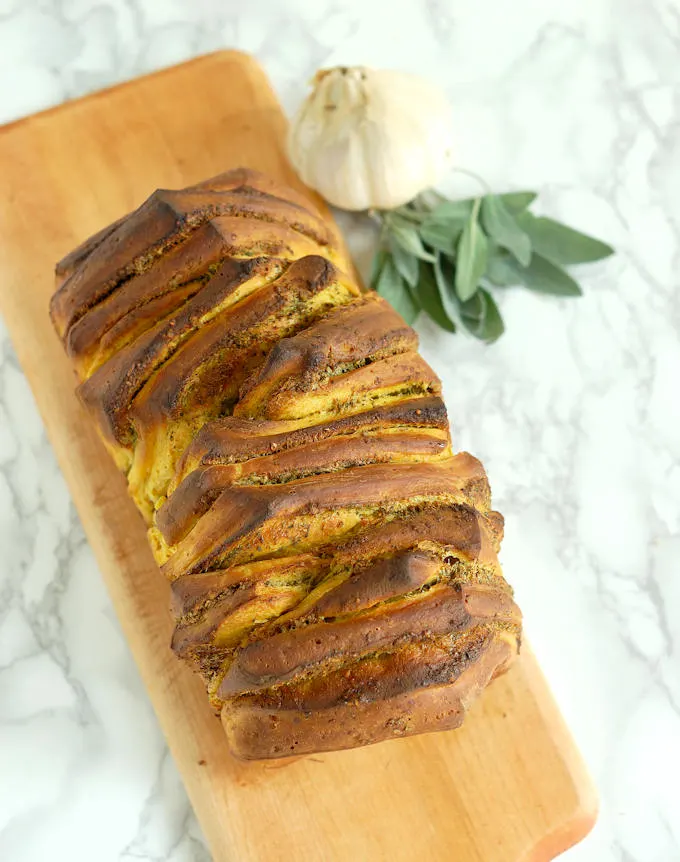 I was in the mood to do something savory rather than sweet since I do so many sweet recipes.
I happened to have some pumpkin puree left over in the fridge from making pumpkin ganache filling for my Gingerbread Cookies. So, pumpkin it would be.
I think winter squash and sage are just natural flavor partners. They go together like tomatoes & basil or chocolate & orange.
When we get winter squash in our farm share I always make squash lasagna with lots of sage, garlic & Parmesan cheese. Another favorite is butternut squash risotto with, you guessed it, lots of sage & Parmesan cheese.
So as soon as I decided to go savory with the pumpkin bread I'd already decided on the flavor profile.
This bread is soft and luscious with a bold flavor from the garlicky sage pesto. I love it!
Scroll through the step by step photos to see how to make Pumpkin Pull Apart Bread: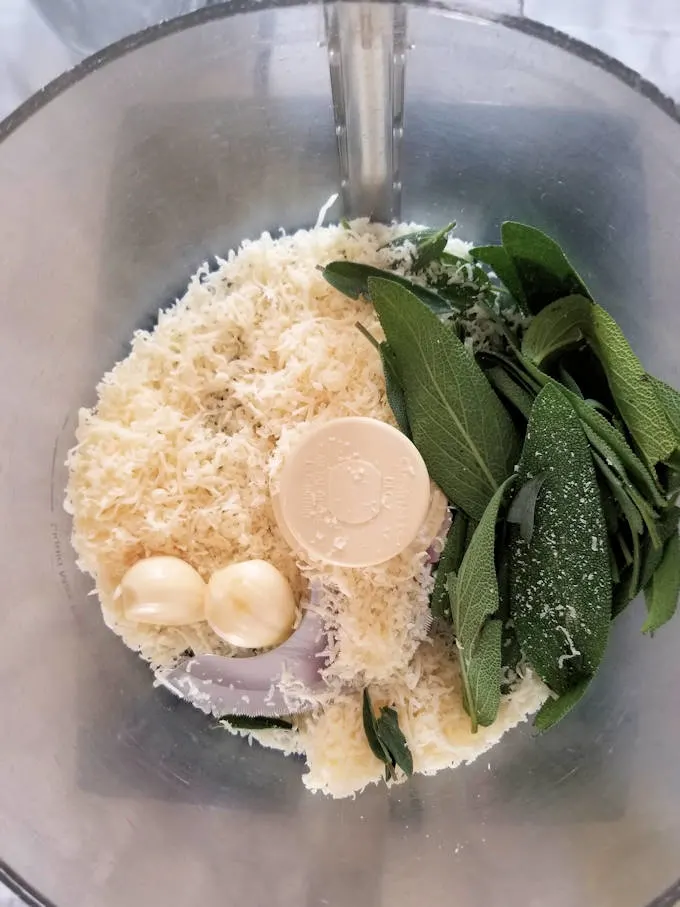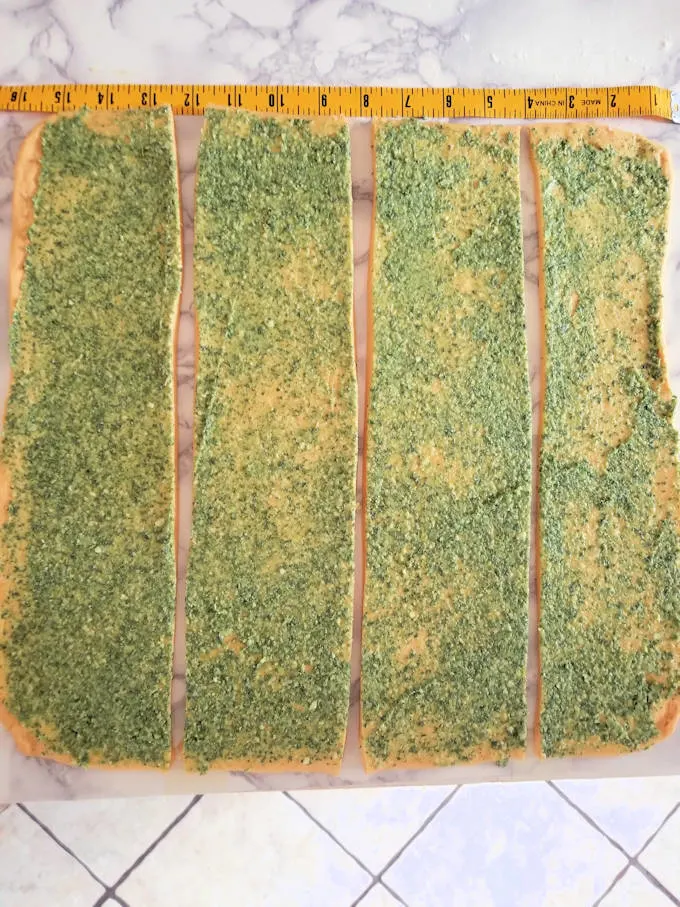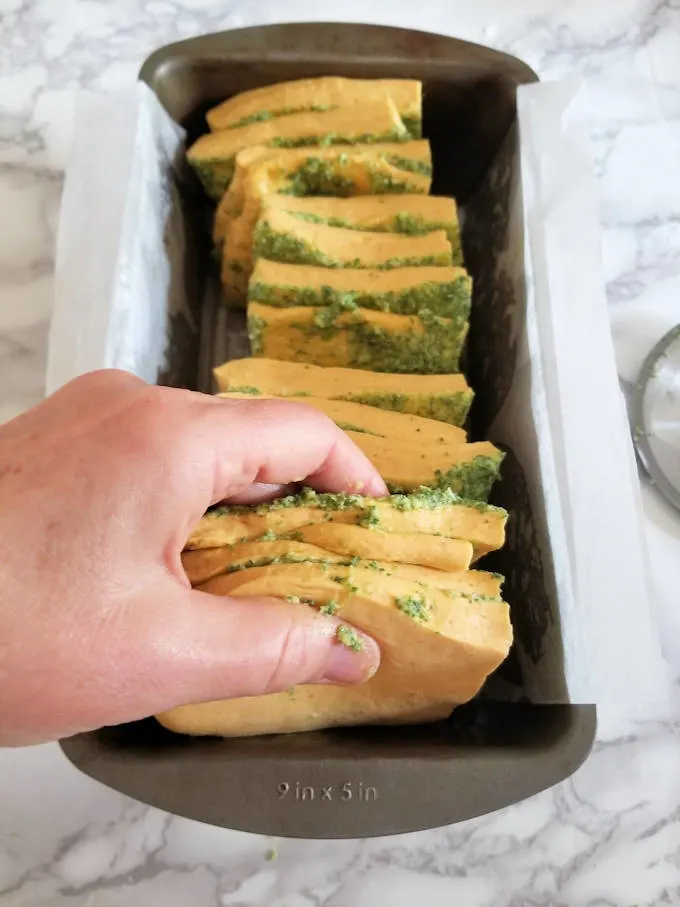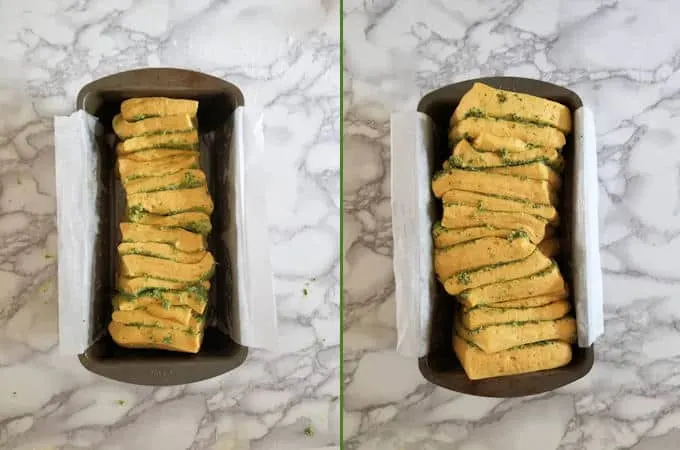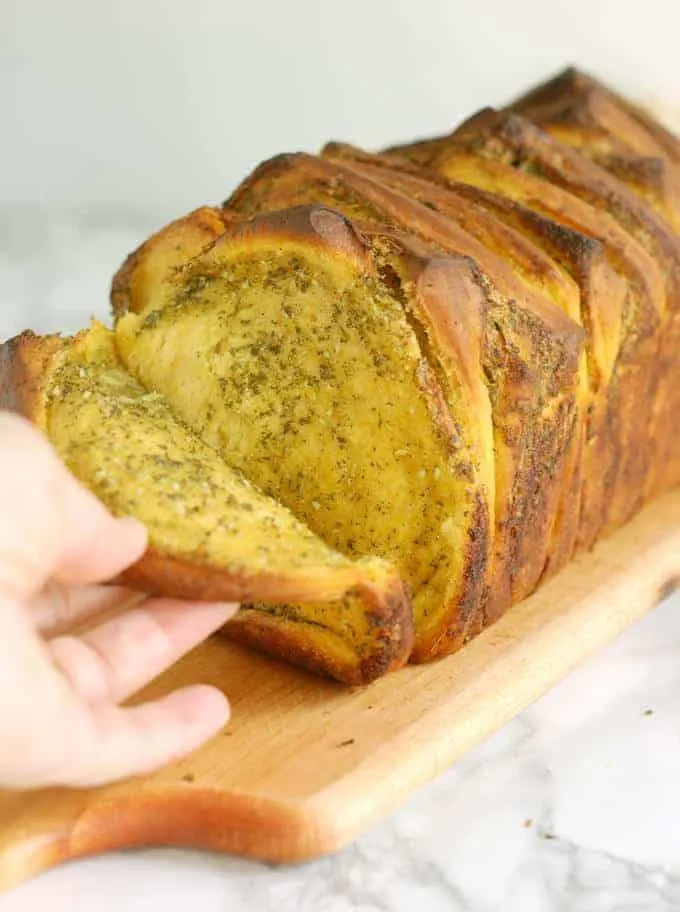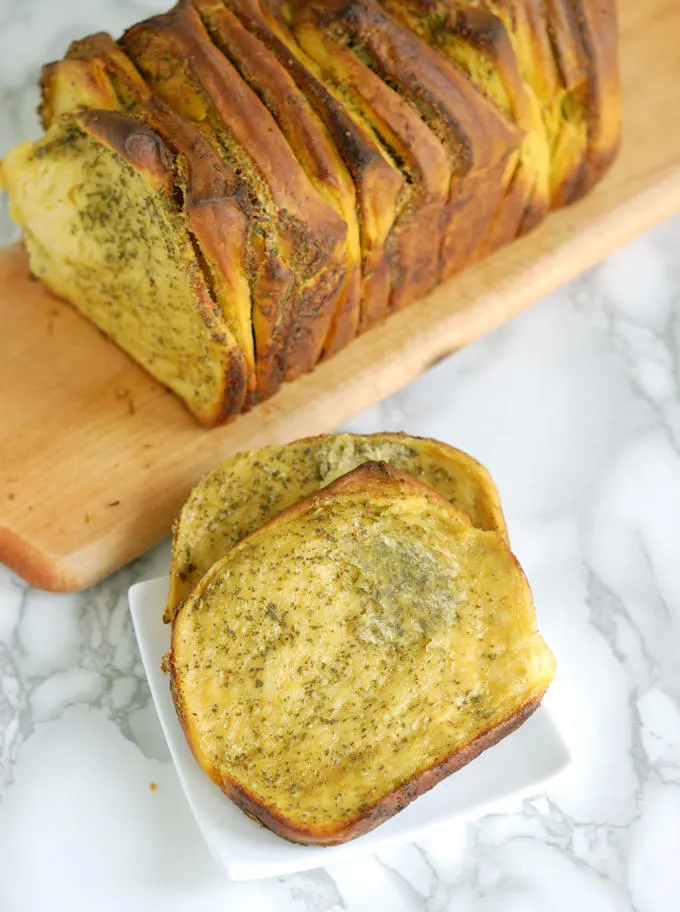 For a slightly spicy treat, try this Bacon & Pepper Jack Pull Apart Bread!
If you love this recipe as much as I do, I'd really appreciate a 5-star review.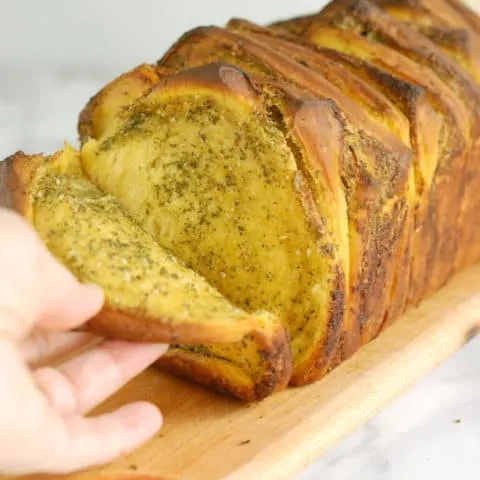 Pumpkin Pull Apart Bread with Garlic & Sage
Total Time:
3 hours
30 minutes
Savory pumpkin bread layered with a garlicky sage filling. Simply "pull apart" the layers of bread to enjoy this delicious bread.
Ingredients
1/4 (2 oz, 60ml) cup warm water
3/4 cup (6 oz, 170g) canned pumpkin puree, room temperature
3/4 cup (6 oz, 170g) full fat Greek yogurt, room temperature
1 packet (2 1/4 teaspoons, 7g) dry yeast
2 Tablespoons honey (1 1/2 oz, 42g)
1 large egg, room temperature
1 tsp salt
3 1/2 cups (17.5 oz, 490g) all purpose flour
Filling
2 large garlic cloves
1/2 cup (2 large sprigs) fresh sage leaves
1/4 cup (60 ml) olive oil
1/2 cup (1.5 oz, 40g) grated Parmesan cheese
Instructions
Combine the water, pumpkin and yogurt in a microwave safe bowl. Warm in the microwave for 30 second increments until the mixture is about 100°F, or slightly warmer than body temperature. Transfer the mixture to a bowl and add the yeast, honey, egg and salt. Mix on low speed to combine.
Add 1 cup of flour and mix to form a thick batter. Add the remaining flour, 1/2 cup at a time. Knead on medium-low speed until the dough is elastic, but still soft, about 10 minutes. The dough will cling to the hook and clear the sides of the bowl.
(If mixing by hand add flour until you can no longer stir with a spoon then turn the dough onto a floured surface and continue kneading.)
Transfer to an oiled bowl, turn 1x to coat the dough. Cover the bowl and allow the bread to rise until doubled in volume, about 1 hour. Brush a 9"x 5" loaf pan with olive oil. Line the pan with a strip of parchment paper then brush the paper with more olive oil.
Make the filling
Combine the garlic, sage, olive and cheese in a food processor. Process until it forms a thick paste
Assemble & Bake
Turn the dough out onto a lightly floured surface. Roll to a 16"x 16" square. If the dough starts pulling back let it rest for 5 minutes then continue rolling. Spread the filling over the dough. Use a pizza cutter or sharp knife to cut the rectangle into four 4" strips. Stack the strips, filling side up. Cut the stacked strips into 4 equal squares.
Arrange the stacks, standing up, in the pan, make sure a plain dough side (without the filling) is facing each end of the pan (see note). Cover the pan and let the dough rise for 1 hour, it should fill the pan.
Preheat the oven to 350°F. Bake the bread until it's well puffed and golden brown, and the temperature in the middle of the bread is 190°F-200°F, about 45 minutes.
Cool in the pan for 5 minutes, then use the parchment to lift the bread from the pan.
Serve warm.
Notes
To work ahead you can make the bread up to this point, cover the pan and refrigerate overnight. Proceed with rising and baking the next day.
Recommended Products
As an Amazon Associate and member of other affiliate programs, I earn from qualifying purchases.
You might also like: