Pumpkin Coffee Cake with Walnut Streusal is what you want for brunch this Autumn. This lovely cake is made with moist honey-pumpkin cake layered with walnut streusel and topped with walnut streusel crumbs.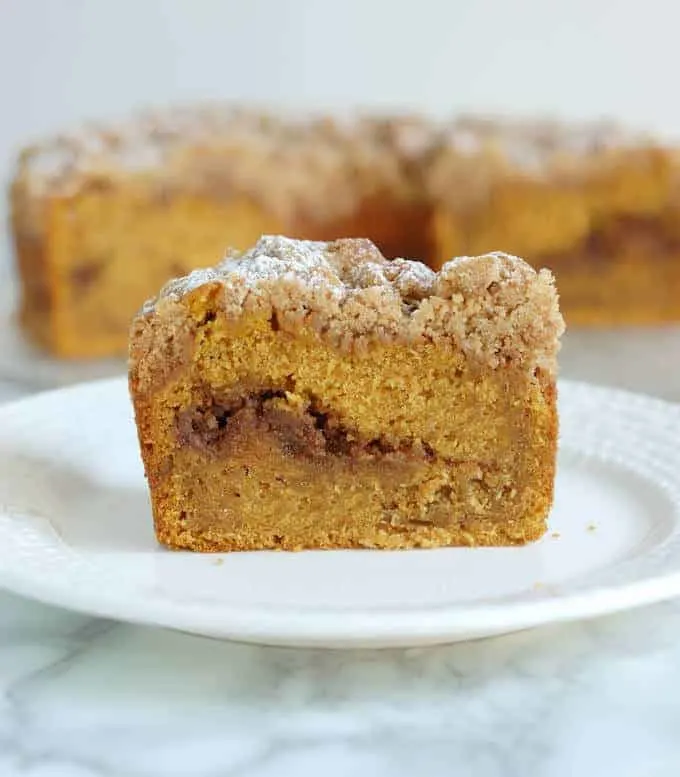 Today the #SundaySupper group is celebrating everyone's favorite harbinger of fall, the great pumpkin.
Since baking is my thing, I automatically began considering all the baked deliciousness that can be made with pumpkin. I recently posted a recipe for a super tasty Honey Pumpkin Bread that was made by special request of a reader.
For some reason the idea of a pumpkin coffee cake came to mind. I mean, what's not to love about coffee cake? Moist cake layered with spiced walnut streusal and topped with the perfect crumb topping. This cake is brunch heaven.
The basis for this recipe was my Banana Coffee Cake recipe. I needed to make a few changes to transform that cake into a pumpkin version.
First, obviously, I switched out the banana for pumpkin. Easy peasy. I could have left it there, but I wanted to include some honey because I was crazy about the flavor of my Honey Pumpkin Bread.
So I replaced some of the sugar with honey. I also added more spice to the mix to highlight the autumn flavors. A little lemon extract was also added to enhance the pumpkin flavor.
The first go round of the cake was ok, but there was an unpleasant, gummy, layer at the bottom of the cake. Back to the drawing board.
I think the problem was that, with the honey and the pumpkin, there was a little too much moisture in the cake.
So I switched the cake flour in the original recipe to all purpose flour. Not only does all purpose flour add more structure to the cake, it also absorbs more moisture.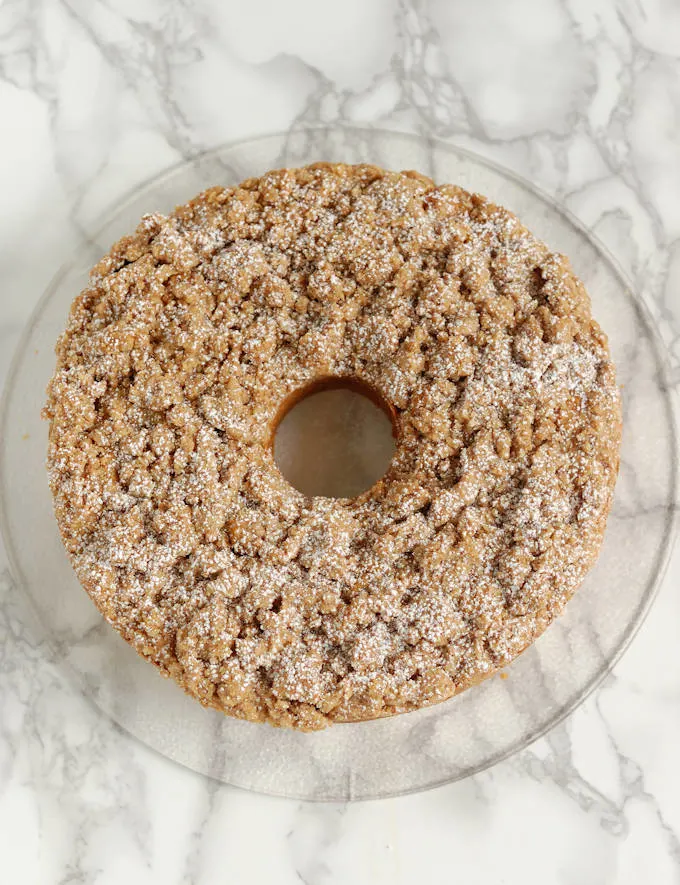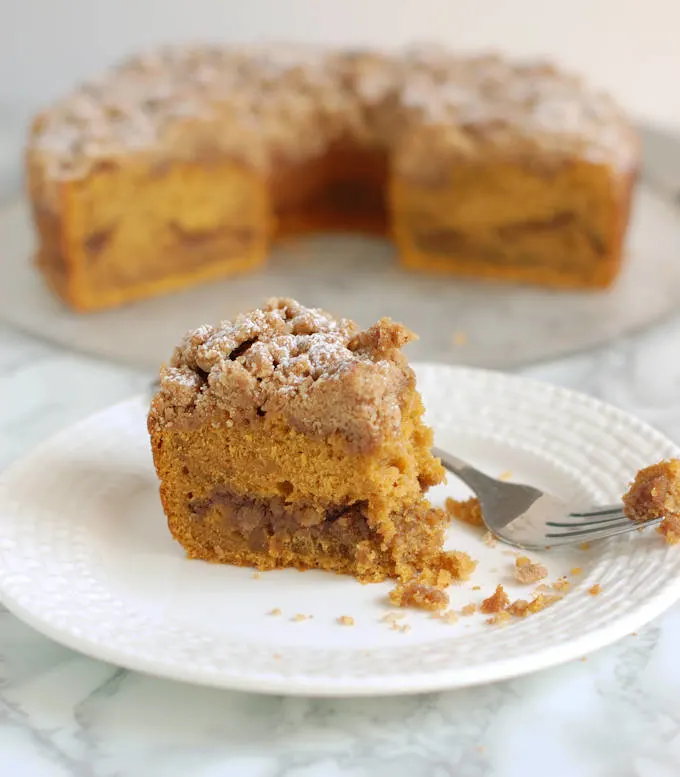 Watch the recipe video to see how to make a Pumpkin Coffee Cake with Walnut Streusel.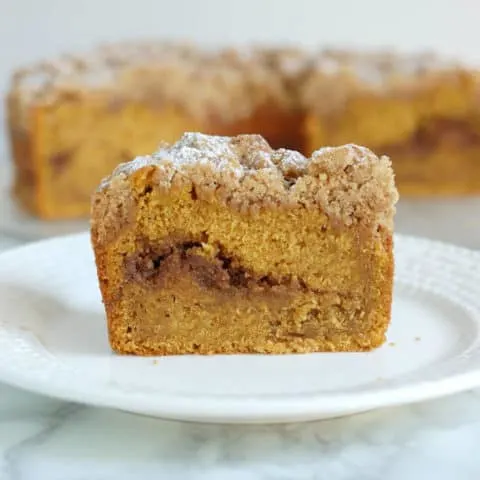 Pumpkin Coffee Cake w/Walnut Streusel
Total Time:
1 hour
15 minutes
Moist honey-pumpkin cake is layered with walnut streusel and topped with walnut streusel crumbs.
Ingredients
Streusel
1/3 cup (2.5 oz, 70 grams) brown sugar
1/3 cup (2.5 oz, 70 grams) granulated sugar
1 cup (4 oz, 115 grams) Walnuts
2 teaspoons ground cinnamon
1/2 teaspoon nutmeg
1/4 teaspoon cloves
pinch of salt
1/2 cup (2 oz, 55g) cake flour
2 oz (1/2 stick, 55g) unsalted butter, softened to room temperature
Batter
1 cup (8 oz, 230g) canned pumpkin puree (not pumpkin pie filling)
1/2 cup (4 oz, 115g) sour cream
1/4 cup (3 oz, 85g) honey
2 large eggs
1/2 teaspoon real lemon extract
1 teaspoon real vanilla extract
2 cups (10 oz, 285g) all purpose flour
3/4 cup (6 oz, 170g) granulated sugar
1 1/2 teaspoons cinnamon
1/2 teaspoon nutmeg
1/2 teaspoon cloves
1/2 teaspoon baking soda
1 teaspoon baking powder
1/2 teaspoon table salt
1 1/2 sticks (6 oz, 170g) unsalted butter, softened to room temperature
Instructions
Make the Streusel
Combine the sugars, walnuts, spices and pinch of salt in a food processor. Process until the nuts are chopped coarsely but not ground to a powder. Remove 2/3 cup (3.4 oz, 95g) for filling. Add the flour and butter to the remaining streusel and process until it begins to form clumps.
Make the Batter
Butter and flour a 9 spring form pan or a 10 tube pan . Preheat the oven to 325°F convection or 350°F regular.
Combine the pumpkin puree with the sour cream, eggs, honey and extracts, set aside.
Sift the flour, sugar, spices, baking soda, baking powder and salt into a mixing bowl. Mix the dry ingredients on low speed for 30 seconds. With the mixer running on low, add the butter to the dry ingredients and mix until incorporated. Add 1/3 the pumpkin mixture and increase the speed to medium. Mix on medium speed for 2 minutes to lighten the batter. With the mixer on low speed add the remaining pumpkin mixture in two batches, scrape the bowl between additions.
Pour 1/2 of the batter into the prepared pan and smooth to an even layer. Sprinkle the reserved streusel filling over the batter. Carefully drop dollops of the remaining batter over the filling and smooth to an even layer. Grab large clumps of the streusel topping and break them into smaller chunks over the batter.
Bake until the a toothpick inserted in the center comes out clean, about 45-50 minutes. Cool for 10 minutes before releasing the spring form pan.