Pumpkin Whoopie Pies are not really pies. Whoopie pies are made by sandwiching together two cakes to form kind-of a cookie. Weird, but whether you think of them as cakes, cookies or pies, they're a real American treat.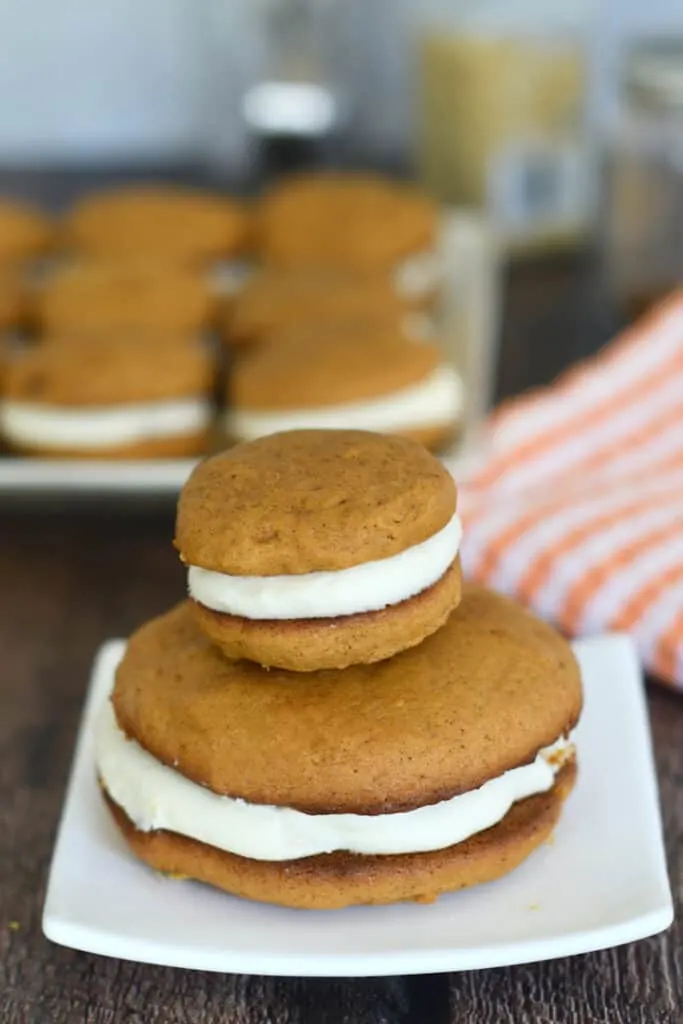 Whoopies pies are as American as Apple Pie, but the exact state of origin is up for debate.
Since I live in the great state of Pennsylvania, I will endorse the theory that Whoopies pies were invented by Amish bakers. Supposedly, the name came from exclamations of "whoopie" whenever mom made the special treat. That totally makes sense to me.
How to make the best Pumpkin Whoopie Pies from scratch:
Use a combination of butter and oil in the batter. Butter has great flavor and oil stays soft at room temperature. Using a combination makes a tasty, soft and moist cookie.
Portion the cookies with a scoop for consistent size. The cookies will bake evenly and pair-up neatly.
Use pure canned pumpkin, not pumpkin pie filling. Canned pumpkin is consistent. This recipe uses one 15 oz can.
If you want to use fresh pumpkin make sure the puree is not too moist or the cookies will spread and flatten in the oven. I find that roasting pumpkin makes a more concentrated puree. You can also strain the puree through cheesecloth to drain away excess moisture.
Use velvety cream cheese Ermine Frosting for a filling that is rich, not too sweet and a bit tangy.
Unfilled, baked cookies can be stored at room temperature for a day or two or frozen for up to 3 months.
This recipe makes a big batch of cookies. The recipe can be halved, or you can freeze extra cookies and icing separately to be sandwiched later.
Because of the milk in the frosting, left over whoopie pies should be refrigerated.
Whoopie pies are best served at room temperature, but I don't mind them a little chilled from the fridge.
Scroll through the process photos to see how to make Pumpkin Whoopie pies with cream cheese filling: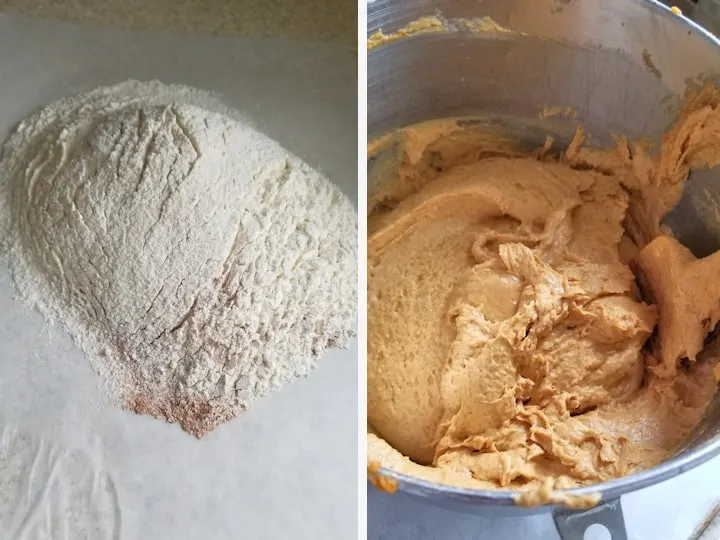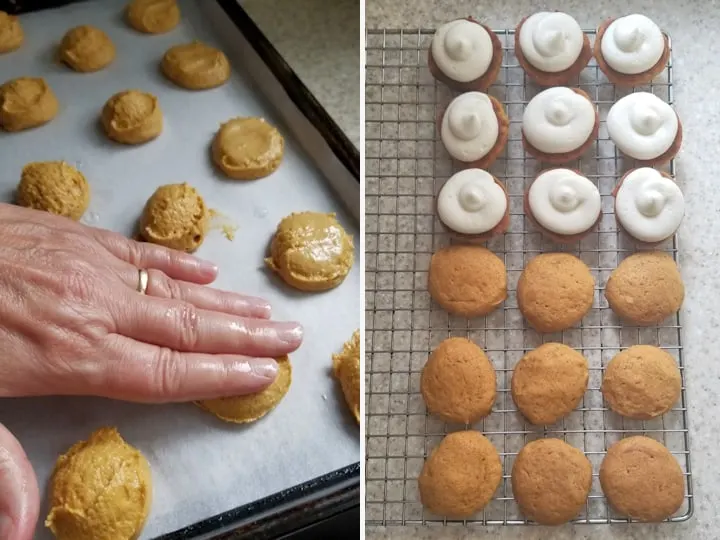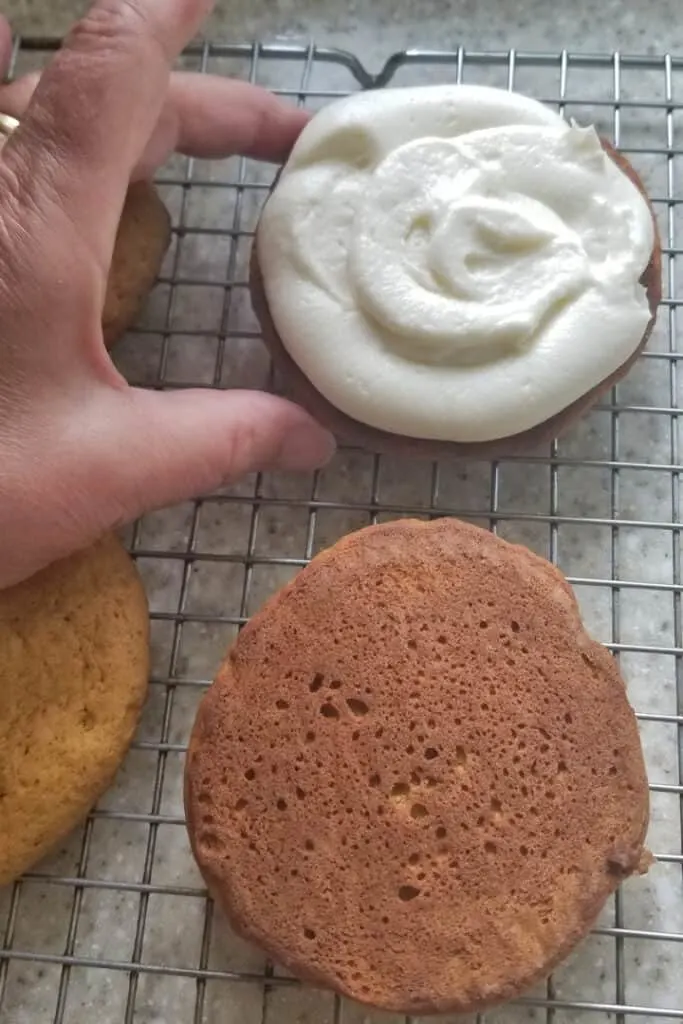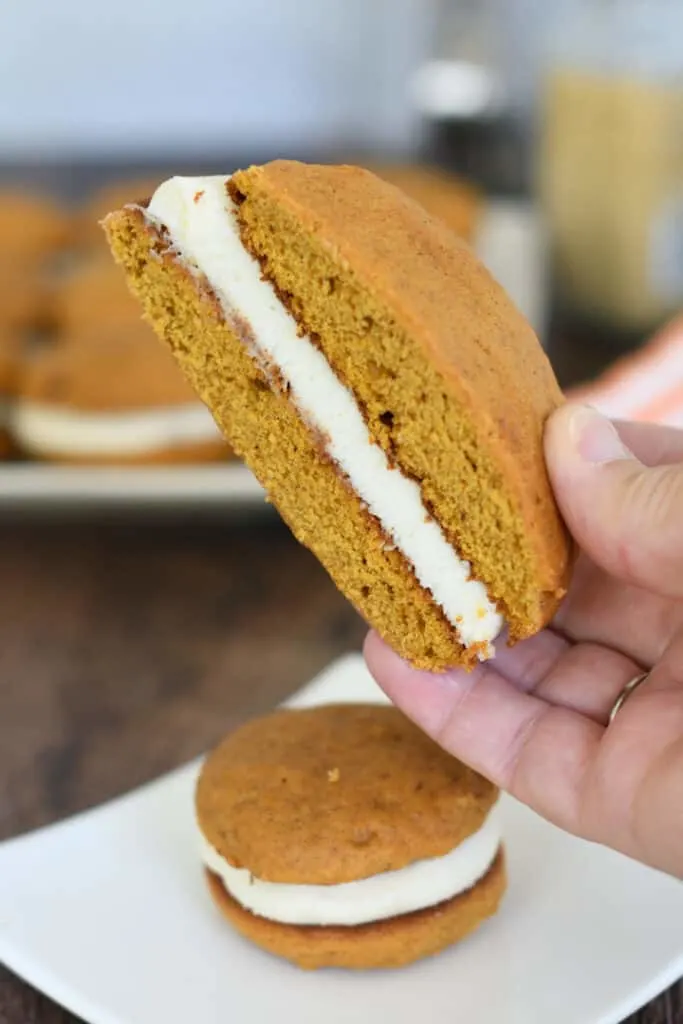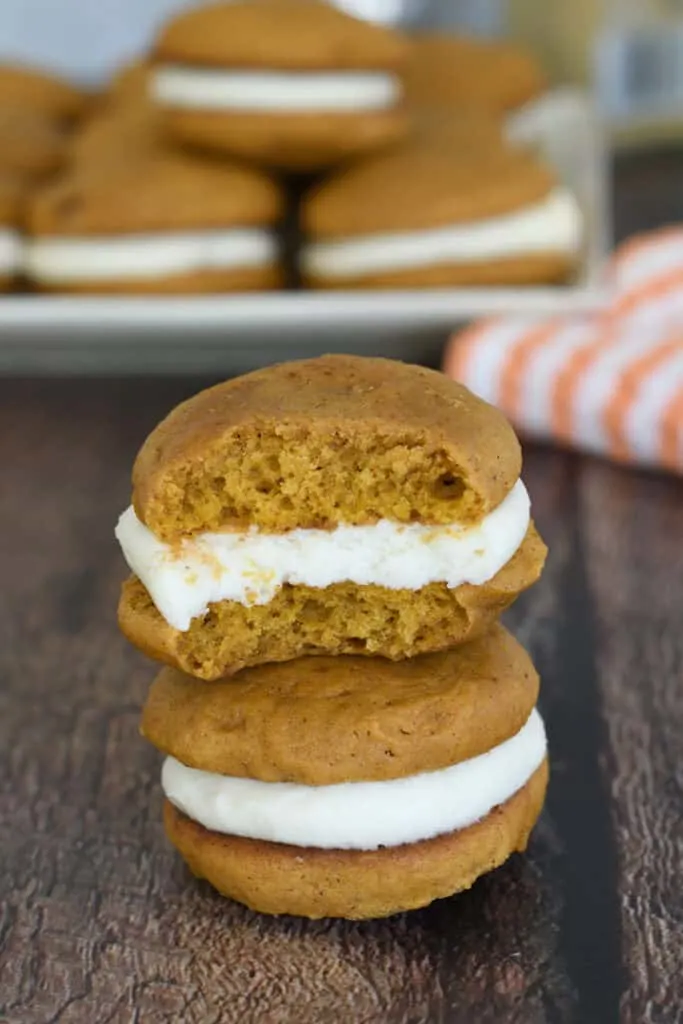 Got more pumpkin? Here are some more recipes for you: Pumpkin Coffee Cake with Walnut Streusel, Honey Pumpkin Bread, Pumpkin Mousse Pie, Ginger Sandwich Cookies with Pumpkin Ganache.
If you want to give your sweet tooth a bit of a rest, try this savory Pumpkin Sage Pull Apart Bread.
If you love this recipe as much as I do, I'd really appreciate a 5-star review.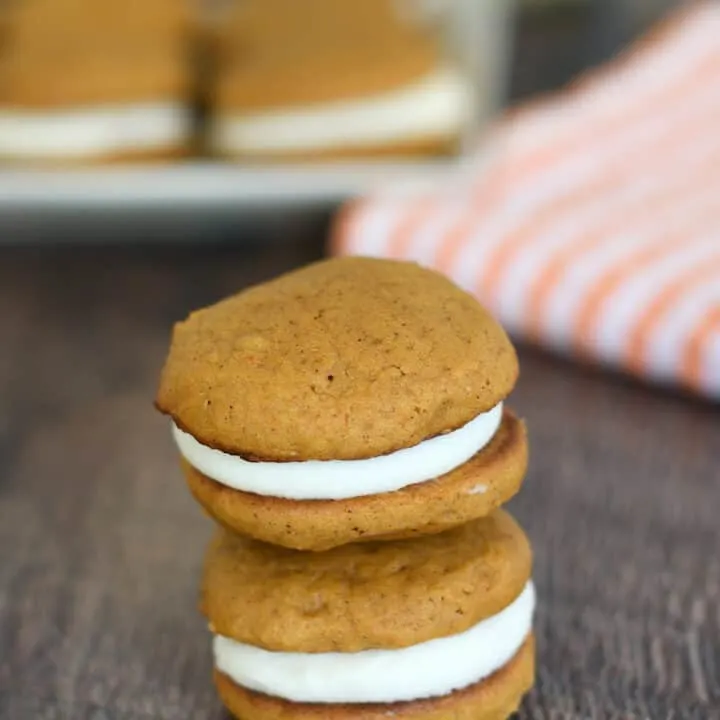 Pumpkin Whoopie Pies
Pumpkin Whoopie Pies are not really pie. They're made with two cakes sandwiched together to form kind-of a cookie. Weird, but whether you think of them as cakes, cookies or pies, they're a real treat.
Ingredients
Cookies
3 1/2 cups (17.5 oz, 490g) all purpose flour
1 teaspoon salt
1 teaspoon baking powder
1/2 teaspoon baking soda
2 teaspoons ground cinnamon
1 1/2 teaspoons ground ginger
1/4 teaspoon ground nutmeg
1/4 teaspoon ground cloves
1/2 cup (4 oz, 112g) unsalted butter, room temperature
2 cups (16 oz, 448g) light brown sugar
1/2 cup (3.5 oz, 98g) vegetable oil
1/2 teaspoon lemon extract
2 large eggs, room temperature
1 3/4 cups (15 oz, 420g) pumpkin puree
Cream Cheese Filling
1 1/2 cups (12oz, 336g) granulated sugar
1/2 cup (2.5 oz, 70g) all purpose flour
1/4 teaspoon salt
1 1/2 cups (12 oz, 360 ml) whole milk
2 sticks (8 oz, 224g) unsalted butter, room temperature
1 cup (8 oz, 224g)cream cheese, room temperature
1 tablespoon vanilla extract
1/2 teaspoon lemon extract
Instructions
Make the cookies
Preheat the oven to 350°F. Line two half sheet pans with parchment paper.
Sift together the flour, salt, baking powder, baking soda and spices. Set aside
In a large mixing bowl, cream the butter and brown sugar until light and aerated. Scrape down the sides and bottom of the bowl. With the mixer running, slowly add the oil. Add the lemon extract. Scrape the bowl. Add the eggs and mix to combine.
Alternate adding the flour mixture and pumpkin puree, starting and ending with the flour. Scrape the bowl between additions of flour.
For small whoopie pies, use a cookie scoop or tablespoon to scoop the dough onto a parchment lined baking sheet. Use a larger scoop or 1/4 cup measure to make large whoopie pies. Moisten your hand with water and tap the tops of the cookies to flatten slightly.
Bake until the cookies spring back when pressed in the center and are lightly browned around the edges, 10-12 minutes for small cookies or 12-15 minutes for larger cookies.
Cool completely before filling. At this point the cookies can be wrapped and kept at room temperature for up to 2 days or frozen for up to 3 months.
Make the cream cheese filling
Combine the sugar, flour and salt in a saucepan, whisk to combine. Slowly whisk in the milk until smooth. Heat the mixture over medium low, whisking constantly, until it begins to boil.
Continue to cook and stir for 2-3 minutes until it thickens to a pudding-like texture. Immediately remove from the heat. Transfer to a bowl. Add the vanilla and cool to room temperature.
In a mixing bowl, cream the butter until smooth. Scrape the bowl. With the mixer running, toss in the cream cheese and mix until smooth. Scrape down the bowl, switch to whisk and add the milk paste. Turn the speed to high and whip until light and fluffy.
Flip half the cookies over. Pipe or spoon a generous dollop of filling on the flat side of the flipped cookies and sandwich with the remaining cookies.
The cookies will keep for 3-4 days, refrigerated. Best eaten at room temperature.
Recommended Products
As an Amazon Associate and member of other affiliate programs, I earn from qualifying purchases.