If you've been looking for the perfect pumpkin bread recipe, look no further. This Honey Pumpkin Bread is lightly sweet, moist, and has just enough spice to highlight, but not overpower, the pumpkin flavor.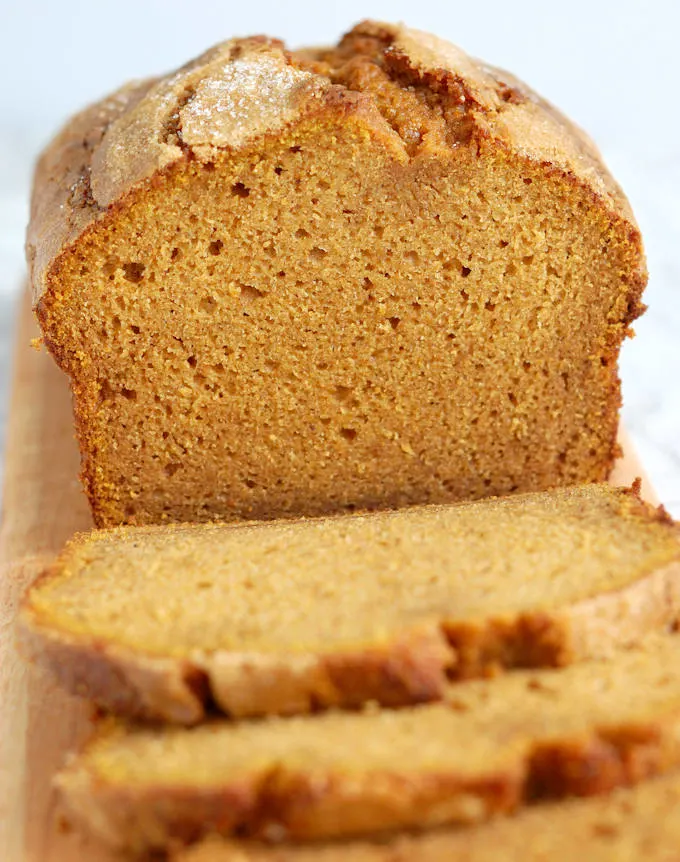 Ya know, the whole "pumpkin spice" thing can be a bit much, so I guess I've been avoiding putting more pumpkin recipes out on the interwebs. That's really a shame because I do love to bake and cook with pumpkin and other winter squash.
So I set out to make my version of a perfect Pumpkin Bread; a loaf that is sweet and moist and definitely tastes like pumpkin.
I wanted a bread with more pumpkin, less "pumpkin spice".
The starting point was a pumpkin cake recipe from Cake Art Studio. "The Great Pumpkin" was a seasonal cake flavor made with pumpkin cake, orange caramel crunch buttercream and a layer of spiced pecan cheesecake. Yum!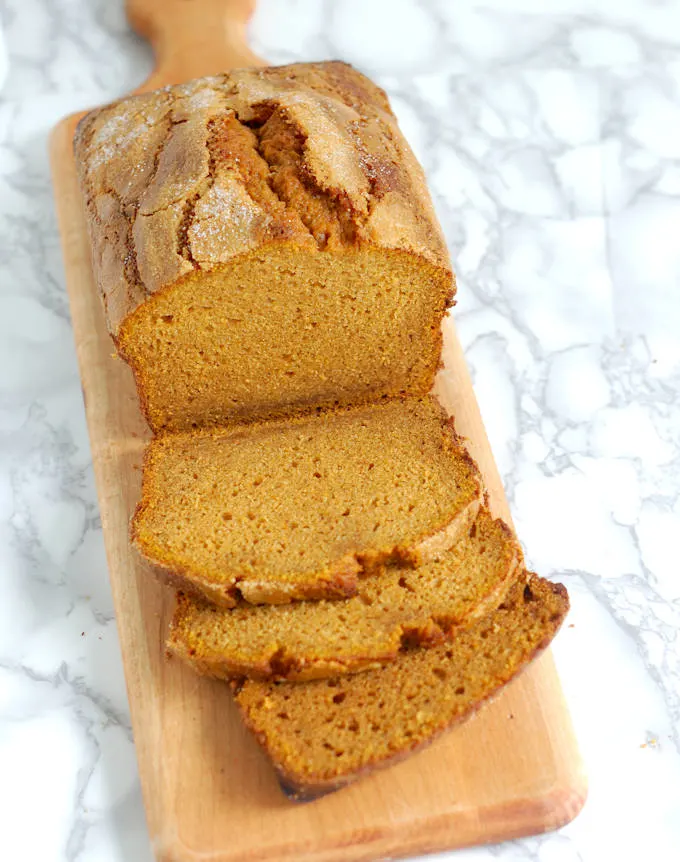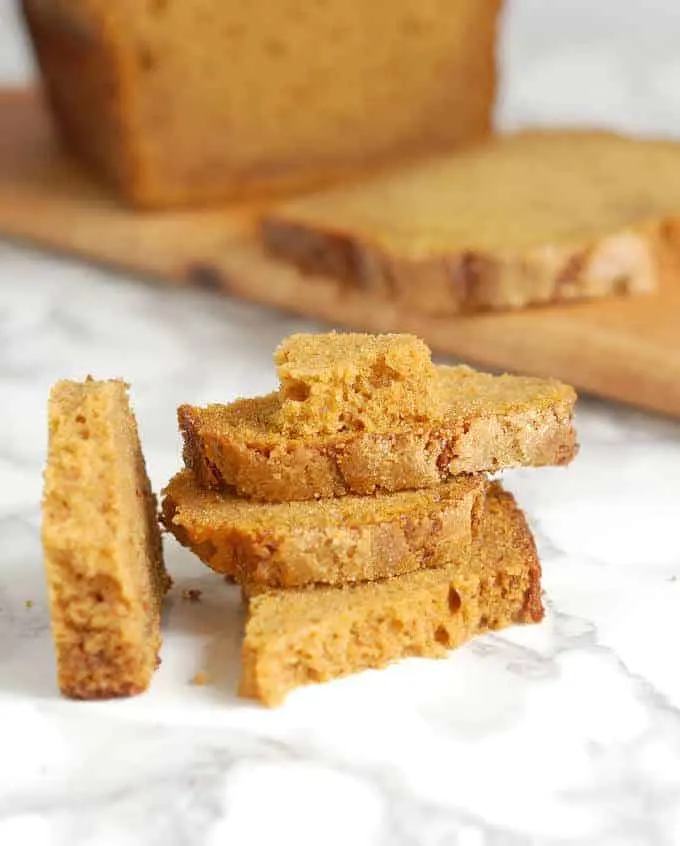 Tips for the best Honey Pumpkin Bread
For this Honey Pumpkin Bread recipe I reduced the amount of sugar and added a bit of honey. Honey not only adds great flavor, but also helps retain moisture. Thanks to the honey in the recipe, this bread keeps for days.
There's just enough spice in the mix to highlight, but not overwhelm, the pumpkin flavor.
Don't use pumpkin pie filling, use plain pumpkin puree.
Canned pumpkin has the most consistent texture. If you use fresh pumpkin, make sure to drain away excess moisture so the batter doesn't get too thin.
Line the pan with parchment paper to make it easy to remove the loaf from the pan.
Sprinkling a little granulated sugar on top before it goes into the oven creates a delicious crunchy crust.
This loaf has a slightly sweet, lightly spiced and very pumpkin-y flavor. It's the perfect after-school or teatime snack.
If you're ready for another great pumpkin treat, make these Pumpkin Whoopie Pies with cream cheese filling.
Happy Fall!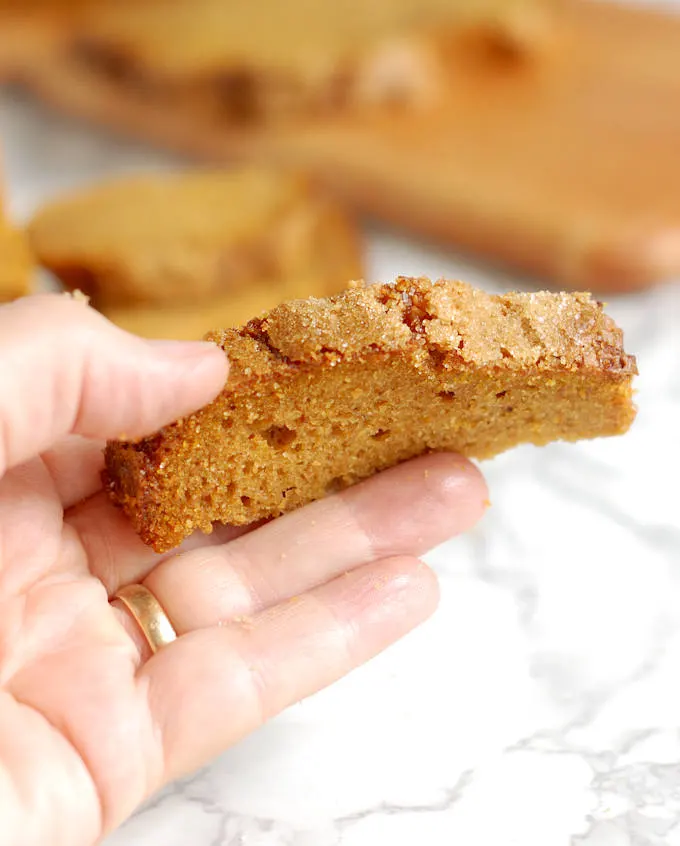 If you like this recipe please consider giving it 5 stars!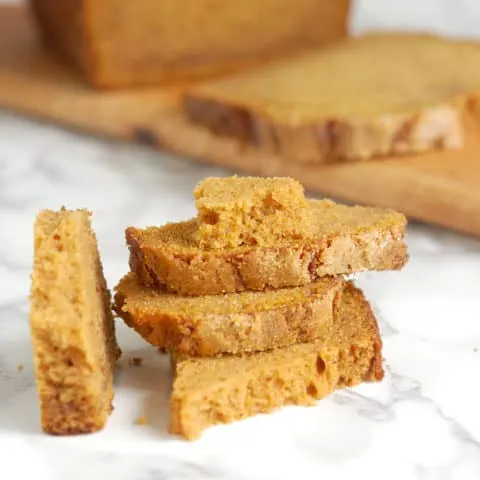 Honey Pumpkin Bread
Total Time:
1 hour
15 minutes
A honey moistened pumpkin bread with just enough spice to highlight, but not overpower, the pumpkin flavor.
Ingredients
1 2/3 cups (9 oz, 255g) all purpose flour
1 teaspoons cinnamon
1/2 teaspoon nutmeg
1/2 teaspoon cloves
3/4 teaspoon baking soda
1/4 teaspoon salt
3 large eggs
2/3 cup (5 oz, 175ml) vegetable oil
2/3 cup (6 oz, 170g) granulated sugar
1/3 cup (4 oz, 115g) honey
1/2 teaspoon real lemon extract
2 teaspoons real vanilla extract
1 cups (8 oz, 230g) canned pumpkin pure (not pumpkin pie filling)
2 tablespoons granulated sugar for topping
Instructions
Preheat the oven to 350°F. Butter a 9"x5" loaf pan and line the pan with parchment paper (or butter and flour the pan).
In a large bowl, combine the flour, cinnamon, nutmeg, cloves, baking soda, and salt. Use a hand whisk to combine the ingredients then set aside.
In a large mixer bowl combine the eggs, oil, sugar, honey, lemon extract and vanilla extract. Mix on medium speed until the ingredients are emulsified. Add the pumpkin and mix until incorporated. Add the dry ingredients and mix just until incorporated.
Pour the batter into the pan and spread to even it out. Sprinkle the 2 tablespoons of granulated sugar over the surface of the batter.
Bake until a toothpick inserted in the center comes out with a few wet crumbs but no raw dough, about 1 hour. Cool in the pan 10 minutes then turn out onto a cooling rack. Cool to room temperature before cutting.
Notes
Use only pure pumpkin, not pumpkin pie filling. I find canned pumpkin more consistent for baking. If using fresh pumpkin puree make sure it's not excessively wet.
Recommended Products
As an Amazon Associate and member of other affiliate programs, I earn from qualifying purchases.