Beautiful Blood Orange Marmalade is surprisingly easy to make. It's as tasty as it is pretty.
When I had a surplus of blood oranges recently I decided to make some marmalade. Fruit preserves might seems scary if you've never made them, but they really are very simple.
Mix your fruit with sugar and boil until it's thickened. Many fruits have enough natural pectin so they will gel with just sugar. If you use a fruit that's lower in natural pectin you can either add pectin or some recipes will have you add a grated apple, since apples have lots of natural pectin.
There is a ton of information and lots of recipes at the Ball home canning website.
This blood orange marmalade is so pretty and so tasty. You can make the same recipe with regular juice oranges, but don't use navel oranges because the skins are too thick. All that white pith under the skin will make a marmalade that even I would find too bitter.
If you're lucky enough to find Seville oranges, those make the best marmalade. Citrus marmalade does require one extra step. Soaking the fruit in water overnight will help to tame the bitterness in the skins. This is a hands-off process, but does require the extra time.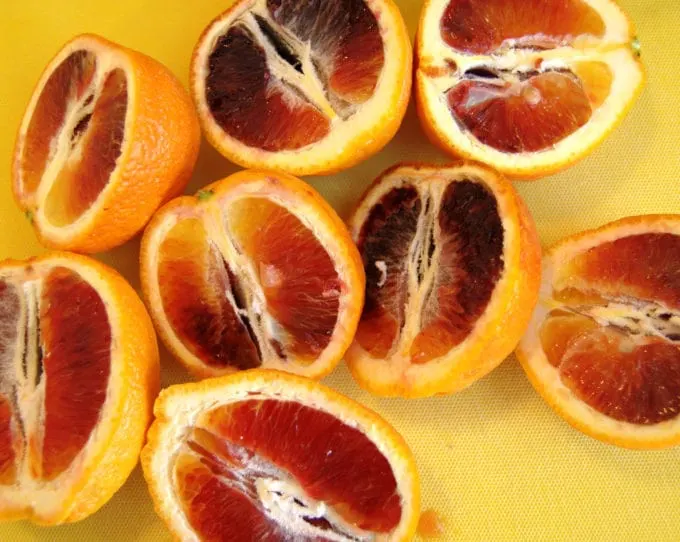 How to test if your jam or jelly is done:
If you've never made jam or jelly before, the trickiest part can be knowing when it's done. You can employ one of three "gel tests" to check if the jam is ready.
If you have a candy thermometer simply boil until it reaches 220 degrees and it should be nicely gelled.
If you don't have a candy thermometer you can put a spoonful of marmalade onto a cold plate (keep one in the freezer while the fruit is boiling) and allow it to cool to room temperature. Then push into the marmalade with your finger. If it "wrinkles" it's ready.
The third test is to pour some marmalade off the side of a spoon. When it's too soft it will come off in separate drips. As it gels it will come off as more of a sheet.
Check out the Ball Canning Website FAQ to read a detailed description of each of these gel tests.
The marmalade will keep for several weeks in the refrigerator or you can freeze it for a few months. I poured the hot marmalade into canning jars and processed the jars in a water bath.
These will keep at room temperature indefinitely. You'll find instructions for water bath canning on the Ball Canning website.
Once you get this method down you can use the same process for canning any fruit preserves or your summer tomatoes.
Not only is this marmalade great on brown bread, scones or biscuits, I also like to swirl it into low fat Greek yogurt for a healthy snack.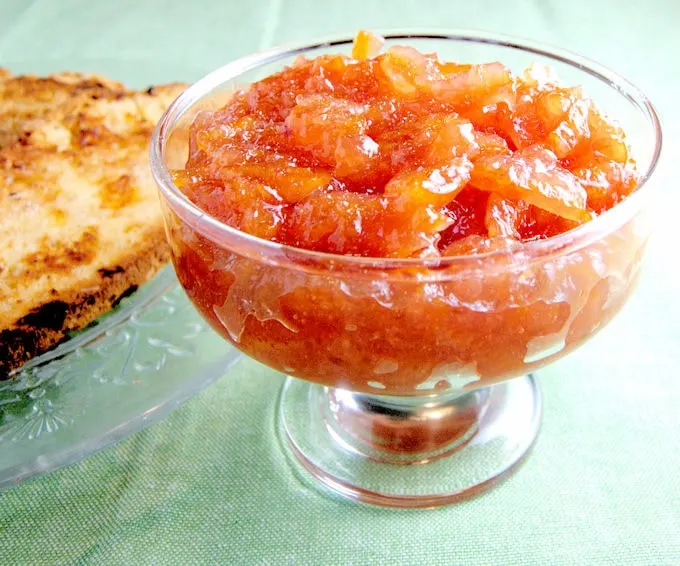 Blood Orange Marmalade
Total Time:
1 hour
20 minutes
Beautiful Blood Orange Marmalade is surprisingly easy to make. It is as tasty as it is pretty!
Ingredients
2 pounds (about 4-5 large, 900g) blood oranges
1 large lemon
3 cups (24 oz, 710 ml) water
3 1/2 cups (28 oz, 793 g) granulated sugar
Instructions
Cut the oranges and the lemon in half lengthwise and then cut into quarters, also lengthwise.
Cut the quarters crosswise into very thin slices. Discard end pieces with thick pith.
Collect any seeds and tie them into a cheesecloth bundle.
Place the fruit and the seed bundle into a large bowl and cover with the water.
If the water does not completely cover the fruit add a little more.
Place a small plate on top of the fruit to keep it submerged.
Refrigerate over night.
Discard the seeds and put the fruit and water into a saucepan.
Bring to a boil over medium-high heat.
Lower the heat to medium low to maintain a simmer.
Cook about 40 minutes, or until the rind of the fruit is very tender.
Add the sugar and bring back to a boil.
Boil about 25-30 minutes until the temperature registers 220F on a candy thermometer.
If you don't have a candy thermometer use either the plate or spoon method to check the gel stage. Details can be found at http://www.freshpreserving.com.
Notes
I used blood oranges, but you could make the same recipe with juice oranges. I wouldn't use navel oranges since the skins are too thick. If you can find Seville oranges, those make a great marmalade.

The marmalade can be refrigerated for several weeks or frozen for several months. You can find instructions for canning and processing the marmalade at http://www.freshpreserving.com.