If you think there's nothing new to learn about good old carrot cake, think again! This is A Better Carrot Cake Recipe not because of the ingredients, but how they're put together.

One of my favorite things to do as a baker is to take a mediocre or even "pretty good" recipe and make it better. Often the smallest changes can make a huge difference in the outcome.
How you mix a recipe, and how you handle ingredients, can transform your baking. If you click on the Baking School tab in the main menu you'll find a wealth of information about baking ingredients and techniques, including my favorite post about how to create the best cake recipes.
What's wrong with the average carrot cake?
Check out most any carrot cake recipe and you'll see that the ingredients are similar to this recipe; oil, sugar, flour, spices, carrots, eggs, and, if you like, raisins and nuts. Some recipes throw in some coconut or pineapple for added flavor.
As I've said before, cake is not my very favorite dessert. Ten years of running a cake business will do that to you. But I do enjoy carrot cake. Honestly, it's mostly because of the cream cheese frosting, but I do like the cake too.
My objection to carrot cake is the often lumpy texture. Thick shreds of carrots, big raisins and chopped nuts contribute to the chunkiness.
So why is my carrot cake "better" given that I have pretty typical ingredients?
I put the ingredients together so that you get all the great flavor and moisture of the traditional carrot cake, but with a finer texture and beautiful deep orange color.
Scroll through the step-by-step photos to see how to make a Better Carrot Cake!
How to make a better Carrot Cake:
The first switch I made to the traditional recipe is to use currants instead of raisins. Currants are smaller than raisins so they blend into the batter better. I also soak the currants in hot water to plump them up. The pre-plumped currants won't draw moisture from the batter.
I use walnuts for great flavor and richness (pecans would also be good). Rather than simply chopping the walnuts, I grind them in a food processor to fairly small bits. You get the flavor and richness from the walnuts, but the smaller bits blend into the batter better. Sensing a the trend yet?
Finally, and I think most importantly, instead of shredding the carrots I grind them in the food processor until they're the texture of a chunky puree. Again, the small bits of carrot will blend into the batter better. Grinding releases lots of juice from the carrots so the cake is super moist. The carrot juice gives the cake batter a beautiful deep orange color.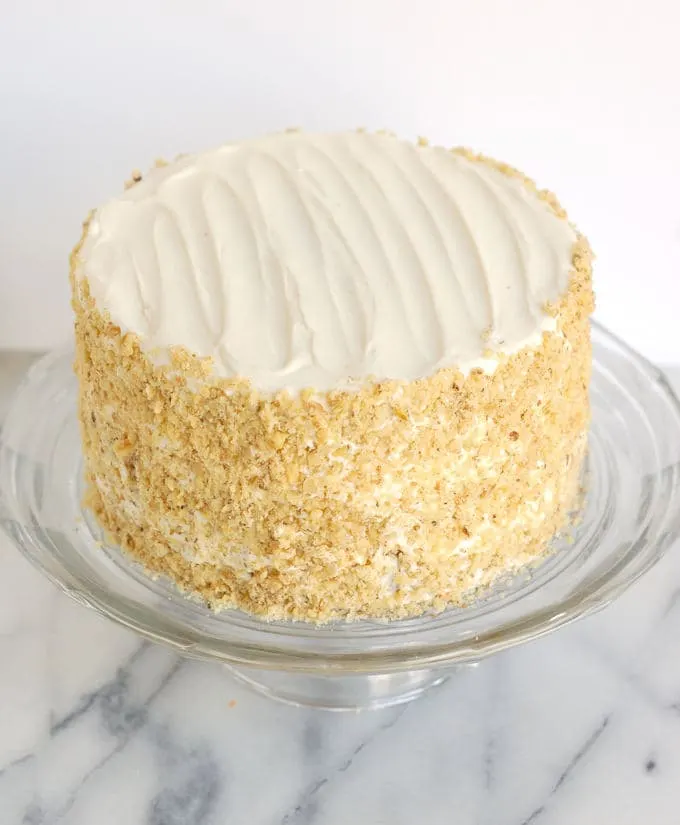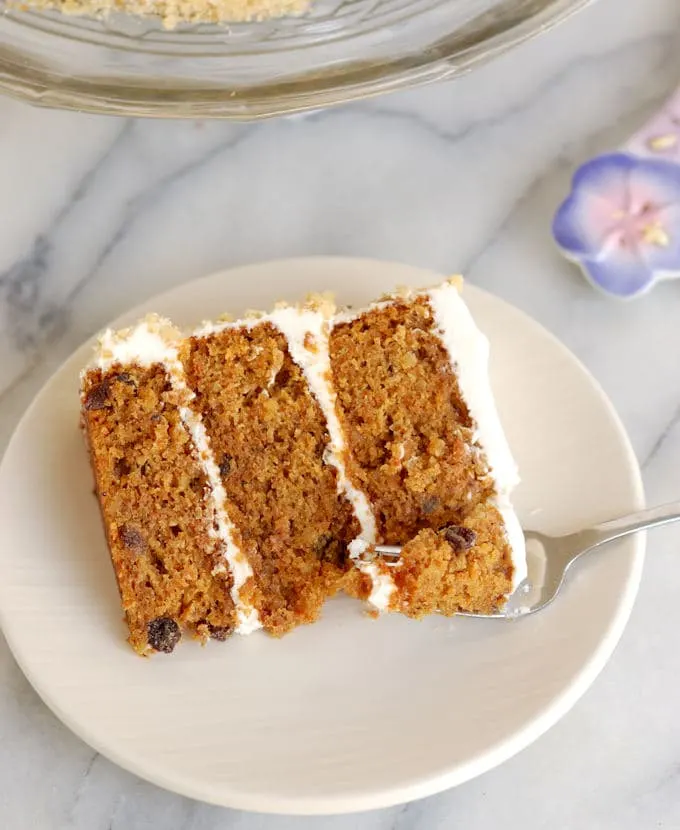 I baked the batter in three 8″ cake pans for a tall cake with three layers of cake and two layers of frosting. This recipe could also be baked in 9″ pans and can be baked as two layers instead of three. The batter also works well for cupcakes.
I filled and iced the cake with my Better Cream Cheese Frosting (recipe below). This cake is so moist I think there is plenty of icing. But, if you like extra frosting, you can make 1 1/2 times the frosting recipe for thicker layers of icing and a thicker coating.
If you love this recipe as much as I do, please consider giving it a 5-star review.
You might also like: