Light and fluffy Cranberry Orange Scones are perfect for breakfast, afternoon tea or snack time. Fragrant with orange zest and cinnamon, these buttermilk scones are absolutely bursting with fresh cranberries.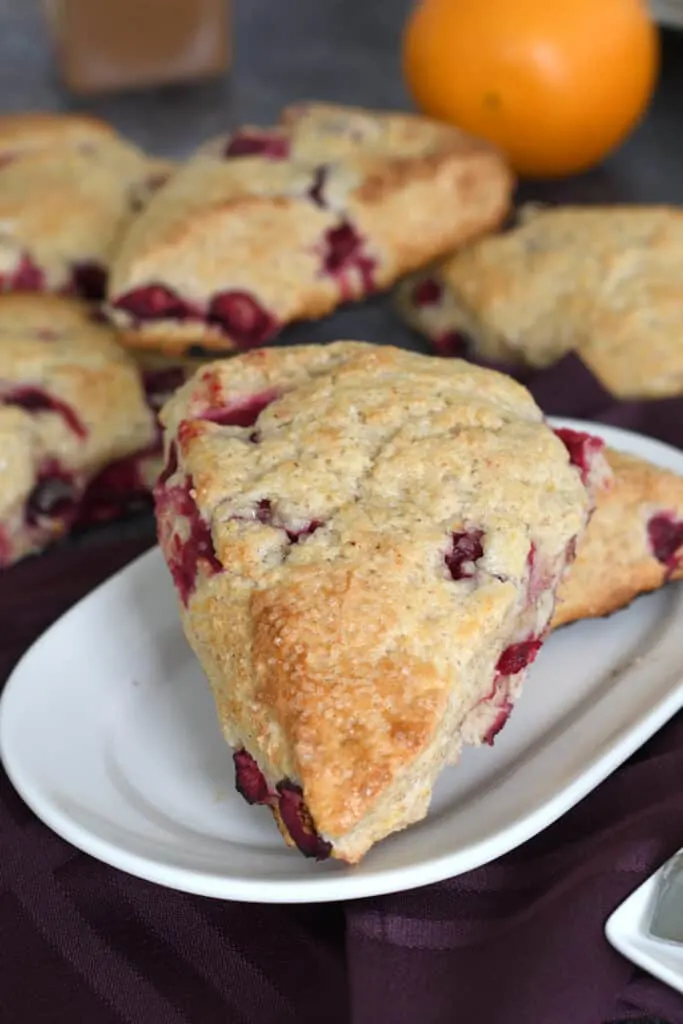 Between my 7-year stint at a British tea shop and baking for family and friends, at this point in my life I've baked, literally, tens of thousands of scones.
I love baking with seasonal produce, both fruits and vegetables. At the end of this post you'll find a whole bunch of special scones recipes you might want to try.
These scones feature the classic flavor combination of cranberries and orange.
Tips for making perfect scones:
Combine all the dry ingredients and whisk them together before adding the wet ingredients. Dispersing the salt and leavening helps the scones rise evenly.
Work the cold butter in with your fingers until the bits are no bigger than a pea. Those little bits of butter will give the scones a slightly flakey texture.
If you don't have fresh buttermilk, buttermilk powder is the best substitute. Mix the buttermilk powder according to the directions before adding to the scones.
Once the wet ingredients are added, mix just until the flour is incorporated. I like to make scones by hand to avoid over-mixing the dough.
You can use a rolling pin, but I prefer to pat the dough by hand to avoid overworking the dough.
Since the baking powder is activated as soon as the wet and dry ingredients come together, it's best to bake the scones soon after the dough is mixed.
To work ahead, mix all the dry ingredients and work in the butter. Combine the wet ingredients and refrigerate the prepared ingredients until you're ready to finish the recipe.
Scones are best eaten they day they are baked.
Baked scones should never be refrigerated.
Baked scones can be frozen for up to three months. Defrost the scones at room temperature, then warm in the oven to revive the texture.
Scroll through the step by step photos to see how to make Cranberry Orange Scones: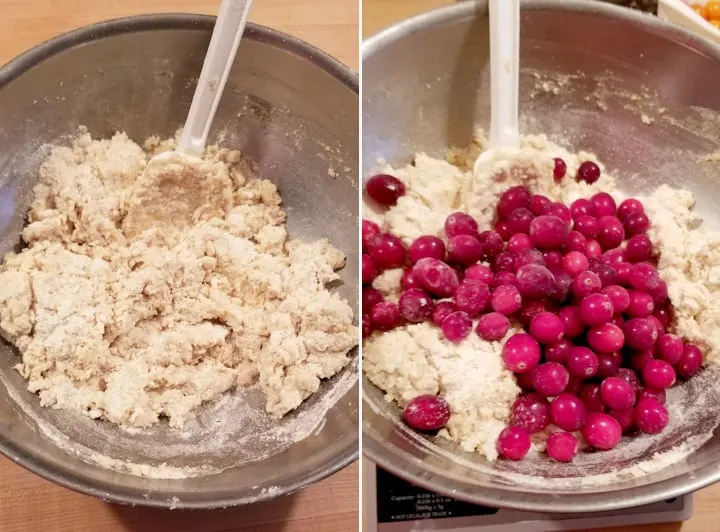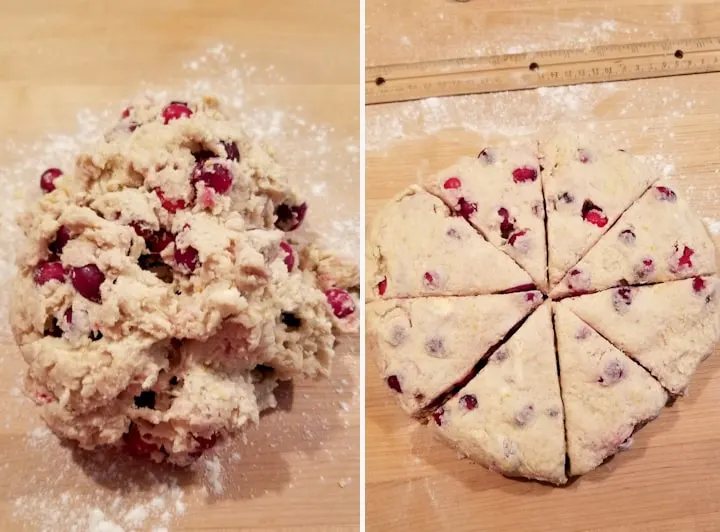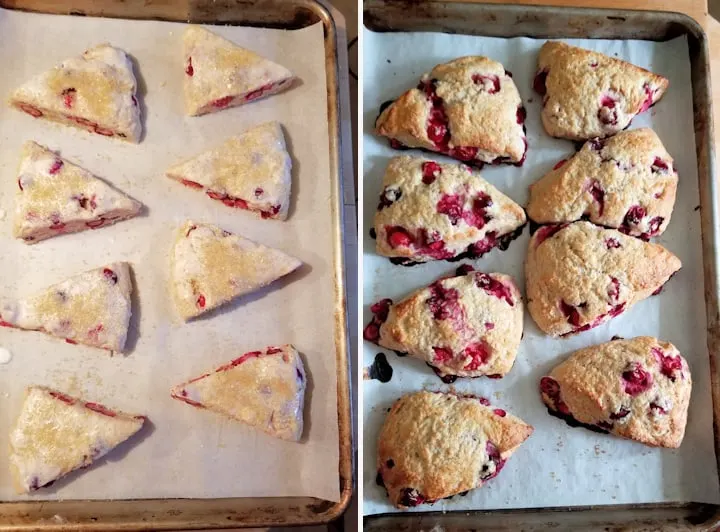 Buttermilk Scones are classic and can be served any time of year. For a real treat these my Sweet Corn Scones or Cheddar scones.
If you've got a Sourdough Starter and hate to throw away that discard, you should make these special Sourdough Scones.
Gingerbread Scones or Date & Spice Scones are perfect flavors for fall and throughout the holidays.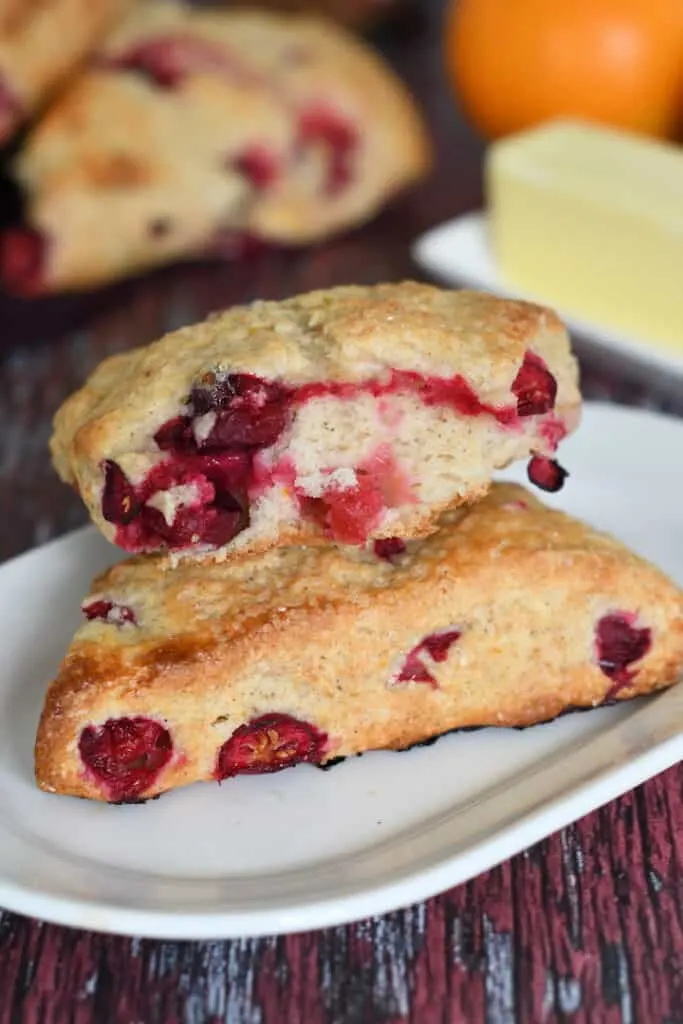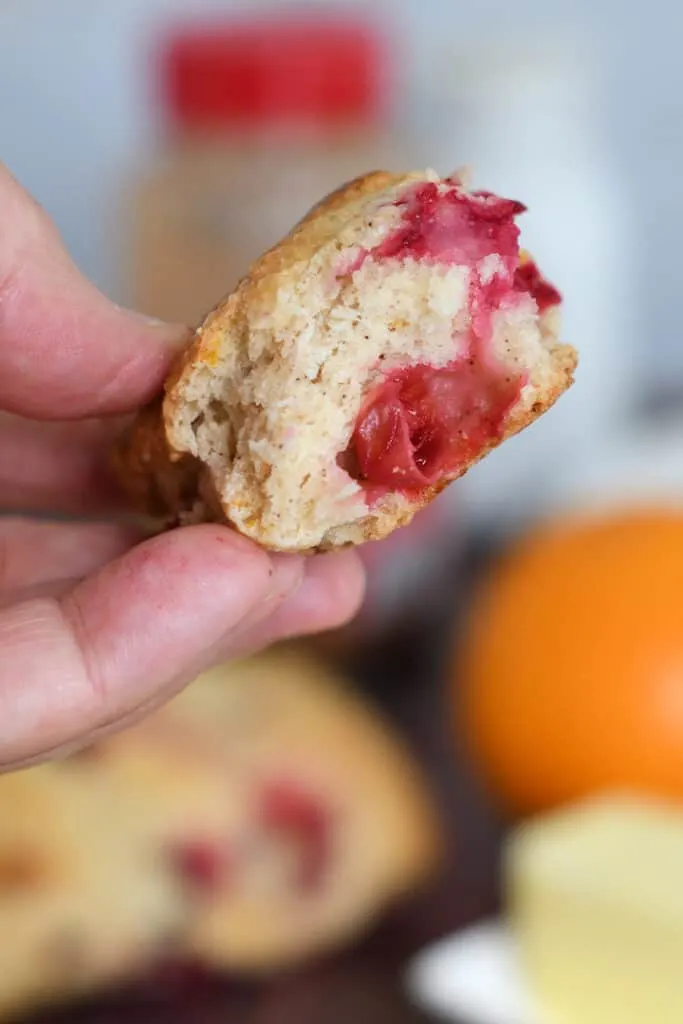 Hey Cranberry lover, you'll want to try these recipes too:
If you love this recipe as much as I do, I'd really appreciate a 5-star review.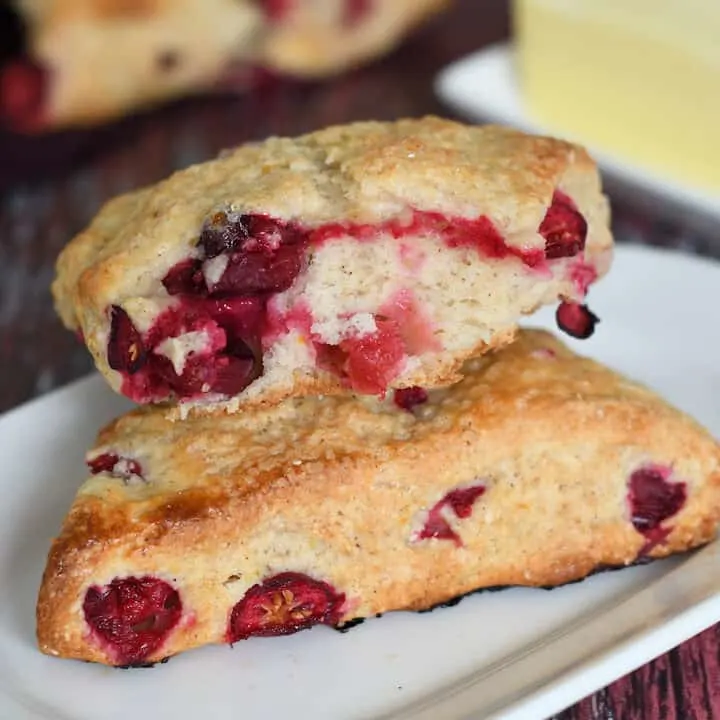 Cranberry Orange Scones
Light and fluffy Cranberry Orange Scones are perfect for breakfast, afternoon tea or snack time.
Ingredients
2 1/2 cups (12.5 oz, 350g) unbleached all purpose flour
1 tablespoon baking powder
1/2 cup (4 oz, 112g) granulated sugar
1 teaspoon ground cinnamon
1/2 teaspoon salt
Finely grated zest from 1 large orange
6 tablespoons (3oz, 84g) cold unsalted butter, cut into 1" chunks
3/4 cup plus 2 tablespoons (7oz, 210 ml) buttermilk, plus more for brushing
2 teaspoons vanilla extract
1 large egg
1 1/2 cups ( 8 oz, 224g) fresh or frozen cranberries
Demerarra Sugar for sprinkling
Instructions
Preheat the oven to 375°F. Line a 1/2 sheet pan with parchment paper.
In a large mixing bowl, whisk together the flour, baking powder, sugar, cinnamon, salt and orange zest. Toss in the butter chunks. Work the butter in with your fingers until the bits are the size of a pea.
Whisk together the buttermilk, vanilla and egg. Add the buttermilk mixture to the dry ingredients all at once and mix until just barely combined. Some loose flour may remain at the bottom of the bowl. DON'T OVER MIX.
Dump the dough directly onto a lightly floured surface. Sprinkle the cranberries over the dough and finish mixing by hand until all the loose flour is absorbed and the cranberries are evenly distributed.
Using well-floured hands, pat the dough a 8" round that is 1" thick. Cut the round into 8 wedges. Transfer the scones to the prepared baking sheet.
Brush the top of the scones with buttermilk and sprinkle with Demerarra or granulated sugar.
Bake until golden brown, about 20-25 minutes.
Serve warm or room temperature.
Recommended Products
As an Amazon Associate and member of other affiliate programs, I earn from qualifying purchases.