Sweet Corn Scones with a hint of lime and cinnamon! These light and fluffy scones are perfect for breakfast or an afternoon tea snack.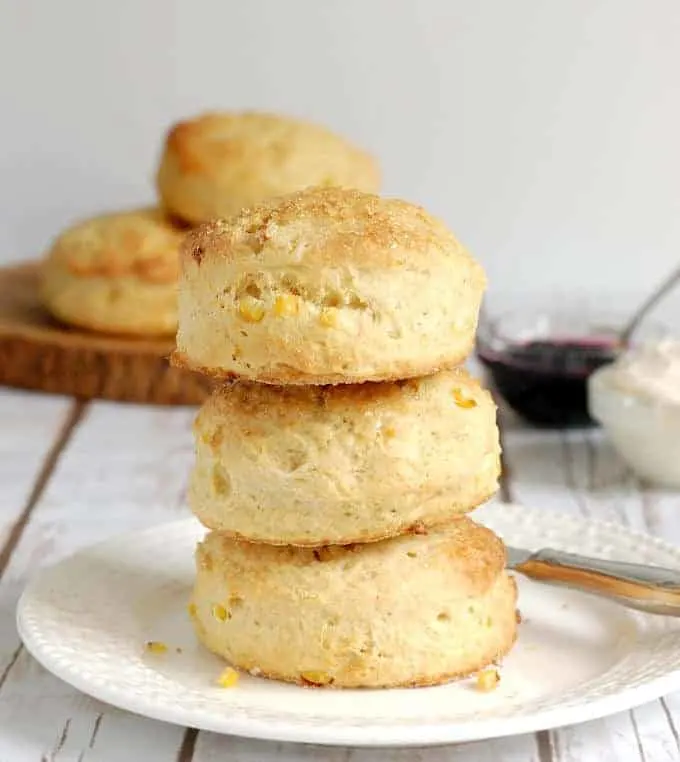 Between my 7-year stint at a British tea shop, and scones I've made for family and friends, at this point in my life I've baked, literally, tens of thousands of scones.
When I worked at the tea shop we had a few flavors that were always on the menu; plain, raisin, lemon and cherry/almond scones. Each week I would create a special flavor, usually something seasonal.
Gingerbread Scones, Cranberry Orange Scones or Date & Spice Scones are perfect flavors for fall and throughout the holidays. Raisin Scones are classic and can be served any time of year.
I love baking with seasonal produce, both fruits and vegetables. No matter how much corn we get, it's never too much. Besides throwing it on the grill and eating it, I like to make corn salad, corn chowder and Sweet Corn Ice Cream (trust me on that one!).
Fresh summer corn is wonderful in both savory and sweet dishes.
I've been noodling around with the idea of a fresh corn scone for a while. I just had to decide if I wanted to go sweet or savory.
I could have lowered the sugar a bit and added basil, onion and other savory flavors to make a savory corn scone. But I decided to go sweet and used lime, cinnamon and a little cornmeal to highlight the fresh corn flavors.
Scroll through the step by step photos to see how to make Fresh Corn Scones:
My husband and I ate the scones with Mascarpone Cheese (leftover from my Tiramisu Ice Cream Cake recipe testing) and homemade Blueberry Preserves. I absolutely love corn and blueberries together so this was a great combination.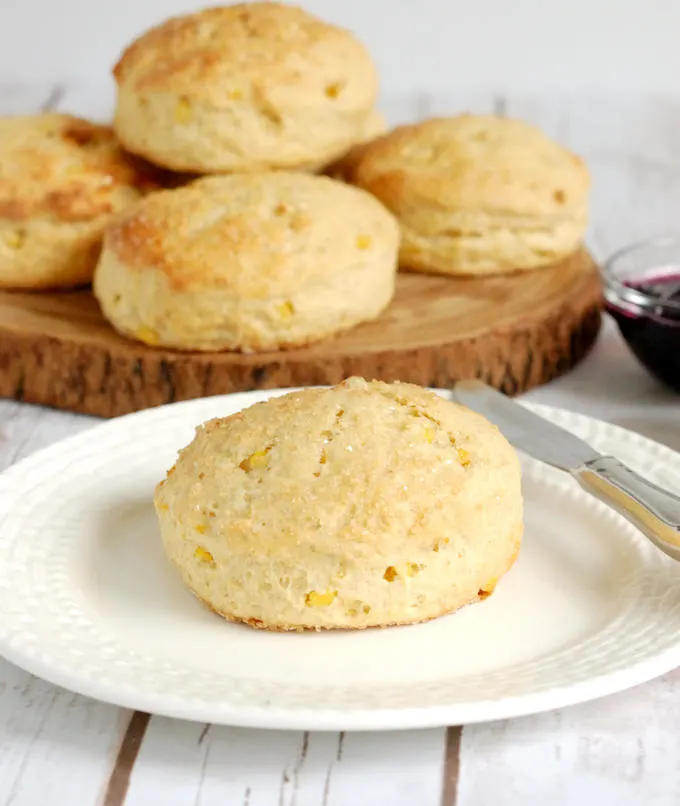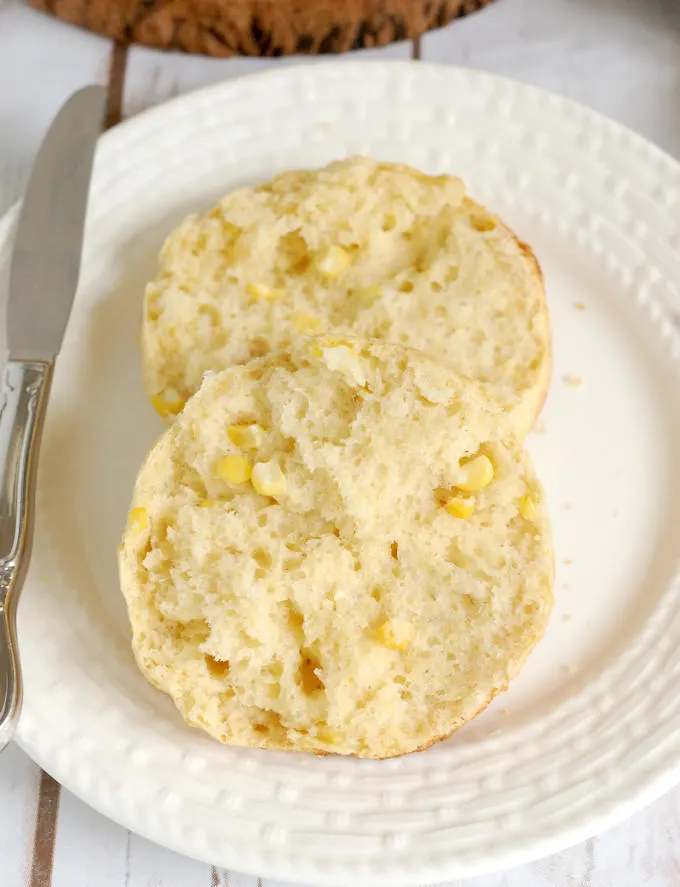 If you love this recipe as much as I do, I'd really appreciate a 5-star review.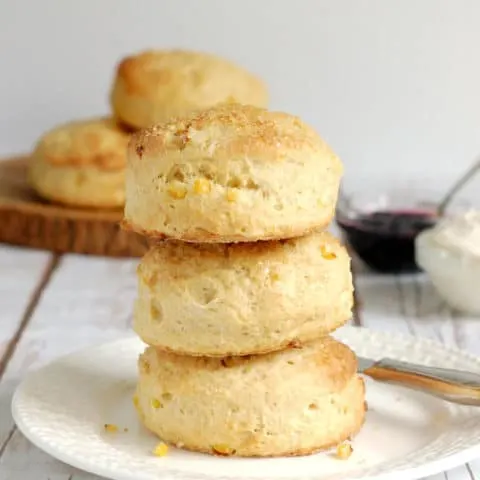 Sweet Corn Scones with Lime & Cinnamon
The classic buttermilk scone with a twist. Fresh (or frozen) sweet corn kernels with a hint of lime and cinnamon make a great tasting scone.
Ingredients
1 cup (4 oz, 115g) fresh or frozen corn kernels
Finely grated zest & juice of 1 lime
1 3/4 cups (14 oz, 420 ml) buttermilk
2 large eggs
1/2 teaspoon vanilla
4 cups (1 lb 4 oz, 560g) unbleached all purpose flour
1 cup (5.5 oz, 154g) stone ground cornmeal
1/2 cup (4 oz, 112g) granulated sugar
2 tablespoons baking powder
1/2 teaspoon salt
1/2 teaspoon ground cinnamon
1.5 sticks (6 oz, 168g) cold unsalted butter, cut into 1" chunks
Instructions
Preheat the oven to 400°F. Line a baking sheet with parchment paper.
Toss the corn kernels with the lime zest & juice, set aside. Whisk together the buttermilk, eggs and vanilla, set aside.
In a mixer bowl, combine flour, cornmeal, sugar, baking powder, salt and cinnamon. Mix dry ingredients for 1 minute to combine. With the mixer running on low, toss in butter chunks. Continue to mix on medium speed until the butter bits are the size of a pea.
If mixing by hand, whisk together the dry ingredients and then work the butter in with your fingers.
Add the corn to the buttermilk then add that mix to the flour all at once. Mix until most of the flour is almost incorporated. Some loose flour will remain at the bottom of the bowl. DON'T OVER MIX. Dump the dough onto a floured surface and finish kneading by hand until the dough comes together, about 15-20 kneads.
Use your hands to pat the dough until it is 1" thick. Use a 2.5-3" biscuit cutter to cut scones. Re-roll the scraps and continue cutting until all the dough is used.
Line the scones on the prepared baking sheet, leaving 1" space between. Brush the tops of the scones with buttermilk and sprinkle with Demerrara or granulated sugar.
Bake on the middle rack of the oven, flipping the tray after 10 minutes. The scones are ready when they are golden brown and sound hollow when the bottom is tapped. Total baking time about 15-20 minutes.
Recommended Products
As an Amazon Associate and member of other affiliate programs, I earn from qualifying purchases.