Triple Ginger & Cranberry Biscotti are flavored with ginger 3-ways and studded with sweet/tart craisins. Perfect for dunking into coffee, espresso or dessert wine.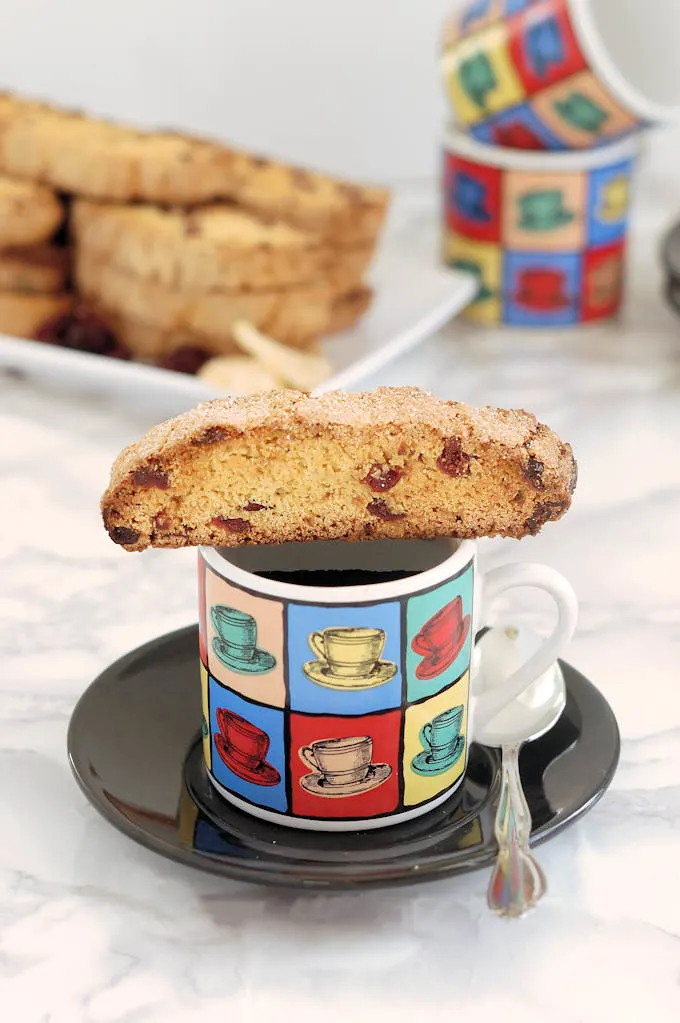 I love biscotti because they really are easy to make and they keep for weeks. I also like that biscotti are hard and crunchy and are just begging to be dipped into coffee or espresso. The firm texture means they're perfect for packing into holiday gift boxes or bags.
I wanted to create a biscotti with wonderful holiday flavors (Although I would certainly enjoy these cookies at any time of year).
Of course "gingerbread" biscotti immediately came to mind. I mean, it's certainly a great holiday flavor.
But, really, I think gingerbread is almost more about the molasses flavor than the ginger flavor. I wanted a cookie that was all about the ginger, because I am crazy about the stuff in both sweet and savory dishes.
So I added it 3 ways, fresh, ground and candied. Each type has a slightly different character and I wanted to include them all.
Craisins are the perfect sweet, tart partner for all that gingery deliciousness, and the topping of ginger sugar adds a final spicy burst.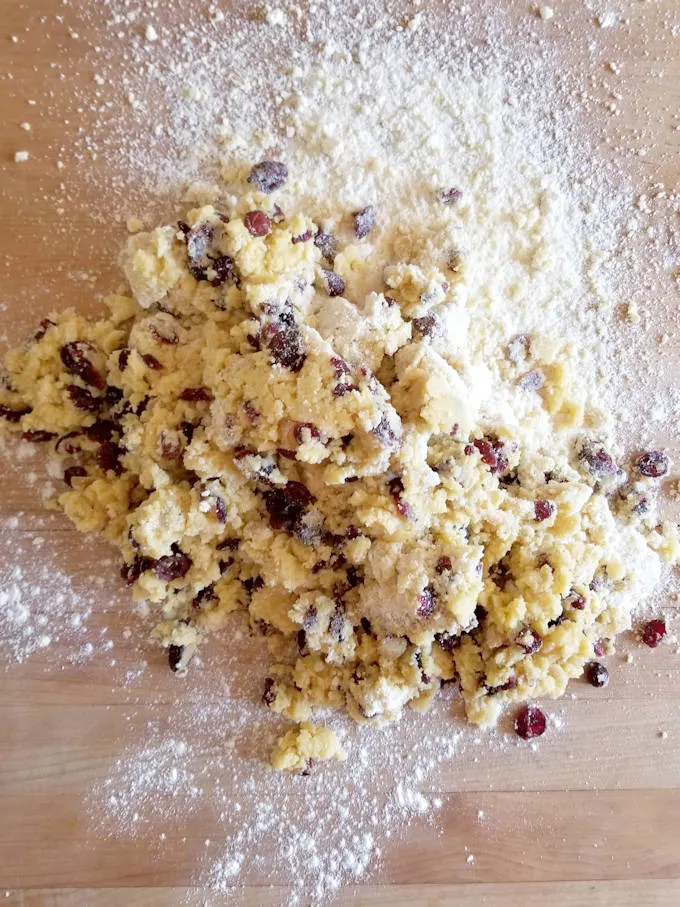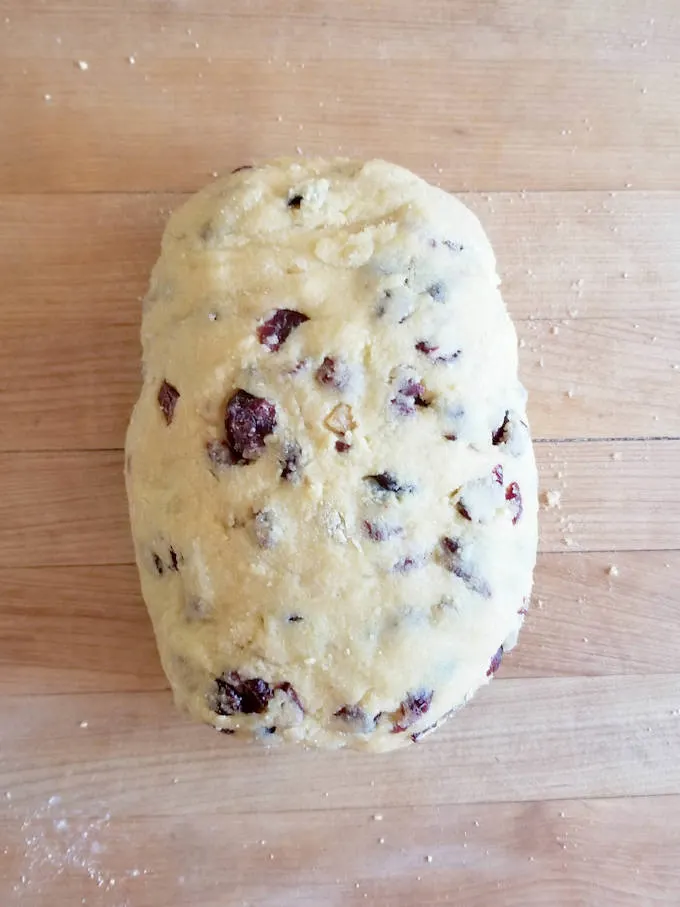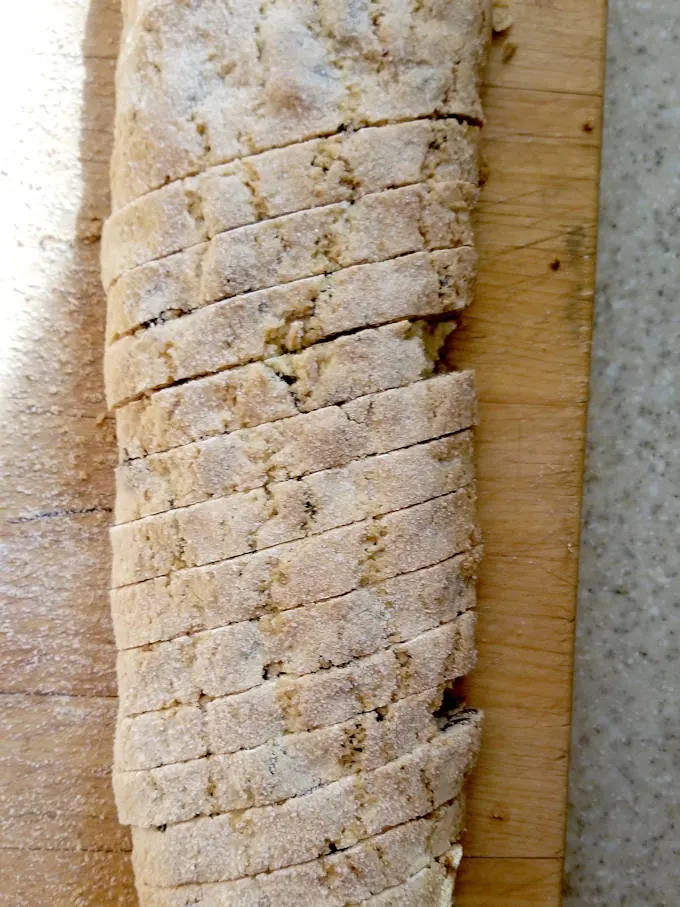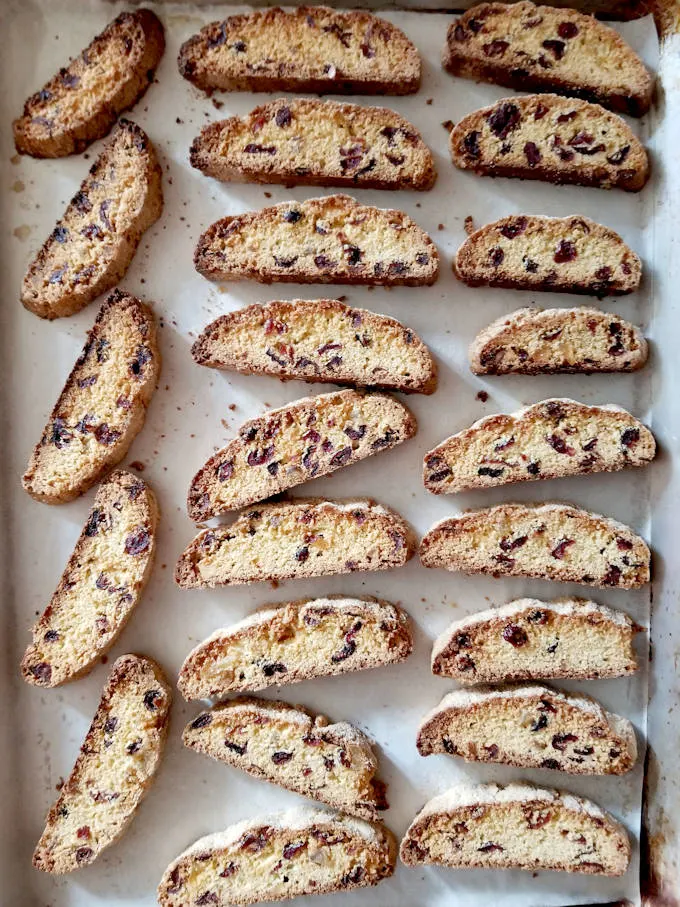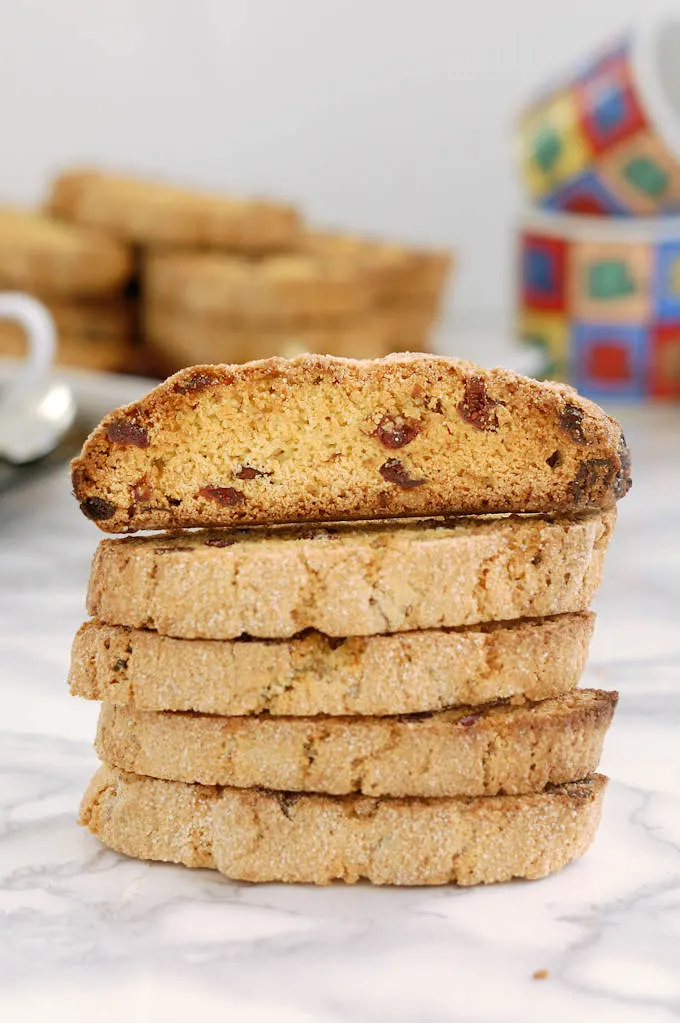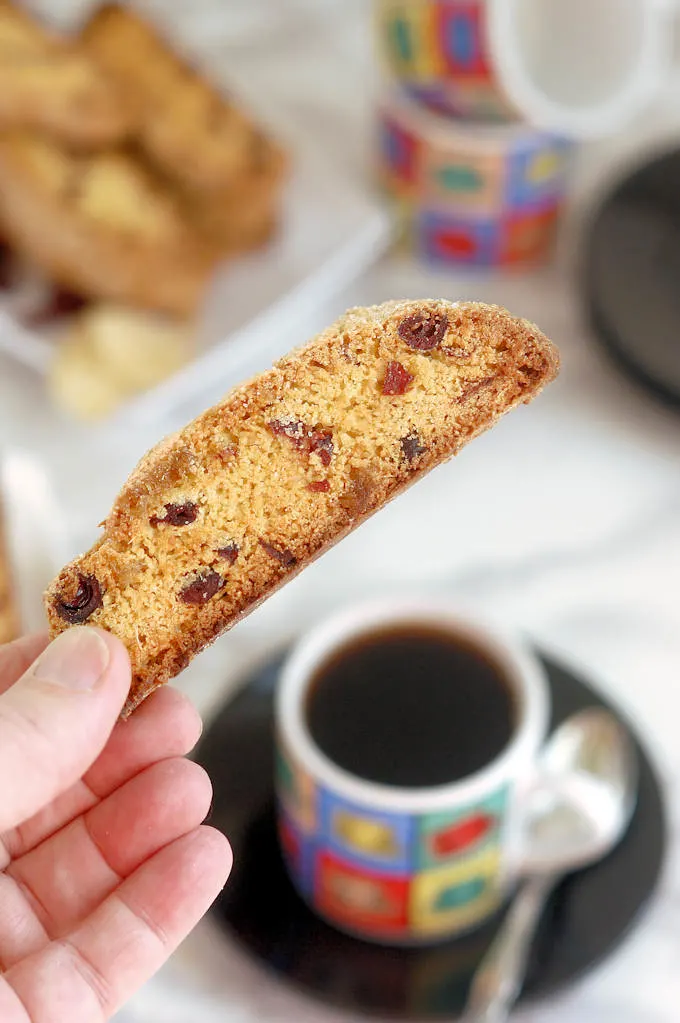 If you keep a Sourdough Starter, you should try these truly amazing Sourdough Biscotti.
You'll also love these Almond & Anise Biscotti with classic Italian flavors.
If you love this recipe as much as I do, I'd really appreciate a 5-star review.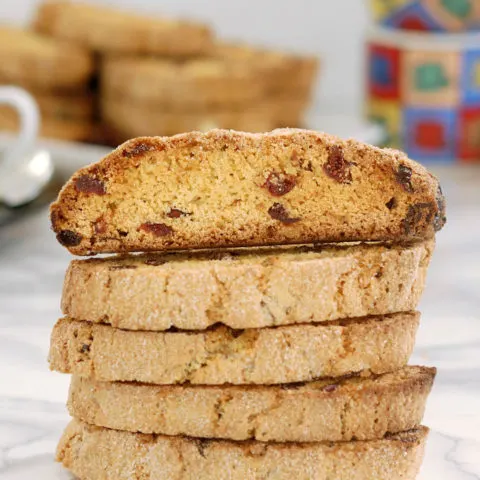 Triple Ginger Cranberry Biscotti
Total Time:
2 hours
30 minutes
Crunchy biscotti cookies flavored with ginger 3-ways and studded with sweet/tart craisins. Perfect for dunking into coffee, espresso or dessert wine.
Ingredients
4 large eggs, plus 1 for egg wash
1/4 cup (2 oz, 55 ml) olive oil
1 tablespoon fresh ginger, finely grated
2 tablespoon (1 oz, 30ml) brandy
3 1/4 cups (16 oz, 453g) all purpose flour
1/4 cup (1.5 oz, 45g) corn meal
1 3/4 cups (14 oz, 392g) granulated sugar, separated
1 tablespoon baking powder
1/2 teaspoon table salt
1 tablespoon + 1 teaspoon ground ginger, separated
2 cups ( 9 oz, 255g) dried cranberries
1/2 cup (2 oz, 56g) finely diced crystallized ginger
Instructions
In a small bowl combine the 4 eggs, olive oil, fresh ginger and brandy, set aside. In a mixing bowl combine flour, corn meal, 1 1/2 cups of the sugar, baking powder, 1 tablespoon of the ground ginger and salt. Mix the dry ingredients for 30 seconds to combine.
Add the egg mixture to the dry ingredients and mix until almost combined. Toss together the cranberries and the crystallized ginger. Add the cranberry mixture to the dough and mix until almost combined. Turn the dough out onto a lightly floured surface and knead together.
Cover the dough with plastic wrap and allow it to rest for 15-20 minutes. Preheat the oven to 350°F. Line a 1/2 sheet pan with parchment paper.
Split the dough into 2 equal portions. Roll each piece of dough to a log 13" long x 2" wide. Set the logs onto the sheet pan, leaving at least 3" between them. Combine the last 1/4 cup of granulated sugar with the remaining teaspoon of ground ginger. Brush each log with egg wash and sprinkle with the ginger sugar.
Bake until the logs are golden brown and feel firm when pressed in the middle, about 35 minutes. Cool completely on a wire rack. Do not turn off the oven.
Use a serrated knife to cut each log into 1/2" slices on a slight diagonal. Lay the cookies flat on the sheet pans and bake 10-15 minutes until toasty and golden brown (see note). Cool on a wire rack.
Store in a cookie jar for up to 2 weeks.
Notes
If you like your biscotti super-crunchy bake the sliced cookies for the longer time, bake for the shorter time if you like them a little softer.
To work ahead: the dough logs can be wrapped and refrigerated for several days or frozen for several weeks.