You'll love this easy Chunky Granola recipe. Homemade granola is a nutritious and delicious treat that you can enjoy for breakfast or as a snack.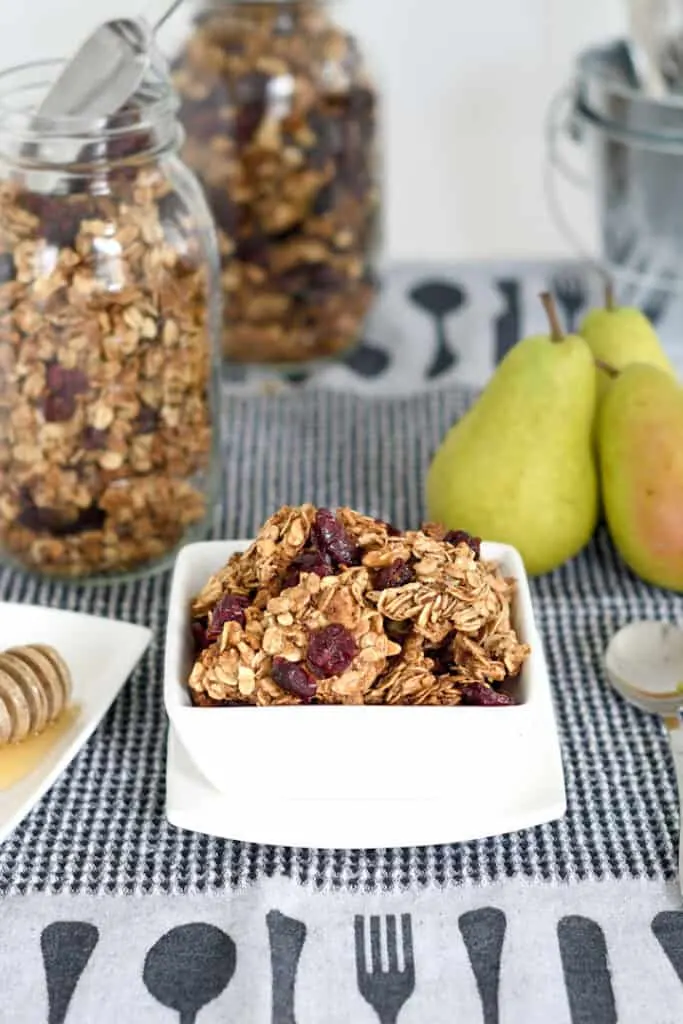 Is it worth the trouble to make your own granola when there are 102109291028 brands on the supermarket shelves? Yes!
Supermarket granola runs the gamut.
On the one end you have granolas that are loaded with sugar and fat. They're delicious because it's basically like eating chopped up cookies.
At the other end of the spectrum we have "healthier" granolas that, as my son says, taste like rocks.
This granola is abundant with wholesome ingredients like oats, walnuts and sunflower seeds. It has just a hint of honey sweetness and it is light, crunchy and crisp.
That special texture is thanks to just the right amount of sugar, honey and oil in the recipe. An egg white binds the ingredients together without weighing everything down.
Scroll through the process photos to see how to make Chunky Granola with honey and egg whites: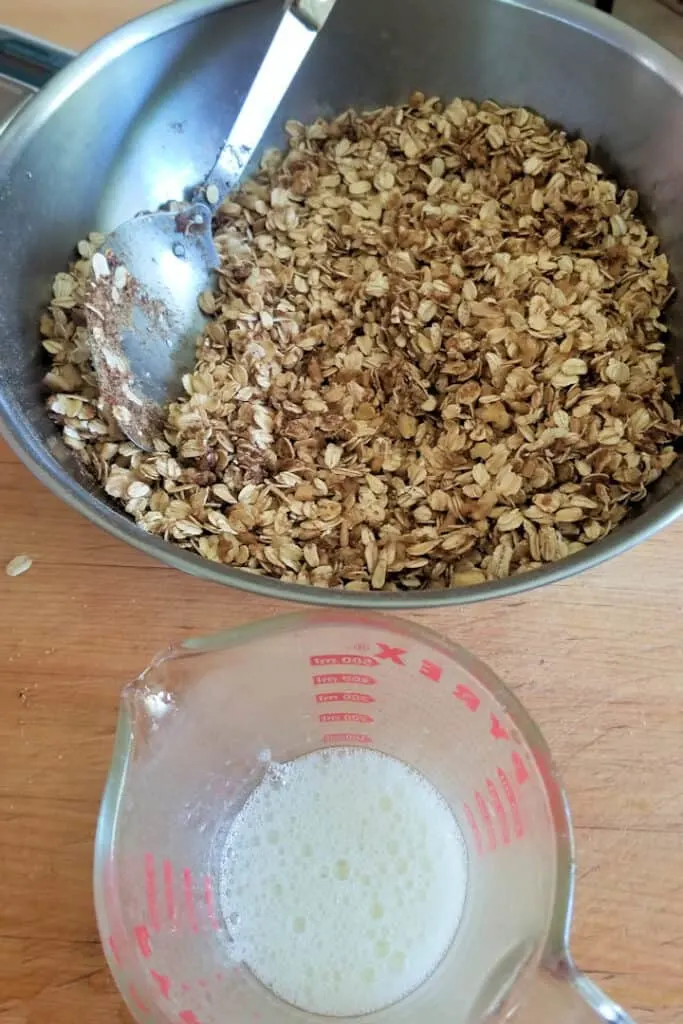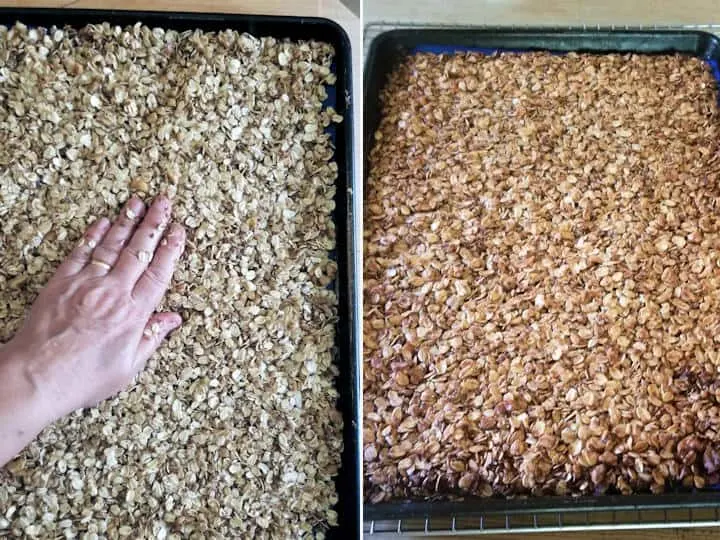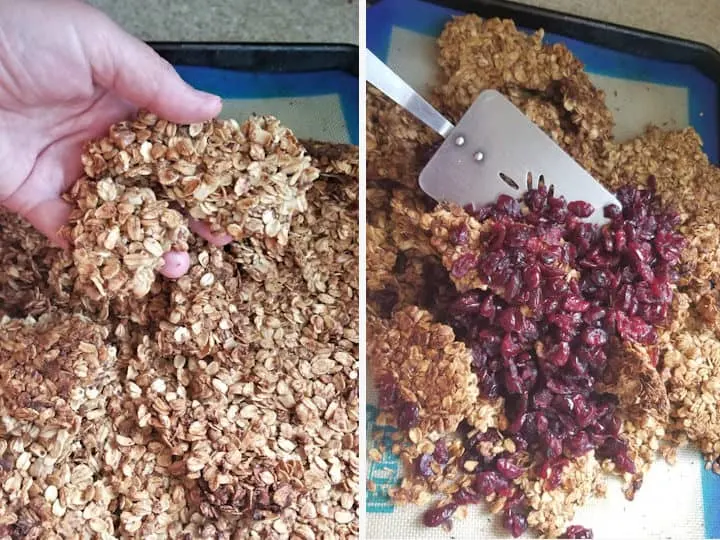 Tips for making Homemade Chunky Granola:
Use old fashioned rolled oats as the base for this recipe. Quick cooking oats will break down too easily and the granola won't have the right texture.
You can substitute any nut for the walnuts and any dried fruit for the cranberries.
You can use maple syrup in place of the honey.
Add the dried cranberries after the granola is baked. This prevents the cranberries from burning in the oven and becoming leathery.
The dried fruit will draw moisture from the granola to keep it crisp.
Store the granola in an air tight container at room temperature.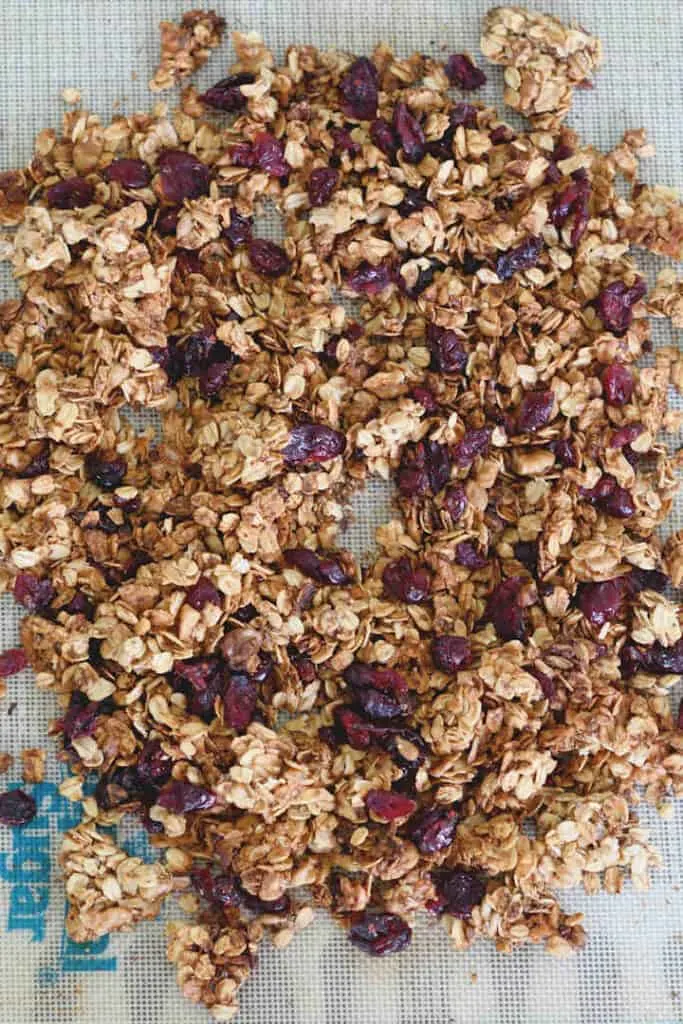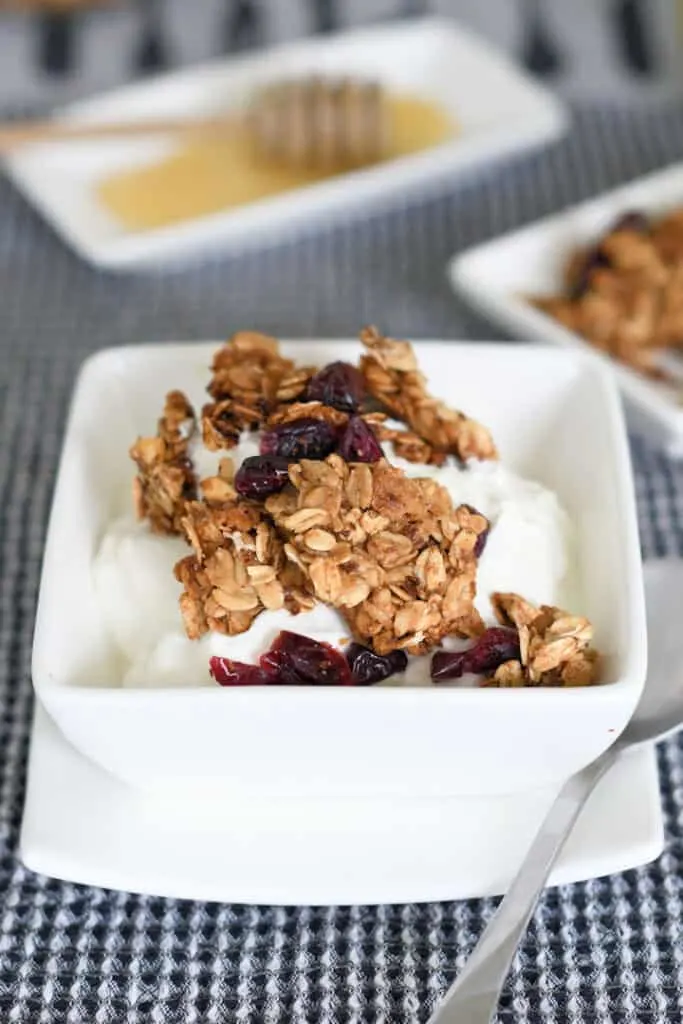 You should also try Sourdough Granola, Peanut Butter Granola or these chewy Sunflower & Apricot Granola Bars for a tasty and satisfying snack or breakfast on the go.
Here are a few more hearty, oaty treats that you'll love:Apple Baked Oatmeal, Oatmeal Cookies with Maple Glaze, Iced Apple Oatmeal Cookies, Oatmeal Cranberry Chocolate Chip Cookies.
If you love this recipe as much as I do, I'd really appreciate a 5-star review.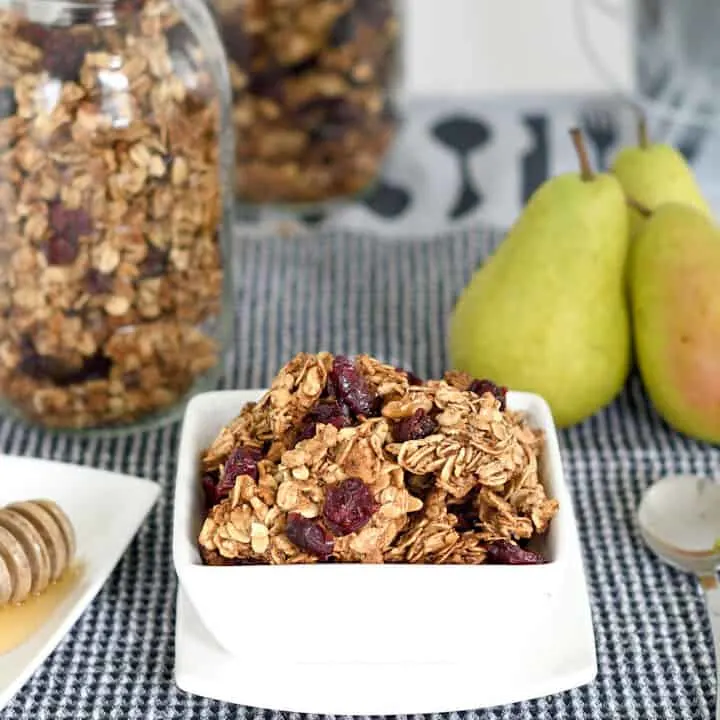 Chunky Cranberry Walnut Granola
Homemade Granola is a nutritious and delicious treat that you can enjoy for breakfast or as a snack. This recipe is abundant with healthy ingredients like walnuts, oats, protein-rich egg whites and has a hint of honey sweetness.
Ingredients
4 cups (13 oz, 364g) old-fashioned rolled oats
1 cup (4 oz, 112g) walnuts, coarsely chopped
1/2 cup (2 oz, 56g) flax seed meal or almond meal
1/4 cup (1 oz, 28g) sunflower seeds
1/4 cup (2 oz, 56g) brown sugar
1 teaspoon ground cinnamon
1 teaspoon ground ginger
1/2 teaspoon table salt
1/4 cup (3 oz, 85g) honey
1/3 cup (3 oz, 84g) vegetable oil
1 tablespoon vanilla extract
1 egg white
1 1/2 cups (9 oz, 252g) dried cranberries
Instructions
Preheat the oven to 300°F. Line a half sheet pan with parchment paper or a silicone baking mat.
In a large bowl, combine the oats, walnuts, flax meal, sunflower seeds, brown sugar, cinnamon, ginger and salt. In a small bowl or measuring cup, combine the honey, vegetable oil and vanilla. Drizzle the liquid ingredients over the oat mixture and toss to combine.
Whisk the egg whites until they are frothy then fold them into the granola. Toss the mixture to evenly distribute the wet ingredients and break up any clumps. Pour the granola into the prepared pan. Moisten your hands with water and use them to press the granola firmly into an even layer.
Bake until the granola is dry and nicely browned around the edges, about 30 minutes.
Set the pan on a wire rack and cool to room temperature. Break the granola into large clumps and toss in the dried cranberries. Keep in an airtight container for 1-2 weeks.
Notes
This is an endlessly adaptable recipe. Try swapping out the walnuts with pecans, almonds or peanuts. You can use any mix of dried fruit to replace the cranberries and any combination of spices that you prefer. You can use maple syrup in place of the honey.
Recommended Products
As an Amazon Associate and member of other affiliate programs, I earn from qualifying purchases.