Fresh Peach Cobbler in a cast iron skillet is an easy going recipe. Juicy peaches are baked under vanilla-cream biscuits. It's the perfect dessert for casual summer dining.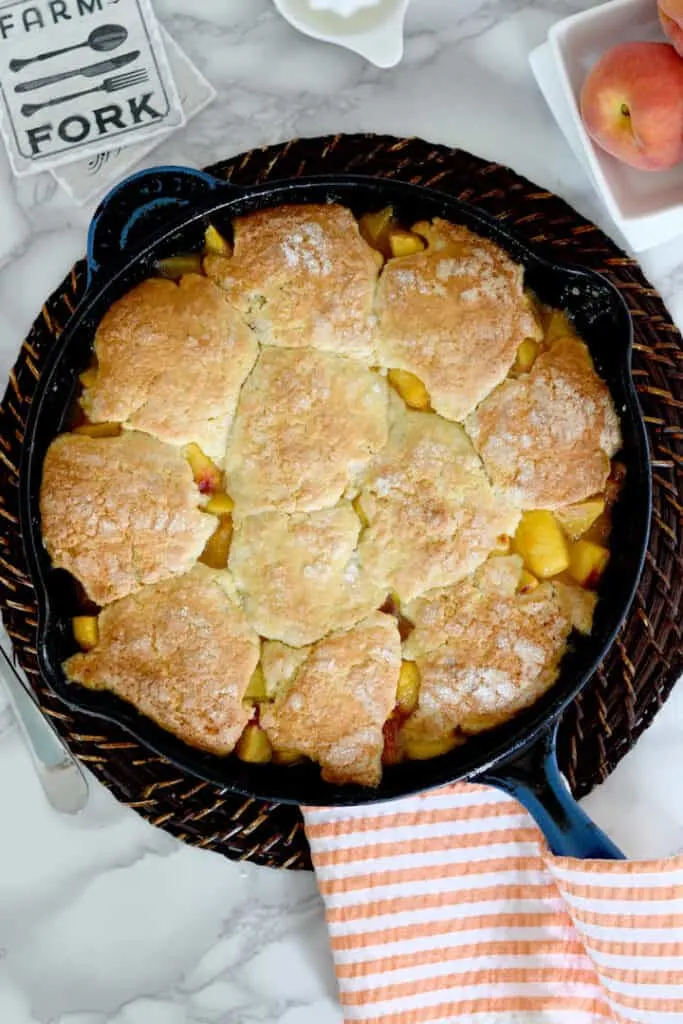 What I love about summer dining is how casual it is. You don't want to be stuck in a hot kitchen for hours while everyone else is outside relaxing and visiting, do you?
You'll love this super simple recipe that can be thrown together in minutes with ingredients that you probably already have on hand.
I love a great fruit cobbler almost as much as I love a great fruit pie, and this is a great fruit cobbler.
This recipe makes a big cobbler than can feed about 10-12 people. For a smaller group you can halve the recipe and bake it in an 8″ skillet or cake pan.
Tips for making the best Fresh Peach Cobbler:
I prefer to use ripe fresh peaches, but you can make this cobbler using good frozen fruit.
Bake and serve this cobbler in a cast iron skillet. If you don't have a large skillet you can use a 13″x 9″ baking pan.
Since cast iron is slow to heat up, I suggest you preheat the skillet in the oven. This will help cut down the baking time. If you use a 13″x 9″ pan you don't need to preheat the pan.
Macerating the peaches with the sugar will draw out the juices and the peaches will also take in some of the sugar. Macerating prevents the fruit from breaking down as the cobbler bakes so you'll have distinct chunks of peach in your cobbler rather than a mushy filling.
The filling for this cobbler is looser than a pie filling. The biscuits will absorb some of the juice as the cobbler bakes.
Sprinkle the biscuits with a little sugar before baking. This not only adds a little extra sweetness, but also creates a crunchy topping.
The juice may boil over a bit while the cobbler bakes. To make cleanup easier, place a sheet of aluminum foil on the shelf beneath the pan to catch the juices.
Scroll through the process photos to see how to make Peach Cobbler in a skillet: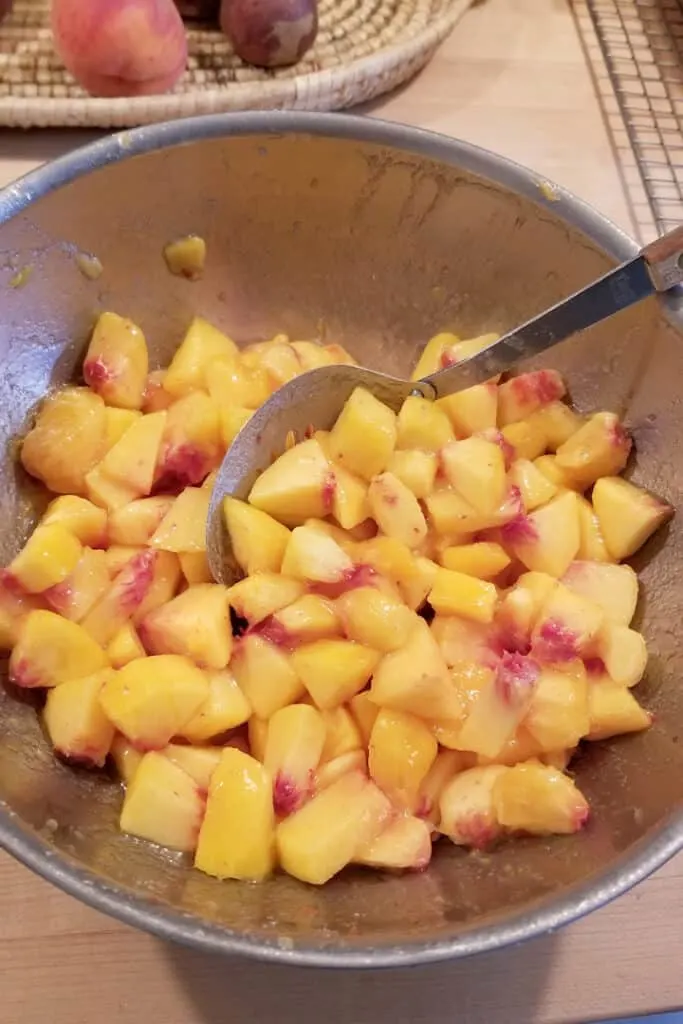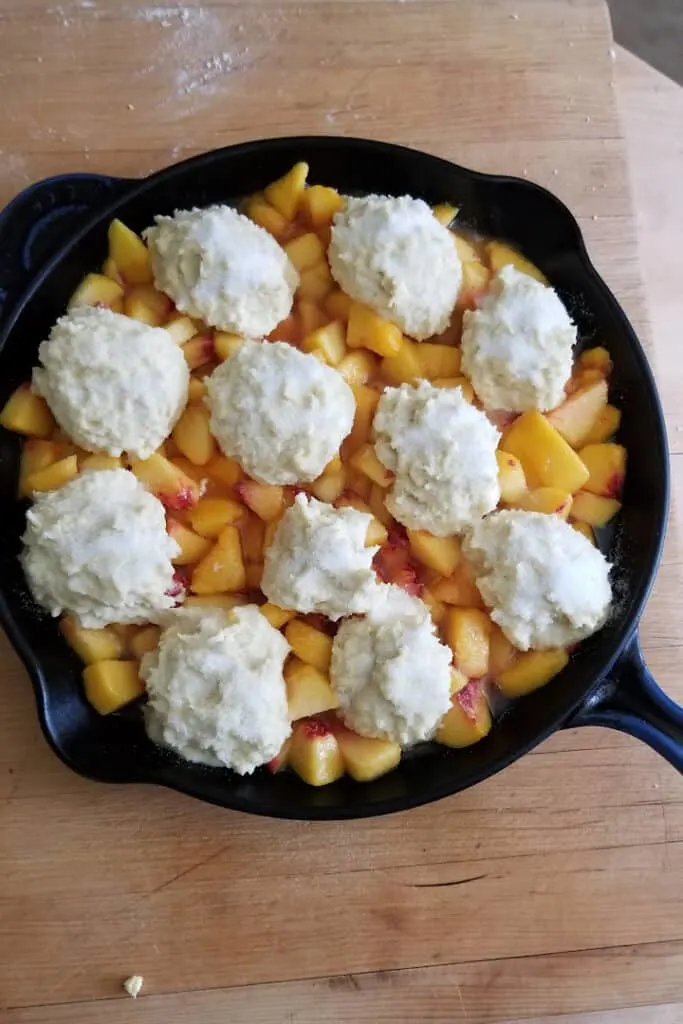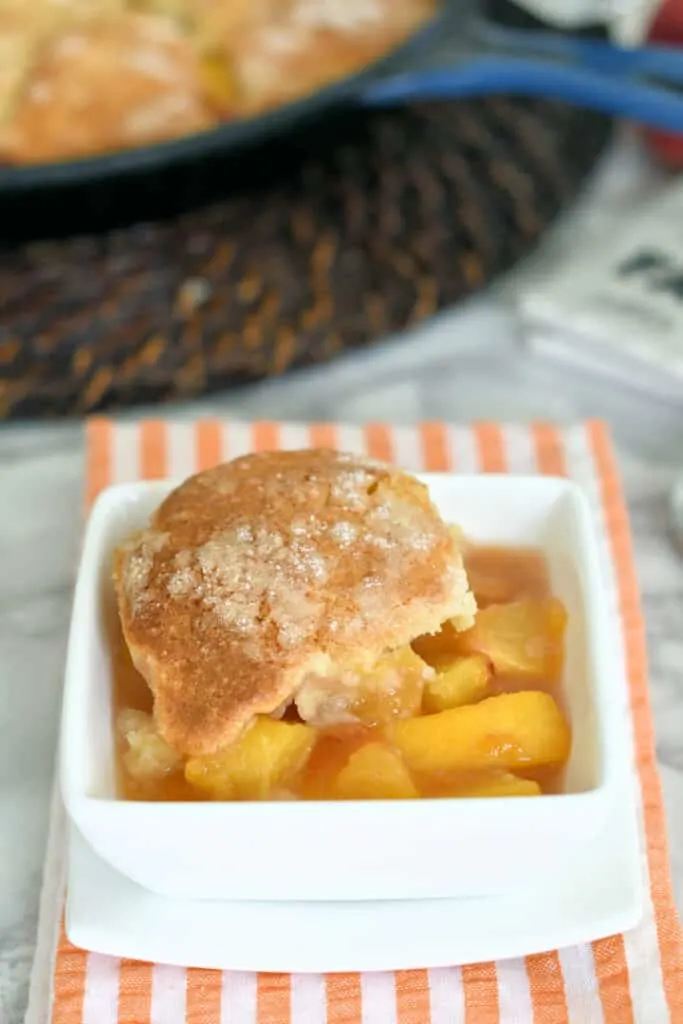 Here are more recipes featuring fresh peaches:
And, yes, this delicious cobbler is only better with a scoop of Vanilla Ice Cream! But you already knew that, didn't you….
If you love this recipe as much as I do, I'd really appreciate a 5-star review.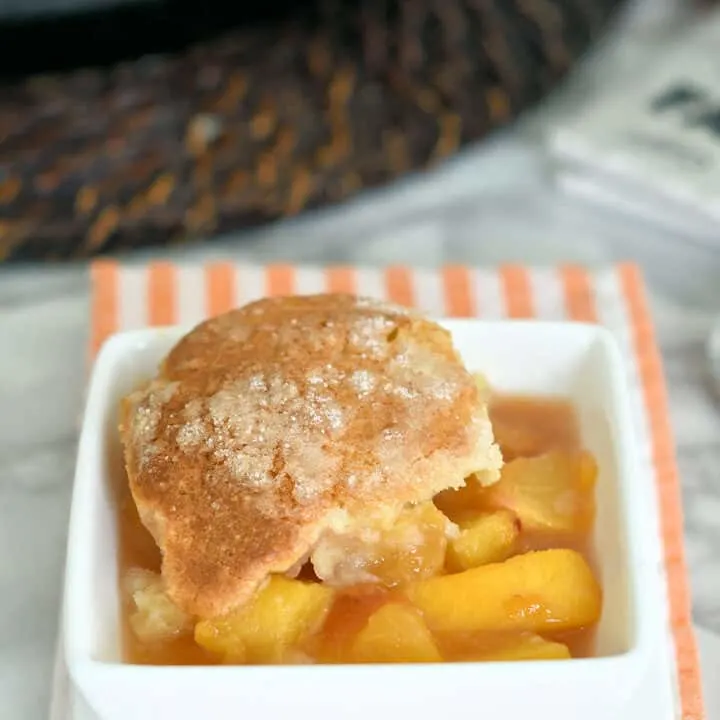 Peach Cobbler
Total Time:
1 hour
40 minutes
Fresh peaches baked under a cream biscuit topping with a hint of vanilla. Peach Cobbler baked in a cast iron skillet couldn't be easier to make. It's the perfect dessert for casual summer dining.
Ingredients
3 pounds (1.34 kg) fresh peaches-peeled, pitted and cut into 1" cubes
Juice of 1 lemon
1/4 teaspoon table salt
3/4 cup (6 oz, 168g) granulated sugar
Topping
1 cup (5 oz, 140g) all-purpose flour
3/4 cup (3.5 oz, 98g) cake flour
1/2 teaspoon table salt
2 teaspoons baking powder
1/4 cup (2 oz, 56g) granulated sugar
1 stick unsalted butter (4 oz, 112g), cold, cut into 1/4" slices
1 large egg
1 teaspoon vanilla extract
1 cup (8 oz, 240 ml) heavy cream
Instructions
Preheat the oven to 350°F. Place a 12" cast iron skillet into the oven to preheat (if using a 13" x 9" baking pan you don't need to preheat the pan).
In a large bowl, combine the peaches with the lemon juice, salt and sugar. Toss to combine. Set the bowl aside for 30 minutes. Meanwhile, prepare the topping.
Whisk together the all purpose flour, cake flour, salt, baking powder and sugar. Toss the butter slices into the flour. Use your fingers to work the butter into the flour until the pieces are no larger than a pea.
Whisk the egg and vanilla extract into the cream. Pour the cream into the flour mixture. Toss the mixture with a spoon or spatula until it forms a wet dough.
Pour the peaches into the preheated 12" cast iron skillet or a 13"x 9" baking pan.
Use an ice cream scoop or large spoon to drop dollops of dough over the peaches. Generously sprinkle the top of the biscuits with granulated sugar.
Slide the pan into the oven. Place a sheet of foil on the shelf beneath the cobbler in the oven to catch any peach juice boil over.
Bake until the topping is golden brown and baked in the middle and the juices are bubbling, about 30-35 minutes.
Serve warm or room temperature.
Notes
For a smaller group, the recipe can be halved and baked in an 8" skillet or cake pan.
Recommended Products
As an Amazon Associate and member of other affiliate programs, I earn from qualifying purchases.