Baked Alaska Cake Roll is made with a light & airy chocolate cake filled with homemade strawberry ice cream and topped with toasted meringue. This is a show stopping dessert that can be served any time of year.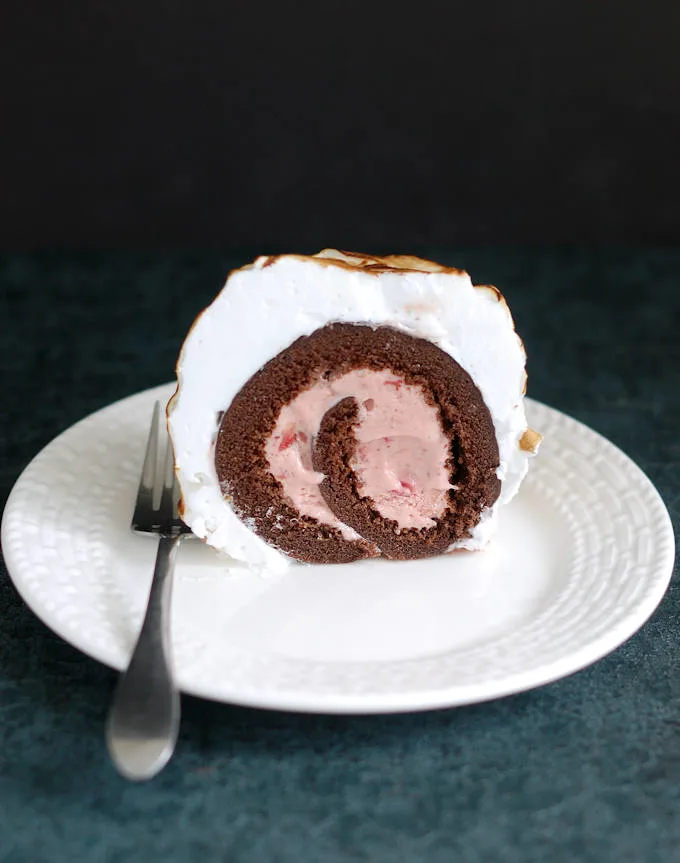 Let's talk about the process for putting together this spectacular dessert. But first, if you want to read about the basics of making homemade ice cream I suggest you check out my Vanilla Bean Ice Cream post.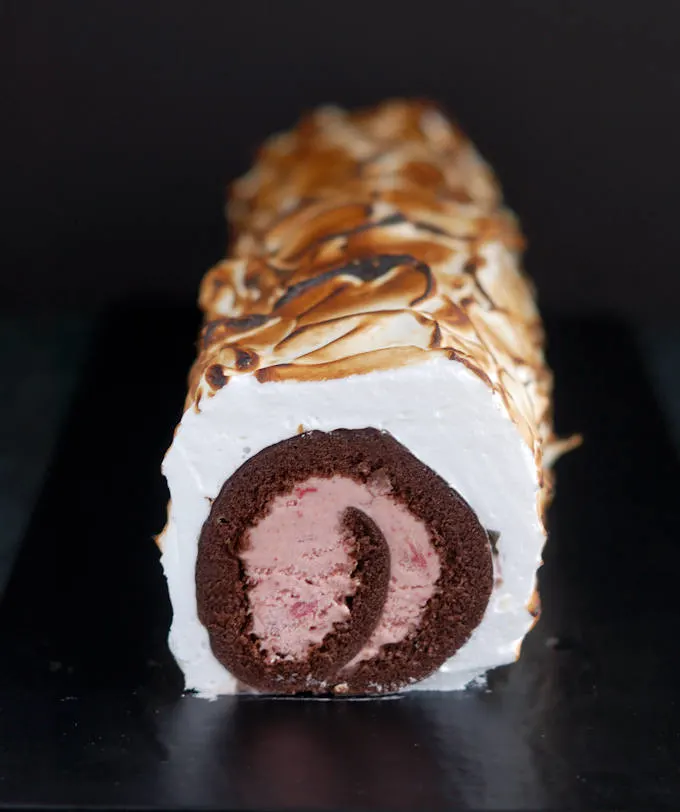 I knew I wanted to fill the cake roll for this Baked Alaska with homemade strawberry ice cream. Not only are strawberry and chocolate a great flavor combination, the colors are pretty too.
Of course this cake would also be wonderful filled with homemade Chocolate Chip Mint Ice Cream, Double Chocolate Malted Ice Cream, White Chocolate Ice Cream, Brown Sugar Ice Cream, Cheesecake Ice Cream or your favorite store bought ice cream.
How to make a Baked Alaska Roll:
The chocolate cake should be completely cooled before you assemble the roll.
If you're using homemade ice cream make the base the day before then churn the ice cream while the cake is cooling.
Scoop the ice cream straight from the machine onto the cooled cake, roll it and put it directly in the freezer.
If you're using store bought ice cream or ice cream that is already frozen leave it at room temperature to soften before assembling the cake roll.
If you have a stand mixer you can use the paddle attachment on low speed to soften the ice cream.
The cake will probably ooze a bit as it's rolled and while it's starting to freeze.
After an hour in the freezer take the cake roll out and use your hands to quickly fix up the shape before wrapping it tightly in plastic wrap to freeze overnight.
Don't worry if the roll doesn't look perfect coming out of the freezer, all that meringue will hide any imperfections.
The Baked Alaska is best served it as soon as the meringue is toasted, but the leftovers can be refrozen for you to enjoy later.
I froze the leftovers after the initial taste testing. The meringue was a little worse for the wear after being re-frozen, but it still tasted good enough to eat.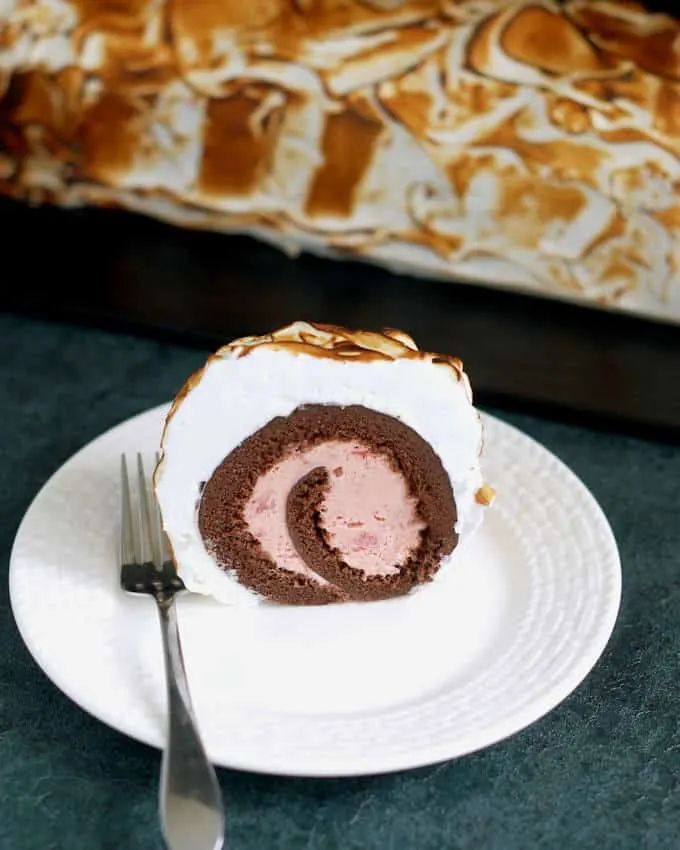 Watch the video to see how to make a Chocolate & Strawberry Bake Alaska Cake Roll.

If you love this recipe as much as I do, I'd really appreciate a 5-star review.
You might also like: