Vanilla Pastry Cream! Use it to fill cream puffs or eclairs. But that's just the beginning. One vanilla custard recipe, so many possibilities.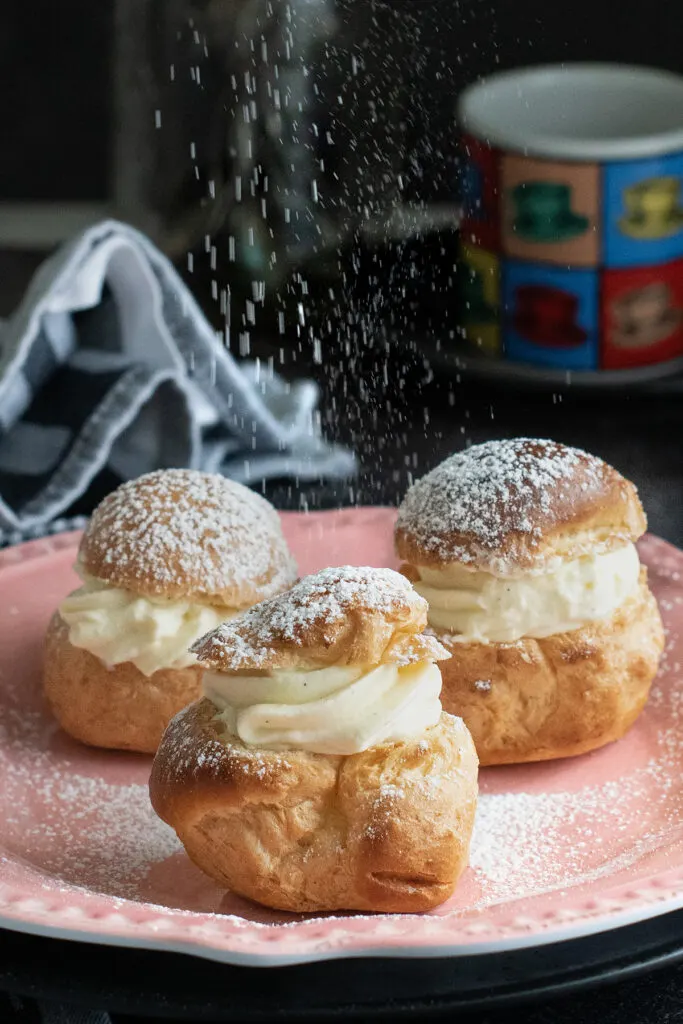 What is Pastry Cream?
Pastry Cream is a custard. A custard is simply a liquid (often a dairy product) that is thickened with eggs. Creme Anglaise is a custard sauce, and Lemon curd is a custard made with fruit juice.
The difference between Vanilla Pastry Cream and Vanilla Creme Anglaise is that Pastry Cream has starch added to thicken the custard to hold it's shape once it's cooled.
Whereas Creme Anglaise flows and is used as a sauce, pastry cream is thick enough to fill a cake, tart or pastry and hold it's shape when sliced.
Recipe Ingredients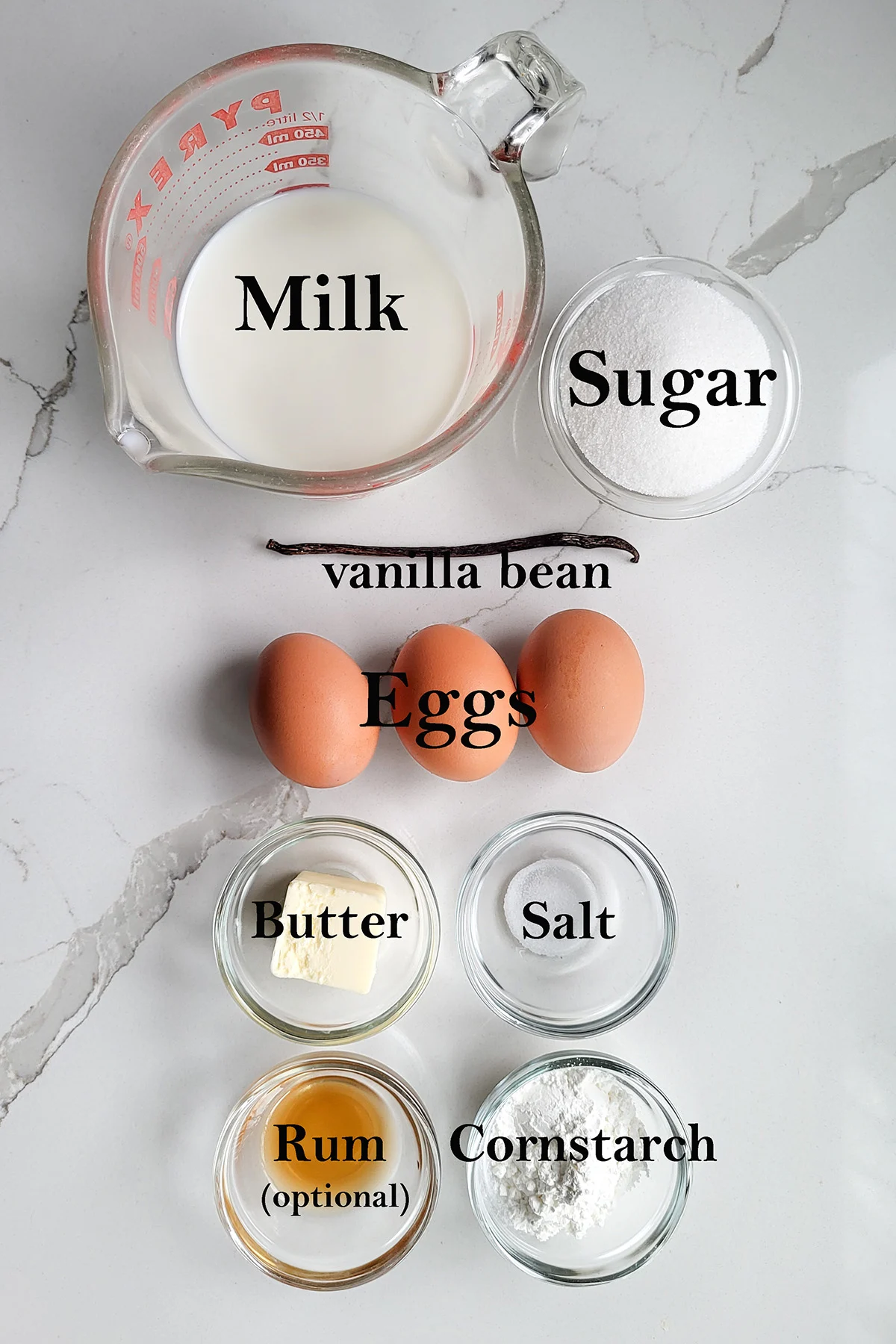 Milk – Whole milk is the base for the custard
Granulated sugar – For sweetness
Salt – To balance out the flavors
Vanilla bean – For full vanilla flavor. Vanilla Extract can be substituted.
Eggs – Eggs thicken the pastry cream. Extra yolks add extra richness.
Corn starch – Binds the custard so it sets up thick enough to pipe or slice.
Butter – For rich flavor and helps set the pastry cream as it cools.
Rum – for flavor (optional)
How to make Vanilla Pastry Cream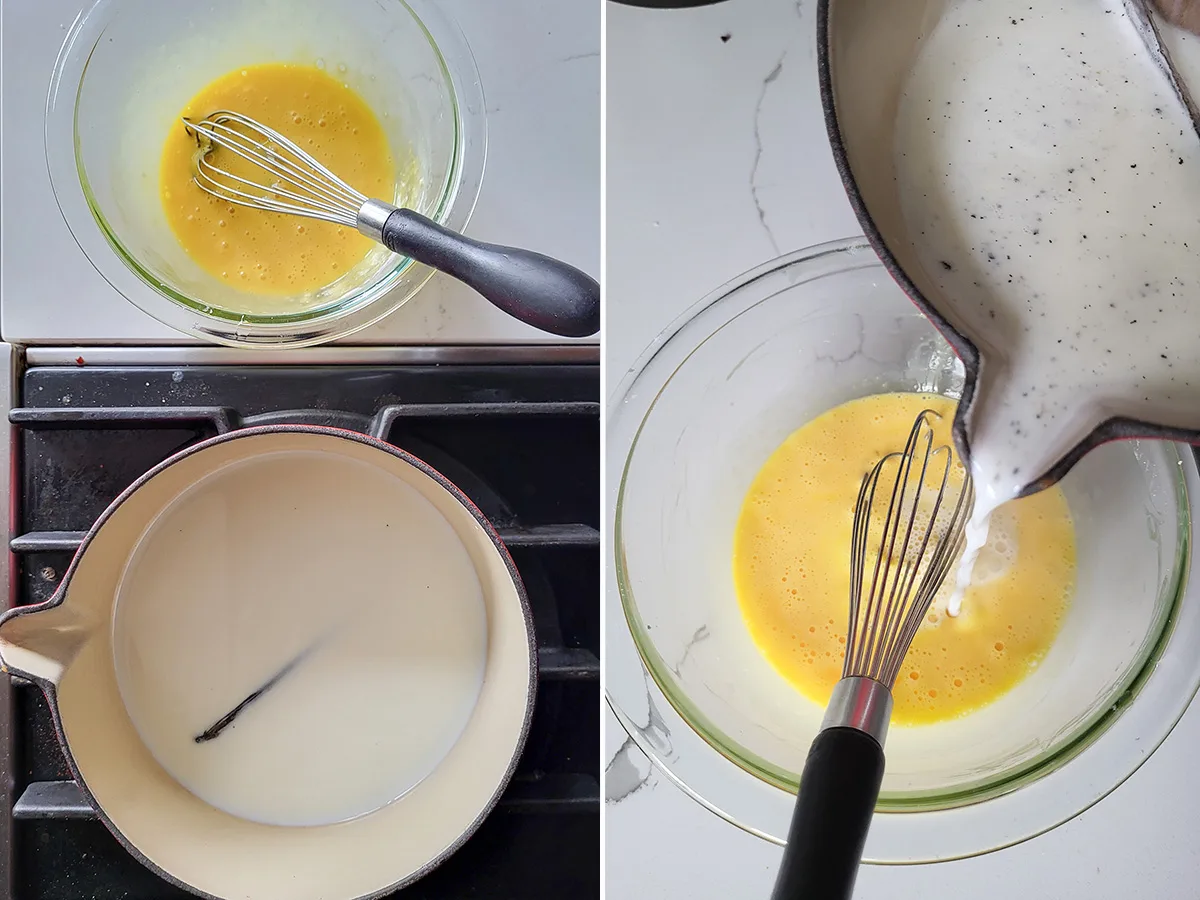 Combine the milk with the sugar and vanilla bean in a small saucepan.
Whisk the egg and yolks with the cornstarch.
Scald the milk then add it to the egg mixture.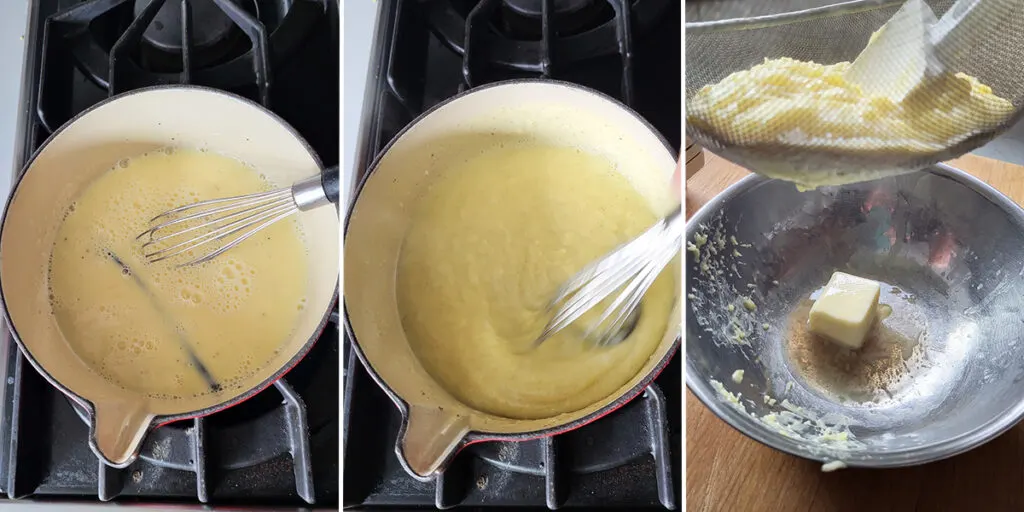 Return the mixture to the pan and heat until it just begins to bubble.
Stir and whisk constantly to prevent lumps from forming.
Strain the custard into a bowl with the rum and butter.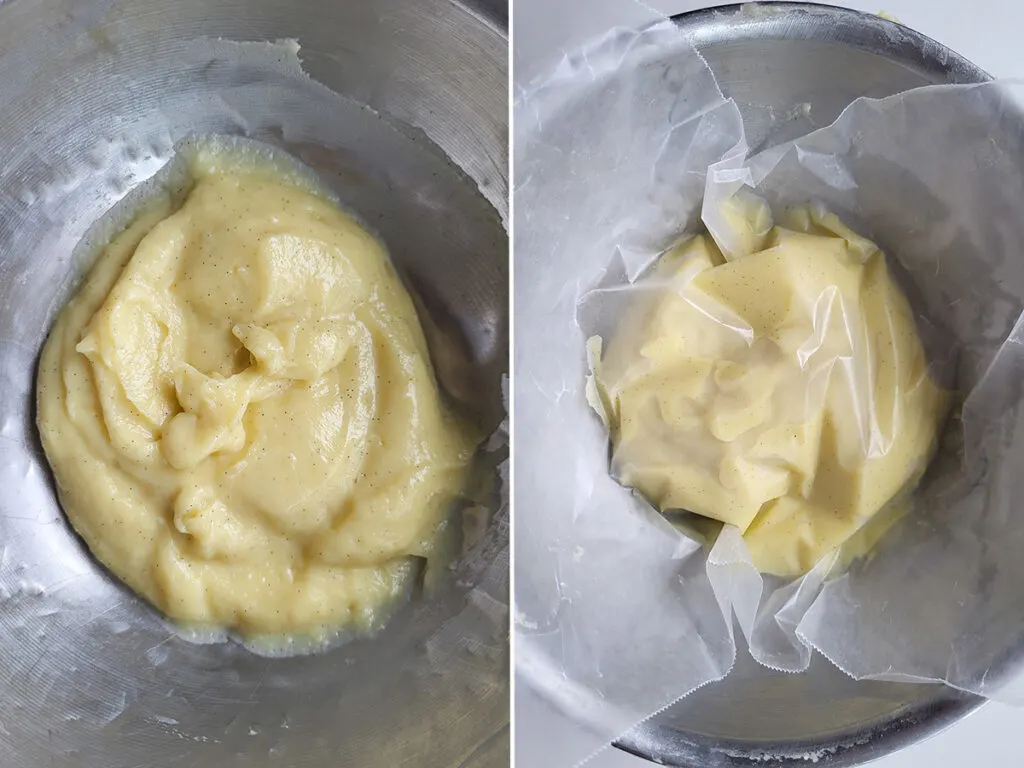 Place wax paper or plastic wrap directly on the surface of the pastry cream to prevent a skin form forming as it cools.
Chill until your ready to use it in your favorite recipe.
Tips for making Vanilla Pastry Cream
For a richer pastry cream you can use half and half or replace half the milk with heavy cream.
Do not let the milk come to a full boil. When the milk is steaming and you see lots of little bubbles around the edges and foam across the surface, the milk is scalded and ready to mix with the eggs.
Whisk the eggs and yolks with the corn starch until smooth. This will prevent lumps from forming when the starch is added to the hot milk.
If you don't want alcohol you can leave the rum out.
Place waxed paper or buttered parchment directly on the surface to prevent a skin from forming as the custard chills.
Avoid stirring or whisking the pastry cream after it's chilled. If you vigorously stir chilled custard you'll break the starch bonds and the custard will become soupy.
Chilled pastry cream will keep for 2-3 days in the refrigerator.
What to do with pastry cream?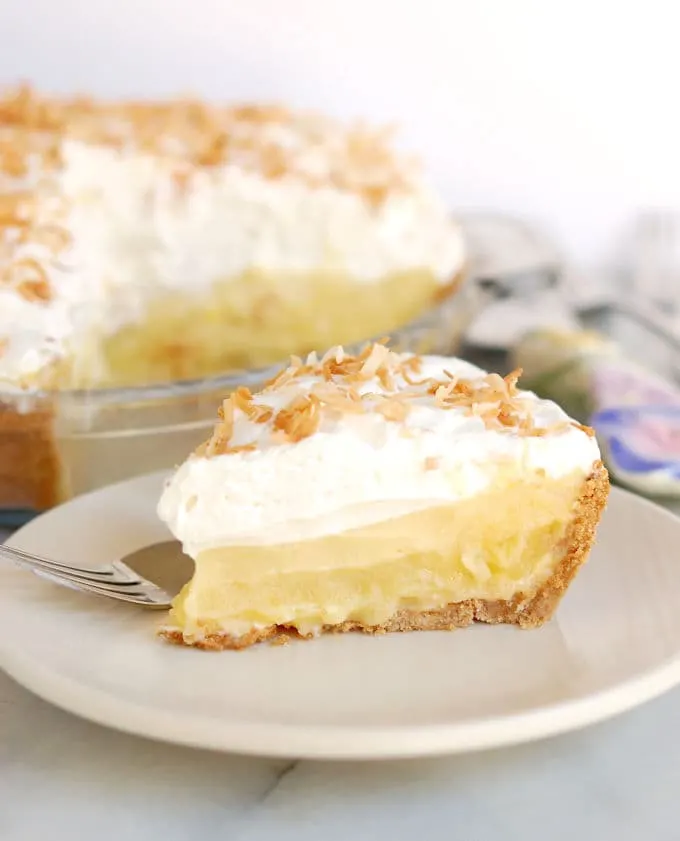 Now that you've made this recipe what should you do with all the extra egg whites? Check out this collection of recipes that use extra whites for some great ideas.
If you love this recipe as much as I do, please consider leaving a 5-star review.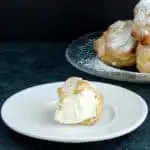 Print Recipe
Pastry Cream Recipe
Vanilla Pastry Cream is an essential baking recipe. Use it to fill cream puffs or eclairs. Add chocolate or bananas for a cream pie filling. Put it under fresh fruit in a tart shell, or between layers of puff pastry for napoleons. One essential recipe, so many possibilities.
Ingredients
8

ounces

whole milk

(1 cup)

3

ounces

granulated sugar

(⅓ cup)

⅛

teaspoon

table salt

½

vanilla bean

(split)

1

egg

2

egg yolks

¾

ounce

corn starch

(2 tablespoons)

1

ounce

unsalted butter

(2 tablespoons)

2

teaspoons

dark rum

(optional)
Instructions
Place the milk, sugar and salt in a small sauce pan. Scrape the seeds from the vanilla bean and add the seeds and pod to the milk. Heat over medium high until scalding.

8 ounces whole milk,

3 ounces granulated sugar,

⅛ teaspoon table salt,

½ vanilla bean

Meanwhile, in a large bowl use a hand whisk to combine the eggs, yolks and cornstarch until smooth.

1 egg,

2 egg yolks,

¾ ounce corn starch

Whisk the scalding milk into the egg mixture, then return the custard to the pan. Cook over low heat, stirring constantly, until the mixture thickens and just begins to boil.

Immediately strain the pastry cream back into a the bowl. Add the butter and rum. Stir until the butter is melted.

1 ounce unsalted butter,

2 teaspoons dark rum

Cover with waxed paper or buttered parchment directly on the surface and cool to room temperature, chill several hours or overnight until completely cooled and set.
As an Amazon Associate and member of other affiliate programs, I earn from qualifying purchases.
Nutrition
Serving:
1
serving
|
Calories:
40
kcal
|
Carbohydrates:
5
g
|
Protein:
1
g
|
Fat:
2
g
|
Saturated Fat:
1
g
|
Polyunsaturated Fat:
0.1
g
|
Monounsaturated Fat:
1
g
|
Trans Fat:
0.04
g
|
Cholesterol:
27
mg
|
Sodium:
19
mg
|
Potassium:
19
mg
|
Fiber:
0.01
g
|
Sugar:
4
g
|
Vitamin A:
76
IU
|
Calcium:
15
mg
|
Iron:
0.1
mg