Pate a Choux is an essential pastry recipe that is the base for many desserts; cream puffs, eclairs, gougères, churros just to name a few.  Use this batter to make light as a feather cream puffs filled with Vanilla Rum Pastry Cream.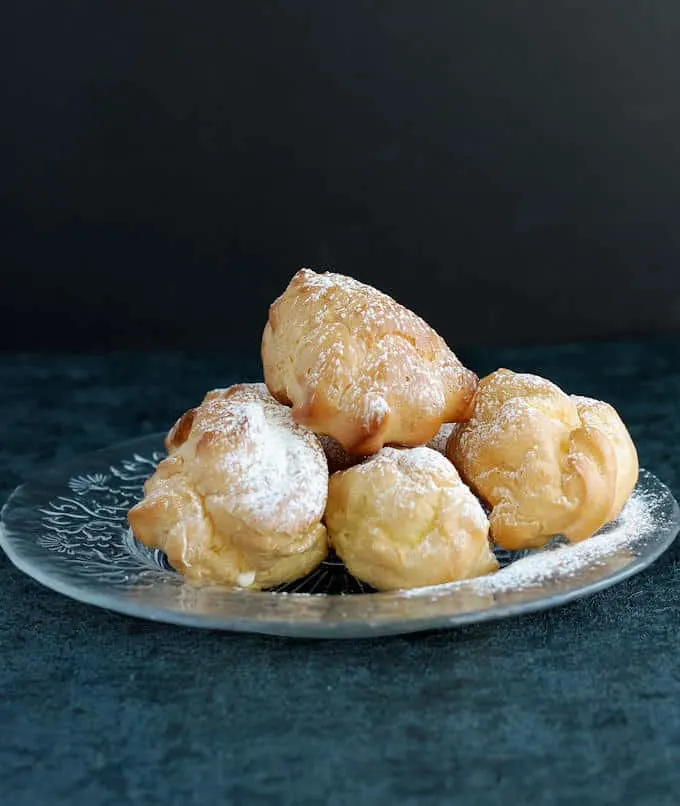 In a professional pastry kitchen we don't reinvent the wheel for every single dish. We have a repertoire of what I'm calling, "essential recipes". These are recipes that we use over and over again in various forms to create new variations on standard recipes.
There is no need to have a different vanilla cake recipe for every layer cake that you make. Once you have a recipe that you can rely on, just use a different filling or icing with the same cake and you have a whole new dessert.
Italian Meringue Buttercream can be flavored with chocolate, fruit, liquor, coffee, etc. One recipe, endless possibilities. That's what an essential recipe is. One essential recipe is the basis for an unlimited number of desserts and pastries.
Pate a Choux is an essential recipe because it forms the base of many other dishes. It's not a one trick pony. Master this rather simple dough and you can make these cream puffs, but also chocolate eclairs, gougères, churros and some really fancy French pastries like a croquembouche, St. Honoré cake and Paris-Brest.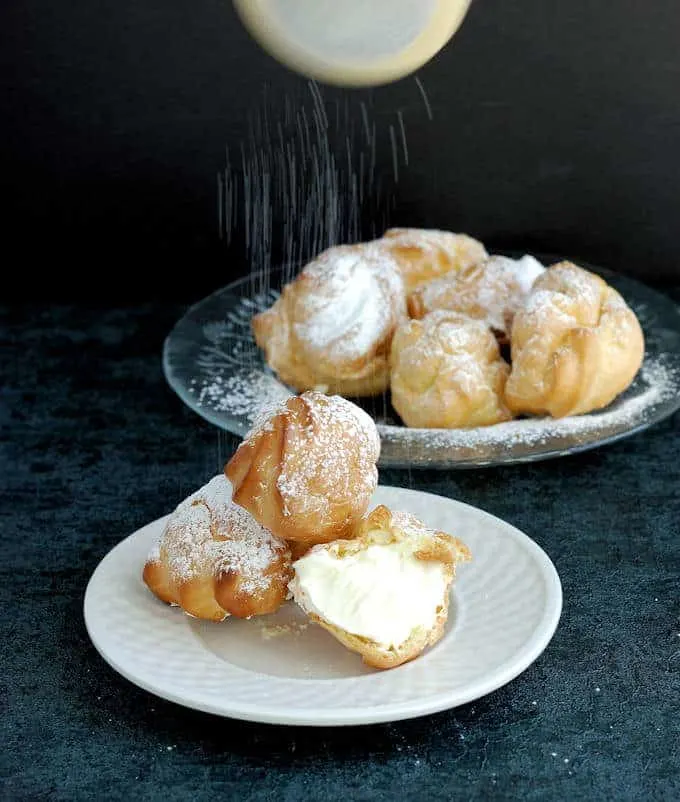 Let's geek out with a little baking science:
All baked goods rise because air in the batter or dough expands when heated. The air bubbles are trapped in a network of protein and/or starch and form the "crumb". The air bubbles can be formed by different means for different recipes.
Physical manipulation of the ingredients creates air bubbles, as is the case when you use the "creaming" method for a traditional pound cake.  Chemical Leaveners and yeast will  react with water and other ingredients in the recipe and release carbon dioxide gas, which forms air bubbles in the batter or dough.
Pate a Choux is interesting because it is a big release of steam that creates the air in the batter. The high proportion of liquid and protein in this batter work together to create the special "crumb", which is essentially a giant air pocket trapped in a crisp shell.
In the oven, as the outside of the cream puff begins to set, the batter inside still has lots of moisture. As the moisture heats up and forms steam, this pushes the batter out and forms the large air cavities that are just begging for a delicious filling.
Pate a Choux batter also has a high proportion of protein from the flour and eggs, which forms a strong shell around the air. The stronger the shell, the higher it can expand.
For cream puffs I want maximum crispness and maximum capacity for the creamy filling. For this reason I use high protein bread flour and extra egg whites in my Cream Puff batter.
To make a slightly softer and more tender Pate a Choux you can use milk instead of water, 4 whole eggs instead of extra whites, and/or all purpose flour instead of bread flour. When I make gougeres, those delicious little cheesy pastries, I like to make a slightly richer batter and will make those changes to alter the texture of the final product.
Once again, knowing the science behind the ingredients helps you create the art of a perfect baked good.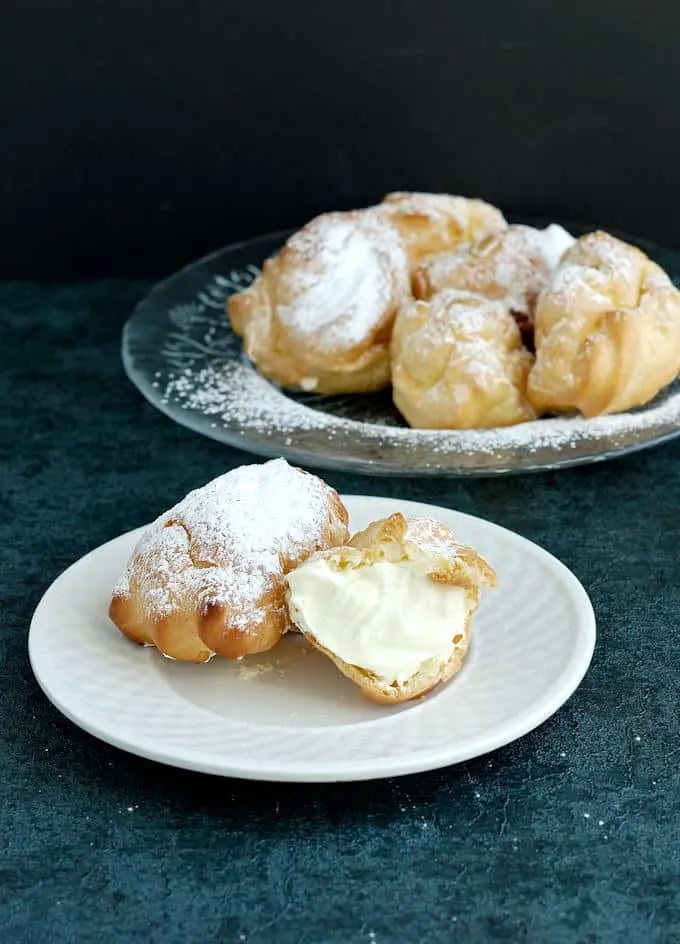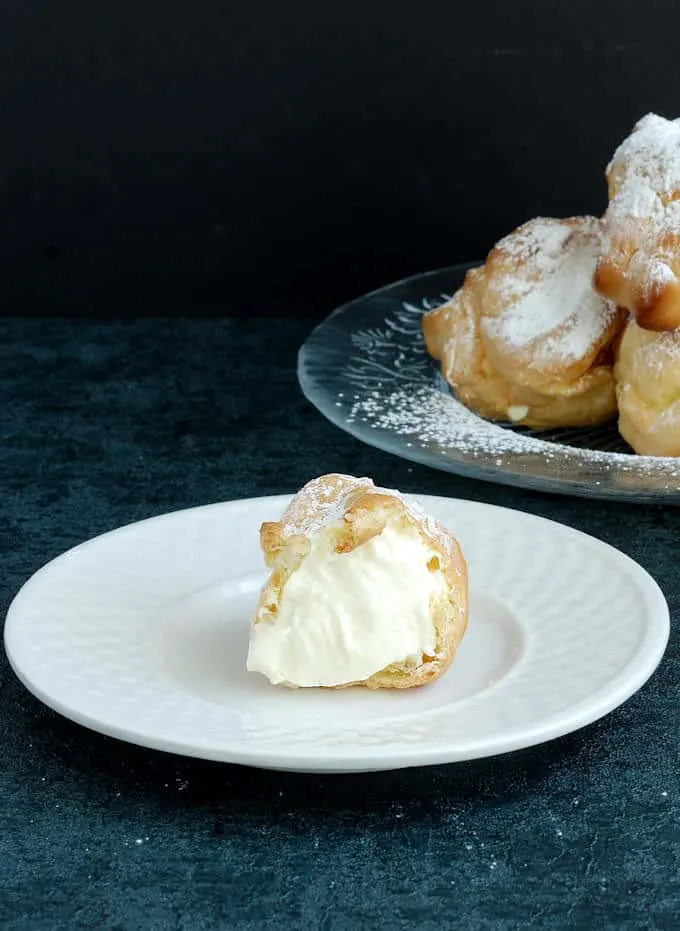 Watch the recipe video to see how to make Pate a Choux & Cream Puffs.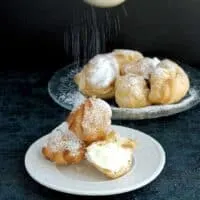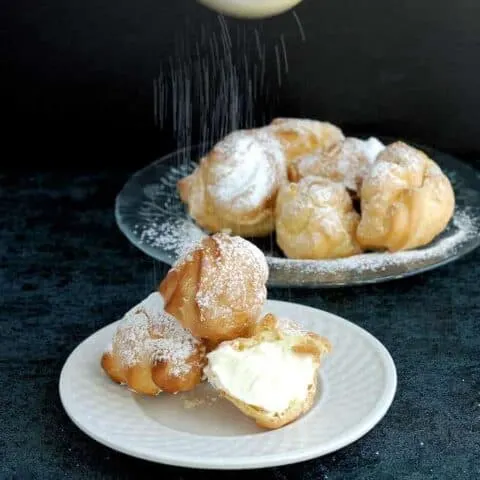 Pate a Choux – An Essential Recipe
Total Time:
1 hour
20 minutes
Pate a Choux is an essential pastry recipe that is the base for many desserts; cream puffs, eclairs, gougères, churros just to name a few. This recipe includes a Vanilla Pastry Cream filling for cream puffs.
Ingredients
1 cup (8 oz, 236ml) water
1/4 cup (2 oz, 56g) unsalted butter
1/4 tsp table salt
1 tsp granulated sugar
1 cup (5.5 oz, 150g) bread flour (see note 1)
3 large eggs plus 2 whites, room temperature, whisked (see note 2)
Cream Puff Filling
1 recipe Vanilla Pastry Cream, chilled
1 cup (8 oz, 236 ml) heavy cream
1/4 cup (1 oz, 28g) powdered sugar
Instructions
Combine the water, butter, salt and sugar in a saucepan. Bring the water to a full boil.
Remove the pan from the heat and add the flour all a once. Vigorously stir the batter until the flour is absorbed and there are no lumps.
Return the pan to medium low heat and continue stirring for 3 minutes. The batter will come together and form a smooth, cohesive ball.
Remove the pan from the heat and transfer the batter to a food processor fitted with a blade (if mixing by hand transfer to a mixing bowl). With the processor running, add eggs in a steady stream. Mix until the batter comes together.
(If mixing by hand add the eggs in three batches. After each addition, stir vigorously until the batter comes together.)
To Make Cream Puffs
Preheat the oven to 375°F convection or 400°F regular. Line a 1/2 sheet pan with parchment paper or a silpat. Put a dab of batter into the four corners of the pan to stick the parchment to the pan.
Scoop the batter onto the sheet pan, spaced about 2" apart. Use a wet fingertip to tamp down any points on top of the batter rounds. Bake until well puffed and golden brown, about 20 minutes
Remove the puffs from the oven and turn off the heat. Use a small paring knife to form a small hole in the bottom of each puff. Return the tray to the still warm (but turned off) oven and allow the puffs to dry for at least 30 minutes.
Cool to room temperature before filling (see note 3).
Filling
Whip the cream with the powdered sugar. Fold the cream into the pastry cream in two batches. Don't overstir! Scoop the cream into a pastry bag fitted with a small, plain tip Pipe the filling into the cream puffs, making sure each puff is completely filled.
Refrigerate until serving. Sprinkle with powdered sugar just before serving.
Notes
1. If measuring by volume use the "dip & sweep" method.
2. Save the extra yolks to make pastry cream filling.
3. The baked puffs or eclairs freeze very well. Pack them into freezer bags (don't overcrowd or crush) and freeze for up to a month. To use, line the frozen puffs on a sheet pan and heat in a 350°F oven for 5 minutes. Cool and fill.