This is the quintessential vanilla layer cake, only better than ever. There are a few special touches that make this cake the best vanilla cake you'll ever taste.
The last post in our "Cake 101" series is not centered on a recipe, but rather illustrates how to assemble a professional looking layer cake.
I'll start by saying that I understand that not everyone who bakes at home needs to, or even wants to, put together a cake that looks like it was bought in a high end bakery. Chances are, if you're reading a baking blog you might find this information useful, or at least interesting.
Each of my "Cake 101" recipes, the cake, the syrup, the buttercream, are building blocks for an endless array of desserts. The vanilla butter cake bakes up very nicely as cupcakes. Top the cupcakes with vanilla buttercream and you get the same flavors as the layer cake in a simpler package.
I used a variation of the vanilla cake to make chocolate chip baby bundt cakes and my popular Chocolate Chip Cookie Cake. You can be sure that versions of these recipes will show up again and again in future posts.
Back to our layer cake; to start, I like to trim off the browned edges and domed tops of the cakes. I love the brown crust on a cake that's eaten without icing, like a pound cake. But I find the crust can get gummy within an iced cake. By cutting off the domed top of the cake you'll end up with a beautifully level and symmetrical cake that is as lovely to see as it is to eat. If you feel guilty about tossing the cake scraps that you cut off I'll bet you can find someone willing to snack on them while you assemble the cake.
I then split each cake in two for a total of four layers. I split the layers because I find it creates a more balanced bite of cake. I prefer thinner layers of cake and filling rather than two thick layers of cake and a thick layer of filling. These steps should be done with a cake that's been chilled in the refrigerator long enough so that it can be handled without breaking. Usually 1-2 hours will do.
I use a cake turntable to ice the cake. They're not super expensive and are well worth the money if you bake on a regular basis. I also use the turntable when trimming and splitting the cake layers. I use it when I'm crimping a pie crust and when I spread a filling into a tart shell. Once you have a cake turntable you'll find a million ways to use it.
I'm not going to describe how to ice a cake since it's like trying to explain to someone how to ride a bike. I made a video to show how it's done. The only tools you'll need are a medium offset spatula, a bench scraper and a cake turntable.
No turntable? No problem. You can use the same technique with the cake on a plain plate. Just turn the plate like I spin the turntable in the video. It's not quite as easy without a turntable, but it does work.
Watch the video to see how to build a perfect layer cake:
Last step-sit down and enjoy a slice of your beautiful creation!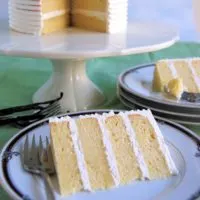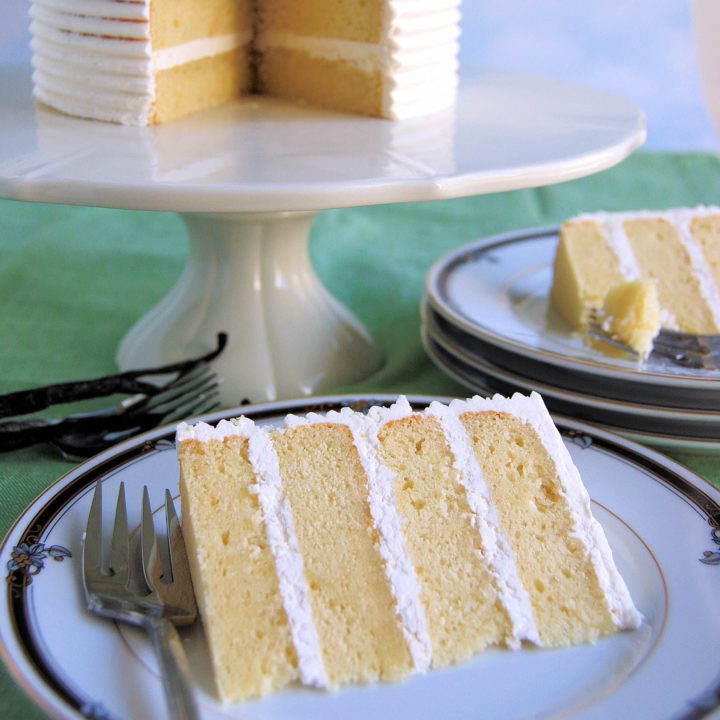 Vanilla Layer Cake
Yield: 12-18

Prep Time: 1 hour

Total Time: 1 hour
Instructions
Trim the sides, bottom and top of each cake
Split the cakes in 1/2 horizontally so you have 4 layers
Flip the cakes so that the flat side of one cake is facing the bottom and the flat side of the other cake is on top
Divide the buttercream in 1/2, reserve one 1/2 for icing the cake, use the remaining for filling
Place the bottom layer on your serving platter
Brush the layer generously with rum syrup
Place 1/3 of the filling buttercream on the layer and spread it evenly to the edges
Repeat with the next three layers.
Ice the sides and top of the cake with the reserved buttercream
Serve at room temperature.
Notes
The assembled cake can be kept at room temperature for 2-3 days. Cover any cut sides with plastic wrap.
I don't recommend refrigerating the cake since it will go stale faster. Whatever portion will not be eaten in 2-3 days should be frozen.
To keep longer, the entire cake or slices can be double wrapped in plastic and frozen for several weeks. Return to room temperature before serving.