Ok, I'm definitely betraying my age and misspent youth by admitting this, but I can't hear the words "Banana Cream Pie" without thinking of Gilligan's Island. I can't (and don't want to) count the hours I spent watching reruns of that show. To this day I can sing the entire theme song, word-for-word.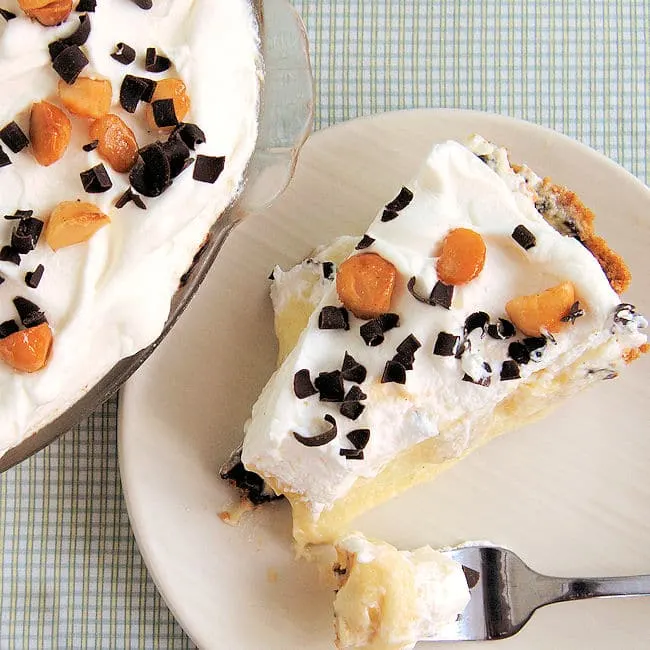 I have to admit that I'm a little jealous of what a great baker Maryanne must have been to be able to whip up banana and coconut cream pies without sugar, flour, cream or eggs– or even a pie plate or oven for that matter.
This recipe may look a little complicated with lots of ingredients and steps, but if Maryanne could put together a Banana Cream Pie on a desert island, we can surely do the same in our comfy kitchens.
As I've mentioned before, and will certainly mention again, pies and tarts are my favorite dessert. I'm generally partial to fruit pies. I like to use whatever fruit is in season and keep the flavors pretty simple to highlight the fruit itself. But every once in a while it's fun to be a little decadent. With rich custard filling and mounds of sweet cream on top, cream pies are definitely decadent.
My problem with cream pies is that they tend to be soft and sweet without contrasting flavors and textures. I use salted and roasted macadamia nuts in the crust and as a topping to bring a nice savory and crunchy element to the pie. Coating the crust with melted dark chocolate will help keep it from getting soggy and, well, it's just delicious.
This pie is great the day it's made, but it's even better the next day. The flavors meld and the bananas soften into the filling.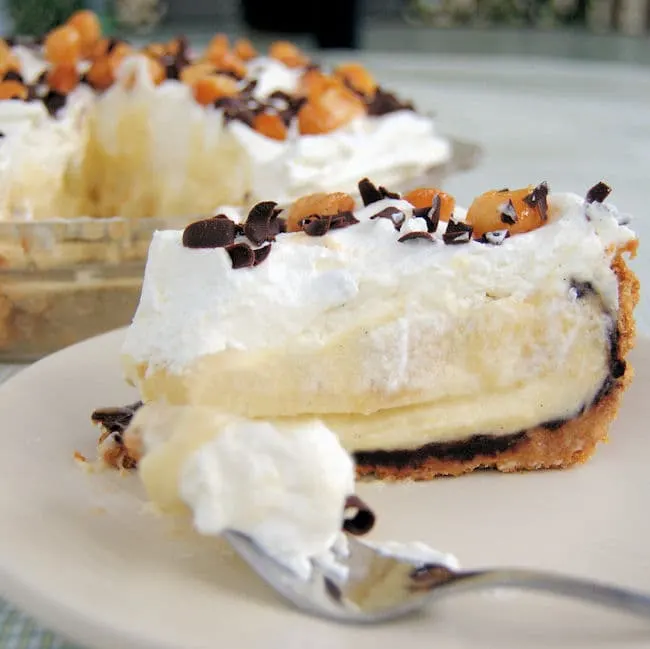 Banana Cream Pie with Candied Macadamias
This recipe is really quite easy when you put it together. This pie is great the day it's made, but it's even better the next day. The flavors meld and the bananas soften into the filling. It's the perfect make-ahead dessert.
Ingredients
Candied Macadamia Nuts
1 cup salted & roasted macadamia nuts
1/3 cup granulated sugar
1/3 cup water
1" piece of vanilla bean
Graham Cracker Macadamia Nut Crust
6 tablespoons (3 oz) butter, melted
1 1/4 cup graham cracker crumbs (about 10 crackers)
1/4 cup macadamia nuts, ground in a food processor to a chunky powder
1/4 cup (2 oz) granulated sugar
4 oz bittersweet chocolate, chopped fine
Banana Pastry Cream
1.5 cups (12 oz) whole milk
1/2 cup plus 2 tablespoons (5 oz) granulated sugar
1/2 vanilla bean
pinch of salt
2 large eggs
2 large yolks
3 Tablespoons corn starch
3 Tablespoons unsalted butter
2 tablespoons rum
3 large or 4 medium ripe bananas
Assembly
2 cups heavy cream
3 tablespoons confectioner's sugar
2 teaspoons dark rum
chocolate curls or chocolate chips
Instructions
Candied Macadamia Nuts
Combine the sugar, water and vanilla bean in a small saucepan. Bring the sugar syrup to a boil
Add the nuts all at once and return to a boil. Boil for 1-2 minutes. Using a slotted spoon, scoop the nuts onto a parchment lined baking sheet.
Bake at 350°f until golden brown. Cool completely. Leave the oven on.
Graham Cracker Macadamia Nut Crust
Combine crumbs, nuts and sugar in a mixing bowl. Sprinkle melted butter over the crumbs and toss to combine.
Press the crumbs into the bottom and sides of a pie plate. Bake until golden brown.
While the crust is still warm sprinkle the chopped chocolate into the bottom of the pie shell. Allow the chocolate to melt and then spread it across the bottom and sides of the pie shell. Allow the shell to cool completely until the chocolate is set.
Banana Pastry Cream
In a medium pan, combine the milk with half of the sugar, salt, and vanilla bean. Heat over medium high until scalding hot.
While the milk heats up, combine the eggs, yolks, remaining sugar and corn starch and whisk until smooth.
When the milk is scalding hot pour it into the egg mixture and whisk to combine. Return to the pot and cook over medium low heat just until it begins to boil. Immediately remove from the heat and strain back into the bowl. Add the butter and rum to the hot custard and whisk to combine. Slice the bananas and fold into the pastry cream. Cover with plastic wrap and refrigerate until completely cooled and set.
Assembly
Pour the cooled banana cream into the chocolate lined pie shell. Whip the cream with the confectioner's sugar and rum and spread the cream onto the filling.
Sprinkle the chopped candied macadamia nuts and chocolate shavings over the cream to garnish. Refrigerate at least 6 hours or overnight.
Notes
The pie can be eaten several hours after it's made, but I found it was even better the second day.