Tart Dough, Pâte Sucrée, Sweet Dough. Call it what you will, this is a versatile dough is perfect for your favorite tart or miniature tarts. This is essential recipe comes together in minutes.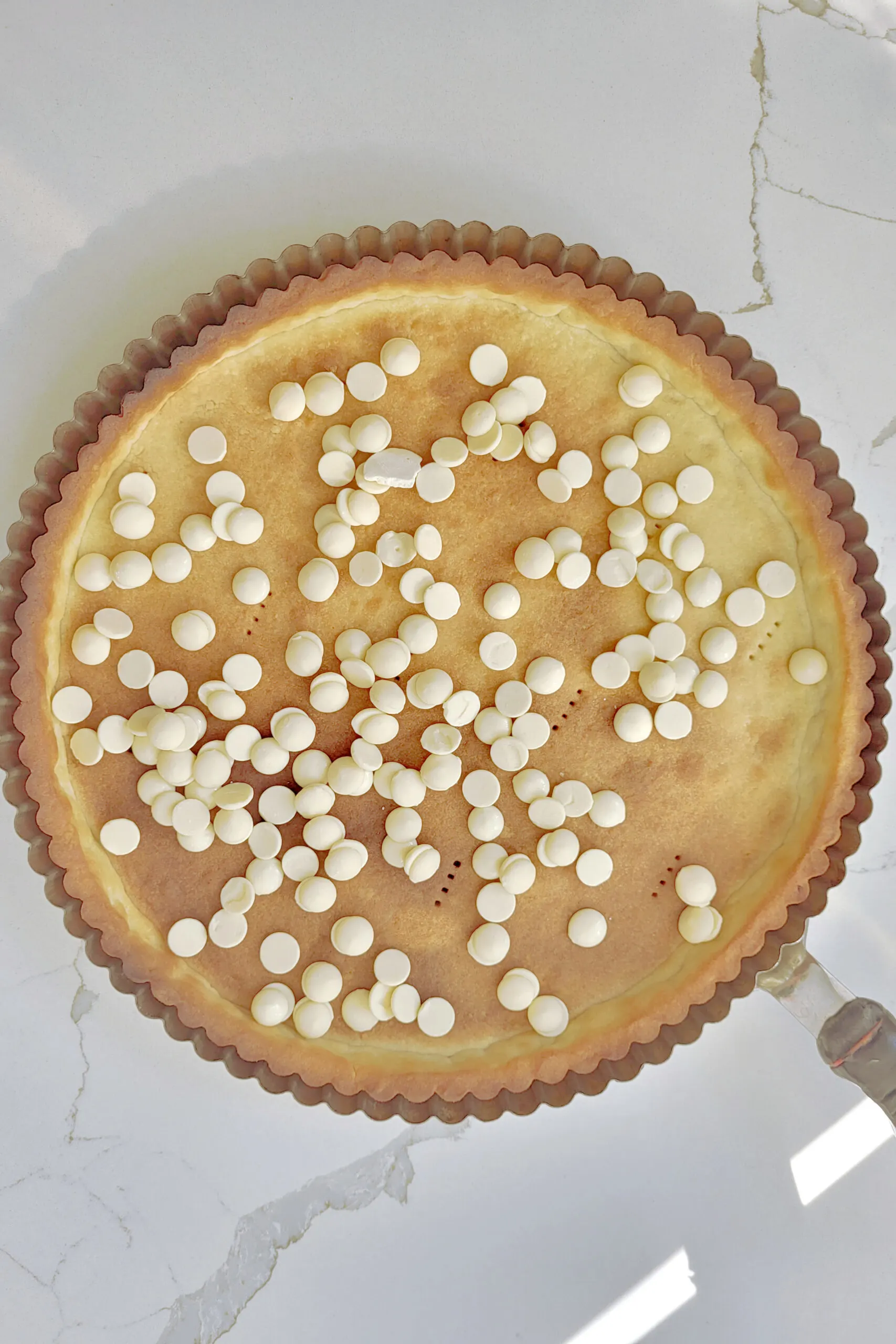 Pâte sucrée is a super versatile tart dough
This dough bakes up with a nice crisp bite and is strong enough to hold soft fillings like pastry cream or fresh fruit without getting soggy. This is the dough you want to use to make a tart shell for a classic Fruit Tart with Custard filling.
Sweet Tart Dough couldn't be easier to make. Cream the butter and sugar, add the egg and then the flour and you're done.
Ingredients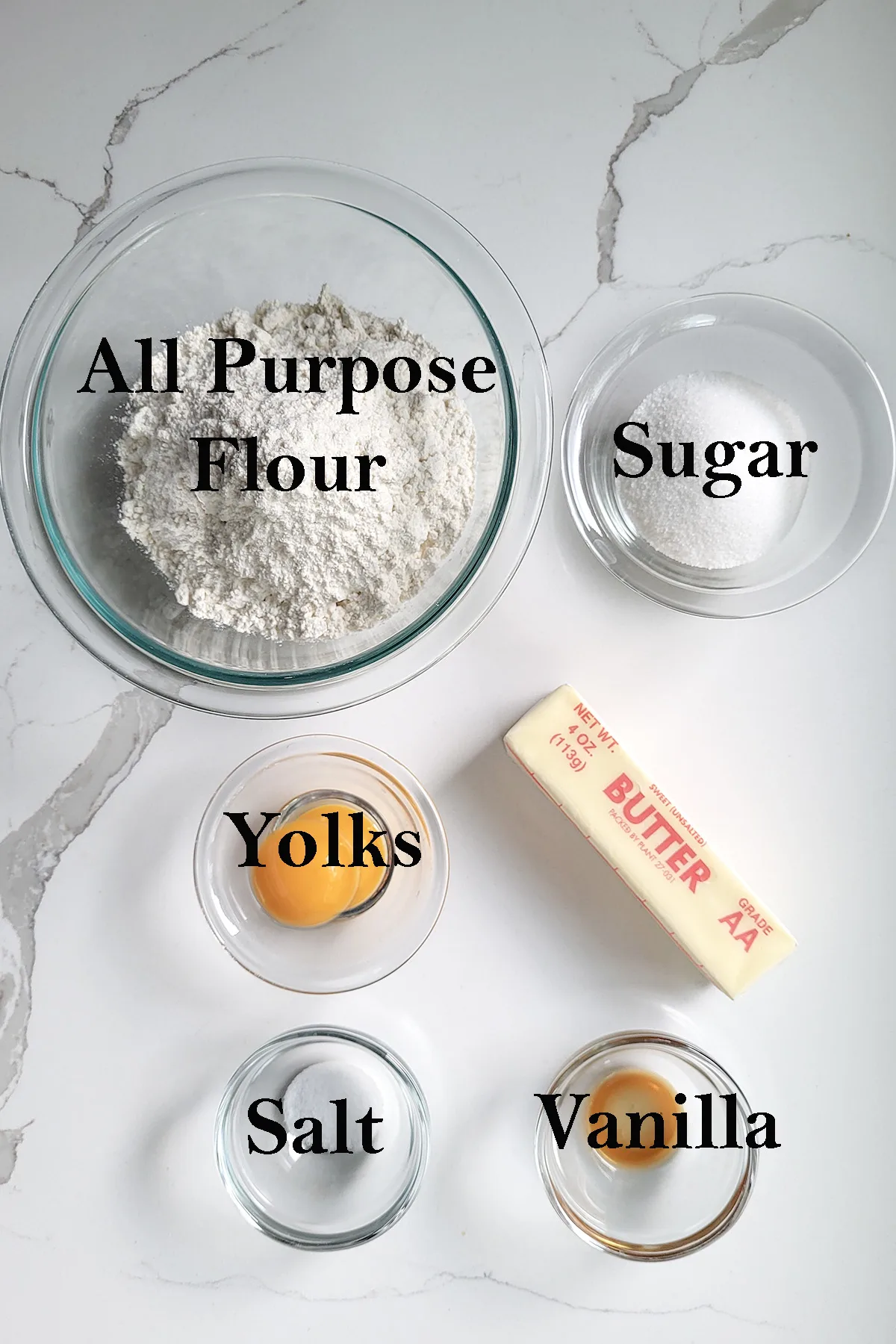 How to make Tart Dough (pâte sucrée)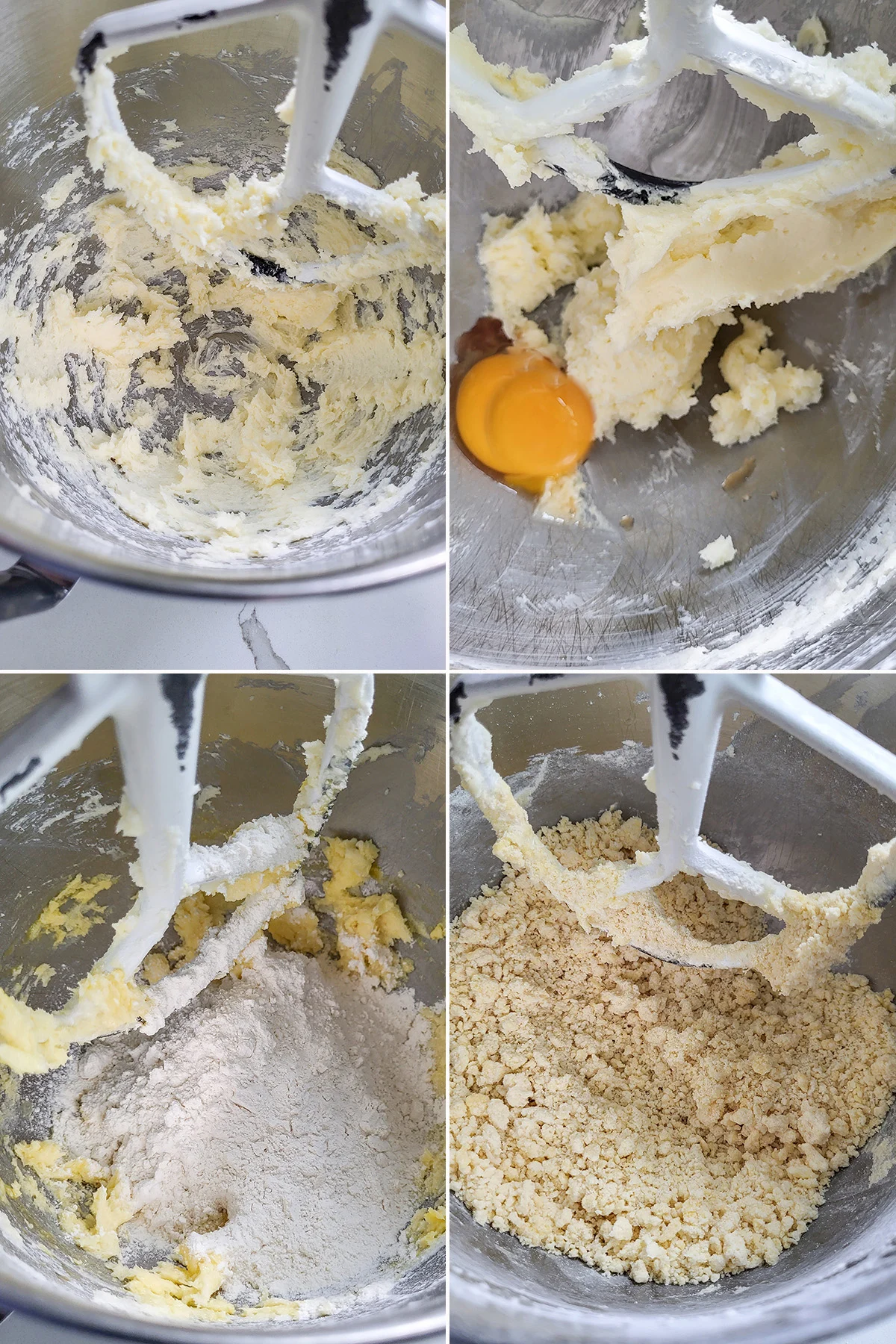 Cream the butter and sugar until creamy, but not aerated.
Add the egg yolks and vanilla.
Add the flour and salt.
Mix until it comes together in a crumbly mixture.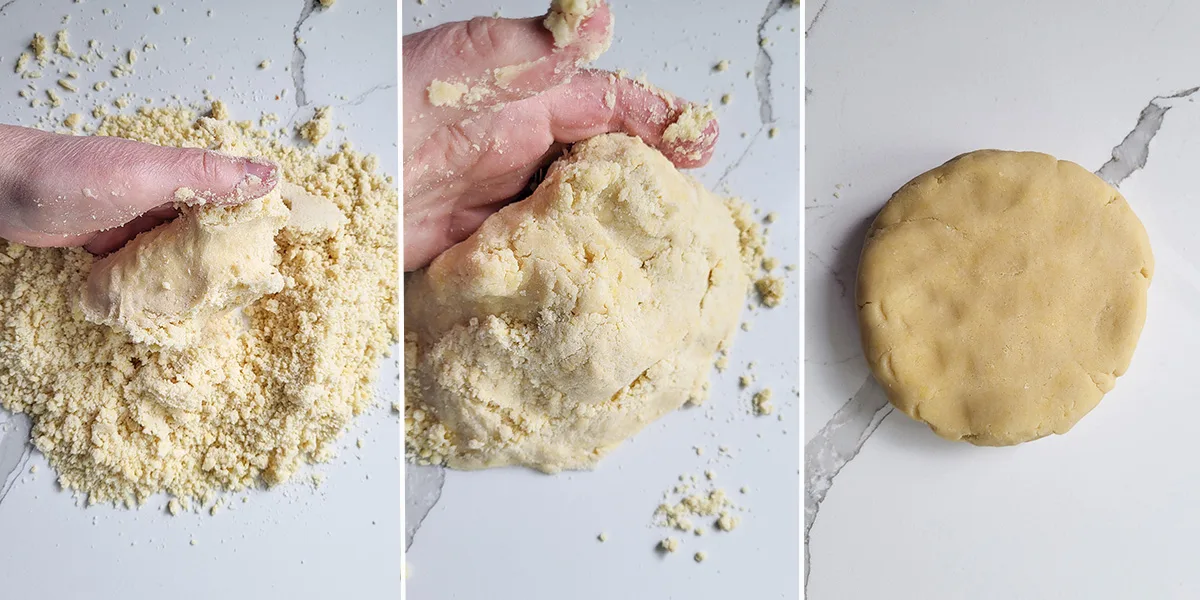 Dump the crumbly mixture onto a surface.
Use your hand to squeeze together the clumps.
Knead the dough then form it into a disc. You can use it right away or refrigerate until you're ready to roll the dough.
How to roll a tart shell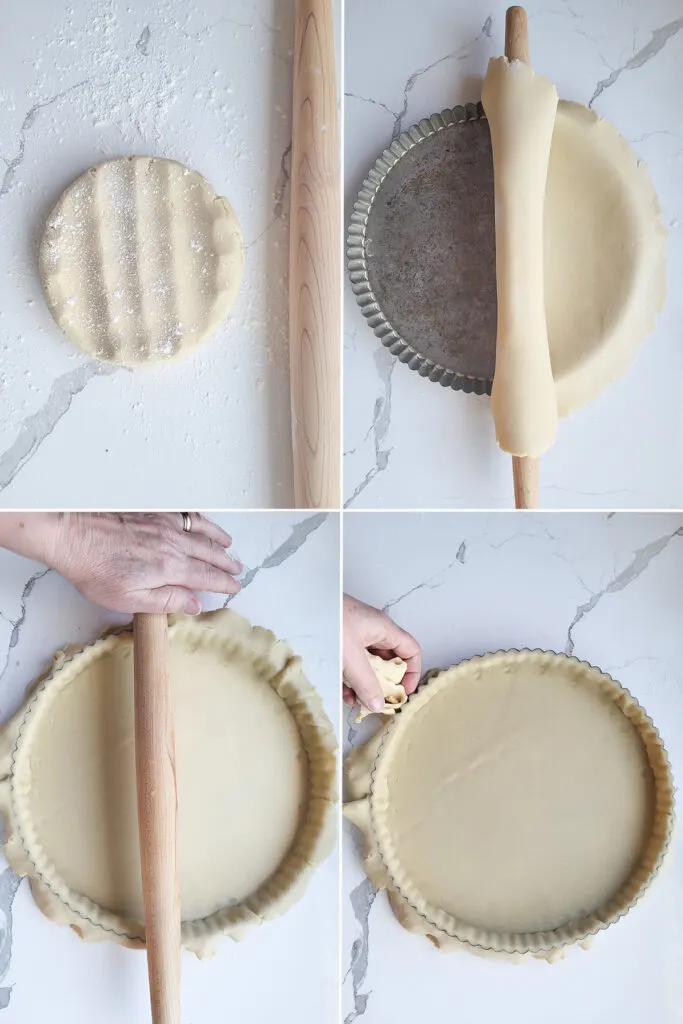 Press down on the dough with the rolling pin to loosen it up. Roll the dough until it is about 1/8″ thick and it at least 4″ larger than the size of the pan.
Roll the dough onto the rolling pin and lift it onto the pan. Unroll the dough over the pan. Then use your hand to tuck the dough into the sides and bottom of the pan.
Roll the pin over the edge of the pan to cut away the excess dough.
Remove the excess dough. The dough scraps can be saved up and used again.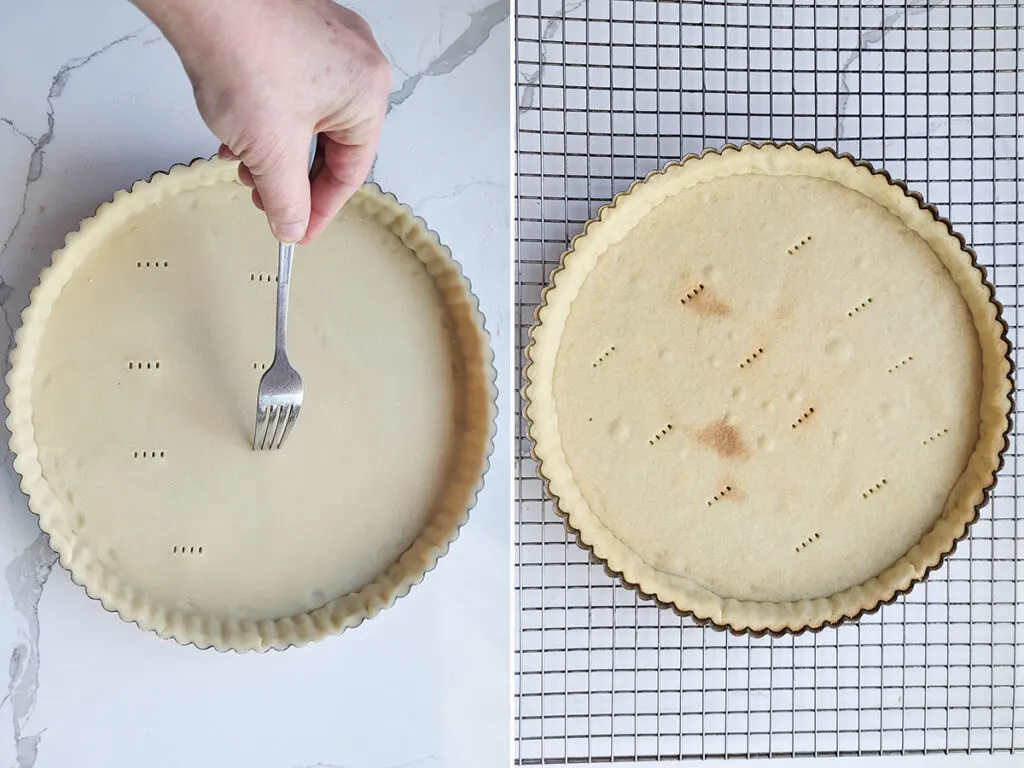 Use a fork to dock the bottom of the tart. If your recipe calls for an unbaked tart shell refrigerate the shell until you're ready to finish your recipe.
If your recipe uses a baked tart shell bake the dough at 375°F for about 10-15 minutes until golden brown, or follow the instructions for pre-baking in your recipe.
How to store Tart Dough
The unbaked dough can be wrapped and stored in the refrigerator for 3-4 days. The dough can be frozen for up to 3 months.
A baked tart shell can be stored (unfilled) at room temperature for 2-3 days.
FAQS
What is the difference between tart crust and pie crust?
In fact, the difference between tart crust and pie crust is the pan that it is baked in. But in practice (in the US), the difference between the two is more than that. A pie crust is usually made with a flaky, savory dough and a tart crust is usually made with a sweet short dough.
What type of flour is best for tarts?
All purpose flour is a good medium protein flour for making tart dough.
Do you have to prebake tart shells?
It depends on the recipe. For a tart with an unbaked filling (like a Rhubarb Meringue Tart) the tart shell should be pre-baked. For a tart with a baked filling (like a Pear Fangipane Tart) there is no need to prebake the tart shell.
Which type of dough is most often used for tarts?
A sweet short dough (pâte sucrée) is most often used for dessert tarts.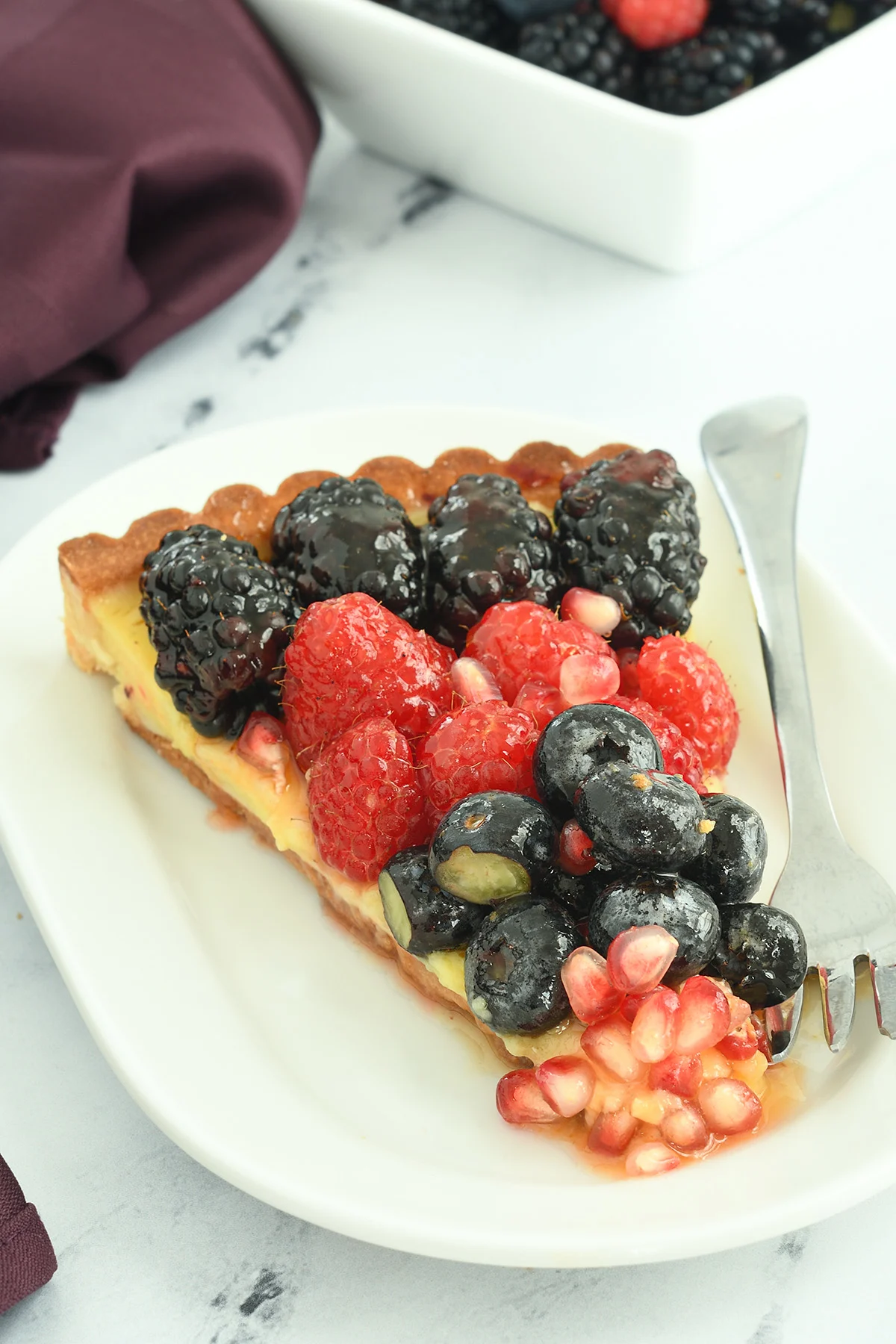 This recipe is the base for many, many gorgeous tarts:
If you love this recipe as much as I do, I'd really appreciate a 5-star review.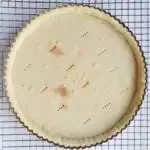 Print Recipe
Tart Dough (pâte sucrée) Recipe
The classic dough used to line a tart pan.
Ingredients
4

oz

unsalted butter

(room temperature)

3

oz

granulated sugar

(⅓ cup)

2

egg yolks

¼

teaspoon

vanilla extract

7 ½

oz

all purpose flour

(1 ½ cups)

¼

teaspoon

salt
Instructions
Cream

4 oz unsalted butter

and

3 oz granulated sugar

until combined and slightly aerated. Add

2 egg yolks

and

¼ teaspoon vanilla extract

, mix to combine and scrape down the bowl and beater.

Add

7 ½ oz all purpose flour

and

¼ teaspoon salt

. Mix until the dough just comes together. Remove from the mixer and knead into a ball. Flatten the ball to a disc. Use right away or wrap in plastic and refrigerate for 1-2 hours. The dough can be frozen for up to 3 months.
As an Amazon Associate and member of other affiliate programs, I earn from qualifying purchases.
Notes
This recipe makes enough for a 10-12″ tart crust.
This dough freezes very well. Double wrap in plastic and freeze for up to 3 months.
Nutrition
Serving:
1
serving
|
Calories:
169
kcal
|
Carbohydrates:
21
g
|
Protein:
2
g
|
Fat:
9
g
|
Saturated Fat:
5
g
|
Polyunsaturated Fat:
0.5
g
|
Monounsaturated Fat:
2
g
|
Trans Fat:
0.3
g
|
Cholesterol:
53
mg
|
Sodium:
51
mg
|
Potassium:
25
mg
|
Fiber:
0.5
g
|
Sugar:
7
g
|
Vitamin A:
279
IU
|
Calcium:
9
mg
|
Iron:
1
mg