Home Canning is fun, easy & economical. Make Concord Grape Jam with Vanilla when fresh grapes are in season. This is an easy to follow recipe with lots of how-to photos.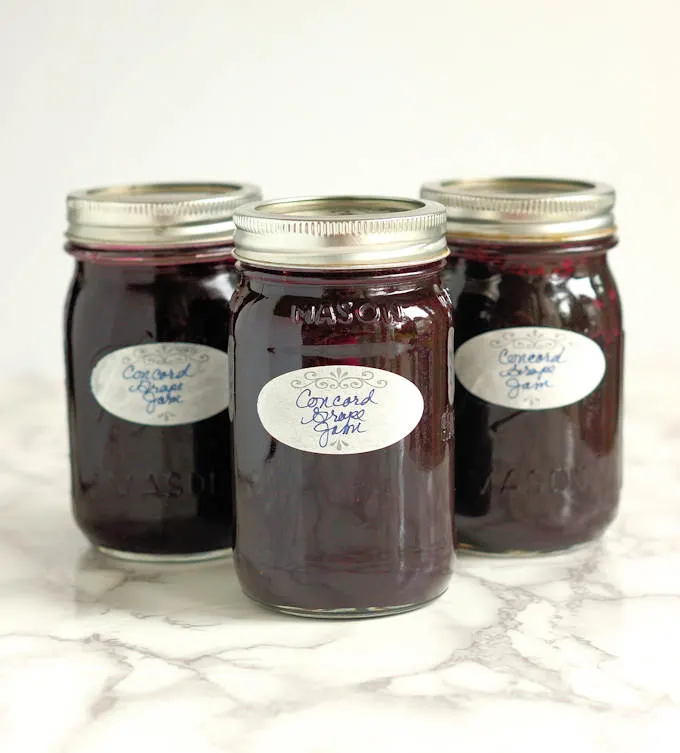 We got a whole bunch of beautiful Concord Grapes with our farm share last week. Concord Grapes come into season in the early fall and you can often find them in a well stocked grocery store or local farmer's market.
Personally, although Concord Grapes have a really wonderful flavor that is often described as "musky", I think the thick skins make them a little less pleasant to eat than many other table grapes.
But that specific flavor and those thick skins make Concords the perfect grapes for preserving. As I say every time I post a home canning recipe, it's really easy and not at all scary to make your own jams, jellies and preserves. You just need the proper jars, a big pot and a bounty of fresh produce.
Click through the slider to see how to make Concord Grape Jam with Vanilla:
[metaslider id=8970]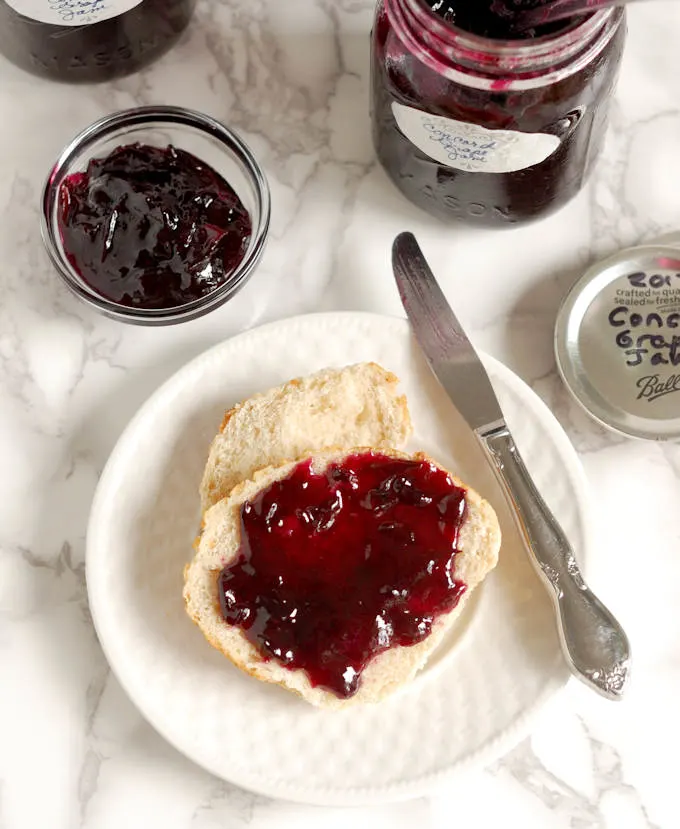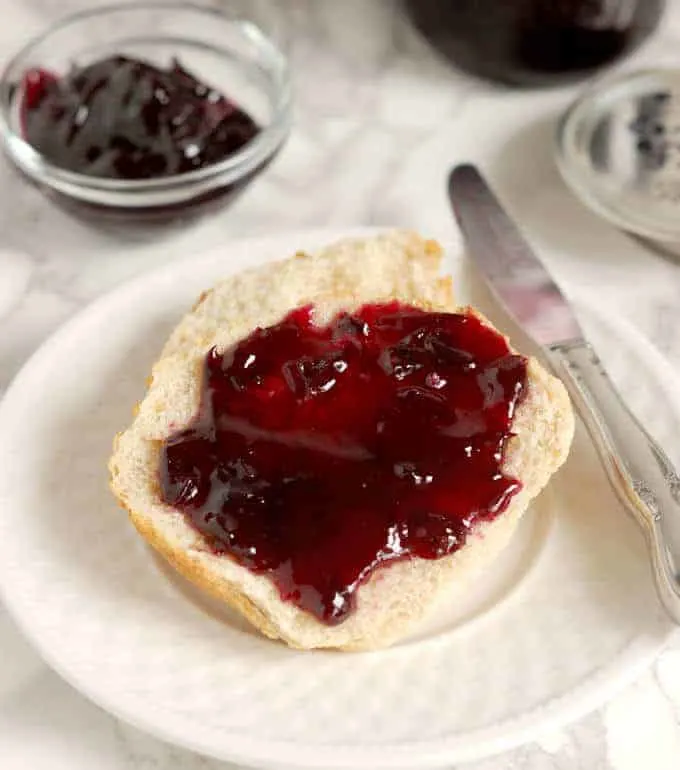 I'm not a big fan of commercially made grape jelly. But this homemade Concord Grape Jam with Vanilla is what store bought grape jelly wants to be when it grows up.
Pair this jam with peanut butter on White Sandwich Bread  for the perfect PB&J. If you want a real treat, use your homemade Concord Grape Jam in Peanut Butter & Jelly Sandwich Cookies.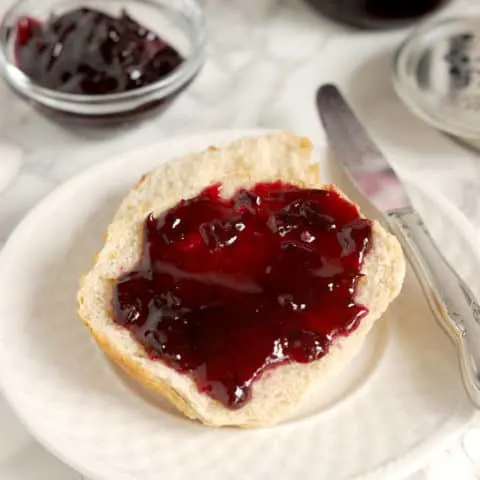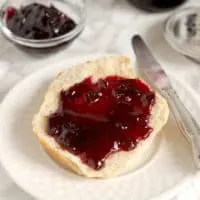 Concord Grape Jam with Vanilla
Home Canning is fun, easy and economical. Make Concord Grape Jam with Vanilla when fresh grapes are in season. This is an easy to follow recipe with lots of how-to photos
Ingredients
7 cups fresh concord grapes (measure after plucking from the stems)
1/2 cup (4 oz, 118 ml) water
5 cups (2# 3 oz, 990g) granulated sugar
2" piece of a vanilla bean
3 pint-size sterilized canning jars with sterilized lids and bands
Instructions
Put a small plate or bowl in the freezer to chill while you prepare the jam. You'll use this to test if the jam is gelled.
Separate the grape skins from the pulp, reserving both. In a food processor or blender, pulse the grape skins with the water until you have a chunky puree. Simmer the grape skins in a small saucepan while preparing the pulp.
In a separate pan, cook the pulp with the vanilla bean over medium heat until soft, about 10-15 minutes, stirring frequently. Run the grape pulp through a food mill or strainer to remove the seeds
Scrape the the seeds from vanilla bean and add them to the pulp. Combine the strained pulp with the skins and the sugar in a large saucepan. Bring the mixture to a boil and cook about 15-20 minutes until it begins to thicken.
To check if the jam is ready, take the plate from the freezer and put a small dollop of jam onto the cold plate. Let it cool then push on the jam. If it wrinkles it's ready. If it's still runny cook it a few more minutes. Click through the slideshow in this post to see a photo of the gel test.
Pour the hot jam into sterilized canning jars. Use a wet paper towel to wipe the rims of the jars to make sure they're clean. Any bits of fruit can prevent the lids from sealing. Cover and process the jars in a boiling water bath for 15 minutes (see note).
Remove from the water and allow to cool at room temperature. You should hear the lids "pop" to let you know the jars are sealed.