Ghost Peppers, or Bhut Jolokia, are one of the hottest peppers on the planet. Tame the heat of these firecrackers by making Ghost Pepper Jelly.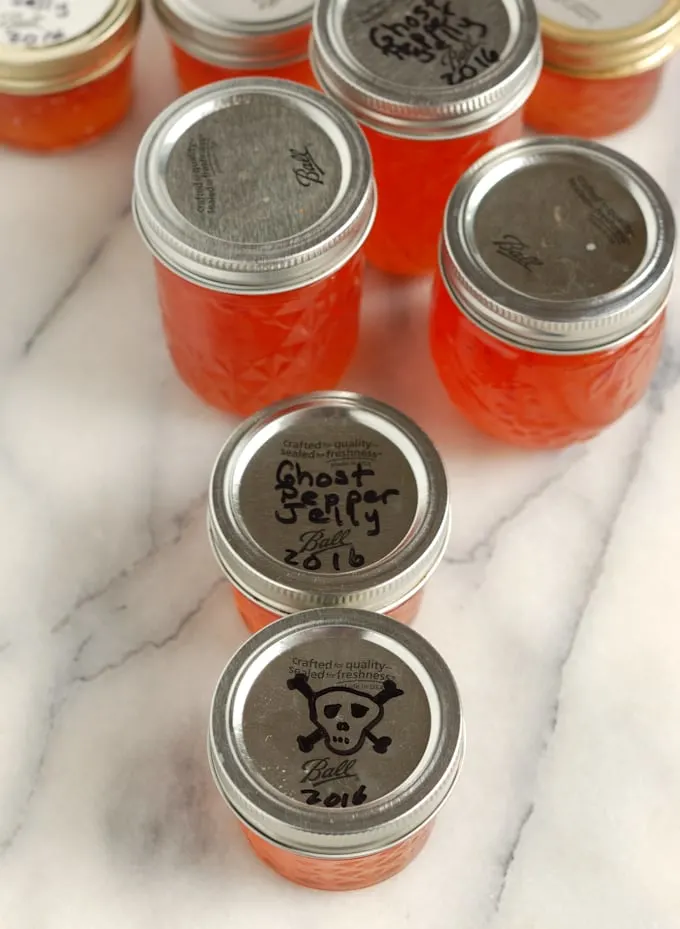 If you love hot and spicy foods this is a recipe for you. I get lots of hot peppers in our farm share, but I'll often plant one bush of a super hot pepper in our home garden just for fun. This year I planted a Ghost Pepper (Bhut Jolokia) plant. It took most of the summer, but I finally got a handful of ripe peppers.
Just how hot is a Ghost Pepper?
Ghost Peppers were the hottest pepper in the world until being dethroned in 2011. The Carolina Reaper is the currently the hottest of the hot. I've never tasted a Carolina Reaper, and I'm not sure I ever want to. A Ghost Pepper clocks in at about 1,000,000 Scoville heat units. Scoville is the scale for measuring the heat in a hot pepper. As a reference point, jalapenos usually rate about 1,000-20,000 Scoville units.
Hmmm, now that I've got 'em, what should I do with 'em?
To tell the truth, I was a little afraid to make a curry with the peppers, and if I used one to make a curry (and I'd be afraid to use more than one) what would I do with the others? I like hot food, but not so hot that I can't taste the food. So I decided to make Ghost Pepper Jelly with my little harvest. I love the sweet-hot combination, and jelly is a great way to preserve the peppers to enjoy later in the year. Check out my  Pickled Jalapeno Peppers recipe for another way to preserve hot peppers.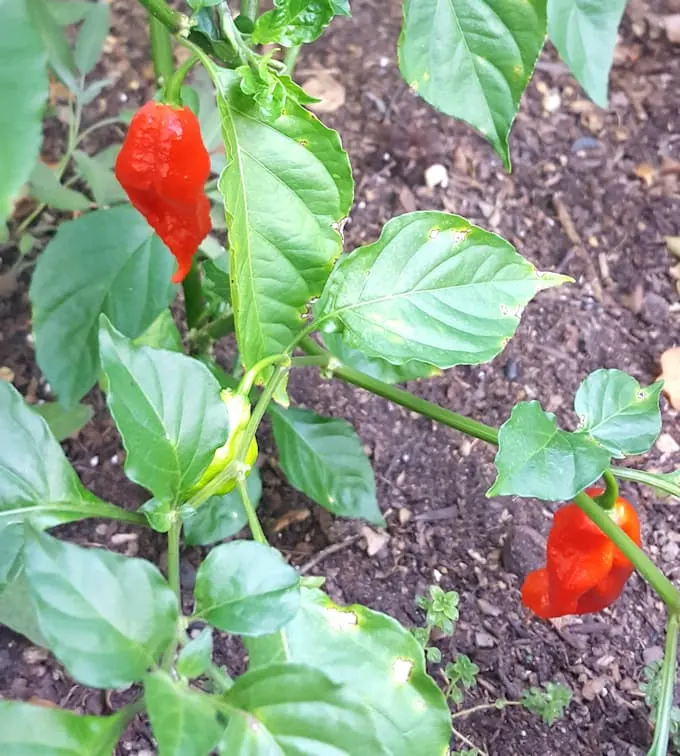 Proceed with Caution!
I know that sounds dramatic, but Ghost Peppers are really, really hot. I highly recommend wearing gloves, and I even wore goggles to avoid getting juice or steam in my eyes. Believe me, you don't want to put your face over the boiling pot of jelly and breath it in, yikes!!
I based my Ghost Pepper Jelly recipe on a Jalapeno Jelly recipe I found in a Ball Canning recipe book. The original recipe used 12 ounces of Jalapeno peppers. I used a combination of ghost peppers and sweet bell peppers. There is no way I'm eating a jelly made from only ghost peppers. Use whichever ratio of sweet to hot peppers that you're comfortable with.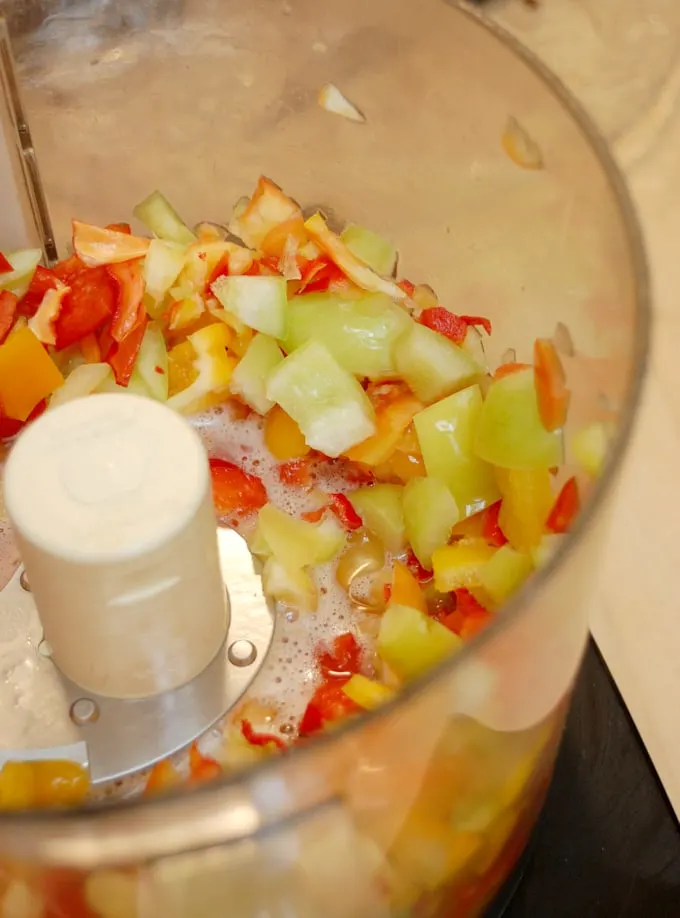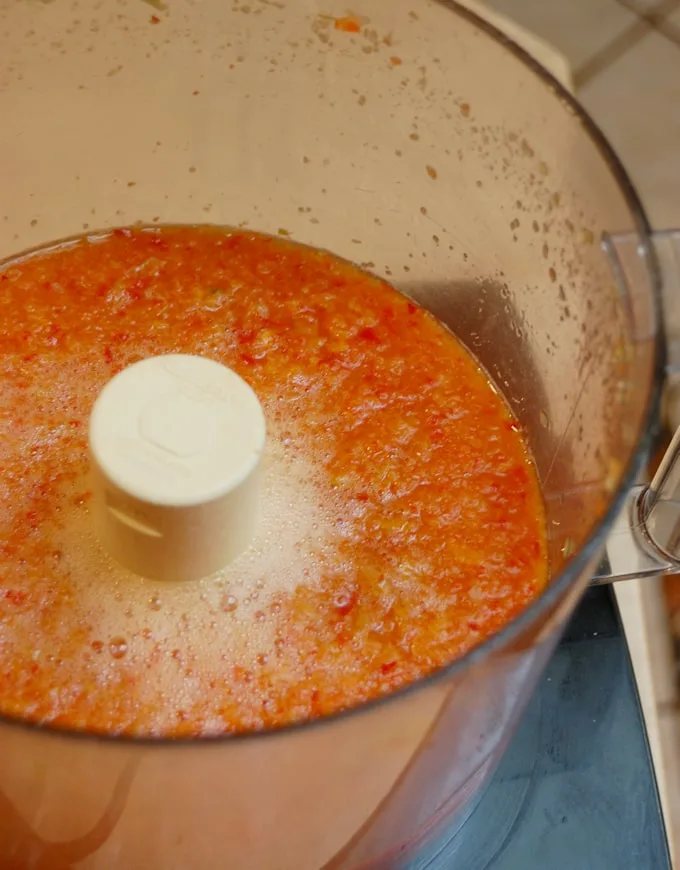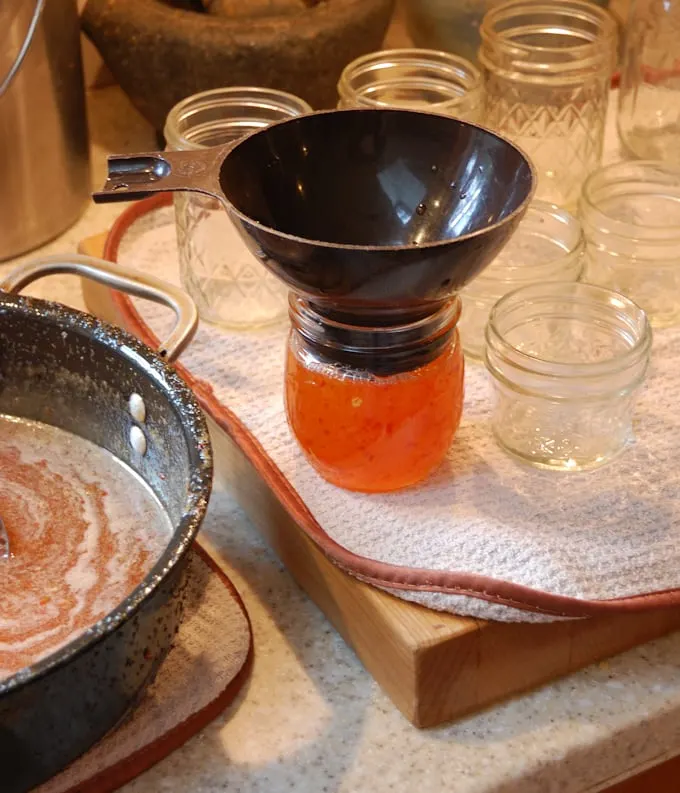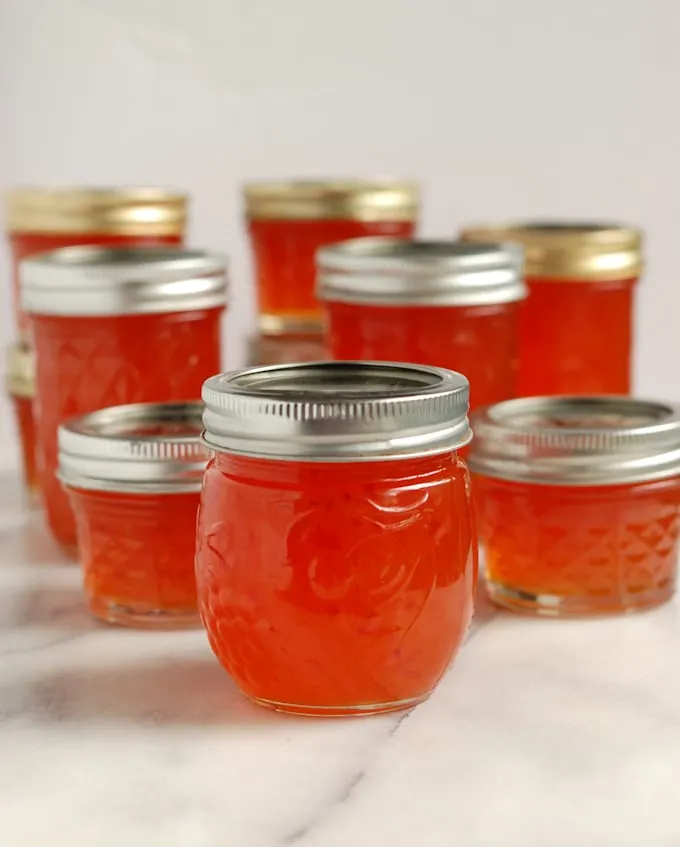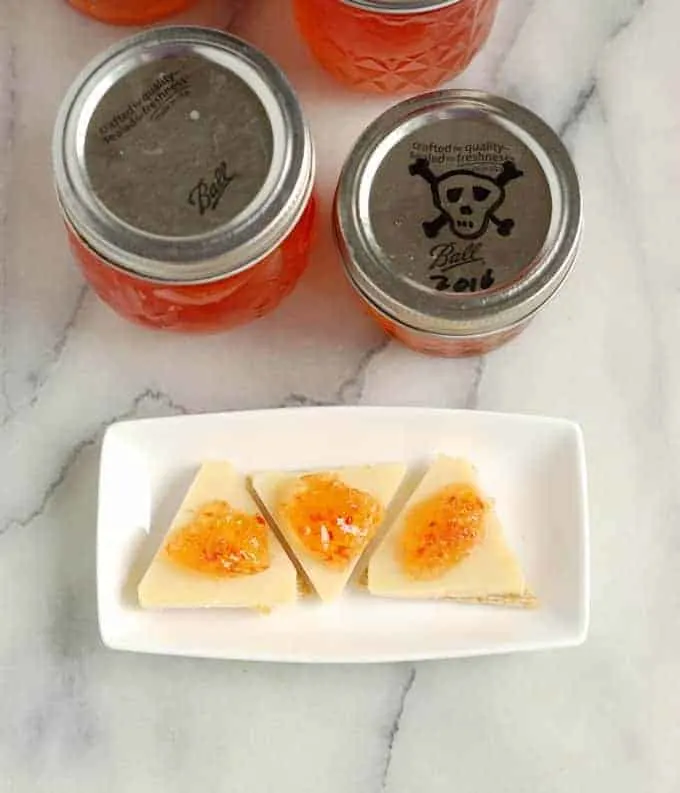 My Ghost Pepper Jelly has a nice flavor and a manageable heat level. I've tried the jelly on cheese and crackers, on a peanut butter sandwich and we even used it as a condiment for breaded pork chops. I also put some Ghost Pepper jelly on my Peanut Butter & Jelly Sandwich Cookies, WOW!!
I think Ghost Pepper Jelly in a pretty jar, wrapped with colorful ribbon, would make a lovely holiday or hostess gift.
Got Habaneros but no Ghost Peppers? No problem, the type of hot pepper is interchangeable. Habanero Jelly would be just as delicious as Ghost Pepper Jelly.
Special Equipment Used: Canning Jars, Canning Funnel, Jar Lifter, Water Bath Canner.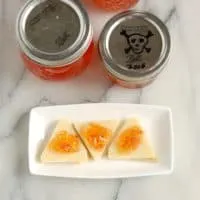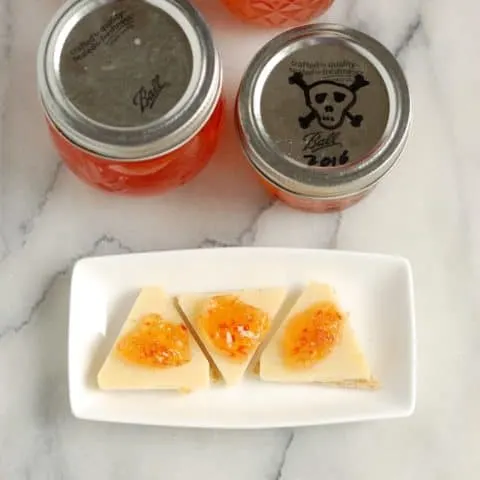 Ghost Pepper Jelly – Bhut jolokia Jelly
Processing Time:
10 minutes
Ingredients
4 ghost peppers (or to taste)
12 oz red, orange or yellow bell peppers
2 cups (16 oz, 480ml) cider vinegar
6 cups (3 pounds, 1.36 kg) granulated sugar
Instructions
Sterilize the jelly jars and lids by boiling for 10 minutes or running through the "sterilize" setting on your dishwasher. Set warm sterilized jars on kitchen towel while preparing the jelly.
Put on gloves! Ghost peppers are hot! Stem, seed and roughly chop all the peppers. Puree the peppers with 1 cup of the vinegar.
Combine the puree with remaining vinegar and the sugar in a saucepan. Bring the mixture to a boil (be careful not to breath in the steam or get it in your eyes!!!). Boil for 10 minutes, careful it can boil over. Stir in the pectin, return to a boil and boil 1 minute, keep stirring.
Ladle the jelly into the prepared jars, leave 1/4" head space. Wipe the rims of the jars with a clean, moist paper towel, Place 2 piece lids on the jars (don't over tighten the screw top). Process in hot water bath for 10 minutes.
Notes
See the Ball Canning Website for detailed instructions on water bath canning, sterilizing jars and other important information.