Here is the perfect White Sandwich Bread. This soft white bread has milk and butter in the recipe. It's the perfect loaf for your next BLT or PB&J.
To celebrate the sandwich I'm offering a recipe for quintessential sliced white sandwich bread.
Though I usually prefer a whole wheat or rye bread for the flavor and texture, I think certain sandwiches work best with simple, soft white bread, like a BLT or PB&J.
But just because it's white bread doesn't mean it has to have the lackluster taste and squishy texture of a certain "wonderous" bread that many of us ate growing up.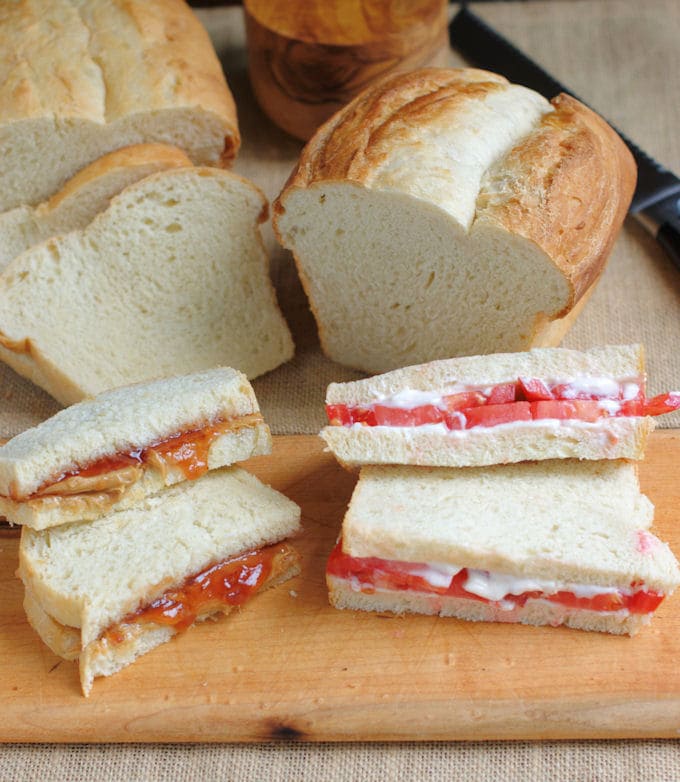 I made this bread last week because the luscious summer tomatoes on my kitchen counter kept whispering "BLT, BLT…" I made a beautiful loaf with my sourdough starter.
By the time the bread was baked and cooled I'd lost the daylight and we were starving. So we just went ahead with dinner and I planned to make another loaf to photograph for the post.
Make White Sandwich Bread with a starter or a sponge
I keep a sourdough starter in my refrigerator and I like to use it for most of my breads. If you don't have a starter hanging around in your refrigerator you can also make this recipe using a sponge. 
So that I could offer alternate directions for those who don't have a sourdough starter I decided to make two loaves of bread, one with the starter and one with a sponge.
These process photos show you what the sponge looks like and how to tell if the bread is proofed.
The two loaves were a little different. The loaf made with the starter rose dramatically in the oven, mushrooming over the sides of the pan. I loved the way it looked, rustic and homey with a slightly irregular crumb. 
The biggest difference was in flavor. Both breads had a nice chewy yet soft texture, due to the milk and butter in the recipe, but the bread made from the sponge had a pronounced yeasty flavor that was not unpleasant, but it did overtake the wheat-y taste a bit.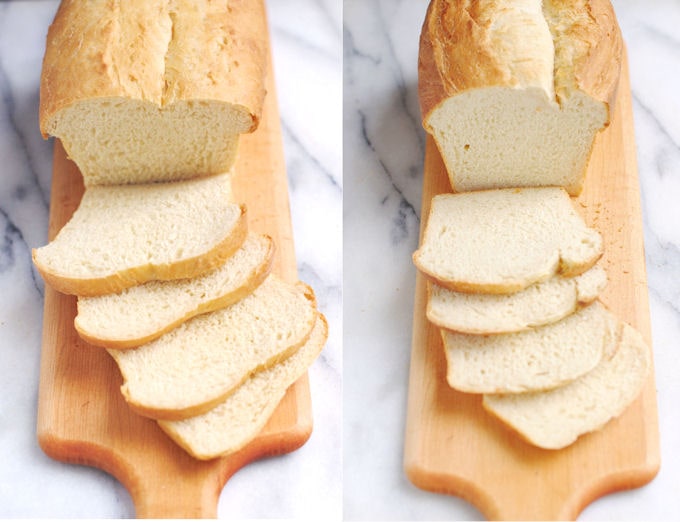 Contrary to the name, the sourdough bread did not have a sour taste, it had a slightly sweet, nutty, pronounced wheat flavor.
If I didn't taste them side-by-side I'm sure I would have thoroughly enjoyed either loaf. For my money the more complex flavor of the sourdough loaf  is worth the trouble of keeping a starter alive in your refrigerator.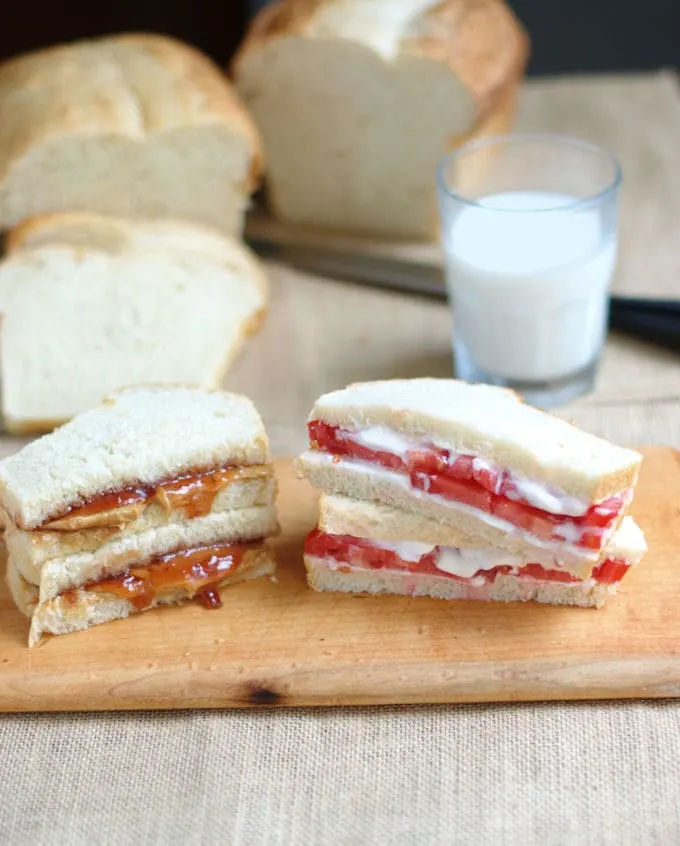 Happy Sandwich month!
If you love this recipe as much as I do, please consider leaving a 5-star review.
You might also like: