These are the crunchiest rolls I've ever eaten! Dutch Tiger Bread (tijgerbolletjes) is made from scratch with a little whole wheat flour and a topping that creates an amazing, super-crunchy crust.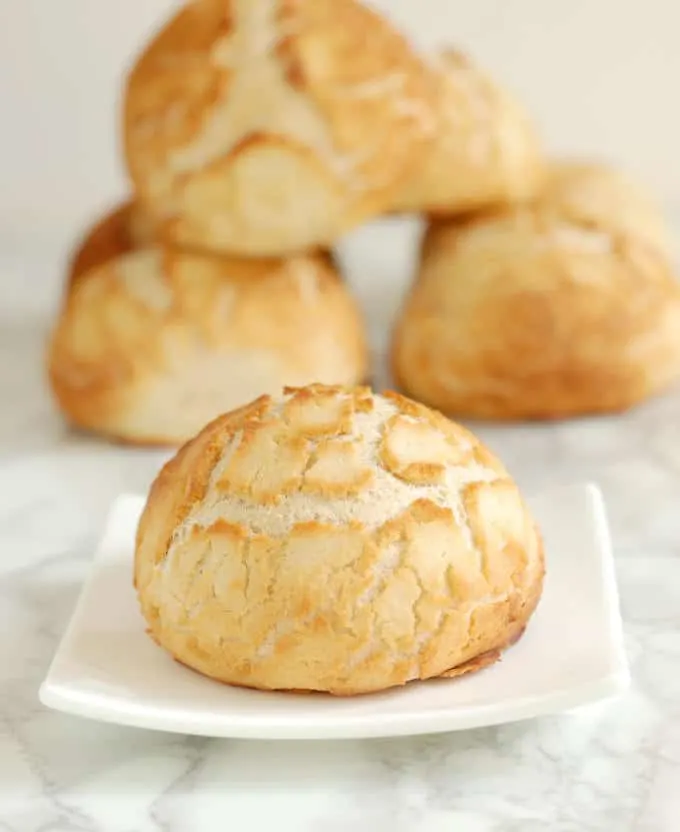 Today the #BreadBakers are sharing our favorite "International" bread recipes.  We were asked to choose a country, any country – preferably not our own – and bake a typical bread from that nation.
Since my husband is Dutch, and I know how much the Dutch love bread, I decided to go to Holland to find a great bread recipe, and this is a GREAT bread recipe!
To tell you the truth I'd never eaten Dutch Tiger Bread before I made this recipe. As I was looking through Dutch cookbooks and websites for typical Dutch breads, I kept coming across recipes for Dutch Crunch Bread or Tiger Bread (Tijgerbrood in Dutch).
Since I don't remember having this kind of bread in Holland, I asked the hubby if this is really a Dutch recipe (and not Pennsylvania "Dutch", which is German). Once he assured me that it really is a Dutch recipe, I knew this was the bread I would make for the #BreadBakers event.
All the recipes I came across were very similar; white bread-dough covered with a rice flour paste that crackles in the oven to form the super crunchy crust that gives this bread it's name.
I made a few changes to the recipe to make it my own.  I added a little more salt to enhance the flavor. I also added a bit of whole wheat flour to the recipe. I find that just a little whole grain flour added to a "white" bread gives the bread an interesting background flavor and better crumb texture.
The dough can be formed into a loaf if you prefer sliced bread to rolls. But I wanted maximum crunchiness per bite, so I chose to make rolls. The rolls are the perfect size for a sandwich. If you like a slightly larger sandwich you can portion the dough into 6 instead of 8 pieces.
Because this is a straight dough method, no starter used, it's surprisingly easy to put together. The rolls are best the day they're made, but also freeze very well.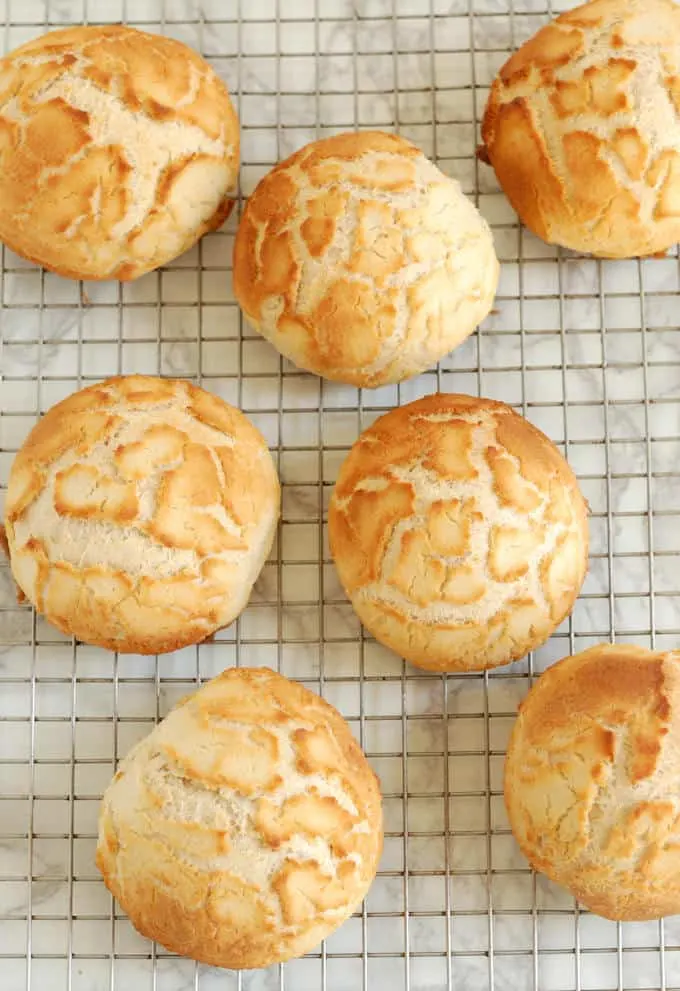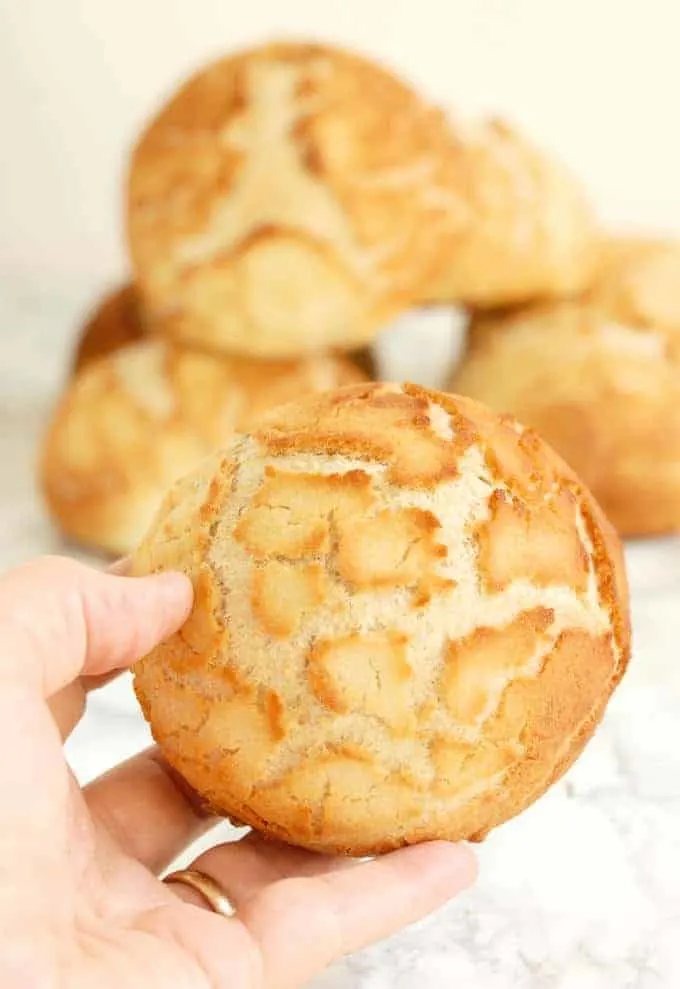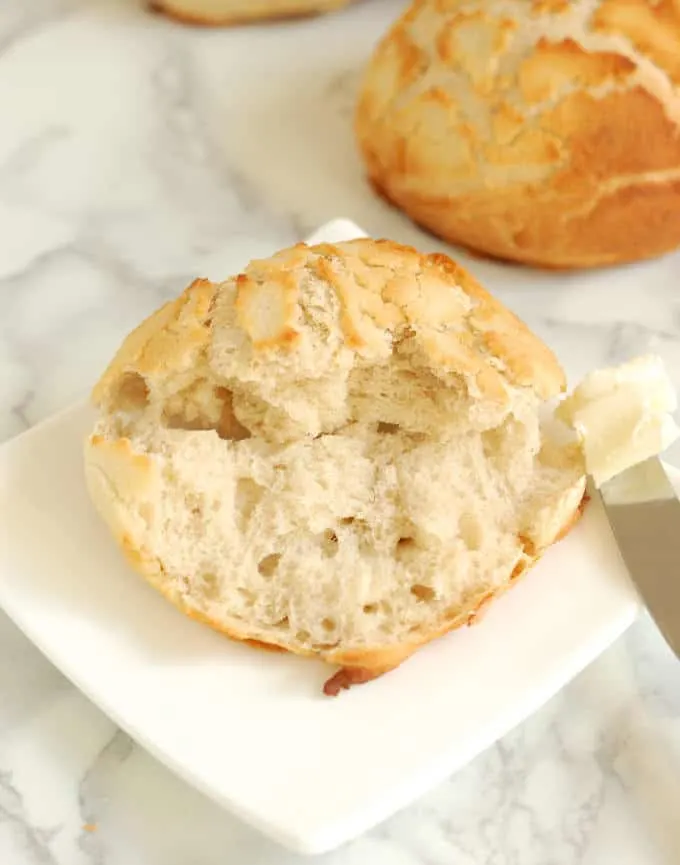 Watch the recipe video to see how to make Dutch Tiger Bread.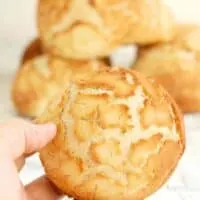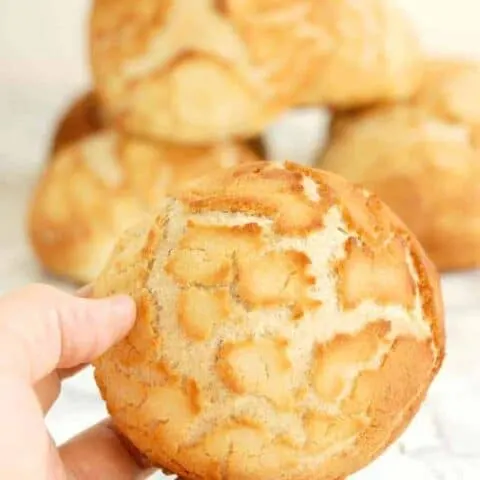 Dutch Tiger Bread (Tijgerbolletjes)
Rising Time:
1 hour
30 minutes
Total Time:
2 hours
25 minutes
Soft rolls with a crispy, crunchy "tiger" topping. There's a hint of whole wheat flour for extra flavor.
Ingredients
Bread Dough
3 cups (13.5 oz, 382g) all purpose flour
1/2 cup (2.5 oz, 75g) whole wheat flour
1/2 cups (4 oz, 115ml) water, slightly warmer than body temp
1 cup (8 oz, 225ml) whole milk, slightly warmer than body temp
1 packet dry yeast (1/4 oz, 7g, 2 1/4 teaspoons)
1.5 teaspoons salt
1 tablespoon sugar
1 tablespoon butter, 1/2 oz, 15g) melted
Topping
1 cup (6 oz, 170g) rice flour
1 packet (1/4 oz, 7g, 2 1/4 teaspoons) dry yeast
1 tablespoon granulated sugar
1/2 teaspoon table salt
1 tablespoon vegetable oil
3/4 cup (6 oz, ml) warm water
Instructions
Mix water, milk, butter, sugar, salt and yeast. Add the whole wheat flour and 2 cups of the all purpose flour and mix until it forms a thick batter. Switch to the dough hook and add the remaining flour until the dough clears the sides of the bowl.
Transfer the dough to a lightly oiled bowl, turning once to coat. Cover the bowl and set aside to rise until doubled in volume, about 1 hour. Turn the dough out onto a lightly floured surface and divide into 8 equal portions. Roll each piece of dough into a smooth ball and set on a parchment lined baking sheet
Cover the baking sheet with a damp kitchen towel while you mix the topping (see note).
Topping
Preheat the oven to 375°F convection or 400°F regular.
Whisk together the dry ingredients. Add the oil to the warm water then add it to the dry ingredients. Whisk until combined. Set the topping aside for 20 minutes until bubbly. Brush the topping generously onto the the rolls. Let the rolls rise another 20 minutes.
Bake until golden brown, about 20-25 minutes
Notes
The rolls can be made a day ahead and refrigerated until ready to bake. The next day take the rolls out of the refrigerator and let them come to room temperature while you make the topping and preheat the oven.
Thank you Wendy from A Day in the Life on the Farm for hosting today's event. Check out these other International breads from the #BreadBakers members: