Looking for something new to make with all those beets? How about making Chocolate Beet Cake scented with fresh orange? It's a moist Bundt cake made with pureed roasted beets, fresh orange and lots of warm spice. As if that's not enough, it's finished with luscious chocolate orange glaze.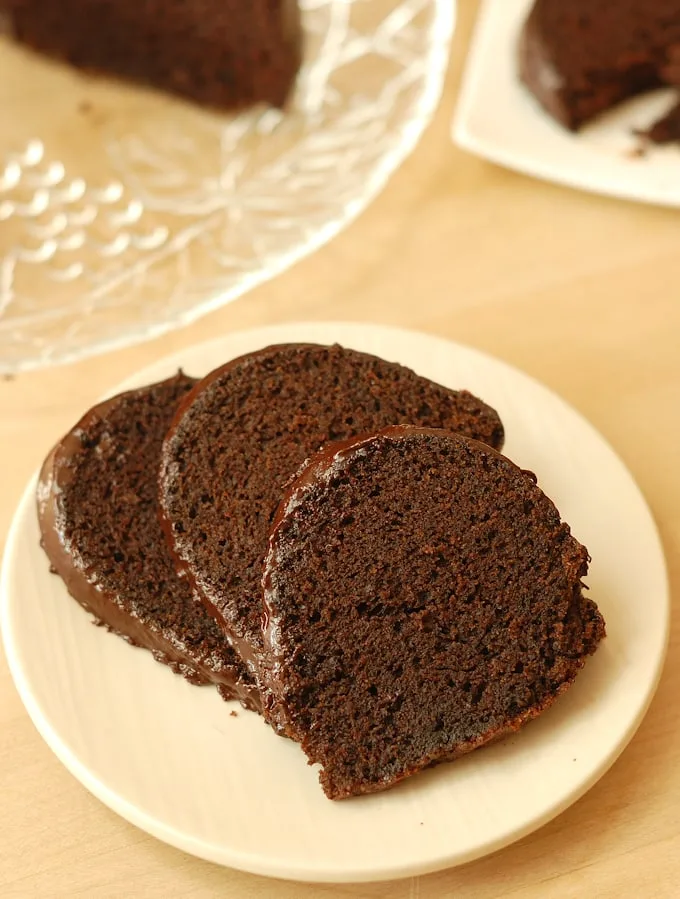 Honestly, I'd never really cooked with beets until I joined a co-op farm. With our farm share we get whatever the farmer grows that year, and every year we get lots of beets, mostly in the spring and fall.
I've tried a lot of great beet recipes over the years, but my favorite is a simple roasted beet salad with orange segments and goat cheese.
That salad was the inspiration for the flavors in this Chocolate Beet Cake. If beets and oranges taste so great together in a salad, they should taste great together in a cake, right? Also, chocolate and orange are fantastic flavor partners.
How to make the best ever Chocolate Beet Cake
Adding a hint of orange makes this cake extra special. There are many, many, Chocolate Beet Bundt Cake recipes out there, but not many that up the flavor with fresh orange.
This recipe has lots of beet puree for extra moisture and flavor.
Roast the beets instead of boiling them. Roasting the beets is a hands-off process and it concentrates the flavor. You can roast the beets several days ahead and refrigerate them until you're ready to make the batter.

To roast the beets, wash the beets and trim the roots and stem. Wrap the beets in foil and roast at 350°F for about 1 hour or until tender. Allow the beets to cool in the foil. Use a paring knife to peel the skin from the cooled beets.

This batter can easily be mixed by hand if you don't have a mixer. Use a hand whisk to emulsify the eggs/oil/sugar.

The glaze can be made ahead and re-warmed before glazing the cake.

Glaze the cake with a luscious chocolate orange ganache for a decadent finish.
Scroll through the step by step photos to see how to make Chocolate Beet Cake with Orange Glaze: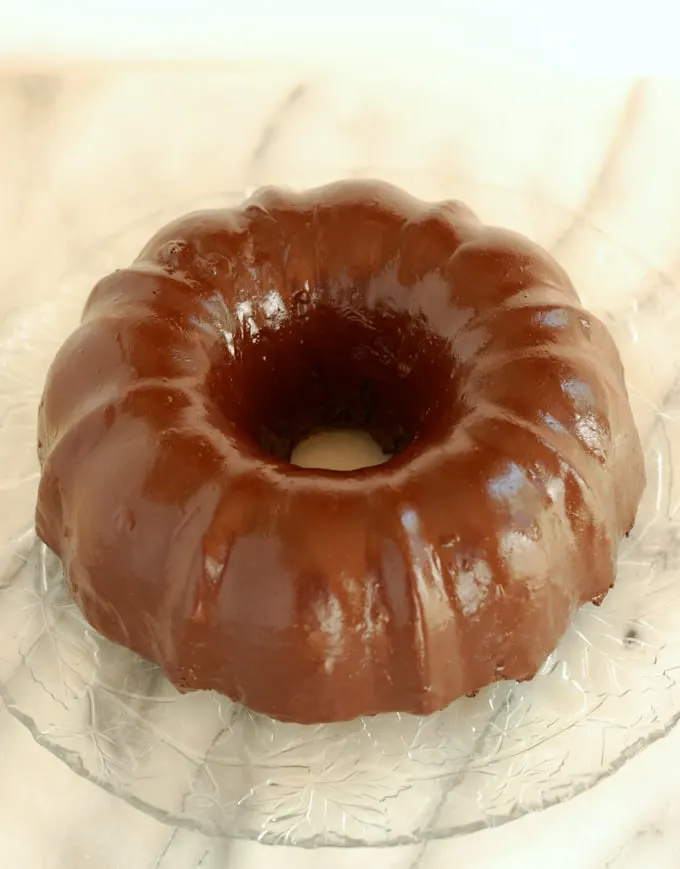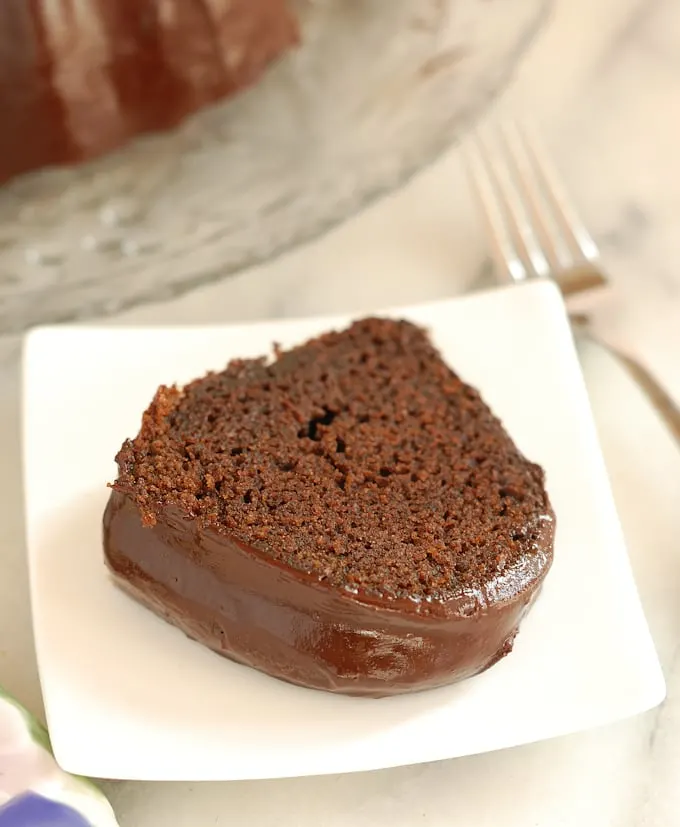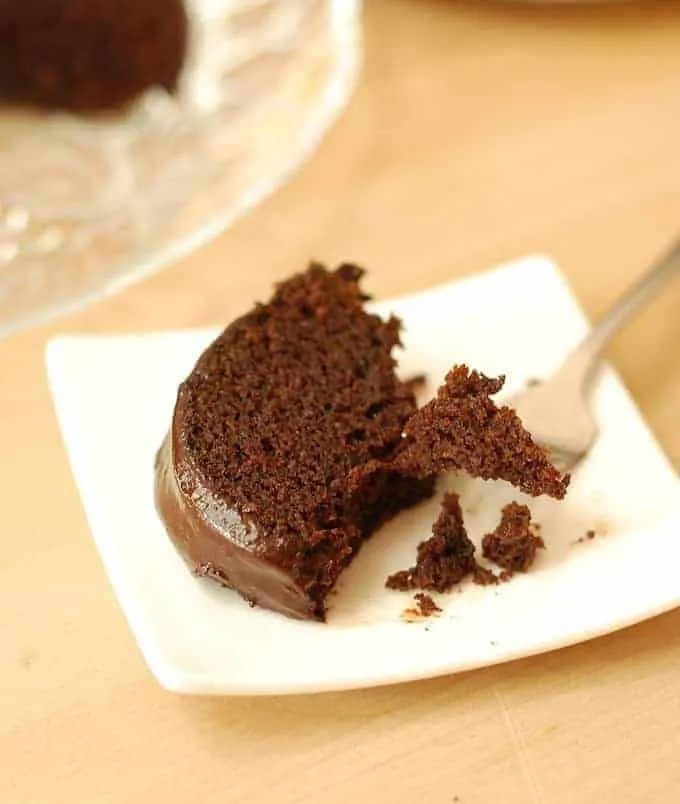 This is a truly fabulous cake. If you really know it's there and look for it you can taste just a hint of beet earthiness.
If you've got beets in the back of the crisper drawer in your refrigerator, why not dig them out and give this Chocolate Orange Beet Cake recipe a try?
If you want to try a really unusual recipe using beets, make this wonderful Golden Beet Orange Cake for a real treat.
If you love this recipe as much as I do, I'd really appreciate a 5-star review!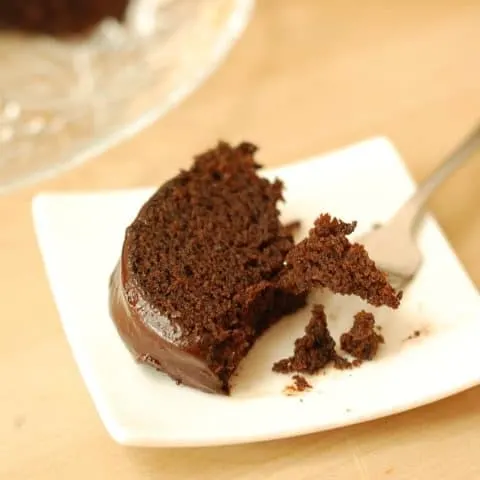 Chocolate Beet Cake with Chocolate Orange Glaze
Total Time:
1 hour
20 minutes
Chocolate Orange Beet Cake is a moist chocolate cake made with pureed roasted beets, fresh orange and lots of warm spice. As if that's not enough, it's finished with luscious chocolate orange glaze.
Ingredients
Cake Batter
1/2 pound (about 3-4 medium) beets, roasted and peeled (see note)
Finely grated zest and juice of 1 orange
2 1/4 cups (18 oz, 504g) brown sugar
1.5 cups (12 oz, 3560ml) vegetable oil
4 large eggs
1 teaspoon real vanilla extract
1/2 teaspoon real orange extract
1 cup plus 2 tablespoons (5 oz, 140 g) cake flour
1 cup (5 oz, 140g) all purpose flour
1/4 cup (1 oz, 28g) cocoa powder
2 teaspoons baking soda
1.5 teaspoons ground cinnamon
1.5 teaspoons ground ginger
1/2 teaspoon ground nutmeg
1/2 teaspoon ground cloves
1/2 teaspoon table salt
Chocolate Orange Glaze
8 oz (224g) semi sweet chocolate, chopped
1 stick (4 oz, 12g) unsalted butter, cut into 1" chunks
1/3 cup (4 oz, 112g) corn syrup
Finely grated zest of 1 orange
1 teaspoon real vanilla extract
1/4 teaspoon real orange extract
Instructions
Thoroughly butter and flour a 12 cup Bundt pan. Preheat the oven to 350°F.
Cake Batter
Puree the roasted beets with the orange zest and juice. You should have 1.5 cups of puree (add orange juice to bring it up to 1.5 cups if needed).
Combine the sugar, eggs, oil and extracts in a mixer bowl (see note).
Beat on medium low for 1 minute to emulsify the oil and eggs.
Sift the dry ingredients into a medium bowl and then whisk them together to evenly distribute the spices cocoa and baking soda.
With the mixer running on low speed, alternate adding the dry ingredients and the beet puree to the egg mixture. Scrape the bowl between additions.
Pour the batter into the prepared pan and bake until the center springs back when lightly pressed or a toothpick inserted in the center comes out with moist crumbs.
Cool for 10 minutes in the pan before inverting onto a cooling rack.
Cool to room temperature. While the cake is baking, make the glaze.
Chocolate Orange Glaze
Combine the chocolate, butter and orange zest in a microwave safe bowl.
Microwave in 1 minute increments (stirring between increments) until the chocolate is completely melted.
Add the corn syrup and the extracts.
Stir until smooth and glossy.
Finish the cake
Place the cooled cake on a rack over a clean sheet pan.
Pour the glaze over the cake to completely cover (you can scoop up the drips from the sheet pan and cover any gaps in the coating.
Allow the glaze to set before transferring the cake to a serving platter.
Recommended Products
As an Amazon Associate and member of other affiliate programs, I earn from qualifying purchases.
You might also like: