Apple Upside Down cake–Warm caramelized apples with a hint of rum, baked on a soft cinnamon buttermilk cake.  Yummm.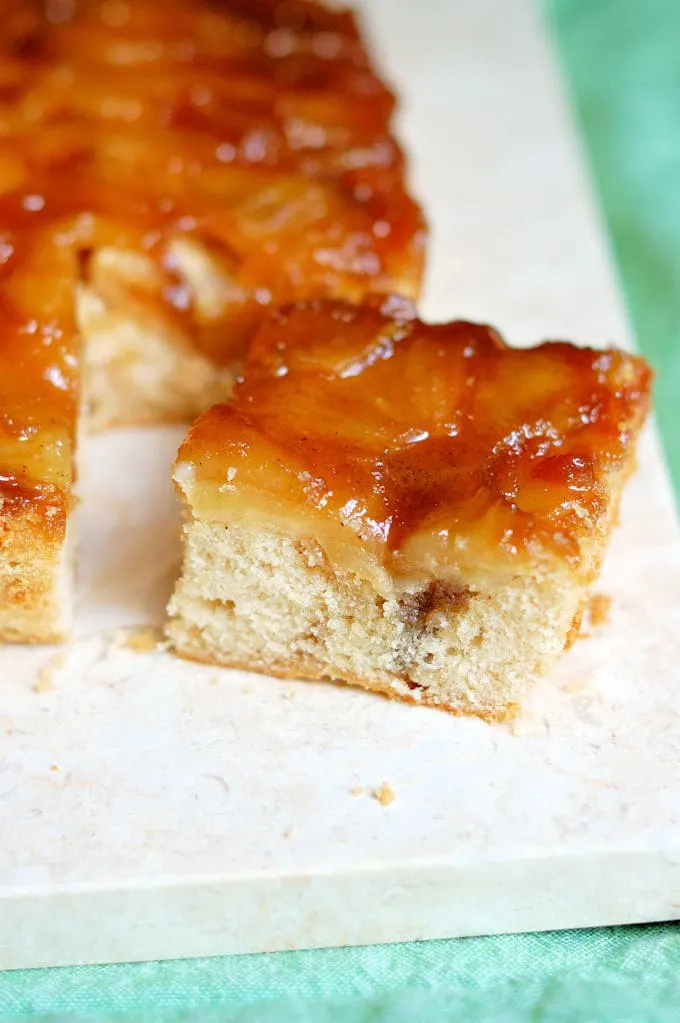 Fall is the cozy time of year when we put on our sweaters and retreat into the house after a summer of dining alfresco. Of course, when I'm in the house I'm usually in the kitchen.
One of my favorite things about fall is the bounty of apples in our farm share. We get apples of every color, size and flavor profile and it's so much fun to taste them all. Besides just eating them as a snack, I bake them into pies and cakes and slice them into salads and savory dishes.
Early fall is also a very busy time of year in the wedding cake business, so I haven't had a lot of time to bake just for fun. Despite my jam-packed schedule I decided to whip up a quick apple upside down cake last weekend while I was finishing up my wedding cake orders. This is a great recipe for those busy weeks in your life because it comes together pretty quickly but looks beautiful and tastes scrumptious. It's perfect for dessert, brunch or maybe even a slightly decadent breakfast. We enjoyed it warm from the oven with buttermilk ice cream.
The cake starts with a caramel topping made from brown sugar, vanilla bean, rum, cinnamon and butter. It's really not possible for something that starts with those ingredients to taste bad. The caramel is poured into a parchment lined cake pan, topped with fresh apples and then a buttermilk-cinnamon cake batter. Since I don't believe in reinventing the wheel for every new recipe, the cake batter for this recipe is a variation of my Blueberry Crumb Cake.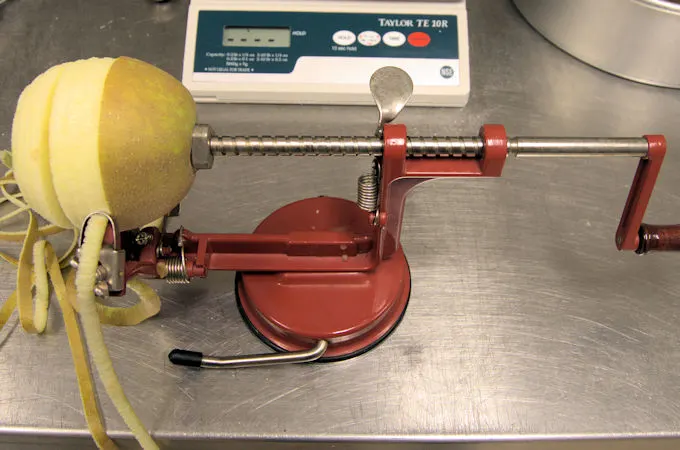 I've got plenty of kitchen gadgets, but this apple peeler has got to be one of my all-time favorite tools. It's well worth the space it takes up in your cabinet. I can whip through a couple pounds of apples for a pie in no time. Not only are the apples peeled and cored quickly and neatly, they come off the machine perfectly spiral-cut. I cut the rings in half and arranged them in rows for pretty design on top of the cake. If I make this cake in a round cake pan I like to arrange the apple slices in concentric circles.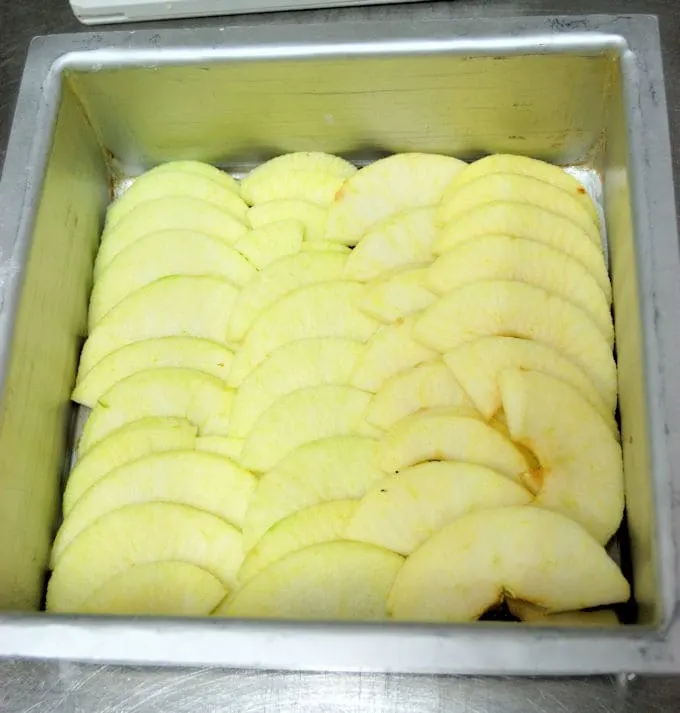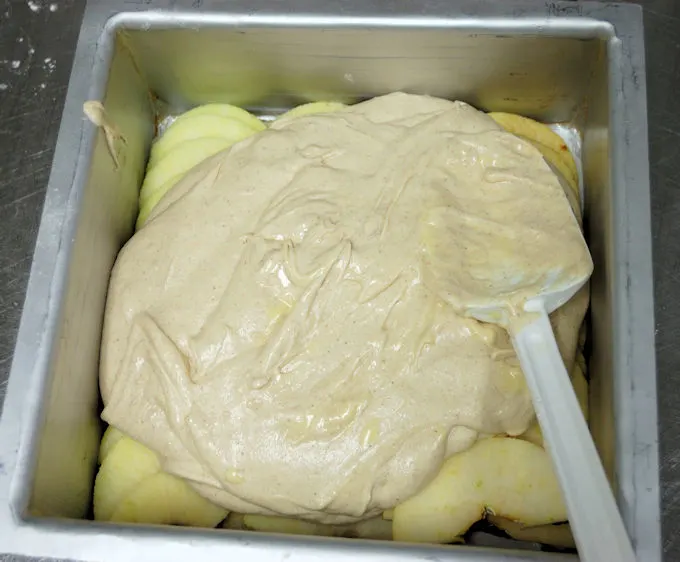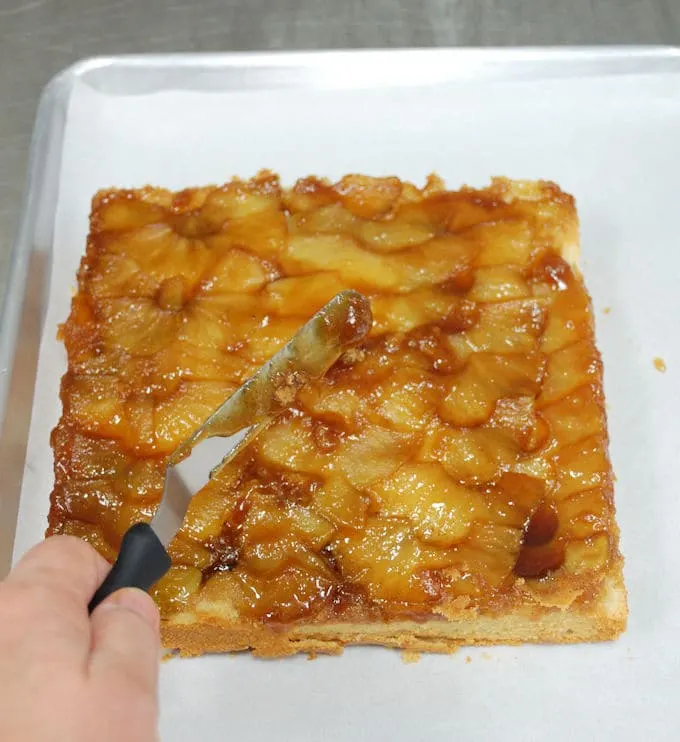 The key to getting this cake out of the pan with the topping intact is to unmold it while it's still warm. I let it cool just 5 minutes before running a knife around the edge and flipping it onto a serving platter. If a few pieces of apple or a little caramel sticks to the pan just use a small spatula to scoop up the left over bits and spread them back onto the cake. Again, this works best while the cake is still warm.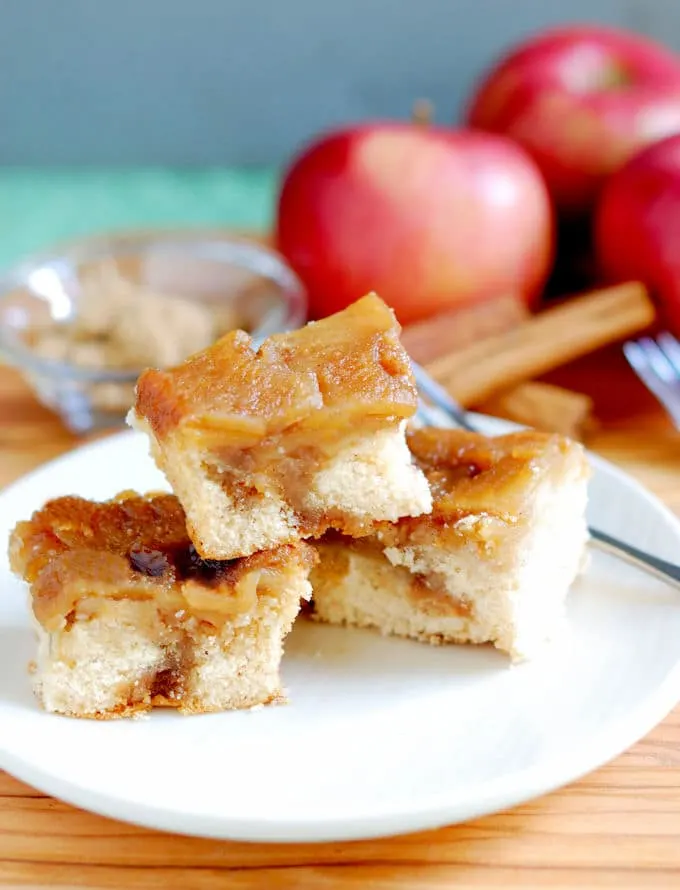 Apple upside down cake keeps very well for several days at room temperature, but I love it best warm from the oven. Try it with Buttermilk Ice Cream for a real treat.

Apple Rum Upside Down Cake
Yield: 8-12

Prep Time: 40 minutes

Cook Time: 30 minutes

Total Time: 1 hour 10 minutes
Ingredients
Caramel Topping
1.5 oz (3 Tablespoons) unsalted butter
1.5 Tablespoon dark rum
3/4 cup (6 oz) light brown sugar
1/4 vanilla bean or 1/2 teaspoon vanilla extract
1/2 teaspoon ground cinnamon
2 large tart apples, such as granny smith
Cake Batter
1 egg plus 1 yolk
1/2 cup (4 oz) buttermilk
1.5 cups (7 oz) cake flour
1 teaspoon ground cinnamon
1.5 teaspoons baking powder
1/4 teaspoon salt
3/4 cup (6 oz) granulated sugar
8 tablespoons (4 oz) butter, softened and cut into 1" pieces
Instructions
Preheat the oven to 325°f convection or 350°f conventional
Line the bottom of an8 square or 9 round cake pan with parchment paper
Caramel Topping
Combine all the ingredients in a small saucepan and heat until the butter is melted and the mixture just begins to boil.
Pour the warm caramel into the parchment lined pan and set aside while preparing the apples
Peel core and thinly slicethe apples. Cut the slices in half
Place the apple slices in overlapping rows onto the caramel.
Set aside while preparing the batter
Batter
Combine the egg, yolk and 1/4 cup of the buttermilk in a small bowl
Sift together the flour, cinnamon, salt, and baking powder into a mixing bowl, add the sugar
Run the mixer on low speed for 30 seconds to combine the dry ingredients
Add the butter to the dry ingredients and mix until combined
Add the remaining 1/4 cup of buttermilk to the flour and butter mixture
Turn the mixer to medium high for 2-3 minutes
Turn off the mixer and scrape the bowl and paddle
Add the egg mixture in two batches, scraping between additions
Gently spread the batter over the apples
Bake until the center of the cake springs back lightly when pressed, or a toothpick inserted in the center comes out clean, about 30 minutes
Cool in the pan for 5 minutes
Unmold the cake while it's still a warm by running a paring knife around the sides of the cake and inverting onto a serving platter
If any caramel or apples stick in the pan scrape them out with a small spatula and place on the cake while still warm.
Serve warm or room temperature