This Tomato Cobbler recipe, like my Heirloom Tomato Pie, was conceived by treating the tomato like the fruit that it is. Just a few modifications turned this cobbler from a dessert to a savory side dish.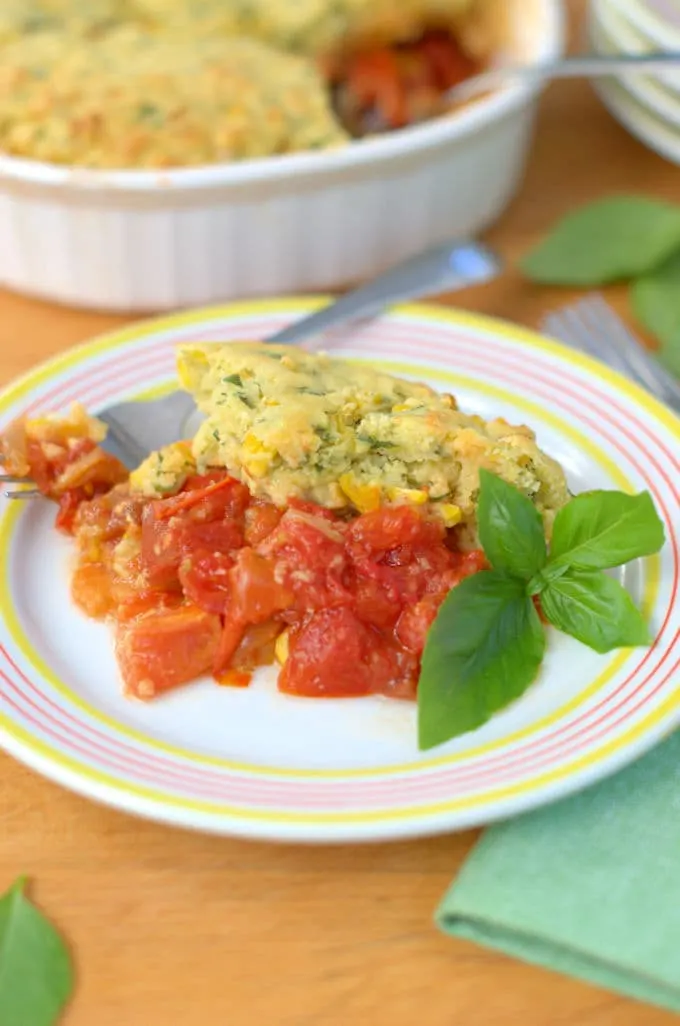 Much more forgiving than a pie or tart that requires a rolled dough, a cobbler is one of the simplest fruit desserts to bake. What could be easier than piling fruit and sugar into a casserole dish, topping it with a simple batter or crumb topping and letting it bake. Because it's meant to be homey and rustic – you just scoop and serve without worrying about having a perfectly pretty slice on the plate.
To avoid a soupy filling I lightly salted the tomatoes to draw out some of the moisture. It would be a waste to throw away the flavorful juice so I added it to caramelized onions, then cooked it all down to concentrate the flavors. Of course, since this is a savory dish, there is no added sugar in the filling, though the tomatoes and caramelized onions do have plenty of natural sweetness.
I made a simple filling of just tomatoes and caramelized onion, but you can add other ingredients according to your taste and what you've got available. Chopped olives, crumbled bacon or feta cheese would be tasty with the tomatoes and corn.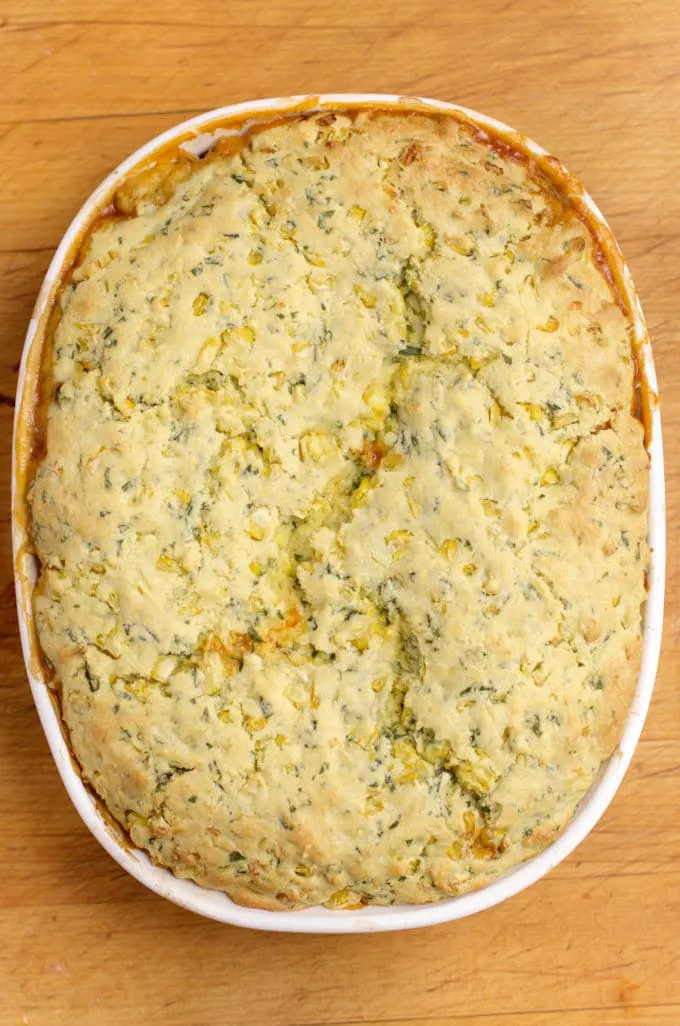 The starting point for the topping was a sweet cornbread batter that I make for my favorite blueberry cobbler. To adapt it for my savory dish I reduced the amount of sugar to just a couple of teaspoons and added chopped fresh basil and a little black pepper. The fresh corn kernels add extra moisture so I reduced the amount of butter from the original recipe.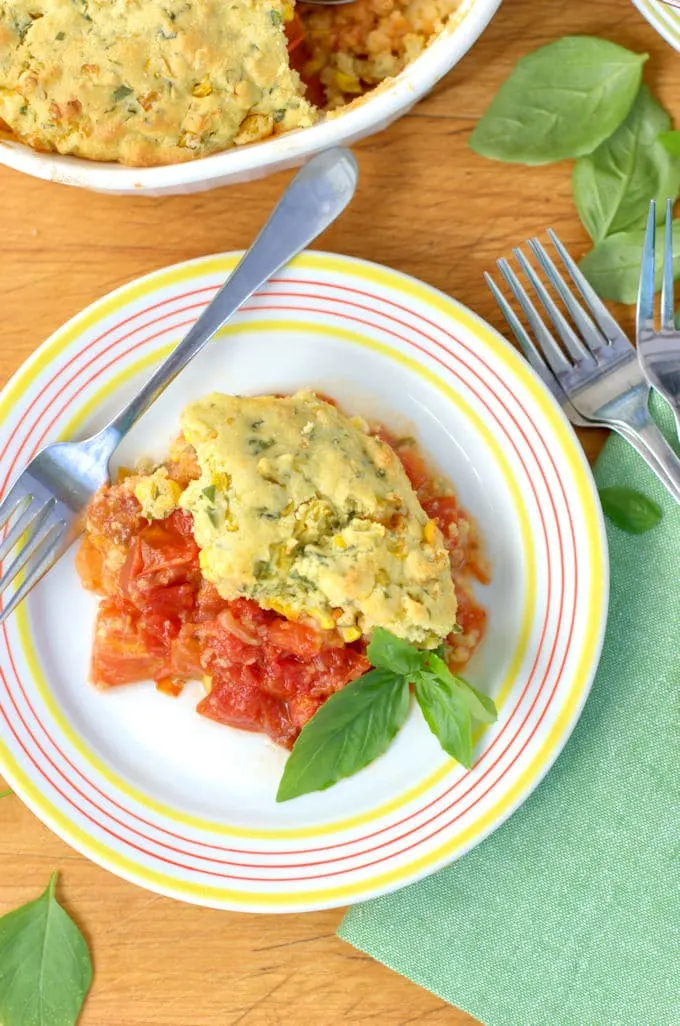 Mmm, it was delish. We enjoyed this cobbler as a side dish with grilled chicken, but it could also be served as a main course for a light dinner or lunch. I think this would be fabulous with a couple of eggs on the side for breakfast or brunch.
This one's a keeper.

Tomato and Corn Cobbler
Yield: 6-8

Prep Time: 40 minutes

Cook Time: 40 minutes

Total Time: 1 hour 20 minutes
Ingredients
For the Filling
2.5 - 3 pounds tomatoes, cut into chunky cubes
1 teaspoon salt
1 large onion, sliced
2 tablespoons olive oil
1/4 cup bread crumbs
For the Topping
1/3 cup cornmeal
1/2 cup all purpose flour
2 teaspoons sugar
1 teaspoon baking powder
1/4 teaspoon salt
pinch of black pepper
1/2 cup buttermilk
1 ounce (2 tablespoons) unsalted butter, melted
1 egg
3/4 - 1 cup corn kernels (about 1 ear)
1/4 cup basil leaves, chopped fine
Instructions
For the filling
Toss 1/2 teaspoon salt with the chopped tomatoes and set aside for 30 minutes.
Heat the olive oil in a saute pan and add the sliced onions and the other 1/2 teaspoon salt
Reduce the heat to medium low
Cook the onions, stirring occasionally, until golden brown (about 20-30 minutes)
Strain the tomatoes and reserve the juice
Add the juice to the pan with the browned onions
Increase the heat to medium high and cook, stirring frequently, until the juice is reduced and thickened.
Toss the onions with the chopped tomatoes, taste and adjust seasoning
Sprinkle the bread crumbs into the bottom of a 2 quart casserole dish
Pour the filling on top of the bread crumbs
For the Topping
Preheat the oven to 325°f convection or 350°f regular
Combine the cornmeal, flour, sugar, baking powder, salt and pepper in a mixing bowl
Whisk together to dry ingredients until thoroughly combined
In a small bowl or measuring cup, whisk together the buttermilk, melted butter and the egg
Add the wet ingredients to the dry ingredient all at once and stir just until combined
Fold in the corn and the basil
Spread the topping over the tomato filling in an even layer
Place the casserole dish on a sheet pan lined with parchment or foil for easy cleanup
Bake until the topping is browned and baked through and the tomato filling is hot and bubbly
Serve warm or at room temperature