These Sourdough Biscuits are both fluffy and flaky. A little sourdough discard gives these biscuits a wonderful flavor and a simple technique creates a super-flaky texture.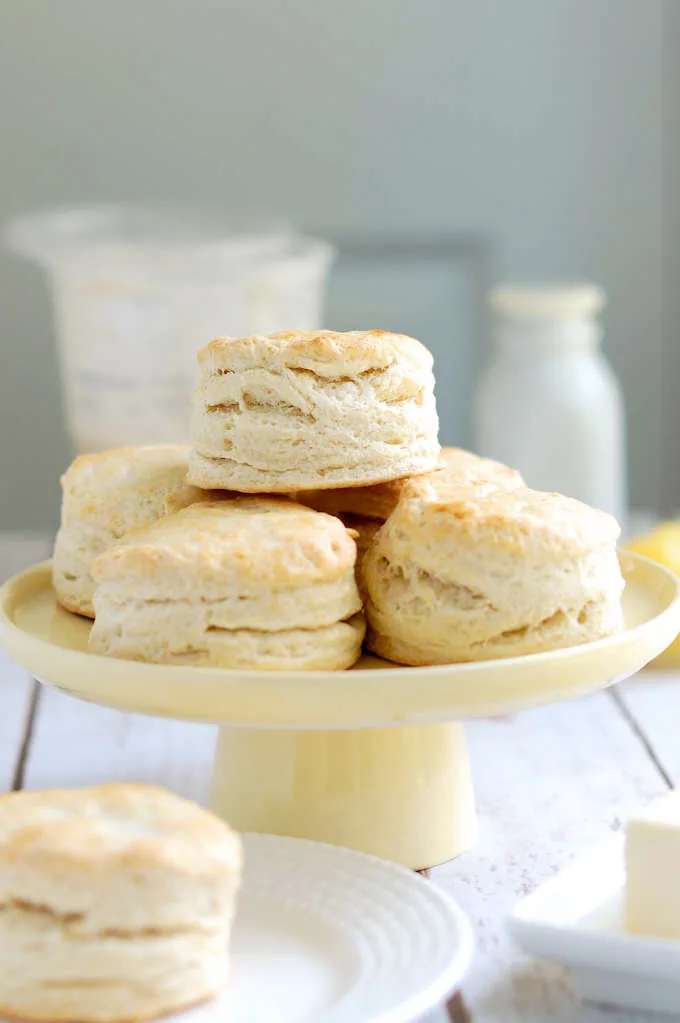 When I created my Flaky Buttermilk Biscuit recipe, I found if I made a fairly wet dough, and folded that dough a couple of times, I was able to make a biscuit that is both light and flaky.
To create a Sourdough Biscuit from that recipe all I had to do was replace 1 cup of the buttermilk with a cup of unfed sourdough starter, aka, sourdough discard.
How to make Sourdough Biscuits that are both fluffy and flaky:
Make a fairly wet dough that holds it's shape well enough to be folded.
Use unfed starter for tangy flavor. Bring the starter to room temperature before using.
Since the sourdough discard is not fed, it's not very active and won't really help the biscuits rise.
Because the starter won't help the biscuits rise, add baking powder and baking soda to the dough for leavening.
Gentle folding will develop layers of dough that will bake into lovely, buttery layers in the final biscuit.
It's easy to create flakiness by layering the dough. The trick is to handle the dough gently so you don't develop the gluten, which will toughen the dough.
Use a mixture of 1/2 all purpose and 1/2 cake flour. All purpose flour gives the biscuit dough enough body to create layers, and cake flour has a lower protein content to keep toughening gluten at bay.
Use your hands from start through finish to avoid over-working the dough.
This dough is so tender you don't need a rolling pin. You can easily pat it into shape using your hands.
Scroll through the step by step photos to see how to make buttery & flaky Sourdough Biscuits: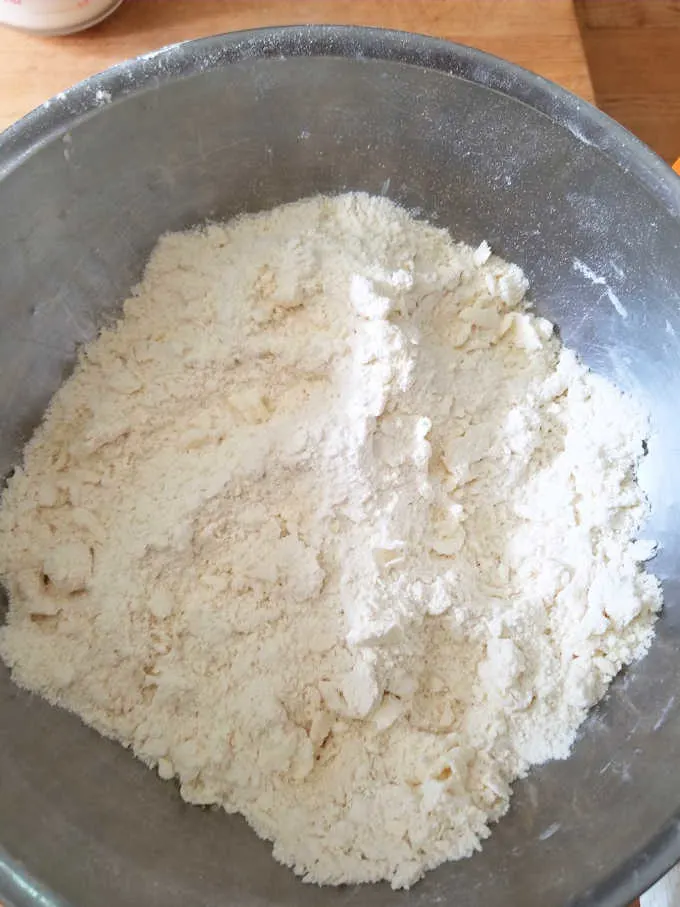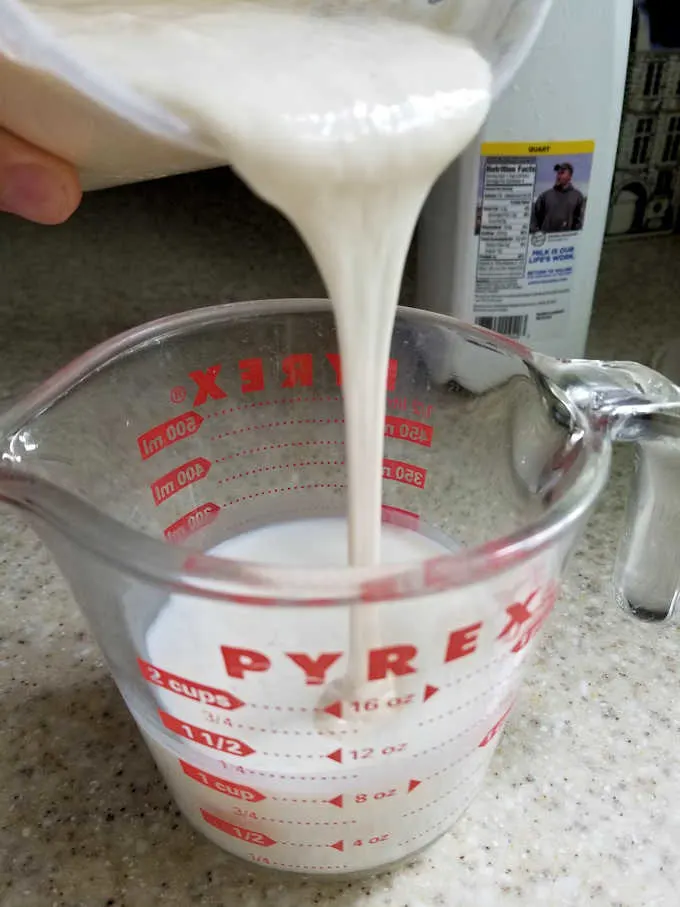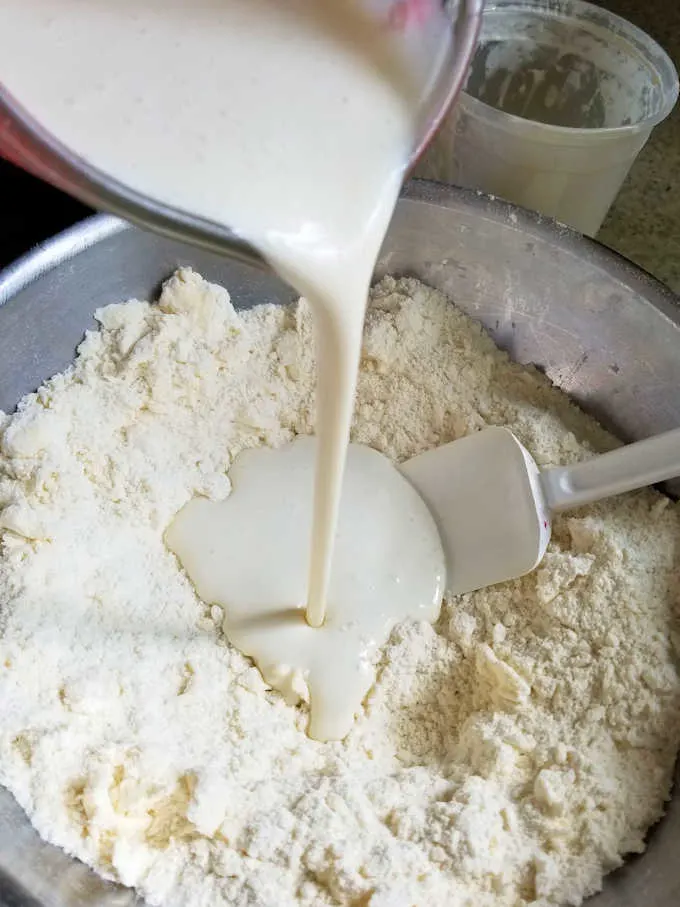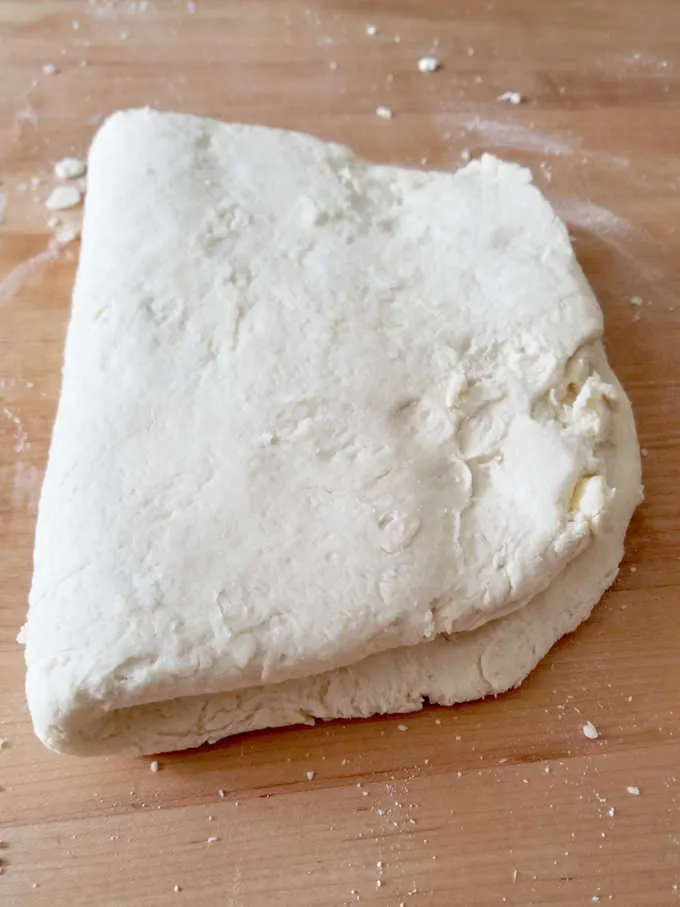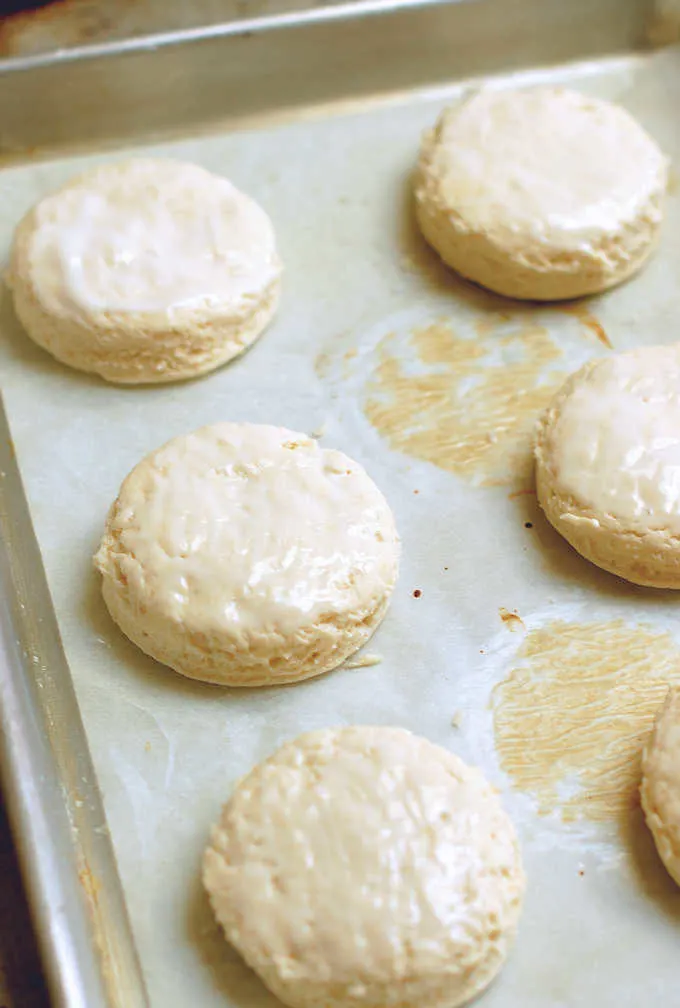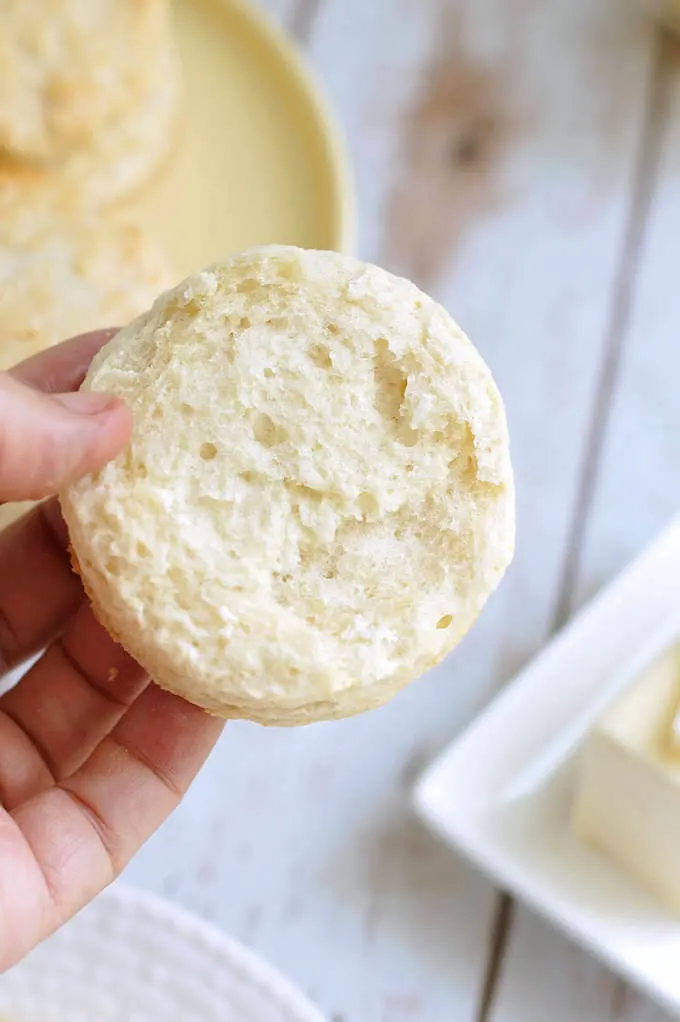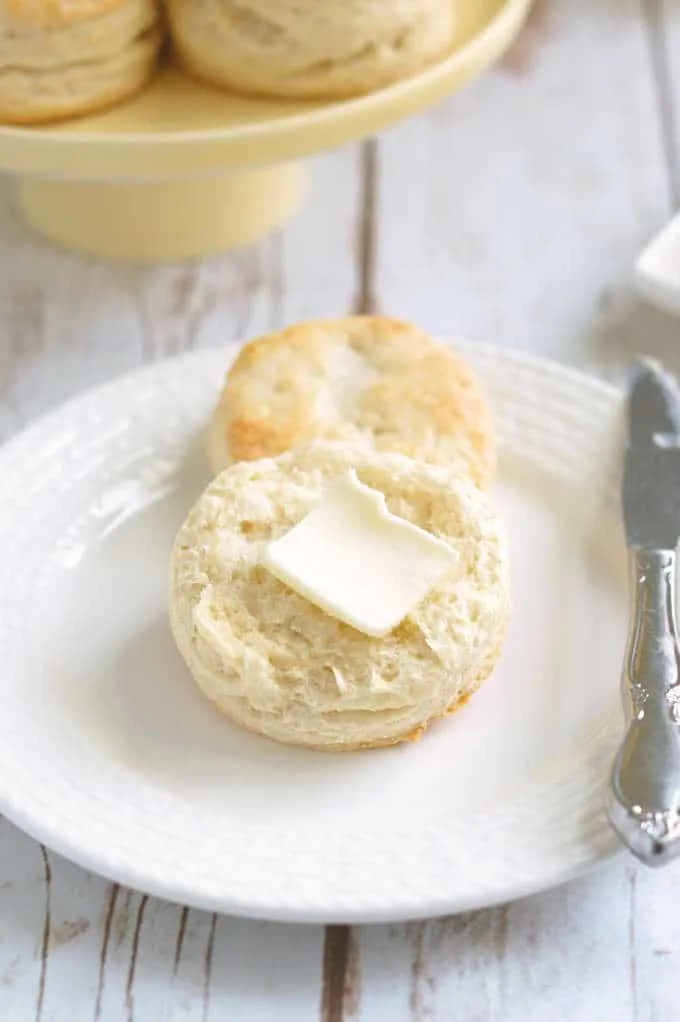 Looking for something else to make with your sourdough discard? Here's a list of my Best Sourdough Discard Recipes.
Since you've got your starter fed, peruse the entire list of My Best Sourdough Recipes. Have fun!
If you love this recipe as much as I do, I'd really appreciate a 5-star review.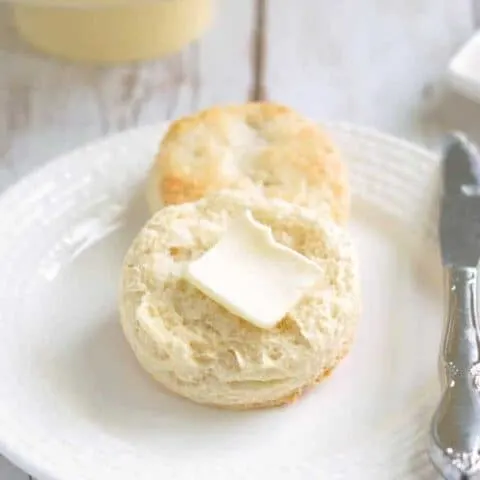 Flaky Sourdough Biscuits
Sourdough biscuits that are both fluffy and flaky. A little discard sourdough starter gives these biscuits a wonderful flavor.
Ingredients
2 cups (10 oz, 280g) all purpose flour
2 cups (8.5 oz 240g) cake flour
1 tablespoon + 1 teaspoon baking powder
1 teaspoon baking soda
1 tablespoon granulated sugar
1 teaspoon table salt
8 oz (2 sticks, 224g) unsalted butter, cold and cut into 16 pieces
1 cup (8oz, 224g) unfed sourdough starter (100% hydration) at room temperature.
1 cup (8oz, 240ml) room temperature buttermilk, plus more for brushing
Instructions
Preheat the oven to 400°F. Line a half sheet pan with parchment paper.
Combine the all purpose flour, cake flour, baking powder, baking soda, sugar and salt in a mixing bowl. Whisk the dry ingredients to combine.
Mix the butter into the flour with your fingers until it's broken down into bits slightly larger than a pea.
Combine the starter and the buttermilk in a small bowl. Add the starter/buttermilk mixture to the flour all at once. Mix until about 2/3 of the dry ingredients are absorbed.
Turn the dough onto a lightly floured surface and gently knead together just to incorporate the remaining dry flour (this should only take about 6-8 kneads).
Gently pat dough to a 1/2" thick rectangle, brush off excess flour and fold the dough in 1/2. Pat gently to stick the dough together and and fold again. Pat to 3/4 " thick disc and cut with a 2.5"-3" biscuit cutter. Gather the scraps together, pat to 3/4" thick and continue cutting until all the dough is used up.
Set the biscuits onto the prepared baking sheet and brush the tops with buttermilk. Bake the biscuits until well rise and golden brown, about 10-12 minutes.
If the bottoms of the biscuits are browning too fast set another sheet pan under the biscuits after 5 minutes of baking.
Recommended Products
As an Amazon Associate and member of other affiliate programs, I earn from qualifying purchases.