If you can't get enough blueberries and are looking for more ways to use them how about a Blueberry Crumb Cake?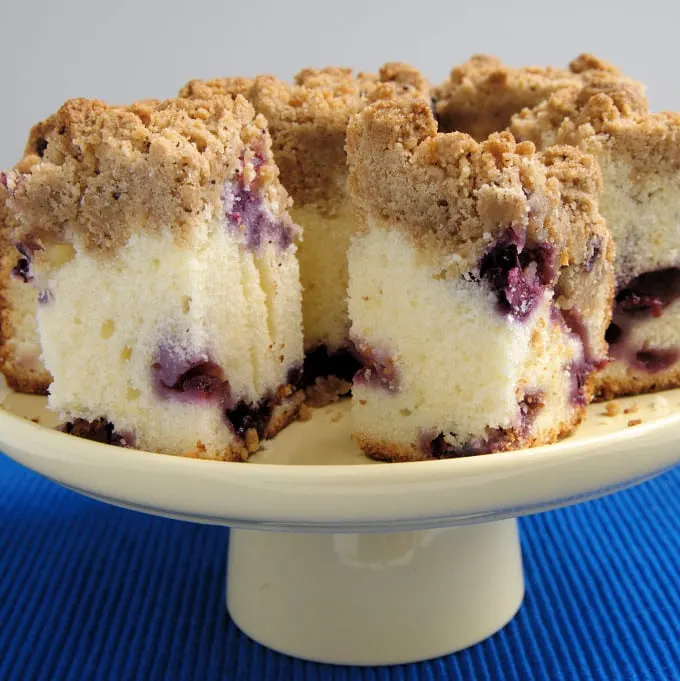 Are you still enjoying blueberry season? I am! I picked another quart at the farm today. The bushes are getting pretty empty so I don't know how many more weeks we'll get them in our share. For dinner I tossed some into a salad along with lettuce, tomatoes, carrots, cucumber and chick peas. It was delicious and the little sweet bursts from the blueberries were perfect.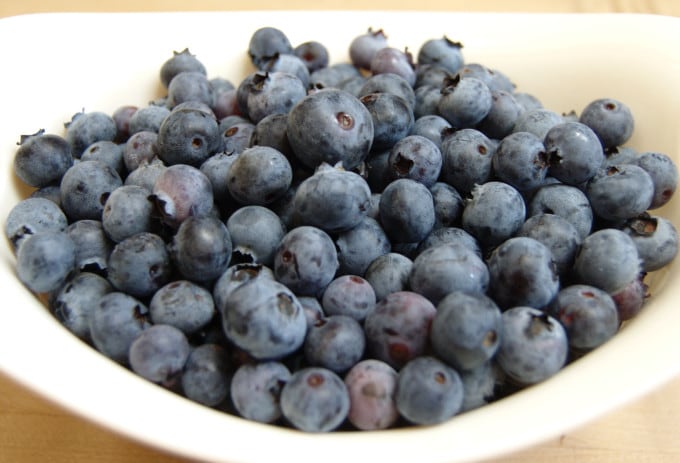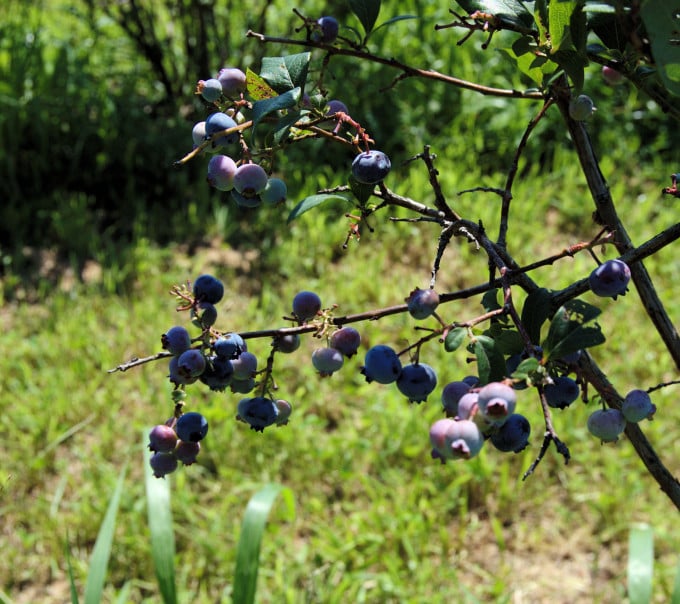 As I've mentioned in previous posts, after 8 years of thinking about, baking, decorating and delivering cakes for a living about the last thing I want to bake and eat at home is cake.
But crumb cake is another thing all together. Even though I'm a little sick of cake, I love the combination of a very light and soft cake under a chunky topping of  brown sugar  and cinnamon crumbs. Let's face it, it's all about the crumb topping! Folding fresh blueberries into the batter and layering more berries into the crumb topping takes this treat into another league altogether. This is a cake even I look forward to eating. It's great for dessert or with a cup of tea, but you could also have it for breakfast or brunch on the weekend.
For this recipe I knew I wanted to use a buttermilk cake for the base layer. Buttermilk is a fantastic baking ingredient. Not only does it add moisture and a nice tangy flavor to a recipe, buttermilk is acidic so it tenderizes the cake crumb. You'll notice that there is no baking soda in the recipe, only baking powder. Baking soda is on the base side of the pH scale, so it's used with acidic ingredients to balance the pH of a dough. I purposely did not use baking soda because I wanted to keep the batter slightly acidic. This is one of the softest cakes you'll ever taste. It absolutely melts in your mouth.
The key to a good crumb layer is to mix softened butter into the dry ingredients until it looks exactly like wet sand. When you grab a handful of the mixture it will clump together. By adding the crumb topping in chunks you'll get nice big crumbs in each mouthful of cake.
I used fresh blueberries for this cake, but you could certainly use frozen berries. Don't defrost them first. You should fold them into the batter while they're still frozen so they don't break down and turn the entire cake green.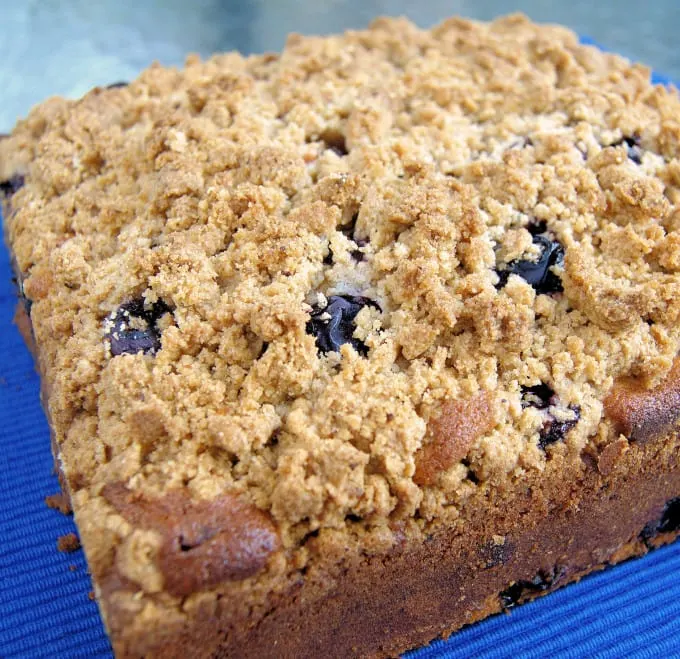 Do you have a favorite blueberry dish you'd like to learn how to make or to perfect? Let me know in the comments below. I'd be happy to do the research and testing and then post the resulting recipe.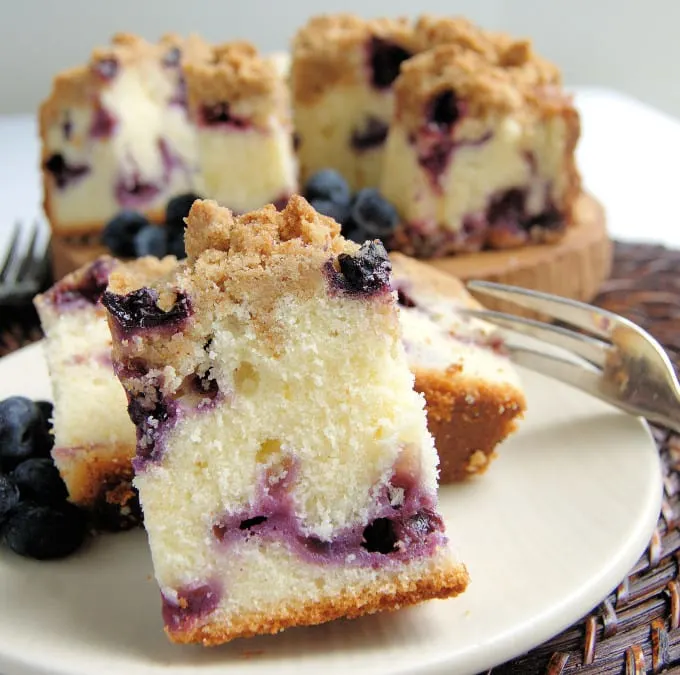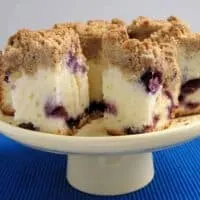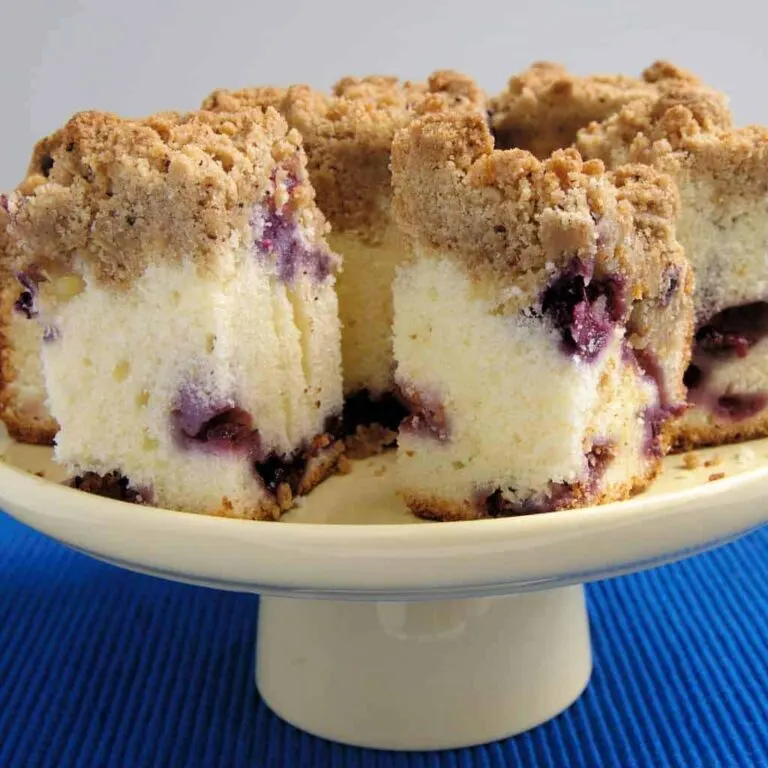 Blueberry Crumb Cake
Yield: 12 portions

Prep Time: 30 minutes

Cook Time: 1 hour

Total Time: 1 hour 30 minutes
Ingredients
Crumb Topping
1.5 cups cake flour
2/3 cups light brown sugar
pinch of salt
2 teaspoons cinnamon
1 stick (4 oz) softened unsalted butter, cut into 1" pieces
Zest of 1/2 lemon
Cake Batter
1 egg plus 1 yolk
1/2 cup buttermilk
1.5 cups (7 oz) cake flour
3/4 cup (6 oz) granulated sugar
1.5 teaspoons baking powder
1/4 teaspoon salt
8 tablespoons (4 oz) butter, softened and cut into 1" pieces
zest of 1/2 lemon
1 pint fresh (or frozen) blueberries
Instructions
Preheat the oven to 325°f convection or 350° conventional
Butter and flour an 8" square cake pan (preferably 3" tall)
Cut an 8"x16" piece of parchment paper and line the pan in one direction, leaving a short overhand on each side
Butter and flour the parchment
Crumb Topping
Combine the flour, brown sugar, salt, cinnamon and zest
Mix on low speed with the paddle until completely combined
With the mixer running, add the butter
Continue to mix until the topping looks like sand
Remove from the mixer and transfer to a small bowl by squeezing handfuls to create large clumps
Set aside while you mix the batter
Batter
Combine the egg, yolk and 1/4 cup of the buttermilk in a small bowl
Sift together the flour, sugar, salt, baking powder, add the zest
With the mixer running on low speed, add the butter and the remaining 1/4 cup of buttermilk
Mix until completely combined
Turn off the mixer and scrape the bowl and paddle
Mix on medium speed for 2 minutes to lighten the batter
Scrape the bowl
Add the egg mixture in two batches, scraping between additions
By hand, fold about 2/3 of the blueberries gently into the batter
Spread the batter into the prepared pan
Sprinkle 1/2 the remaining blueberries over the top of the batter
Sprinkle 1/2 the crumb topping over the batter, breaking into small pea to marble sized clumps
Sprinkle the remaining blueberries and then the remaining crumb topping
Bake until a toothpick inserted in the center comes out clean, about 40-45 minutes
Cool at least 30 minutes in the pan
Use the parchment to carefully lift the cake out of the pan
Cool completely on a wire rack