Rhubarb Sorbet is made with "the pie plant" and just enough sugar to highlight the special flavor of the rhubarb. It's beautiful in it's simplicity and it's simply beautiful.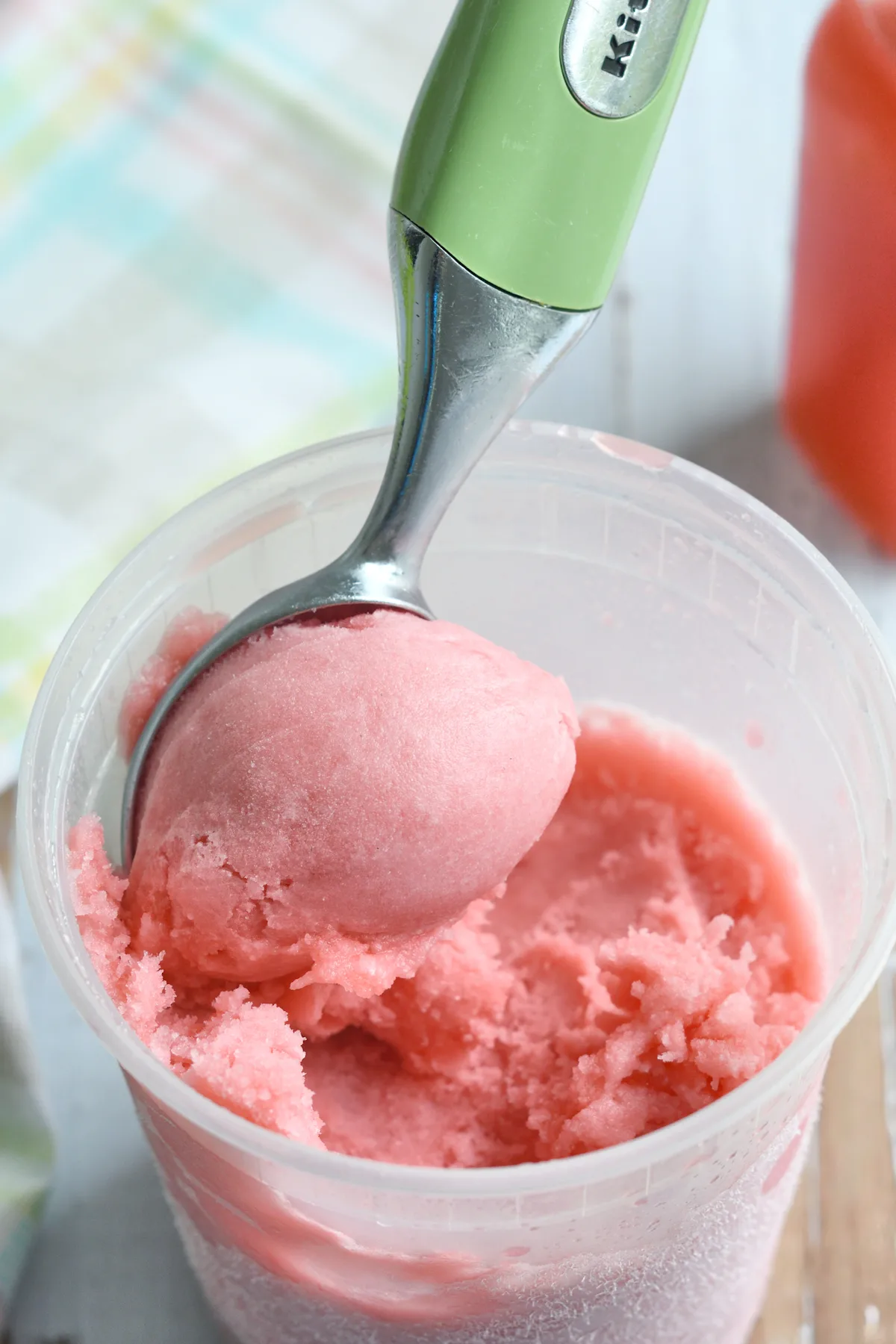 Just look at that color! No dyes were used in making this sorbet. That vibrant pink color is from the natural beauty of the rhubarb.
I love a good sorbet. Ice cream is wonderful, of course. But a good sorbet is refreshing and, if made well, will highlight great fruit flavor (or in this case vegetable flavor, since rhubarb is a veggie).
Most sorbets start from a base of fruit juice or pureed fruit. Whether you start with juice or puree, it won't have any fat. Ice cream and frozen yogurt rely on dairy fat for a wonderfully creamy texture.
So, how do we prevent our sorbet from freezing rock hard? How do we make a creamy, scoopable sorbet without any fat? I'm glad you asked…
FAQs about making Rhubarb Sorbet
How do I make a smooth Rhubarb Sorbet without dairy?
Once again we turn to our fascinating friend, sugar, to give us a hand. As we learned in the Baking School post all about the science of sugar, sugar is much more than a simple sweetener.

Dissolved sugar molecules interfere with the crystallization (freezing) of water molecules. This reduces the freezing point of the water in the mix so it won't freeze rock-solid. The partially unfrozen water will help keep the sorbet semi-solid rather than rock-solid, even after it is stored in the freezer. Without added sugar, we'd just be making a big rhubarb ice cube.

It seems like too much (or too little) sugar. Can I adjust the amount in the recipe?
Because there's very little natural sugar in the stalks, rhubarb is quite tart and needs a good amount of sugar to make it palatable as a dessert and to prevent overly crystalized sorbet.

You can adjust the sugar by an ounce or two, but don't stray too far from the recipe. A proper balance of sugar to fruit is key to making a luscious sorbet.
Do I have to freeze the rhubarb before making the sorbet?
Freezing the rhubarb helps break down the fiber in the stalks. The defrosted rhubarb breaks down very quickly and completely making it easier to strain the juice out.
Scroll through the process photos to see how to make Rhubarb Sorbet: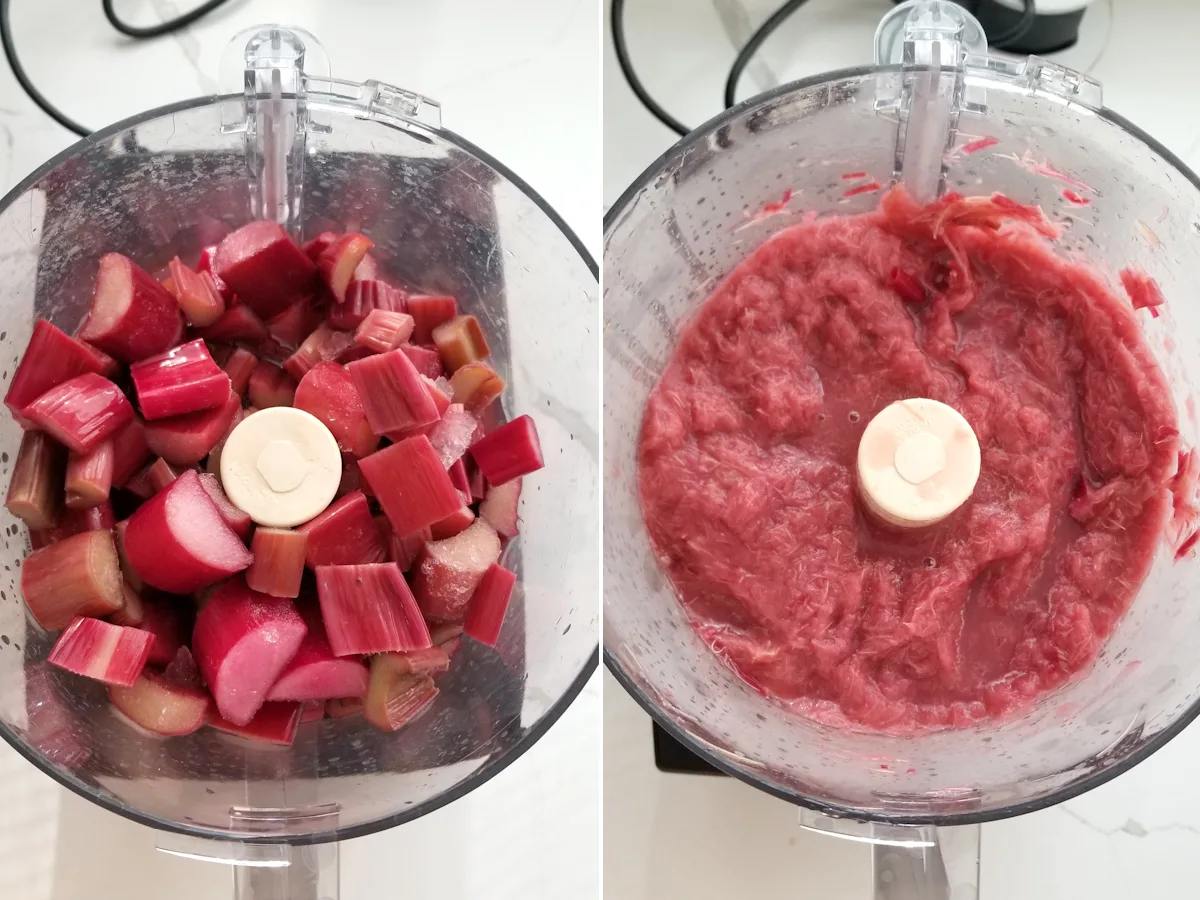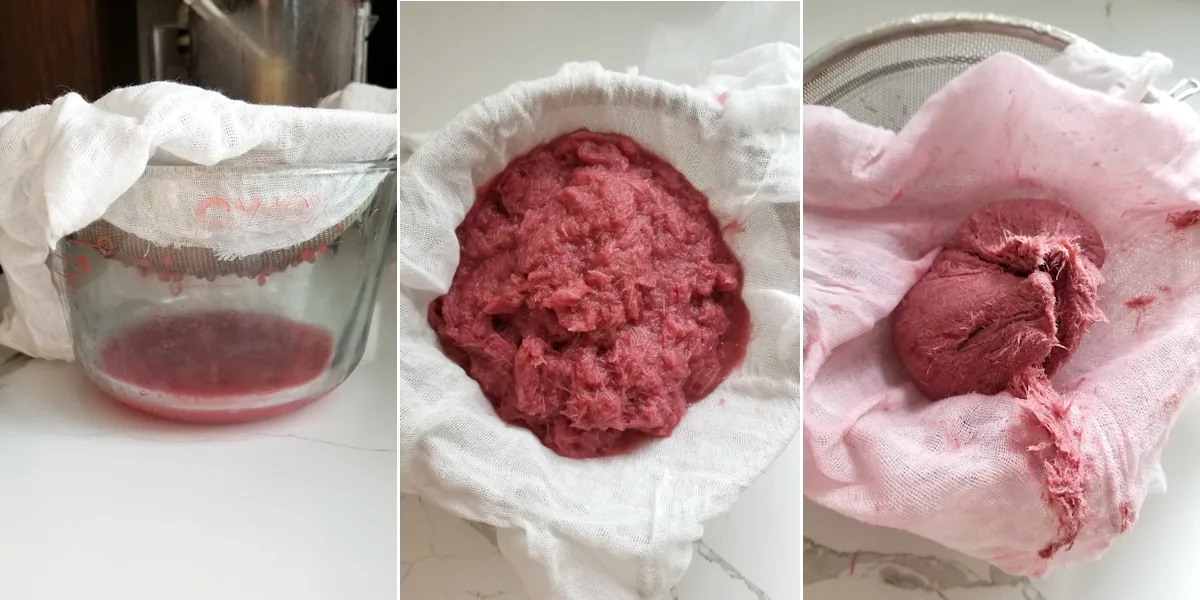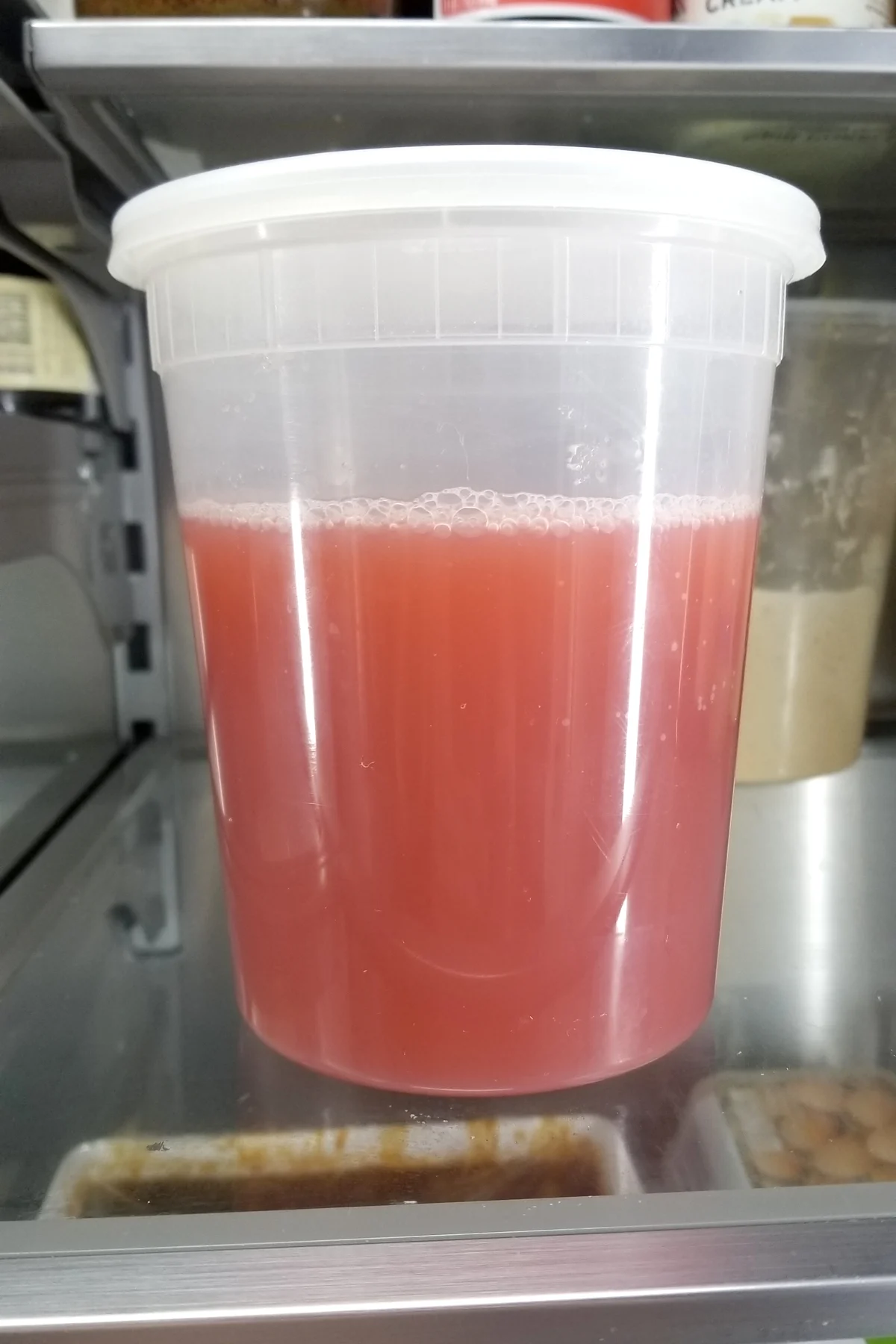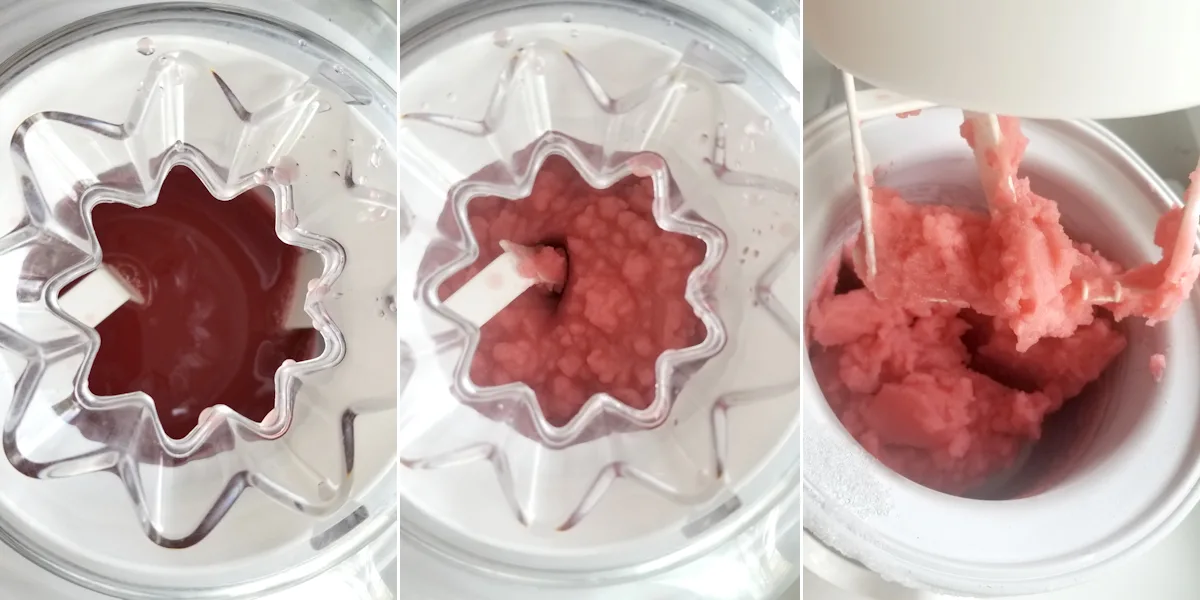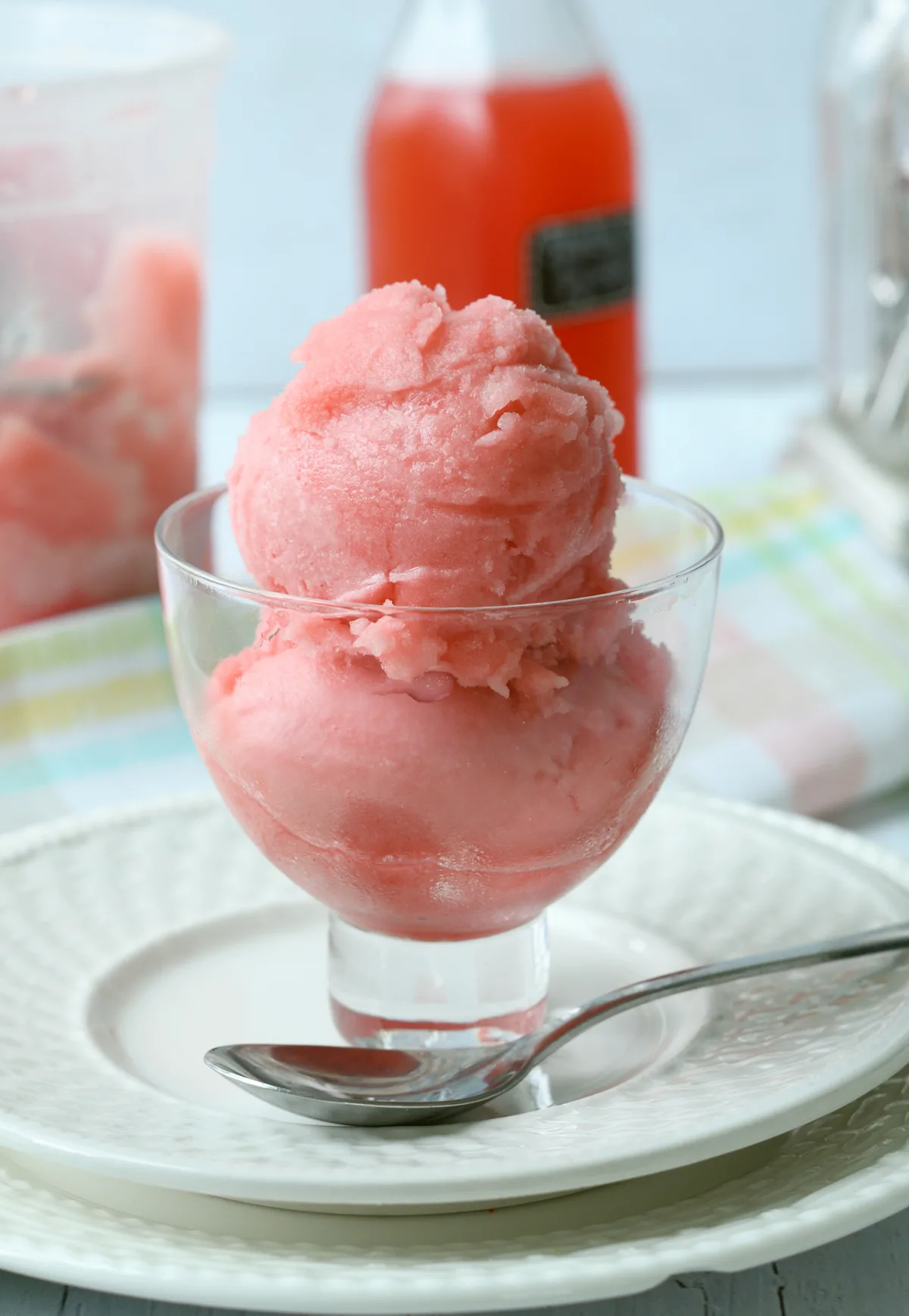 I am obsessed with the unique flavor of rhubarb. You too? Here are a few more recipes for you to try:
Here are some more sorbet recipes for you to try: Dark Chocolate Sorbet, Pineapple Rum Sorbet, Blackberry Sorbet, Fresh Melon, Caipirinha Sorbet.
If you love this recipe as much as I do, I'd really appreciate a 5-star review.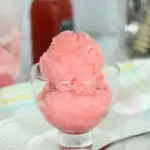 Print Recipe
Rhubarb Sorbet
Rubarb Sorbet is made with "the pie plant" and just enough sugar to highlight the special flavor of the rhubarb. It's beautiful in it's simplicity and it's simply beautiful.
Ingredients
32

oz

rhubarb

(frozen and defrosted)

8

oz

granulated sugar

(1 cup )
Instructions
In a food processor, puree the defrosted rhubarb for 4-5 minutes until it looks like applesauce. Strain the rhubarb through cheesecloth to remove the fiber. You should get 2 1/2 cups (20 oz, 600ml) juice. Any extra juice can be saved for another purpose or frozen. If you have less than 2 1/2 cups make up the difference with water.

Combine the rhubarb juice and sugar in a saucepan. Heat over medium high until the sugar is completely melted.

Transfer the mixture to a bowl and cover. Cool to room temperature then refrigerate until the mix is very cold, at least 3-4 hours or overnight.

Run in your ice cream machine according to the manufacturer's directions. (See note if you don't have an ice cream machine)

Pack into a plastic container, cover the surface with plastic wrap, cover and freeze overnight
Equipment
Freezer Storage Containers
As an Amazon Associate and member of other affiliate programs, I earn from qualifying purchases.
Notes
If you don't have an ice cream maker you can turn the mix into a granita. Pour the mix into a flat metal pan, like a 13×9 brownie pan. Place the pan in the freezer for 30 minutes. Use a fork to stir the mixture and scrape any ice that formed around the edges of the mix. Repeat every 30 minutes for 3-4 hours until you have a fluffy, scoopable texture made up of small ice crystals.
Nutrition
Serving:
0.5
cup
|
Calories:
133
kcal
|
Carbohydrates:
33
g
|
Protein:
1
g
|
Fat:
1
g
|
Saturated Fat:
1
g
|
Polyunsaturated Fat:
1
g
|
Monounsaturated Fat:
1
g
|
Sodium:
5
mg
|
Potassium:
327
mg
|
Fiber:
2
g
|
Sugar:
30
g
|
Vitamin A:
116
IU
|
Vitamin C:
9
mg
|
Calcium:
98
mg
|
Iron:
1
mg