When rhubarb is in season, Rhubarb Crumble Bars are the perfect treat. They're easy to make and very tasty. Buttery oatmeal crust is layered with sweet-tart rhubarb filling and topped with chunky brown sugar topping.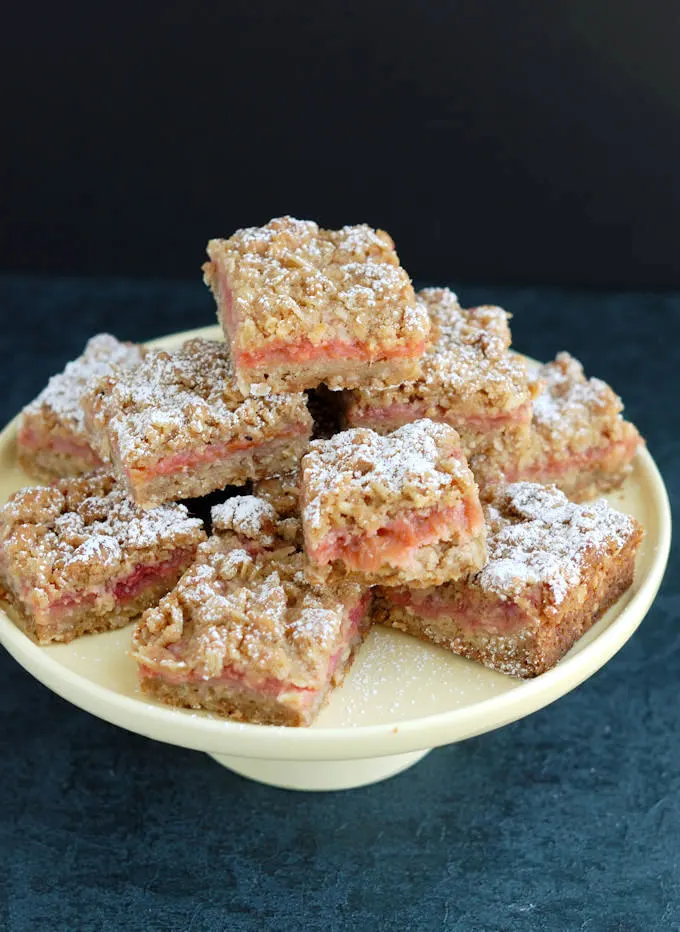 Sometimes, even the simplest recipes take several tries to get it exactly right. This is one of those recipes.
As soon as I see rhubarb in the local market I buy a big bunch before I even know what I'm going to do with it. It doesn't matter. I love rhubarb so much that I buy it first and figure out what to do with it later.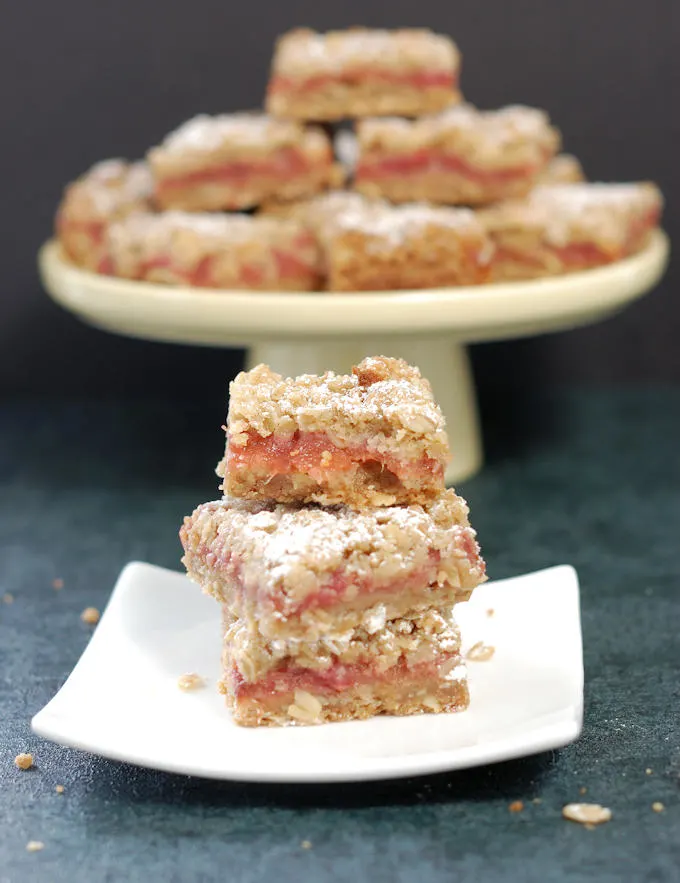 But, one of the realities of being a blogger is that I constantly have to come up with new ways to use my favorite ingredients. Much as I love all my old Rhubarb recipes, I knew I needed to create a new goodie with one of my favorite ingredients.
I have a tried and true Raspberry Bar recipe that I've used for years. I assumed it would be easy enough to simply replace the raspberry jam with rhubarb and call it a day. Well, you know what they say, never assume…
I made a quick rhubarb filling and layered it with my chunky, brown sugar/oatmeal crumble. I baked it up, and the bars tasted good. I mean, they were just fine.
But, just fine isn't good enough. I wasn't quite happy with the recipe. The rhubarb got a little lost in the crust, and this recipe is all about the rhubarb.
I can tell you that I don't phone it in. I really want a recipe to be the best possible version before I post it for you. So, as tempted as I was to post the recipe without making it again, I had to give it another go.
Since the rhubarb was melding into the crust, I decided to bake the bottom crust before adding the rhubarb. I hoped that would keep the rhubarb layer intact.
It worked. The second batch of bars was much better. The bottom crust is crunchy and the rhubarb layer is very distinct. Sometimes, just a small tweak makes all the difference.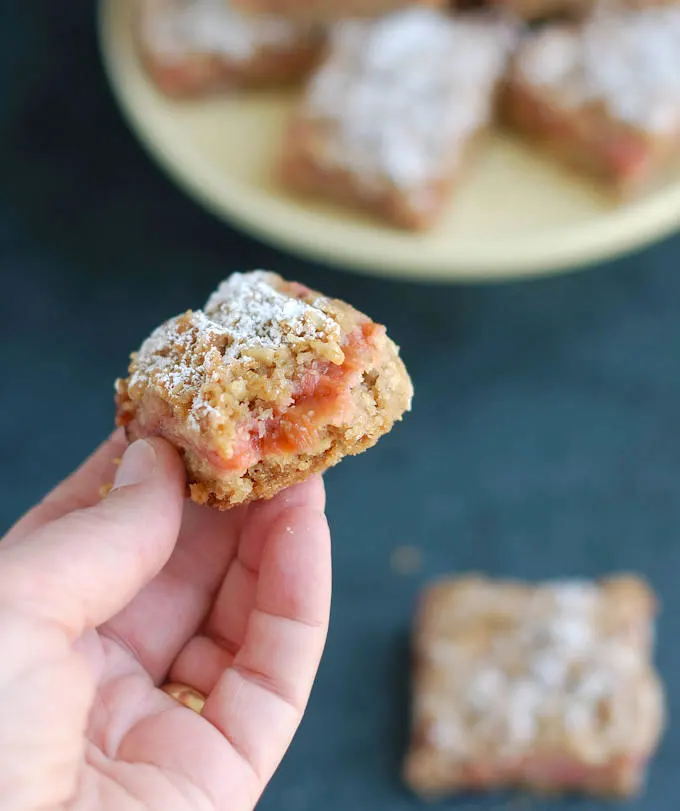 Watch the recipe video to see how to make Rhubarb Crumble Bars.
I am obsessed with the unique flavor of rhubarb. You too? Here are a few more recipes for you to try:
Here are a few more fruit and crumb bar recipes: Peanut Butter & Jelly Crumb Bars, Blueberry Crumb Bars.
If you love this recipe as much as I do, I'd really appreciate a 5-star review.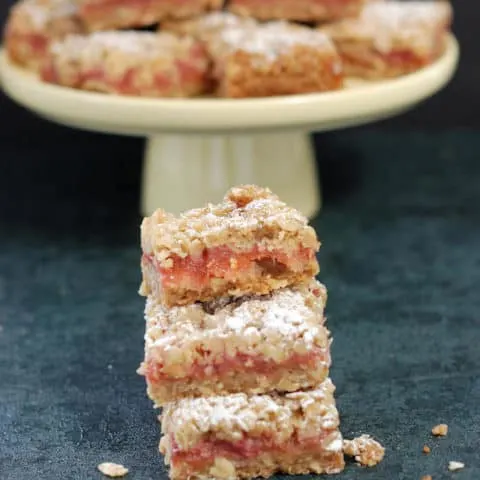 Rhubarb Crumble Bars
Buttery oatmeal crust is layered with sweet-tart rhubarb filling and topped with chunky brown sugar topping. When rhubarb is in season, this is the perfect treat that is easy to make and very tasty.
Ingredients
For the Filling
1 1/2 pounds (24 oz, 690g) rhubarb
3/4 cup (6 oz, 170g) sugar
Pinch of salt
1 teaspoon vanilla
For the dough
2 cups (10oz, 285g) all purpose flour
2 cups (6.5 oz, 185g) old fashioned rolled oats
1/2 teaspoon baking soda
1/2 teaspoon salt
1/2 teaspoon cinnamon
1 cup (8 oz, 225g) brown sugar
1/2 cup (4 oz, 115g) granulated sugar
1 teaspoon vanilla
1 1/2 cups (12oz,345g) unsalted butter (see note) sliced
Instructions
Make the filling
Slice the rhubarb into 1/2" thick slices and toss with the sugar and salt in a large saucepan. Cover the pan and set the rhubarb aside for 30 minutes to 1 hour to macerate.
Cook the rhubarb over medium heat until boiling. Reduce heat and simmer 5-10 minutes until most of the rhubarb is tender and it's beginning to thicken. You'll have about 3 cups of rhubarb filling.
Transfer to rhubarb to a bowl, stir in the vanilla and cool to room temperature.
Make the Dough
Preheat the oven to 350F. Generously butter a 13" x 9" pan. Line the pan with parchment paper for easier removal of the bars (optional).
Combine the flour, oats, baking soda, salt, brown sugar, granulated sugar and vanilla in a large mixing bowl. Mix to combine the ingredients.
Toss in the butter and mix with your fingers until the butter bits are no larger than a pea and the dough clumps together when squeezed.
Reserve 1/3 of the dough for the topping. Sprinkle the remaining 2/3 of the dough into the pan and and press into an even layer.
Bake 10 minutes until set and just beginning to brown.
Spread the rhubarb filling over the crust and crumble the remaining dough over the filling.
Bake until golden brown, about 20-25 minutes
Cool completely and cut into bars.
Notes
The butter should be slightly cool, but a little pliable. If the butter is very cold it will be more difficult to cut it into the dry ingredients. If the butter is very soft, it will completely mix in and you won't get nice large clumps of crumbs.
Recommended Products
As an Amazon Associate and member of other affiliate programs, I earn from qualifying purchases.