Caipirinha is the national cocktail of Brazil. I love them so much I created a recipe for Caipirinha Sorbet. It's like a Frozen Caipirinha! It's made with just 4 ingredients! No ice cream maker? That's Ok, you can make caipirinha granita instead.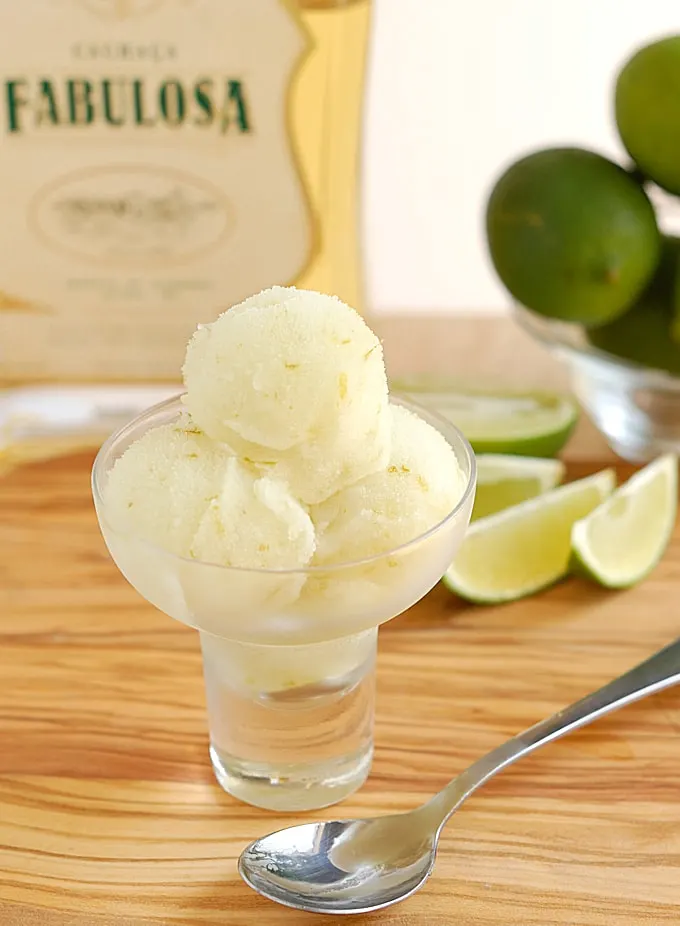 Our daughter spent her junior year of college living and studying in Brazil. We visited her over the Christmas holidays and spent 2 weeks traveling around that spectacularly beautiful country.
We visited an old mining town in the mountain region, we took the most amazing cruise on the Amazon River, visited the stunning Iguazu Falls and ended our trip in Rio de Janiero. Rio is known as "the beautiful city" and it truly is a beautiful and vibrant place to visit.
Brazil is not a big wine drinking country. Since I really enjoy a glass of wine, that fact had the potential to ruin my vacation. But I am adaptable so I was quite pleased to be introduced to the national Brazilian cocktail, the Caipirinha.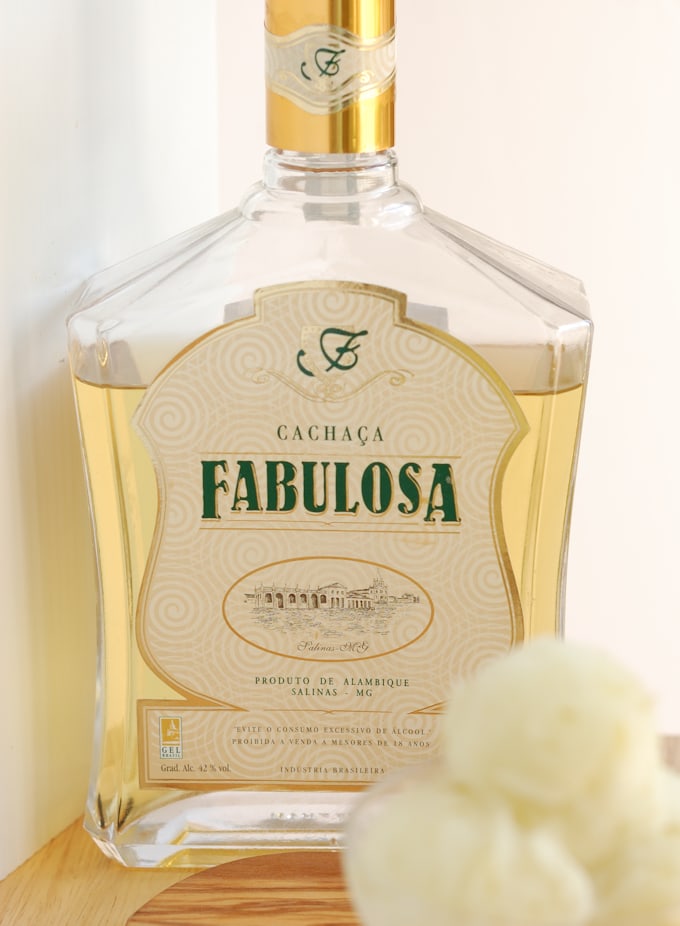 A caipirinha is made with sugar, lime and with Brazil's special sugar cane liquor, cachaça.
Since we were in Brazil during December and January, it was summertime in the southern hemisphere. The weather was hot, hot, hot, especially in the Amazon.
A caipirinha is the perfect refreshing drink for that climate. So I can understand while Brazilians are more partial to cold beer and caipirinhas than red wine.
We drank many (and by "we" I mean "I") caipirinhas during our 2 week vacation. We bought a couple of bottles of cachaça so we could make caipirinhas at home.
Now that we're in the middle of our own hot, hot, hot summer, I decided to make Caipirinha Sorbert as a refreshing treat. It's like a Frozen Caipirinha that you can serve for dessert.
How to turn a Caipirinha Cocktail into a sorbet:
You can't just take a cocktail and run it through the ice cream machine to turn it into a frozen treat. (If you don't have an ice cream maker read the notes in the recipe to make granita instead.)
Alcohol and sugar will lower the freezing point of the sorbet. Since a caipirinha has both sugar and alcohol I had to play with the proportions to get a mix that tasted like the delicious cocktail I came to know and love in Brazil, but would still freeze into a scoopable sorbet.
We had to taste test 3 batches of Caipirinha Sorbert to make sure it was just right. I know, I know, I do suffer for my art. Poor me.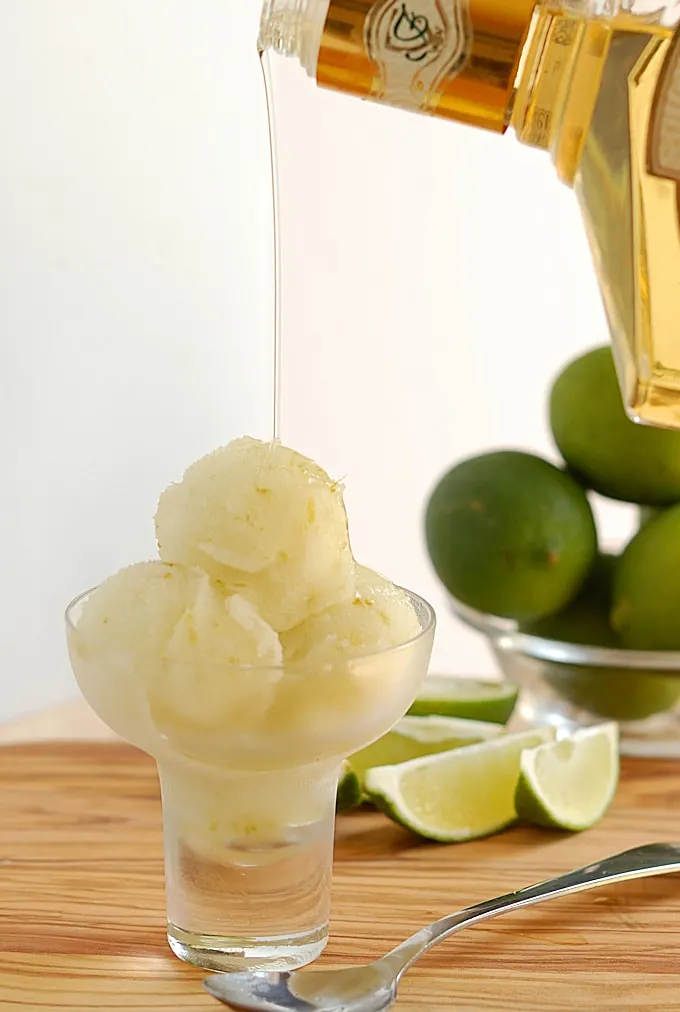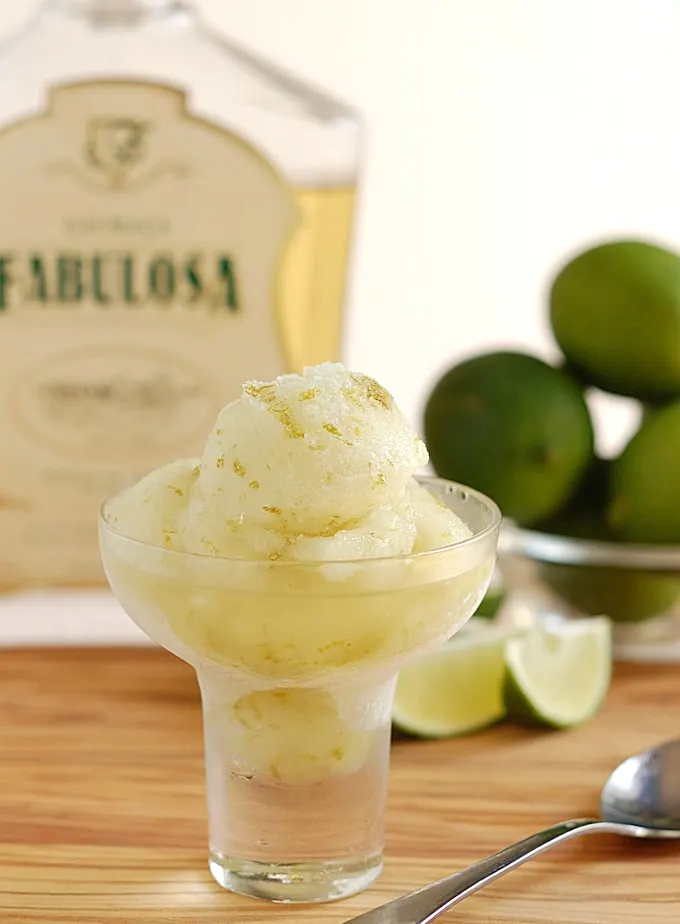 Caipirinha Sorbert is super easy to make, delicious and refreshing.
Oh, and if you're a bit of a lush like me and think a little more liquor flavor is usually a good thing, you can drizzle just a little cachaça over the sorbert to make it a Frozen Caipirinha "float".
Saúde!
If you love this recipe as much as I do, I'd really appreciate a 5-star review.
You might also like: