Pure Rhubarb Pie just might be my favorite fruit pie of all. I love the tart-sweet flavor and beautiful pink color of the fruit filling.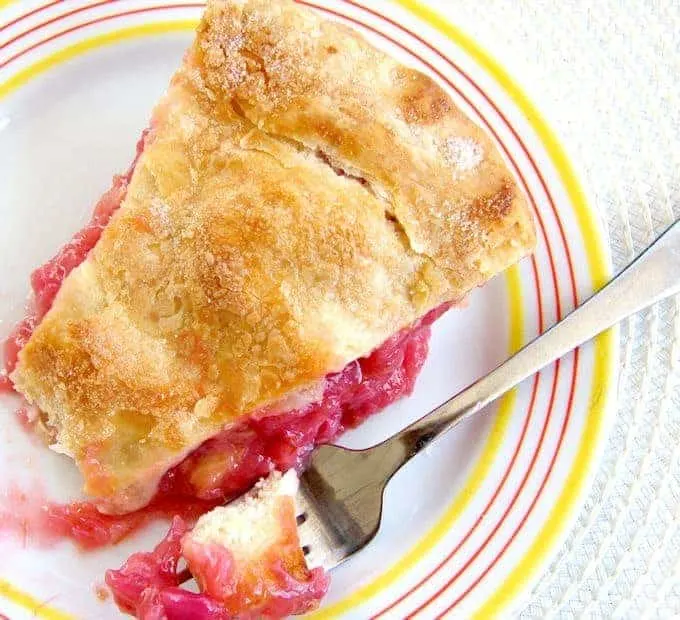 In my recent "Perfect Pie Crust" post I ended the article with a paragraph about the importance of patience in baking. Had I taken my own advice I might not have ruined the Rhubarb Pie I made for Easter dessert.
I started to write a post about rhubarb pie because it's one of my favorite desserts. My plan was to write a fairly straightforward piece with step by step instructions and lots of how-to photos. The theme was going to be about how I make this pie every spring when rhubarb is abundant in the local stores, about how I always make pure rhubarb pie because I love the flavor too much to mix in other fruits, etc., etc., etc.
Anyway, I was making the pie to bring along to my mother's house for Easter dinner. I thought about baking it the day before so the filling could set over night. This way I could cut a nice slice to photograph before we had to leave. But I really wanted to serve the pie the same day it was baked so I decided to wait until Easter morning to put it together.
We had to leave by early afternoon to get to my mother's in time for dinner and I really wanted to get a pie slice photo before we left. So I convinced myself that the pie was baked as soon as I saw a ripple in the filling. I should have waited to see it fully bubbling, which is a cue that it's hot enough for the cornstarch to set the juices. If you've ever cooked gravy or pudding made with corn starch on the stove top you know that it can go from runny to thickened in a matter of moments. Just a few degrees can make all the difference.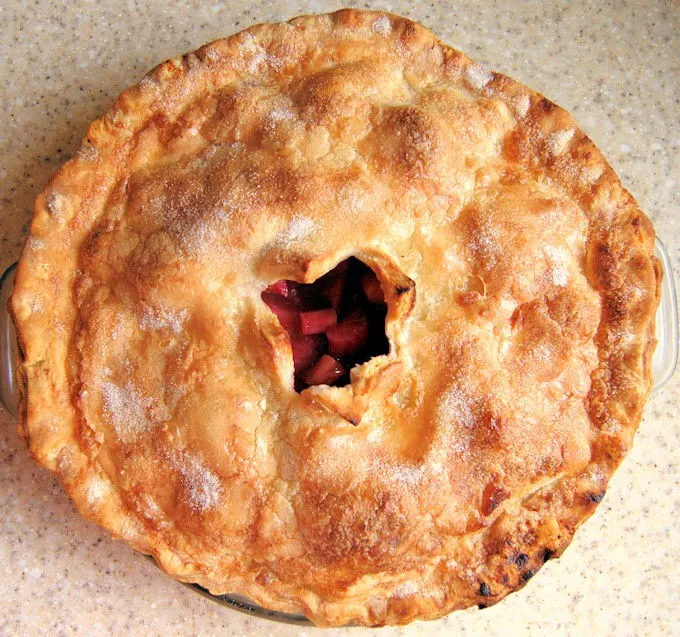 I took the pie out of the oven and it was gorgeous. The crust was golden brown, sugary and flaky. Unfortunately we had to leave before the pie cooled so I took my camera along figuring I'd get a quick photo of the first slice. Sadly, when I cut the pie after dinner, this is what happened.
Well, a couple of brave souls ate a little of the pie for dessert and I brought the rest home with me.
I will be perfectly honest and tell you that I thought about taking the filling out of the crust, reheating it enough to thicken, tucking it back into the pie crust, slicing a piece, taking a photograph and pretending that I'd made the perfect rhubarb pie for Easter dinner.
Well, my conscience got the better of me and I decided that honesty is the best policy. I figured I should take the opportunity to reinforce what I'd said about patience and baking and also take the opportunity to show that just because you screw up a recipe doesn't mean it's a total loss. Many, if not most, baking mistakes are fixable.
So I did take the filling out of the crust and re-cook it. I let it cool in the refrigerator and I was able to put most of it back into the remaining crust. Luckily, the crisp crust held it's shape when I scooped out the filling so I could just scoop it back in again.
Honestly, if I didn't want a photo of a pretty slice of pie I wouldn't have bothered. I would just serve the cooked filling in a dessert dish with a piece of the crust on top, kind of like a cobbler or crisp. If I was serving this at my house to guests I would've presented it that way with a smile and pretended that that was my plan all along.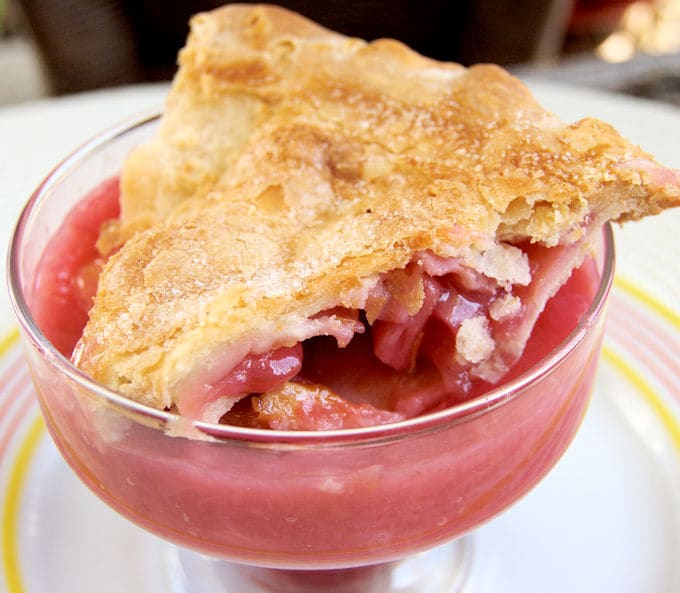 Well, lesson learned. Since I've started this blog I feel like I can't make a sandwich without taking photos just in case I want to write a blog post about it later. But this was a good reminder that first I have to make sure I'm following the recipe as I wrote it before I worry about getting a pretty picture.
Pyrex is my pie dish of choice because the clear glass not only uses both radiant and conduction heat to bake the crust, but you can see if the bottom of the pie is browned.

Rhubarb Pie
Prep Time: 20 minutes

Cook Time: 1 hour

Total Time: 1 hour 20 minutes
Ingredients
Perfect Pie Crust split into 2 equal portions
2.5 lbs rhubarb, cut into 1" pieces
1 lb 4 oz (2 1/2 cups) granulated sugar
1 teaspoon fresh lemon zest
6 tablespoons corn starch
Egg wash
granulated sugar
Instructions
Crust
Roll the bottom crust and line the pie plate
Roll the top crust, sprinkle with flour, fold in 1/2 and fold in 1/2 again.
Wrap the folded dough in plastic and place into the lined pie plate
Refrigerate crusts while you prepare the filling.
Filling
Combine the rhubarb, sugar and lemon zest and toss to combine
Allow to macerate at room temperature for 1/2 hour
Sprinkle the corn starch over the filling and toss to combine
Assembly
Preheat oven to 325 convection or 350 regular
Pour the filling into the pie crust base
Brush the edges of the crust with egg wash
Place the top crust on the bottom and press around the edge of the pan to adhere the two crusts
Trim the excess crust from the edges (save the trimmings for pie scrap cookies)
Pinch the edge of the crust between your thumb and pointer from one left hand and your other pointer to form a ridge. Or you can use a fork to form ridges
Continue around the edge of the dough making ridges
Cut an "X" in the center of the pie and peel back the four pieces to form a opening in the center
Brush the entire surface with egg wash and sprinkle liberally with sugar
Set the pie onto a parchment lined sheet pan to catch any juices
Bake the pie on the bottom rack of the oven for about 1-1 1/2 hours
The filling is ready when you can see it bubbling vigorously in the middle opening of the crust
Cool for at least 2 hours to allow the filling to set before slicing
Notes
If the edges of the crust are getting too brown before the filling is ready wrap a piece of foil around the edges of the pie.
The pie will keep at room temperature for several days.
Place a piece of plastic wrap over the cut edges