Rhubarb Crumb Cake! Three words that definitely belong together. Soft buttermilk cake is loaded with chunks of fresh rhubarb and crowned with brown sugar crumb topping.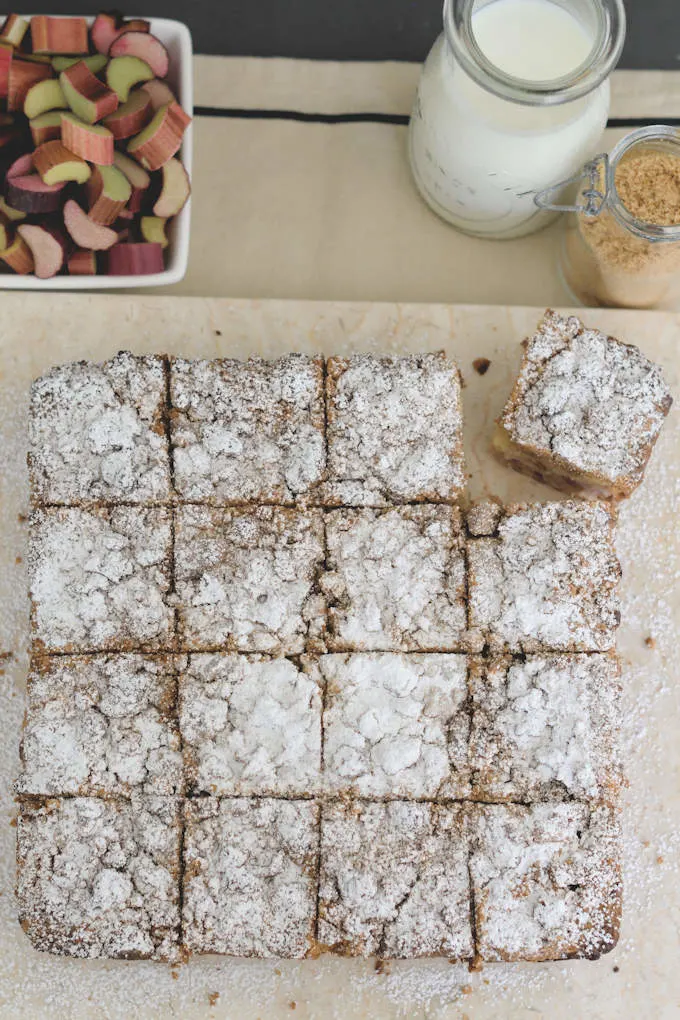 Calling all rhubarb lovers! You will want to enjoy this cake when our favorite vegetable, yes vegetable, is in season.
This cake is not shy with the rhubarb, there's a whole pound of it in the batter. That is a full 16 oz of vegetables in this cake. I think that pretty much makes it a health food, no?
This cake would be wonderful for breakfast, brunch, snacktime or any time at all.
Scroll through the process photos to see how to make Rhubarb Crumb Cake: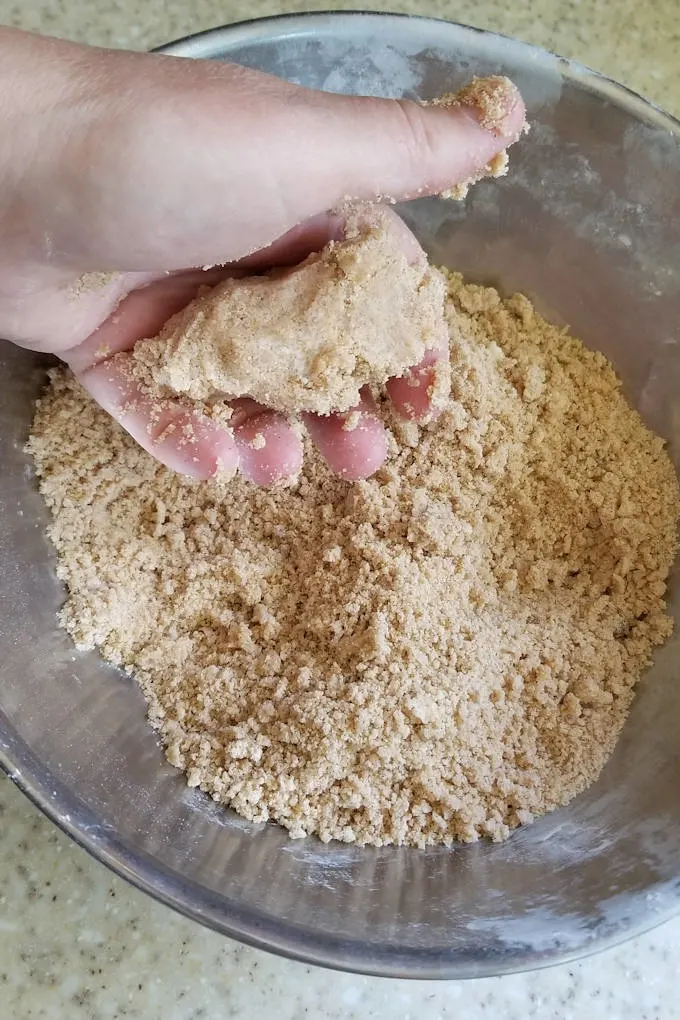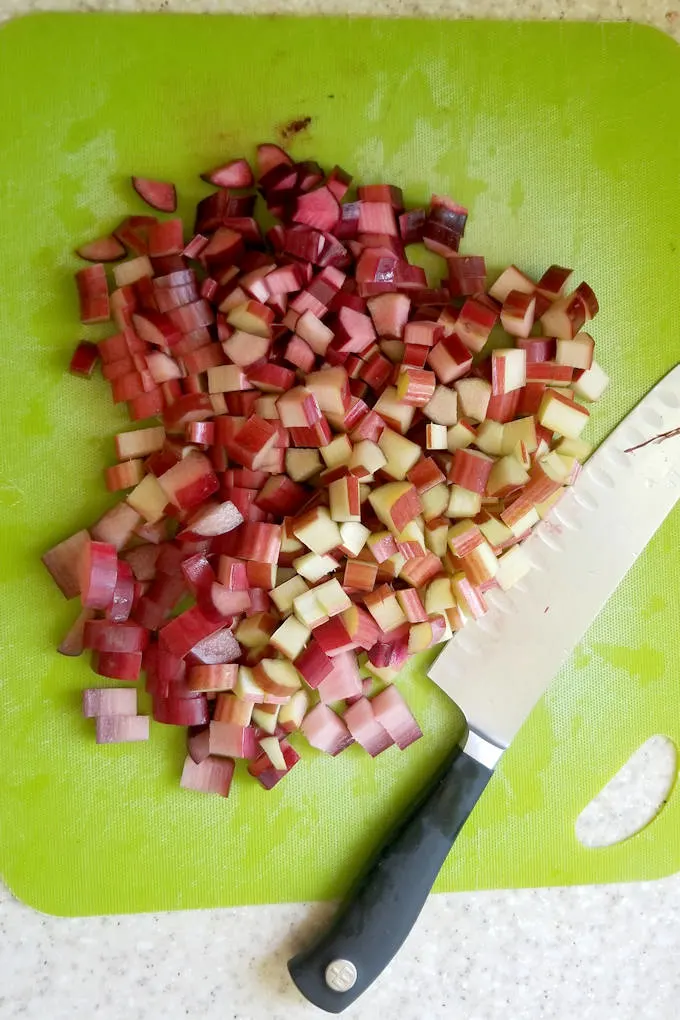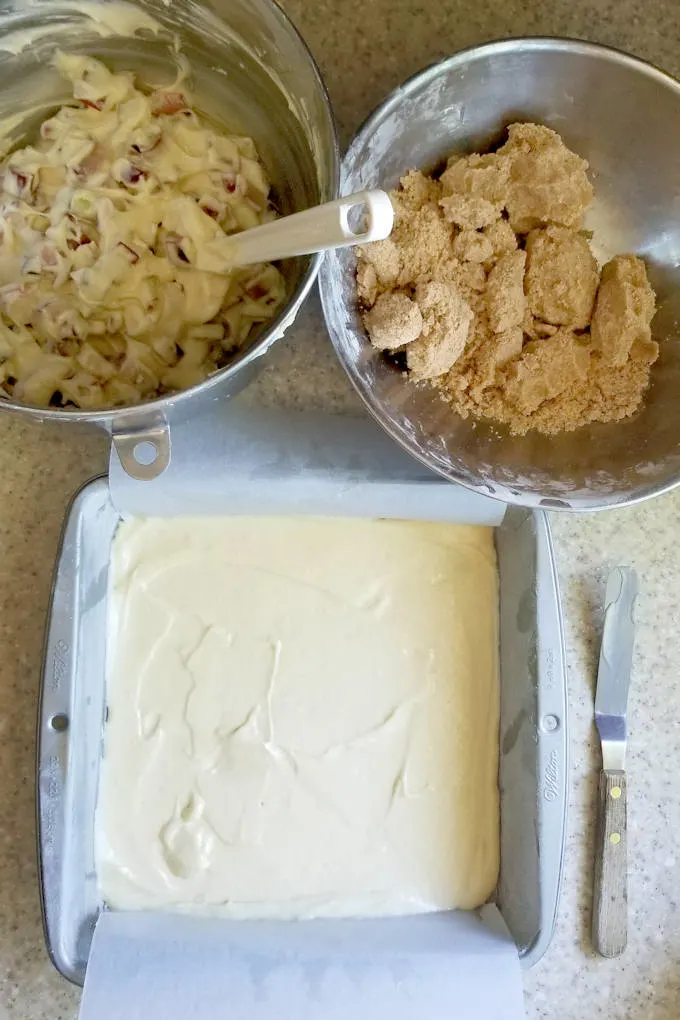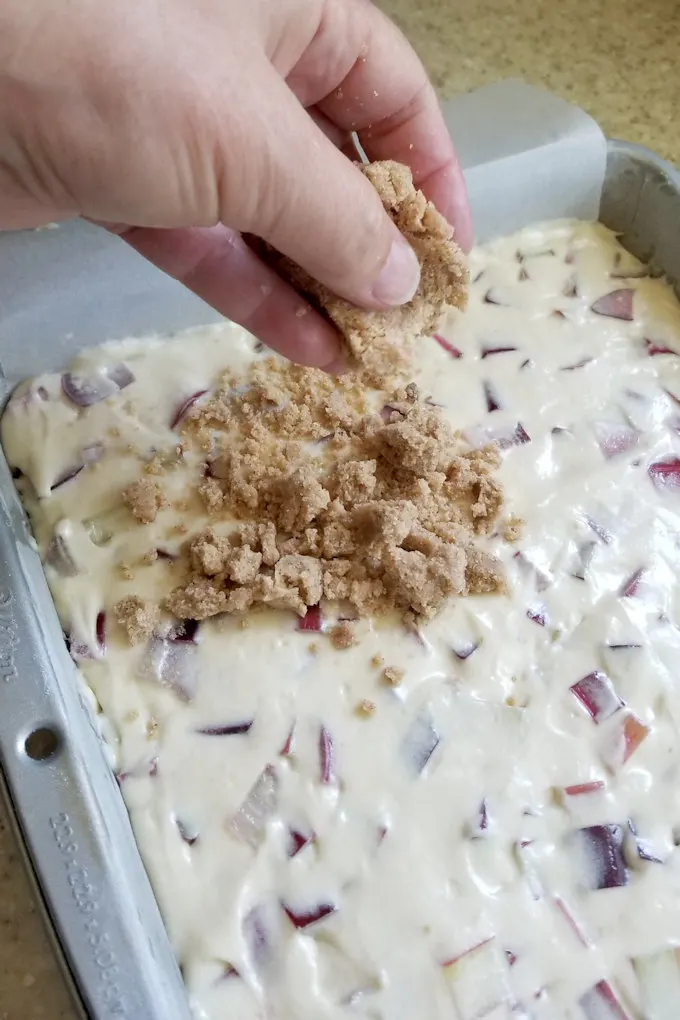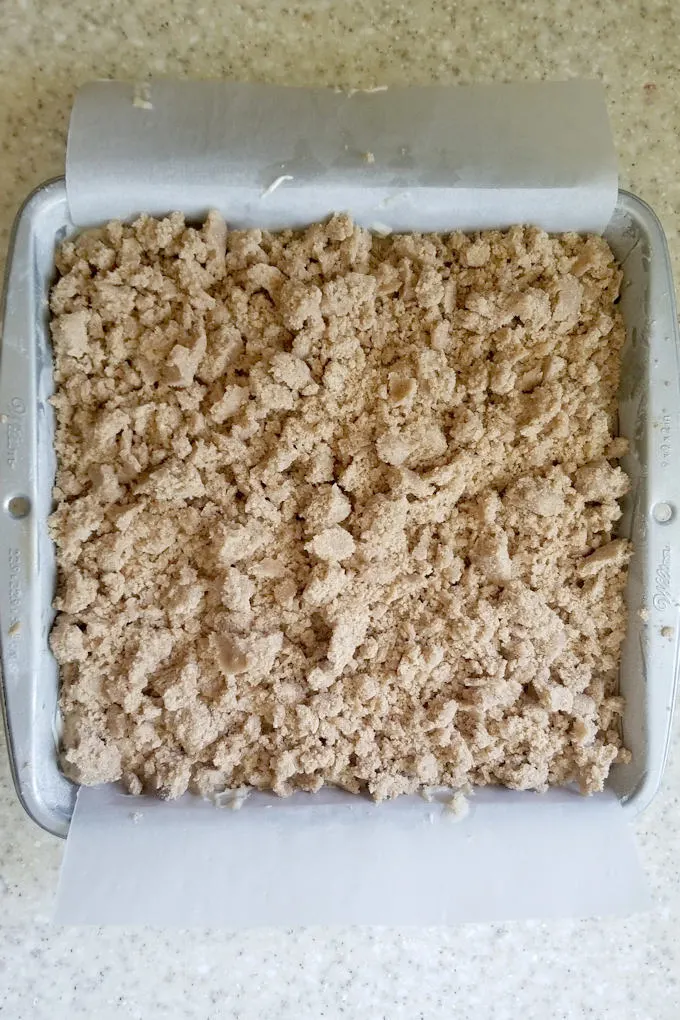 Helpful hints for making Rhubarb Crumb Cake:
Make sure the butter for the topping and the cake is softened to room temperature
Mix the crumb topping until it resembles wet sand. It might look dry, but if you grab a handful it should form a nice clump.
Use only fresh rhubarb. Previously frozen rhubarb would give off too much liquid.
Spread a cup of plain batter into the pan before adding the rhubarb. This will form a solid base for the cake so it doesn't come apart as you cut it.
When you fold the rhubarb into the batter you might think it's a mistake. It's not. There is about the same amount of rhubarb as batter.
To check if the cake is baked in the middle, lift one of the crumbs from the center and insert a toothpick into the cake. It should come out clean.
The cake is best the day it is baked, but will keep at room temperature for 2-3 days. The topping will soften after a day.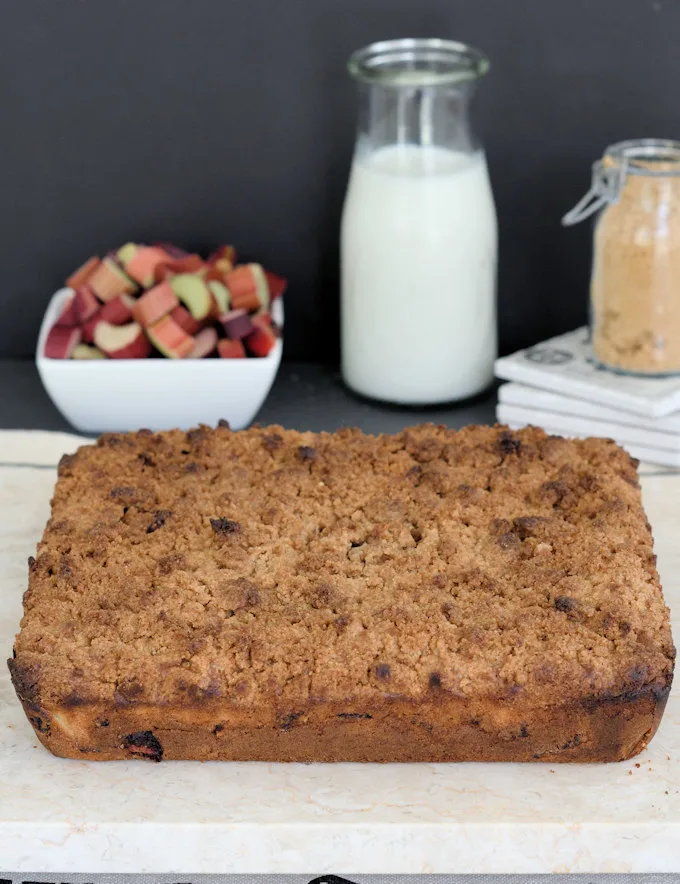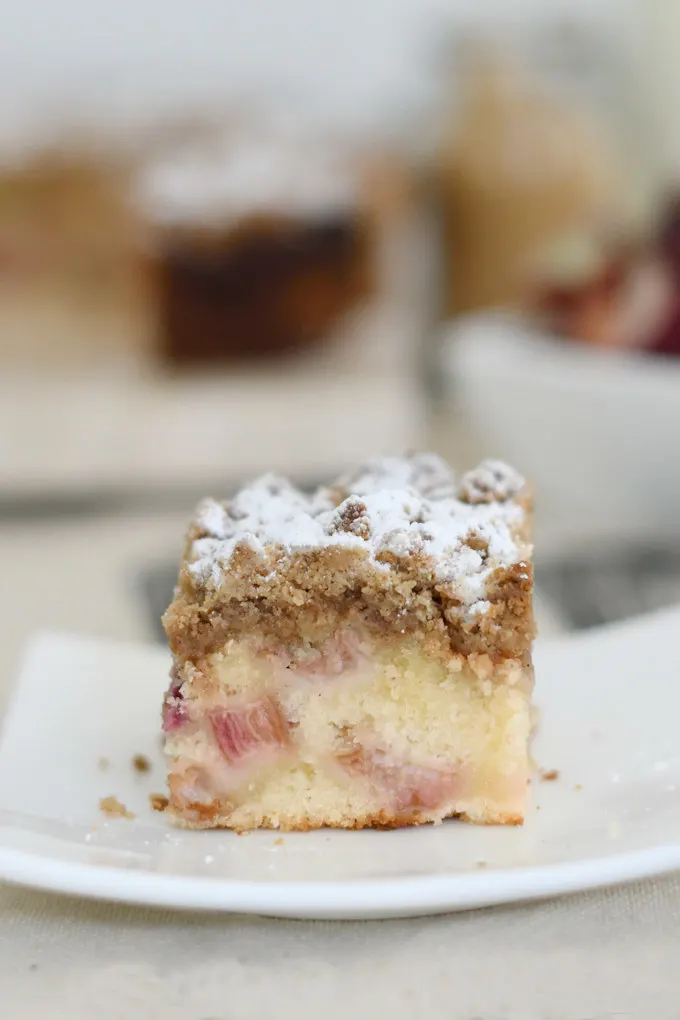 If you keep a starter, you'll love this Sourdough Crumb Cake. During blueberry season you can make this Blueberry Crumb Cake.
I am obsessed with the unique flavor of rhubarb. You too? Here are a few more recipes for you to try:
If you love this recipe as much as I do, I'd really appreciate a 5-star review.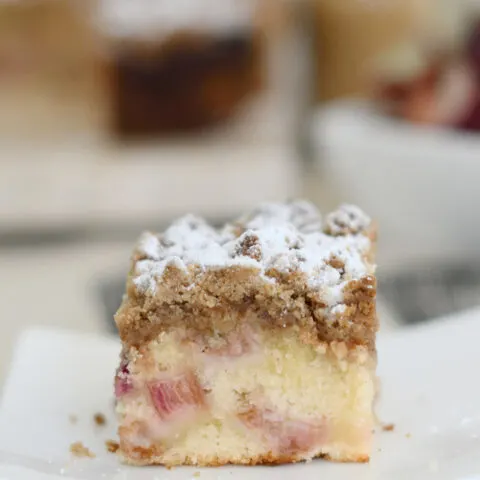 Rhubarb Crumb Cake
Total Time:
1 hour
15 minutes
Soft buttermilk cake loaded with fresh rhubarb & crowned with brown sugar crumb topping.
Ingredients
Crumb Topping
1 1/2 cups (6.75 oz, 189g) cake flour
2/3 cup (5.25 oz, 150g) light brown sugar
1/4 teaspoon salt
2 teaspoons cinnamon
1 teaspoon ground ginger
1 stick (4 oz, 112g) unsalted butter, room temperature
Cake Batter
1 large egg plus 1 yolk
3/4 cup (6 oz, 180ml) buttermilk, divided
1 teaspoon vanilla
2 cups (9oz, 252g) cake flour
3/4 cup (6 oz, 170g) granulated sugar
1 1/2 teaspoons baking powder
1 teaspoon ground ginger
1/4 teaspoon salt
1 stick (4 oz, 112g) butter, room temperature
1 pound (448g) rhubarb, cut into 1/2" dice (about 3 cups)
Instructions
Preheat the oven to 350°F. Butter and flour an 9" square cake pan. Cut an 8"x16" piece of parchment paper and line the pan in one direction, leaving a short overhang on each side.
Crumb Topping
Combine the flour, brown sugar, salt, cinnamon and ginger into the bowl of a stand mixer or into a large mixing bowl. Mix on low speed until completely combined. With the mixer running, add the butter in chunks and continue to mix until the topping looks like wet sand. Remove from the mixer and transfer to a small bowl by squeezing handfuls to create large clumps. Set aside while you mix the batter.
Batter
Combine the egg, yolk, 1/4 cup of the buttermilk and vanilla in a small bowl and set aside.
Sift the flour, sugar, baking powder, ginger and salt into the bowl of a stand mixer or into a large mixing bowl. With the mixer running on low speed, add the butter and the remaining 1/2 cup of buttermilk. Mix until completely combined. Scrape the bowl and beater. Mix on medium speed for 2-3 minutes to lighten the batter.
Scrape the bowl and add the egg mixture in two batches, scraping between additions. Remove 1 cup of the batter and spread it into the pan. By hand, fold the rhubarb into the remaining batter. Spread the batter with the rhubarb into the pan.
Sprinkle the crumb topping over the batter, breaking it into marble sized clumps as you scatter it over the cake batter.
Bake until a toothpick inserted in the center comes out clean, about 45-50 minutes. Cool at least 30 minutes in the pan. Use the parchment to carefully lift the cake out of the pan.
Cool completely on a wire rack
Recommended Products
As an Amazon Associate and member of other affiliate programs, I earn from qualifying purchases.